gosh, the city of hamburg holds such a special place in my heart!  i visited my dear friend gianina for the first time back in 2008, just after i had graduated from high school.  i stayed with her and her family at their home in a suburb outside of hamburg, and there was nothing like getting to experience the everyday life of someone who lives halfway across the globe from me.  i still consider this one of the best experiences of my life.  we did soooo many fun things on that trip and had the best time together!
then i visited gianina again in 2012, six months after i graduated from college.  this time, she was living in hamburg, so i stayed with her at her flat in the city.  it's funny how times had changed – i had started college AND graduated college in the time since the last time i'd visited, and she had graduated high school and started medical school [in germany, undergrad and grad school classes are sort of combined, at least in the case of med school].  she was still dating julian, the guy she'd begun dating while i was there in hamburg visiting her the last time, which was pretty special to me, and i was glad to get to see him too.  it was also my first time to visit europe in winter, and it was pretty cold [but still lovely!].  one of the highlights of my short trip [besides seeing gianina, of course] was getting to go to a christmas market for the first time.
and so then, here i was, getting to visit gianina for the third time on our backpacking trip, and this time mike got to experience it all too!  she had just moved into a new flat with – guess who?? [julian!!  i LOVE that they're probably going to get married someday and that i was there when they first began dating!], but he happened to be out of town the weekend that we visited, unfortunately.  we stayed in the spare room and had such a great time with gianina.  she's such a hospitable person and was so sweet to cook for us, introduce us to her friends, and show us around hamburg.
one of the somewhat surprising highlights of this trip for me was visiting miniatur wunderland, which is the largest model railway in the world, with rooms upon rooms of landscapes and cities modeled after real places.  i was actually sort of cranky about going because it was out of the way and we did it prior to meeting up with gianina [i was worried that going to miniatur wunderland would take away time with her], but mike really wanted to go, and i'm really glad we did!  it was SO COOL – i really could have stayed there hours longer just looking at everything.  there was so much to see!  it was amazingly realistic and extra interesting since the models were mostly real places – famous places in germany, italy, austria, switzerland, scandinavia, the USA, etc.  there were lots of moving parts, and another really neat aspect was the lights would start dimming to look like sunset every 15 minutes or so, and then it would turn into nighttime and all the lights of the buildings and streetlights would come on, and it would stay dark for a few minutes, and then the "sun" would rise again.  i was mildly obsessed with it all, ha!  i would love to go back again sometime.
we also watched a beautiful evening fountain show at a lovely park, checked out the port of hamburg and the parliament building, went out in the kiez one evening [the city's nightlife/red light district], and had an amazing picnic [and nap!] on the grass overlooking the alster lake [the weather was perfect on this day!].  it was a wonderful little trip and i loved getting to spend time with gianina and was happy that mike got to know her better too.  we missed julian, but hopefully we'll get to see him the next time!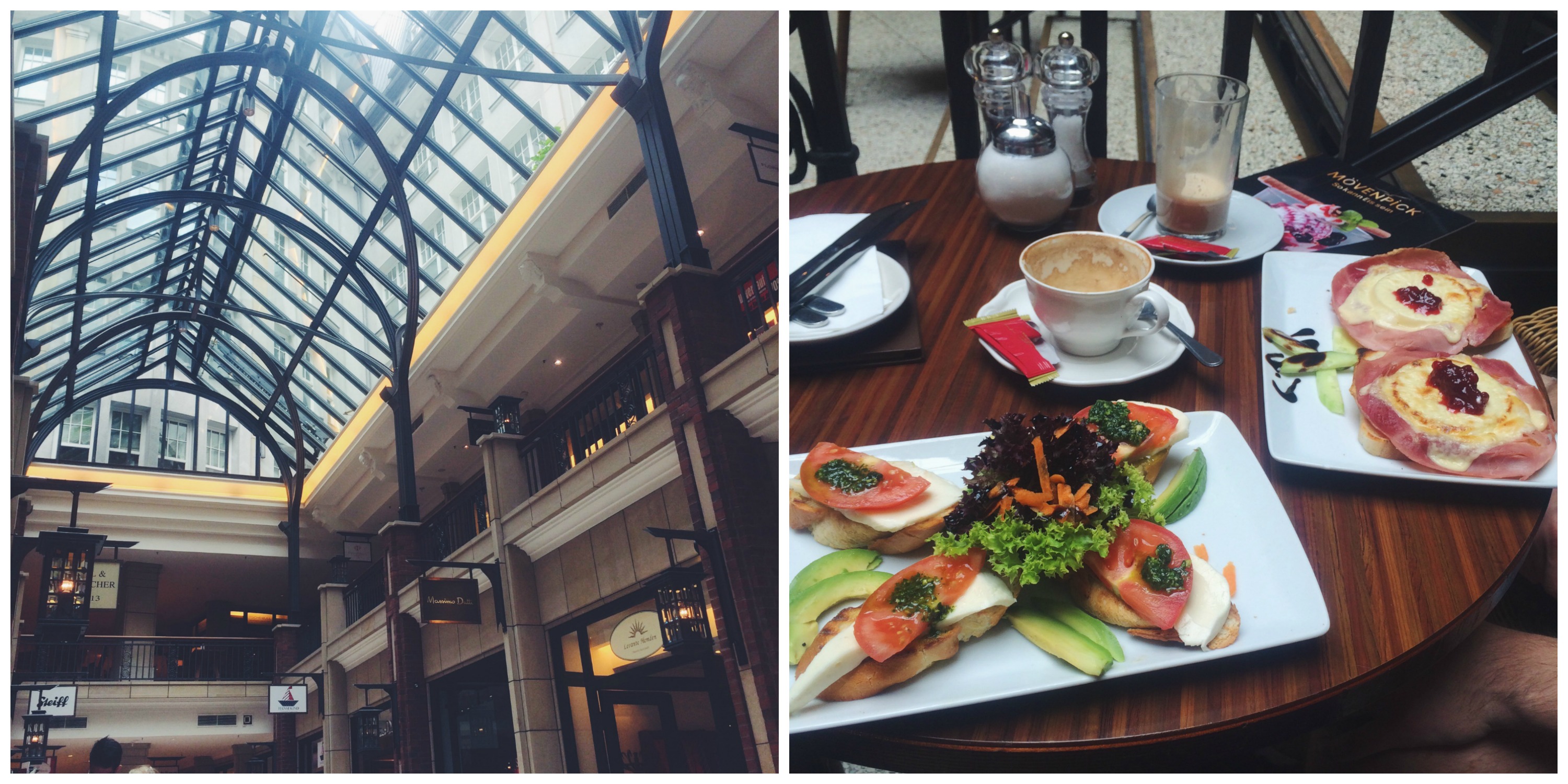 {when we got off the train, we stopped for a quick lunch in this mall.  this was about the time when i was questioning if we really wanted to go to miniatur wonderland since it was a bit out of the way, but i'm so glad that mike convinced me otherwise!}  :)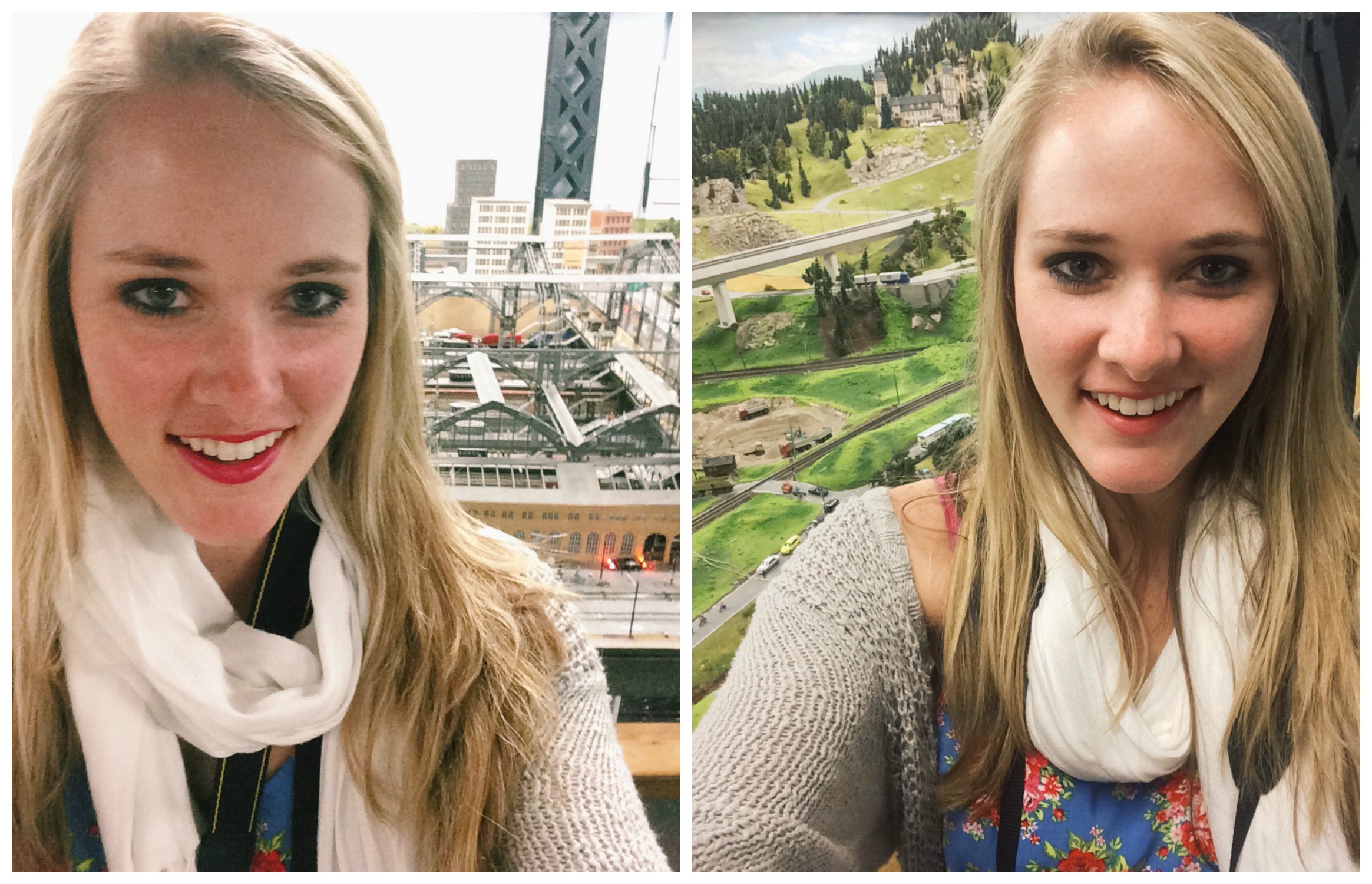 {i can't believe that these selfies are the only two dang pictures i got of miniatur wunderland on my phone!!  i did take a couple videos which you can see in our europe video, plus i took some on my nikon which will be posted soon.}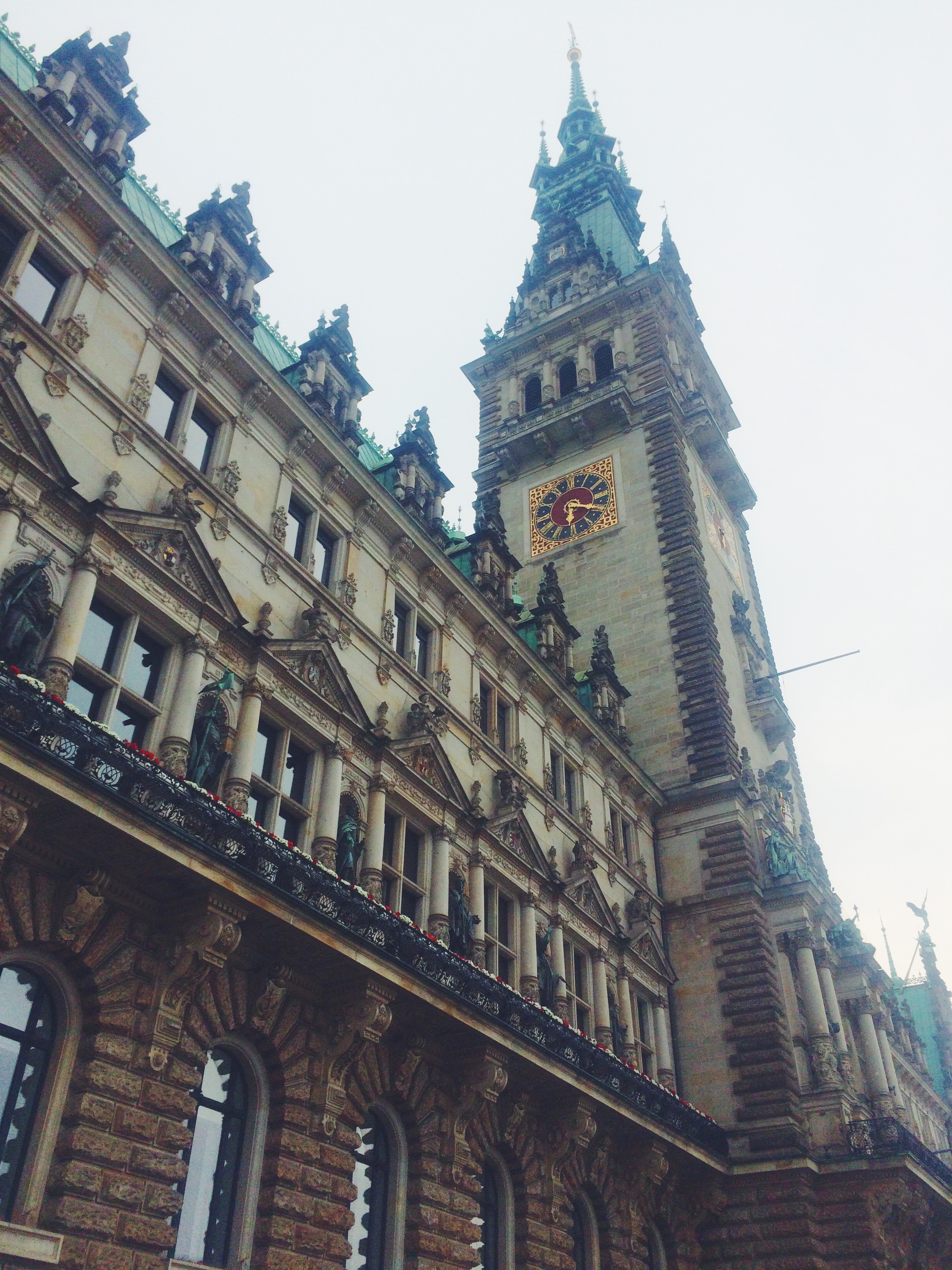 {the rathaus, or parliament building}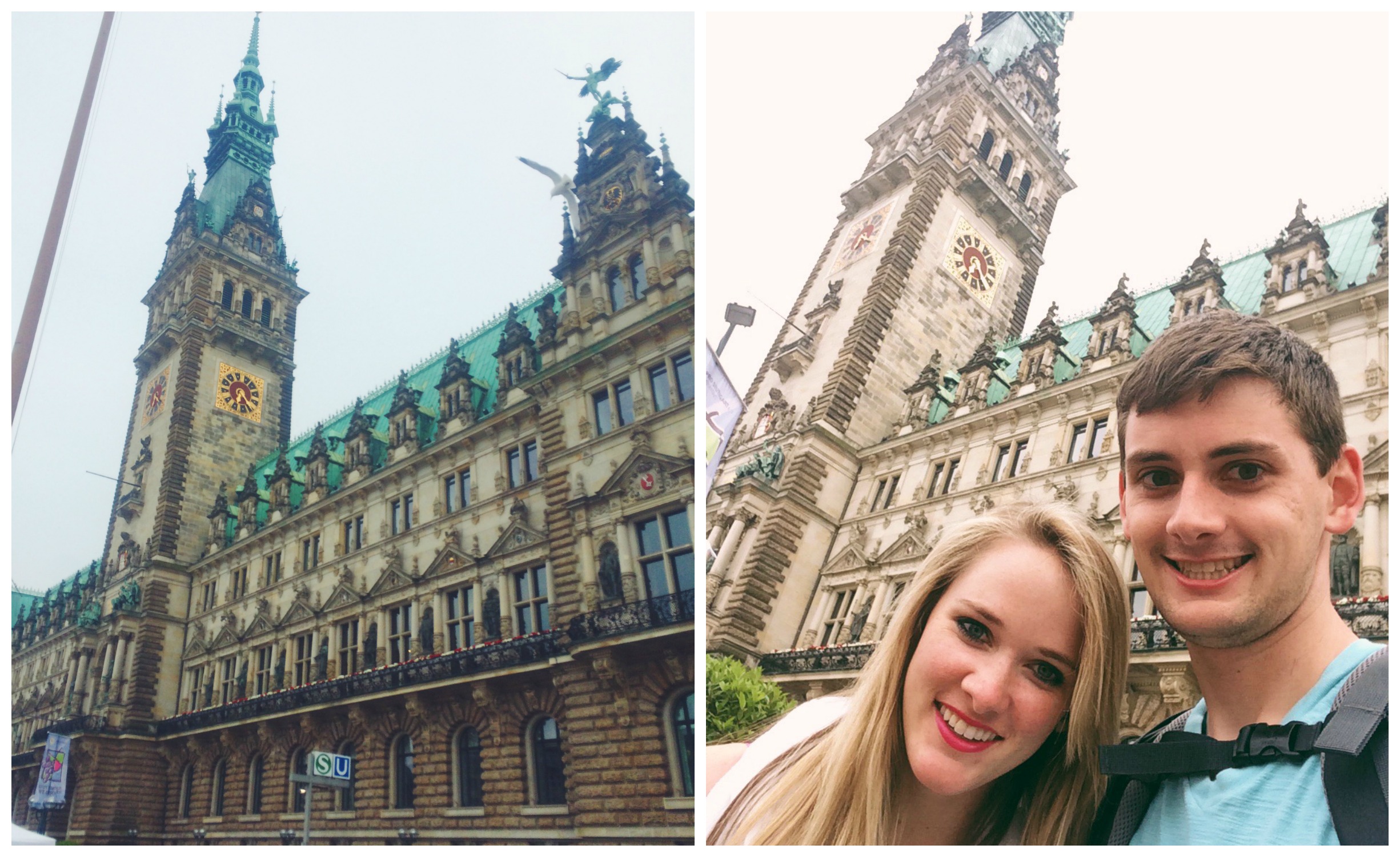 {snapped some quick pics on the way to gianina's…not my favorite angle but okay!}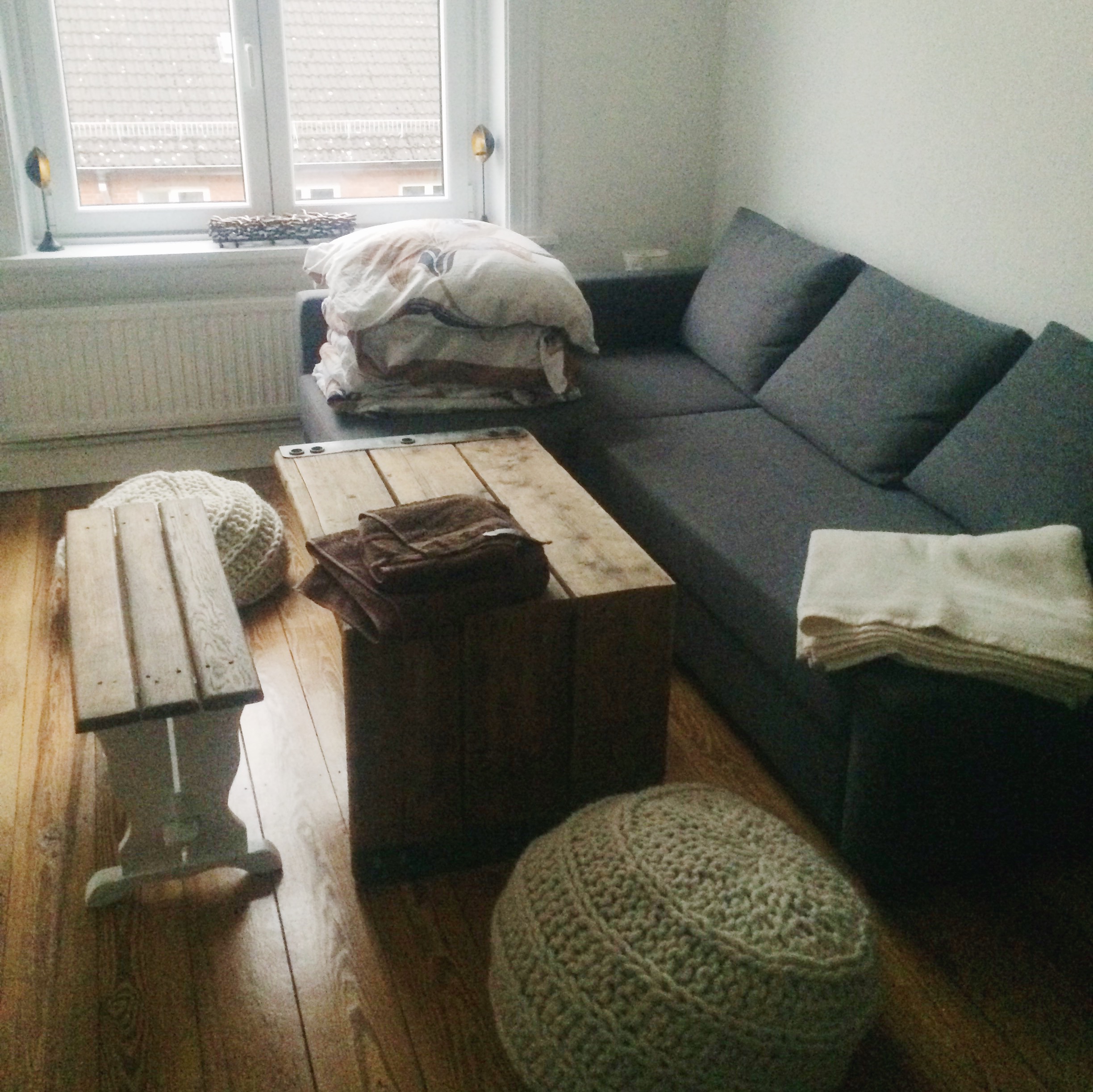 {even though they had just moved in last weekend, their home was very nicely put together already!  this was our room for the weekend.  that couch pulled into a very comfortable bed!}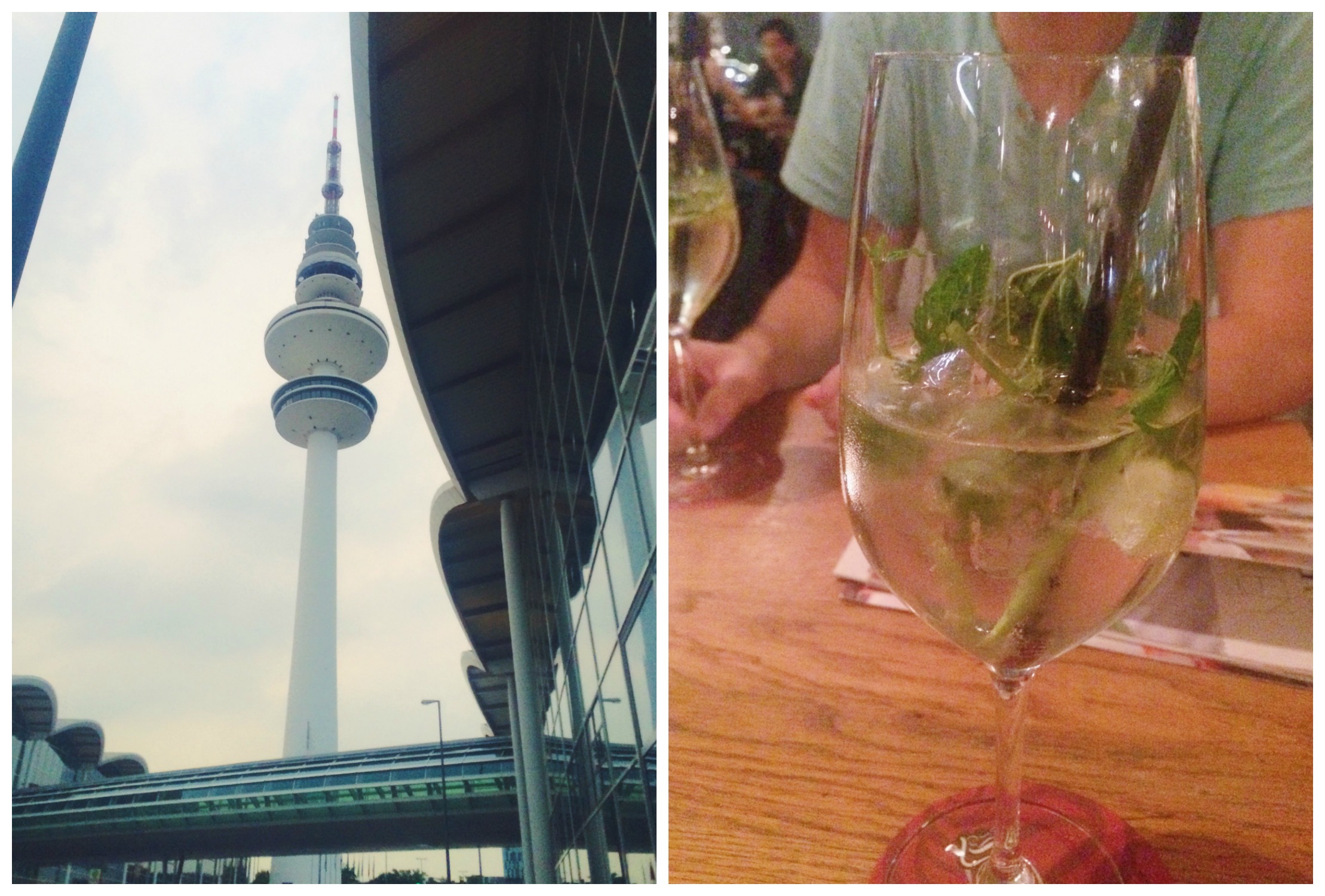 {the TV-tower in hamburg, and a hugo!  it's one of my favorite drinks to get when i visit hamburg – it's prosecco, elderflower syrup, mint, and lime.}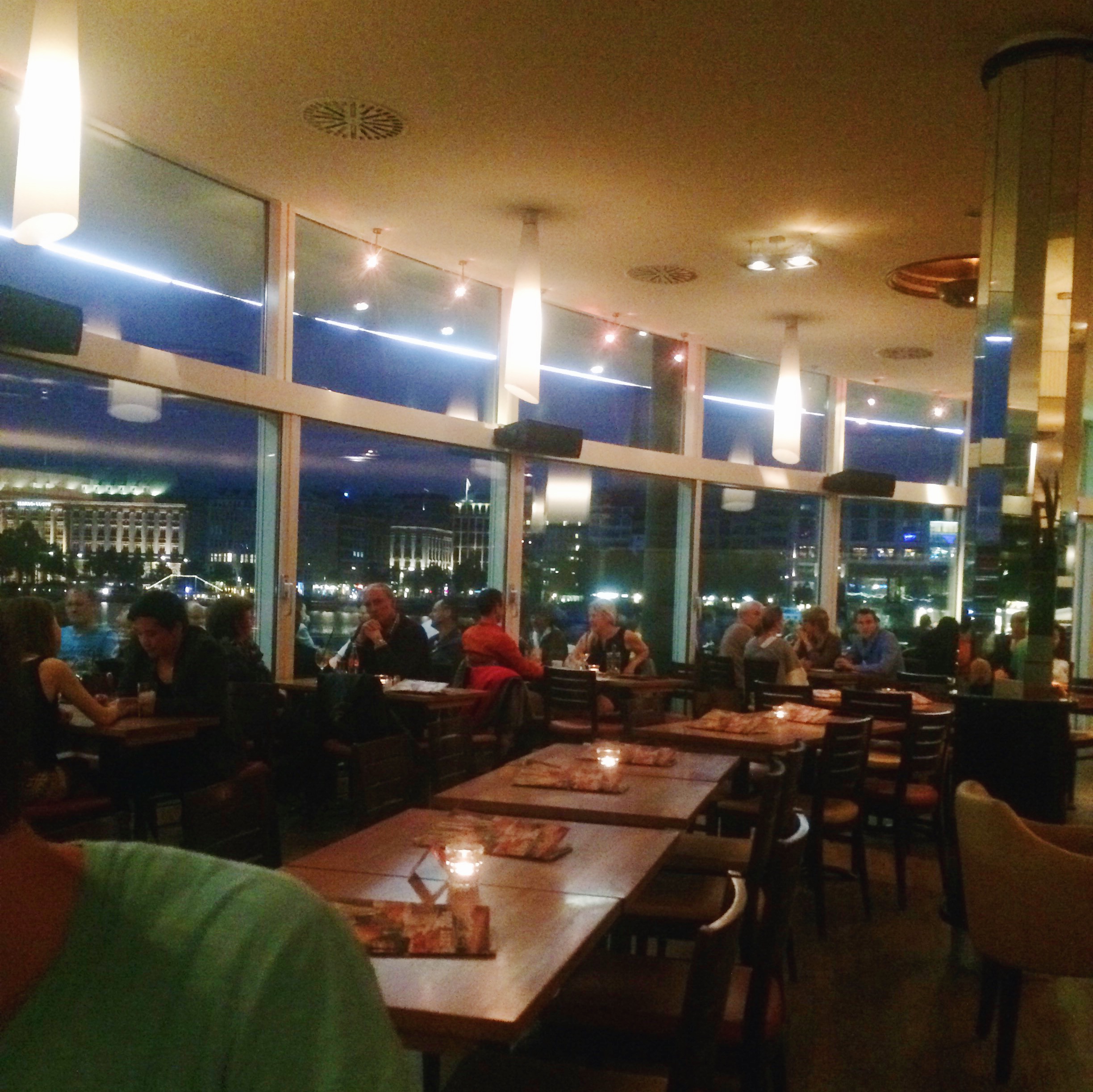 {we had drinks at this cool semicircle bar on lake alster the first night we got in.}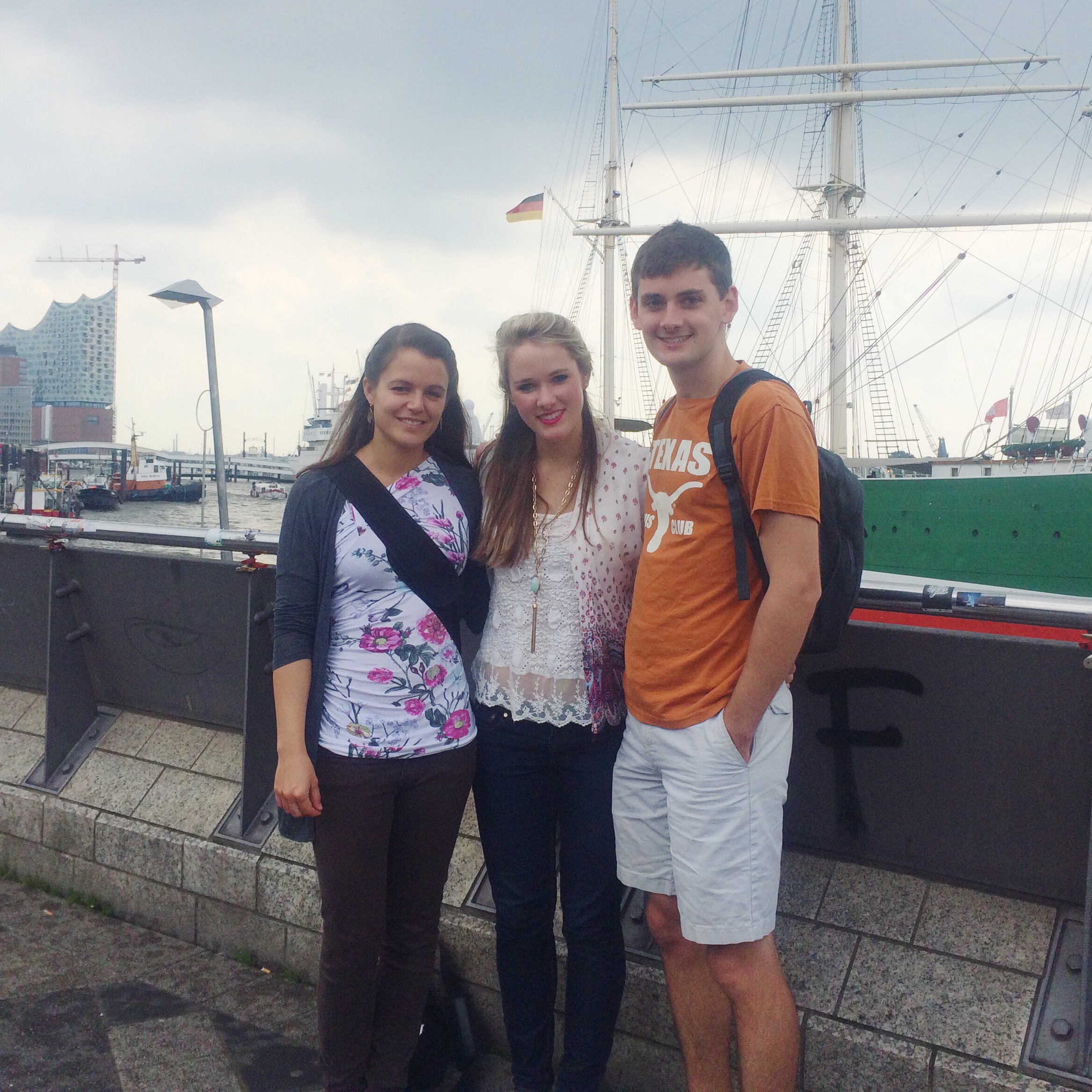 {at the famous port of hamburg!}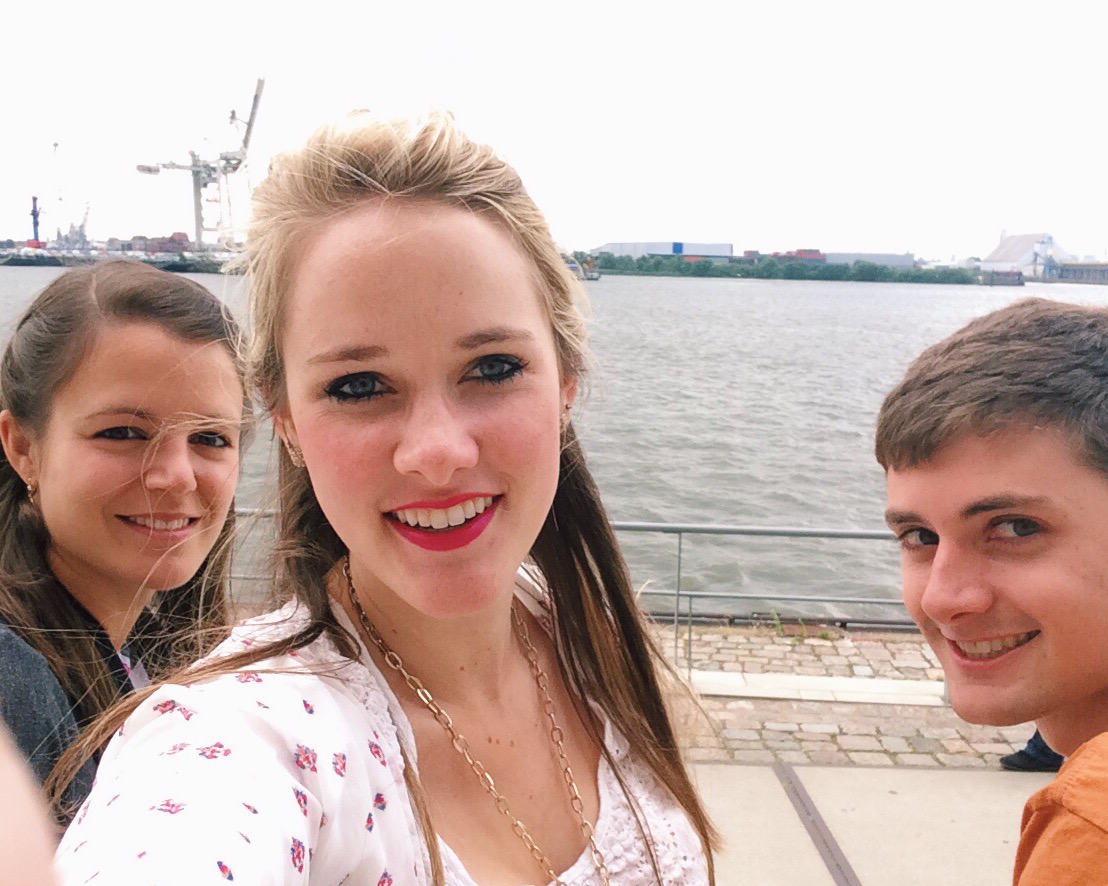 {this was seconds before my phone took a tumble down the stairs and rolled a bit – it was a couple feet from plunking into the water when it stopped.  that was a scary moment!}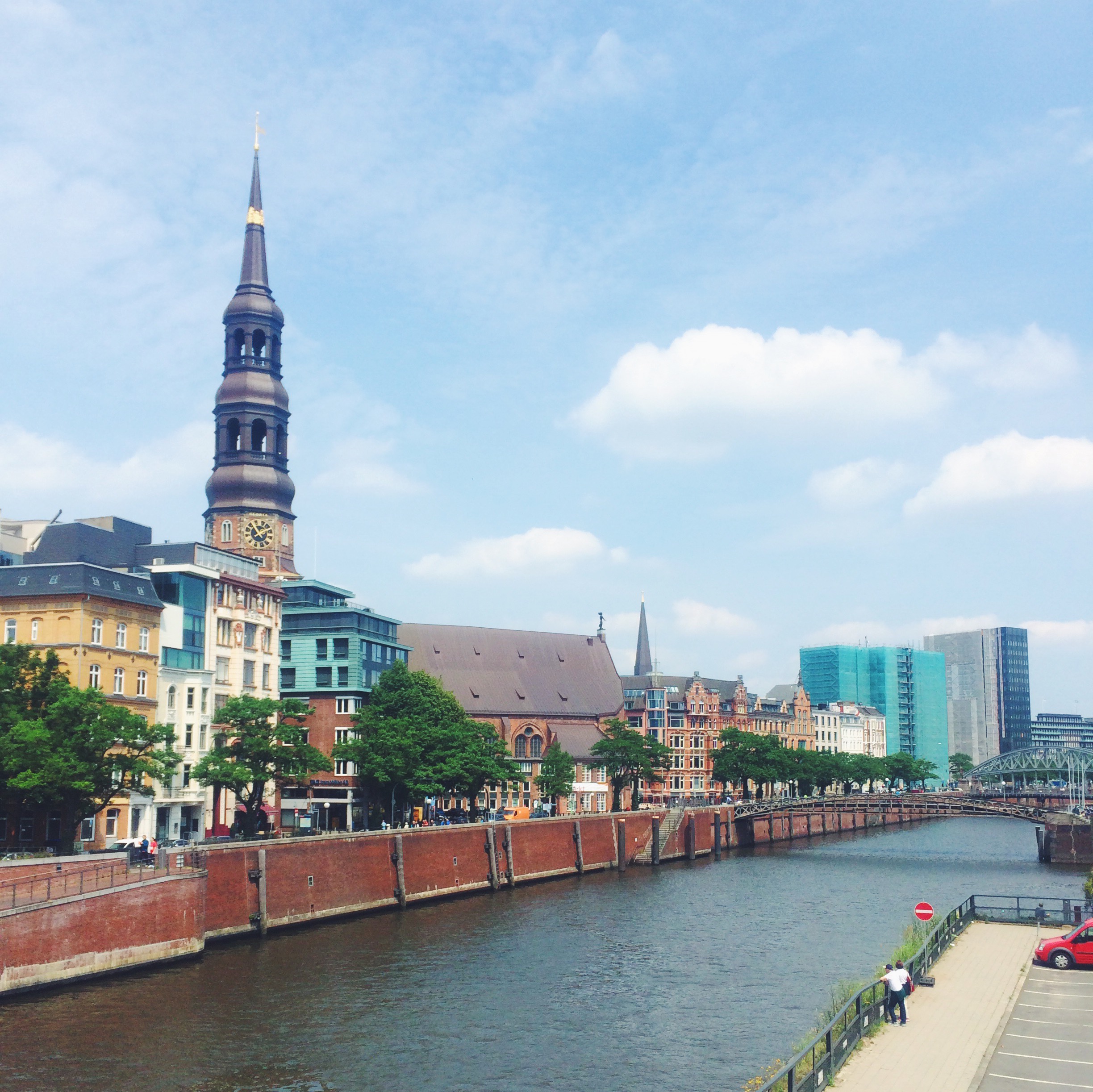 {lovely hamburg}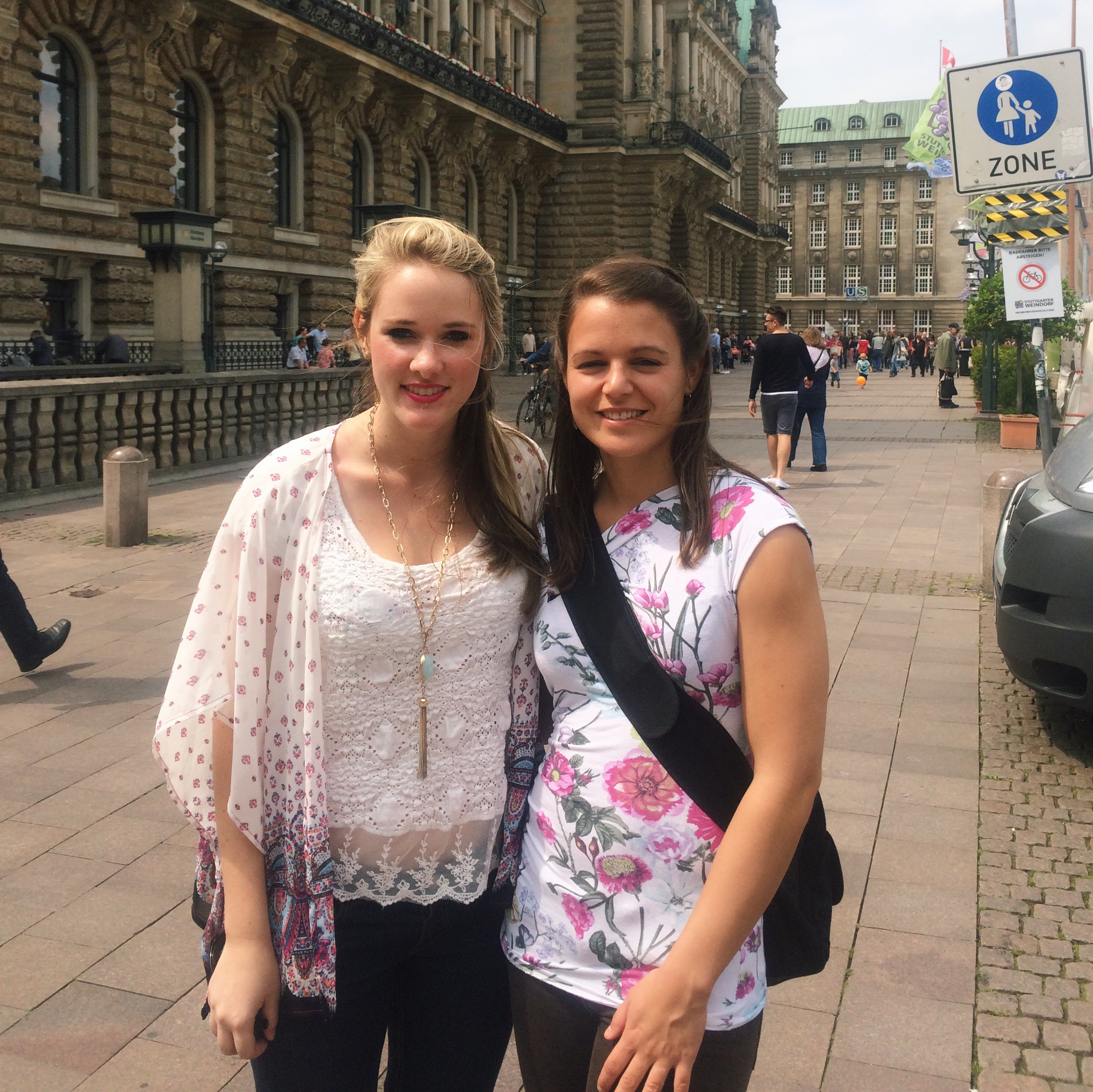 {i love this girl!}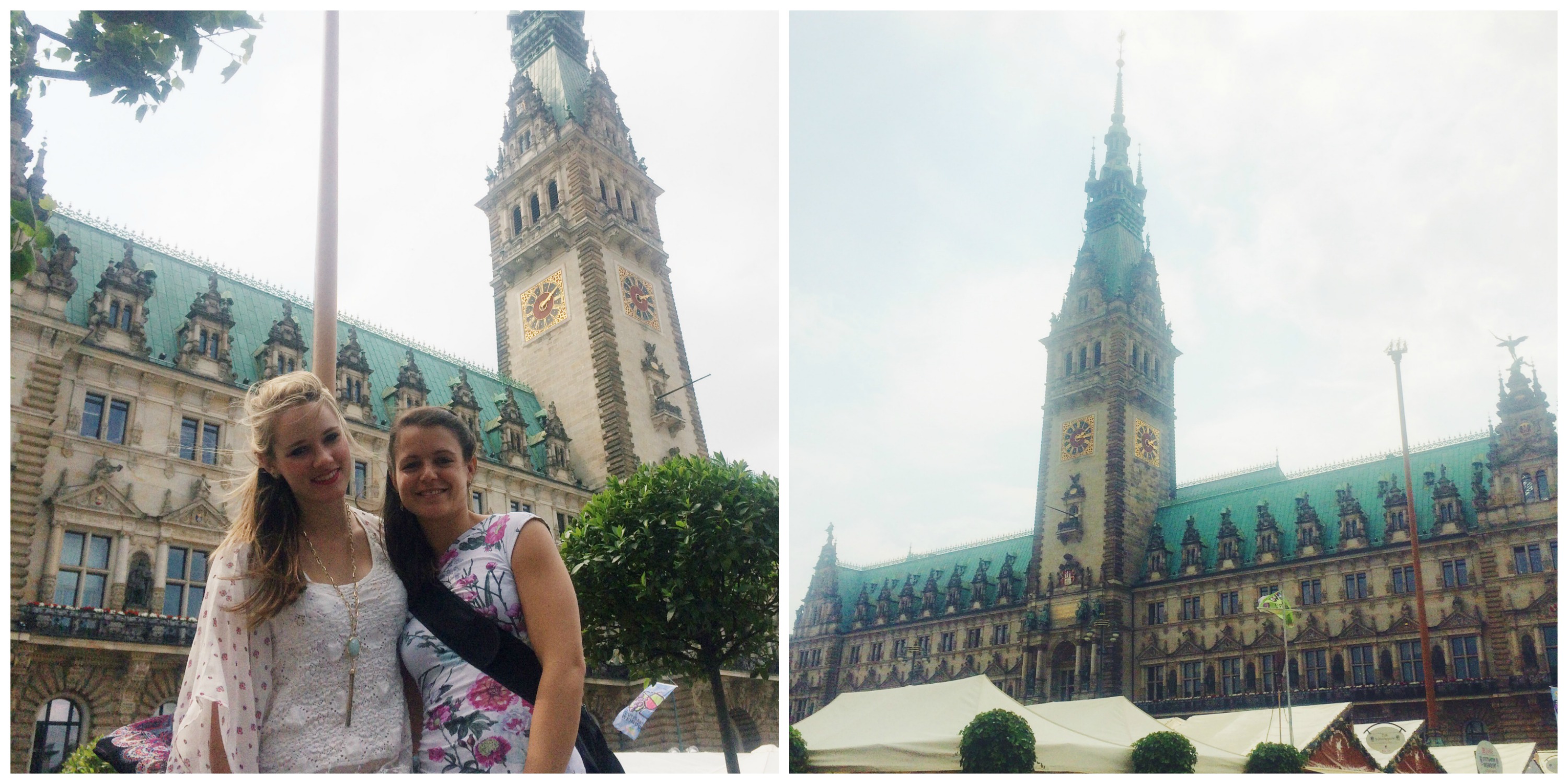 {more of the rathaus}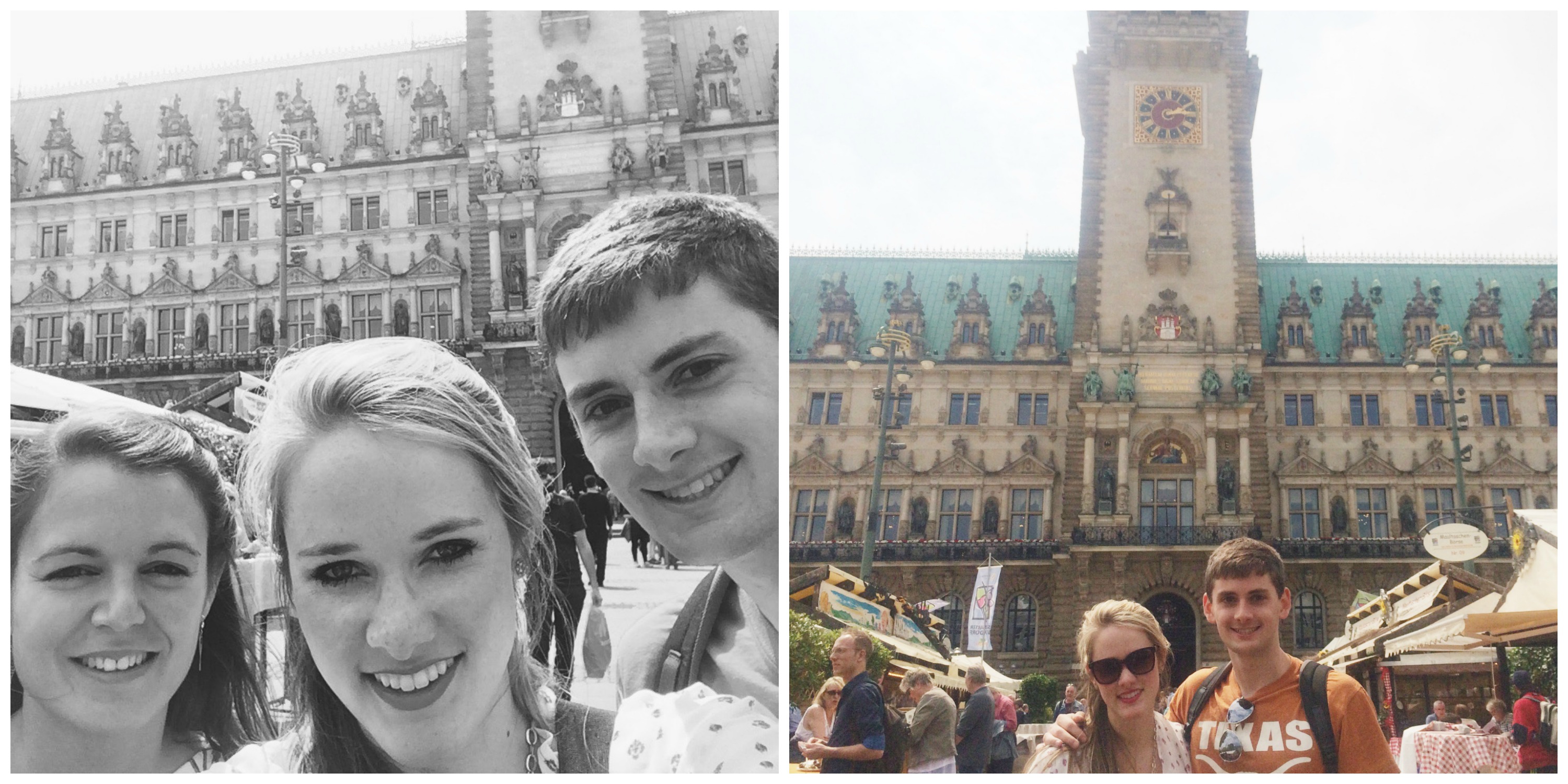 {just a little photo sesh!}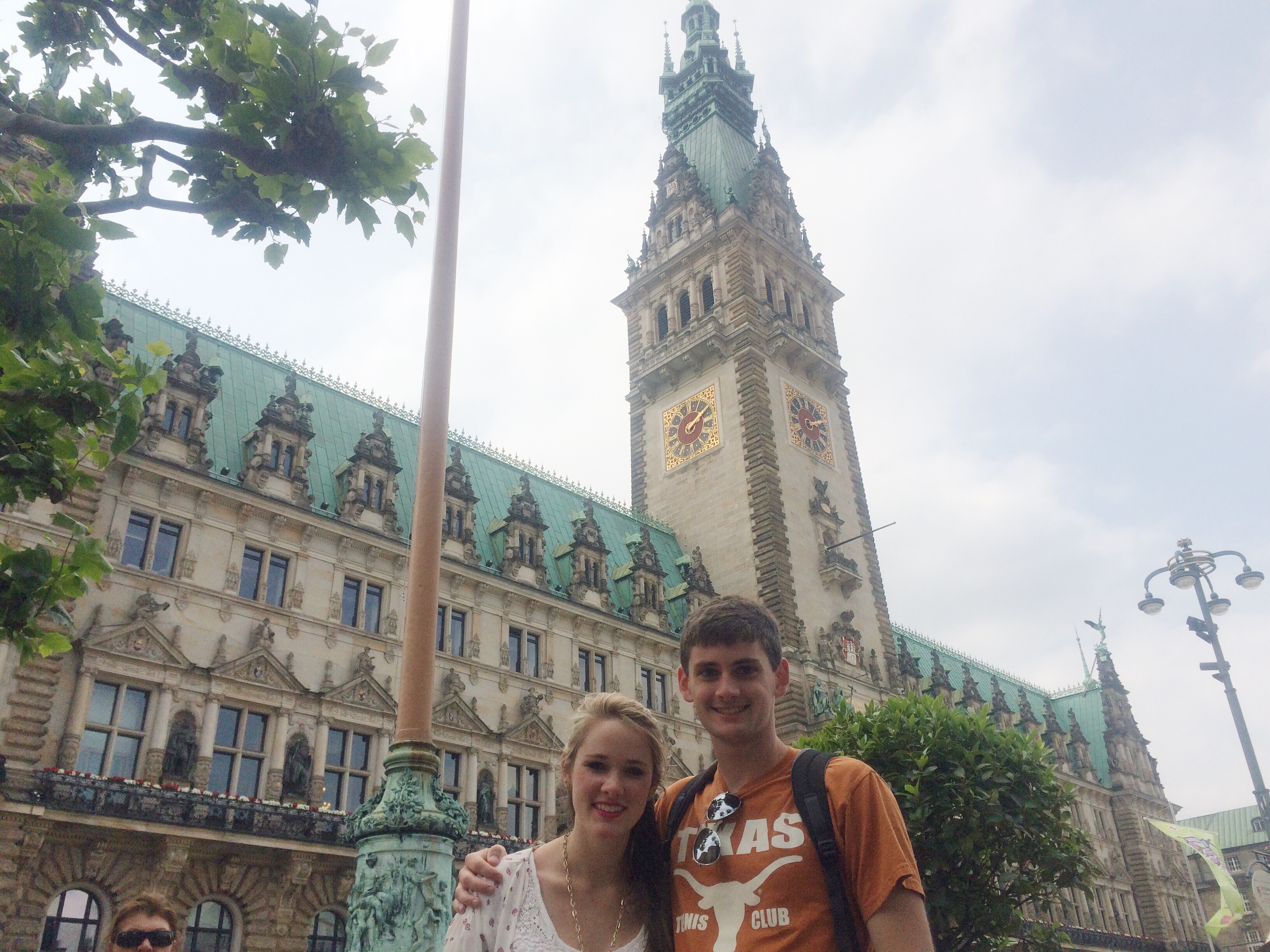 {hamburg was the fourth city of our backpacking trip!}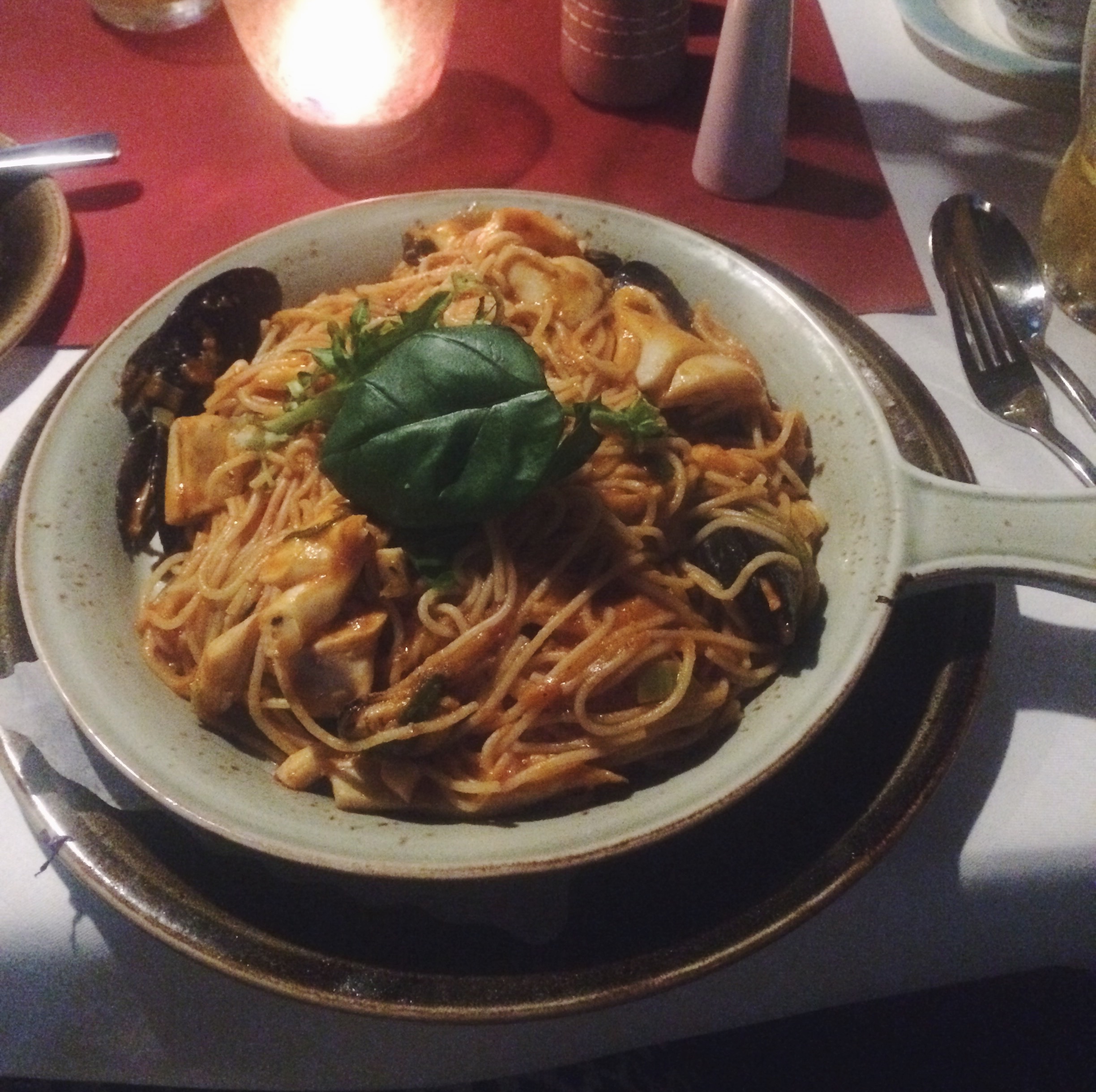 {pasta + seafood.  [my favorite.]}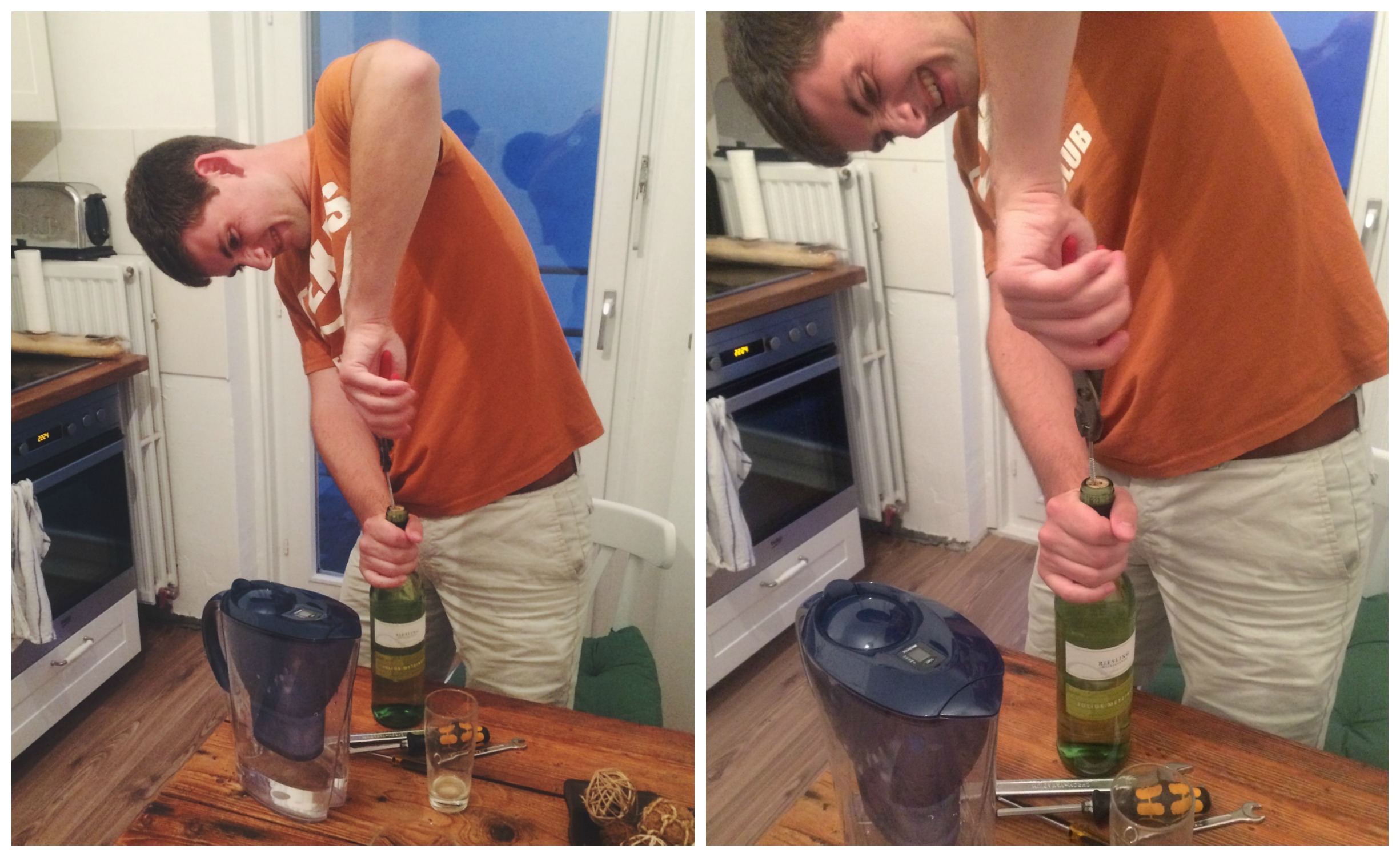 {since gianina had just moved into her new flat, we realized that we didn't have a bottle opener, so this was mike trying to open the wine with a screw and wrench [with unfortunately very little success!].  he was able to get the beer opened though, so we'll give him that [and they weren't twist-off caps either!].}  :)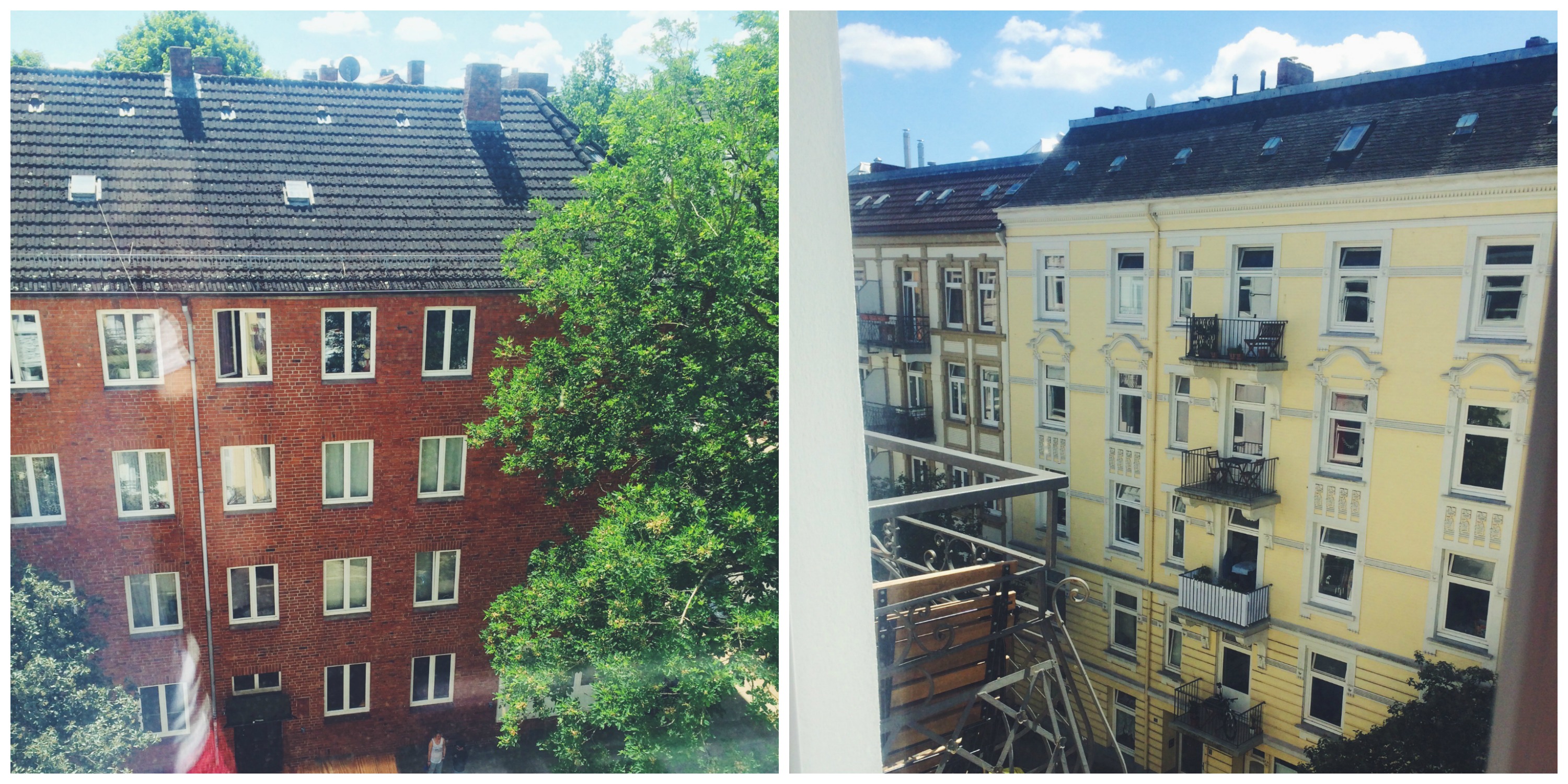 {the view from gianina's flat.}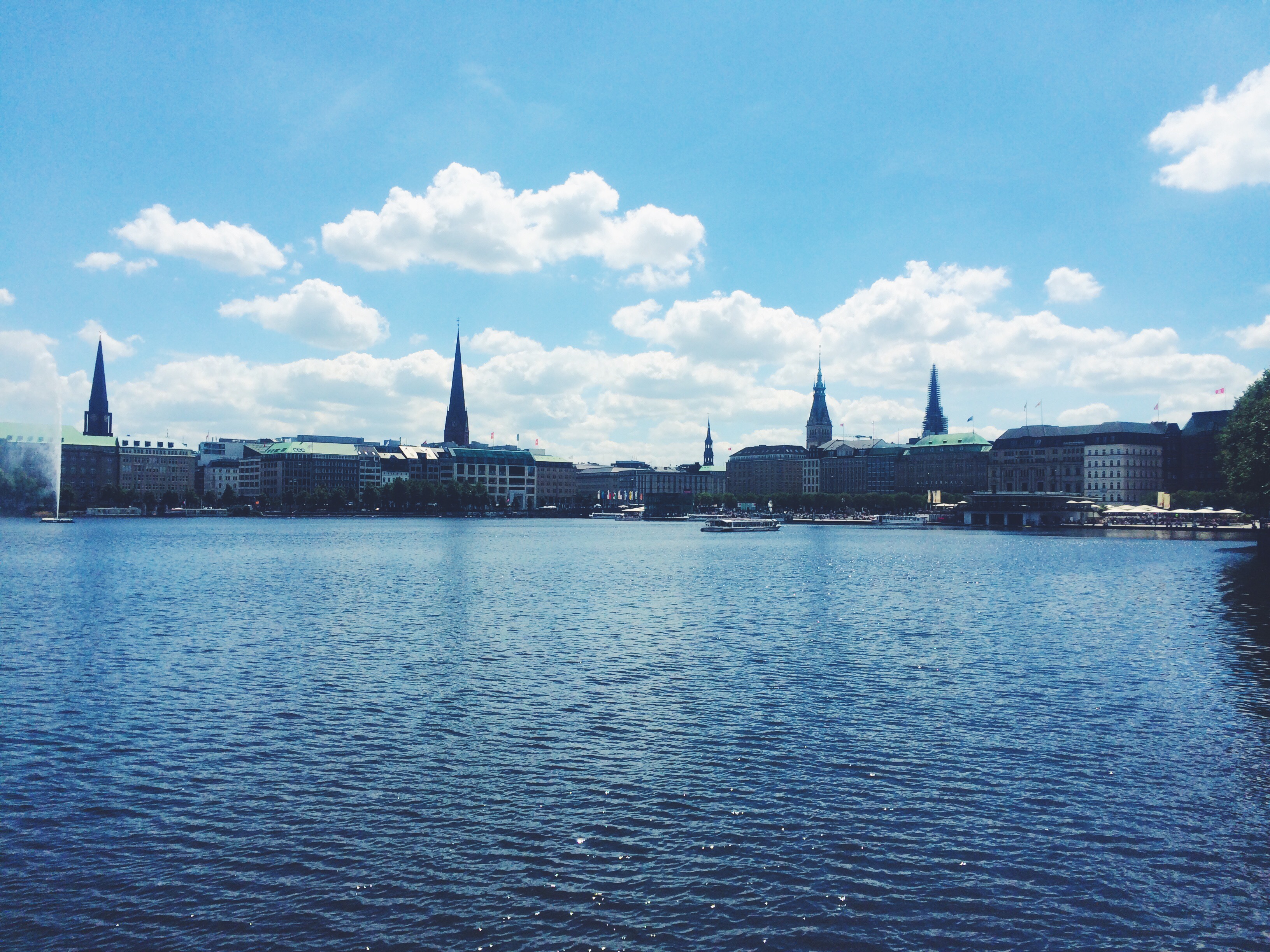 {the steeples of hamburg}
i promise that i took lots more photos of hamburg with my nikon and i'll be posting those soon.  it was such a wonderful weekend and we're so appreciative of gianina letting us stay with her!  xoxo