and i'm finallyyyyy getting around to posting part dos of the advanced pastry shop that i took last semester [check out part 1 here].  it was a fun and delicious class that i enjoyed thoroughly!  i'm unfortunately taking all lecture classes this semester, so go ahead and savor these because there won't be any yummy class photos for a while… ;)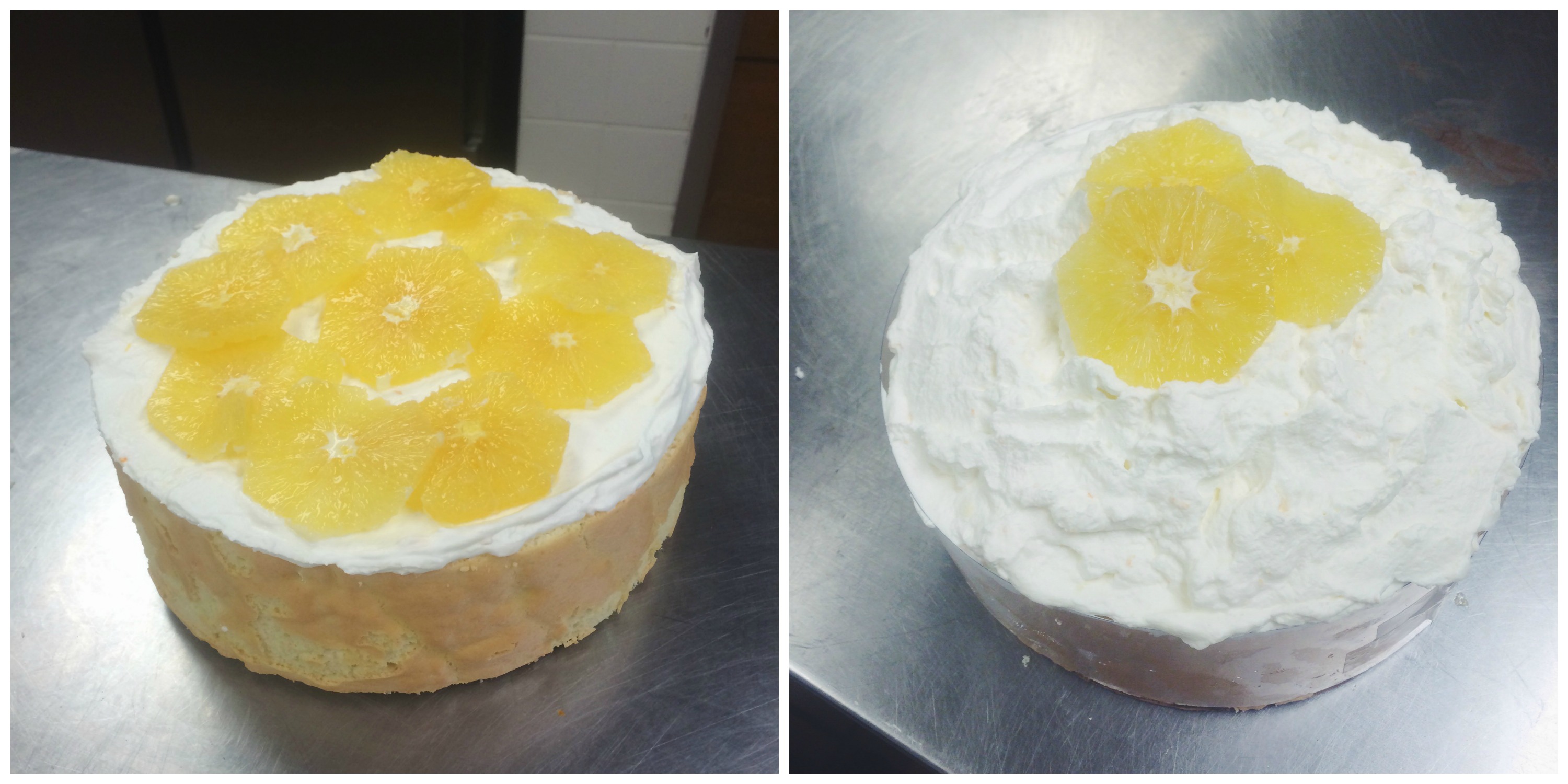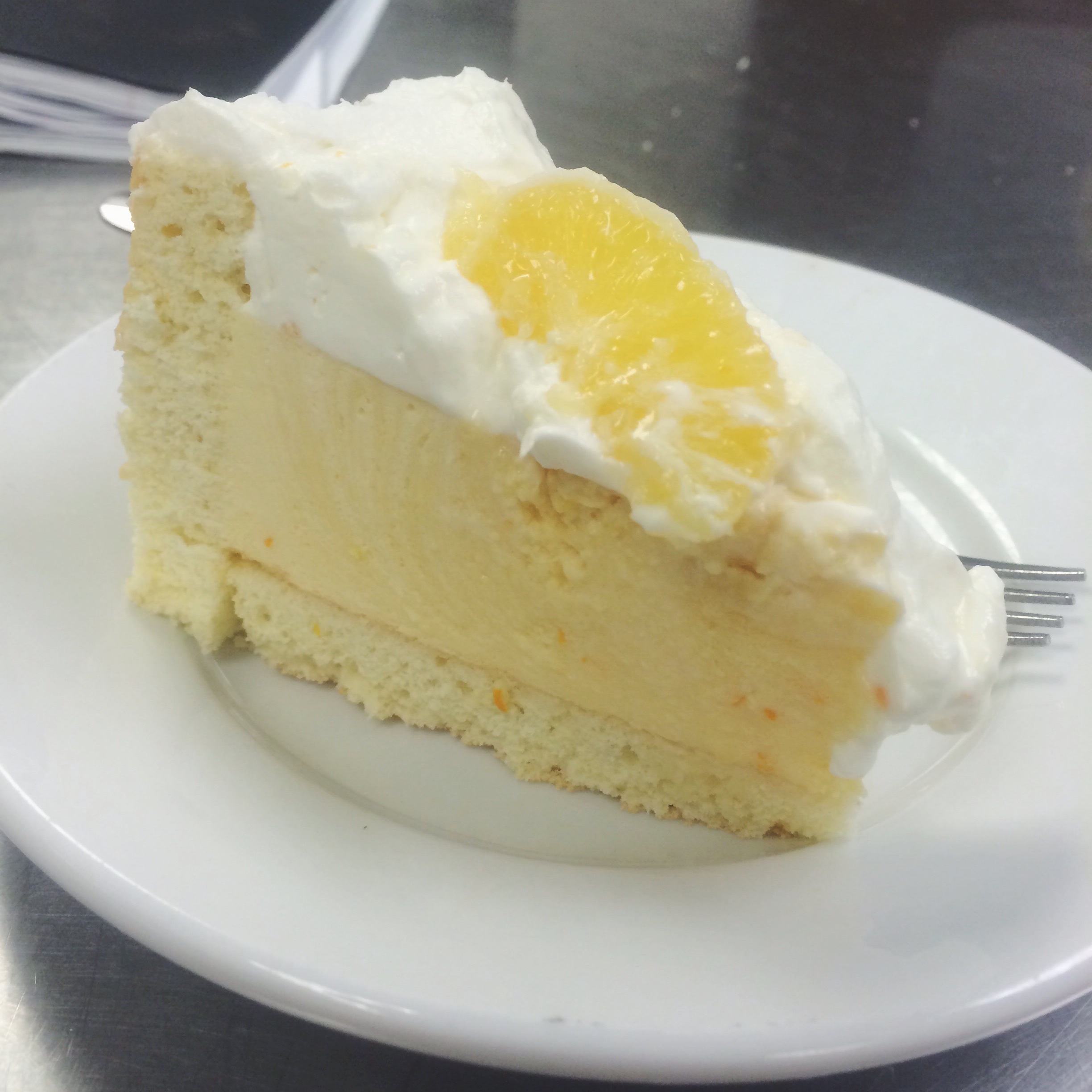 {orange bavarian}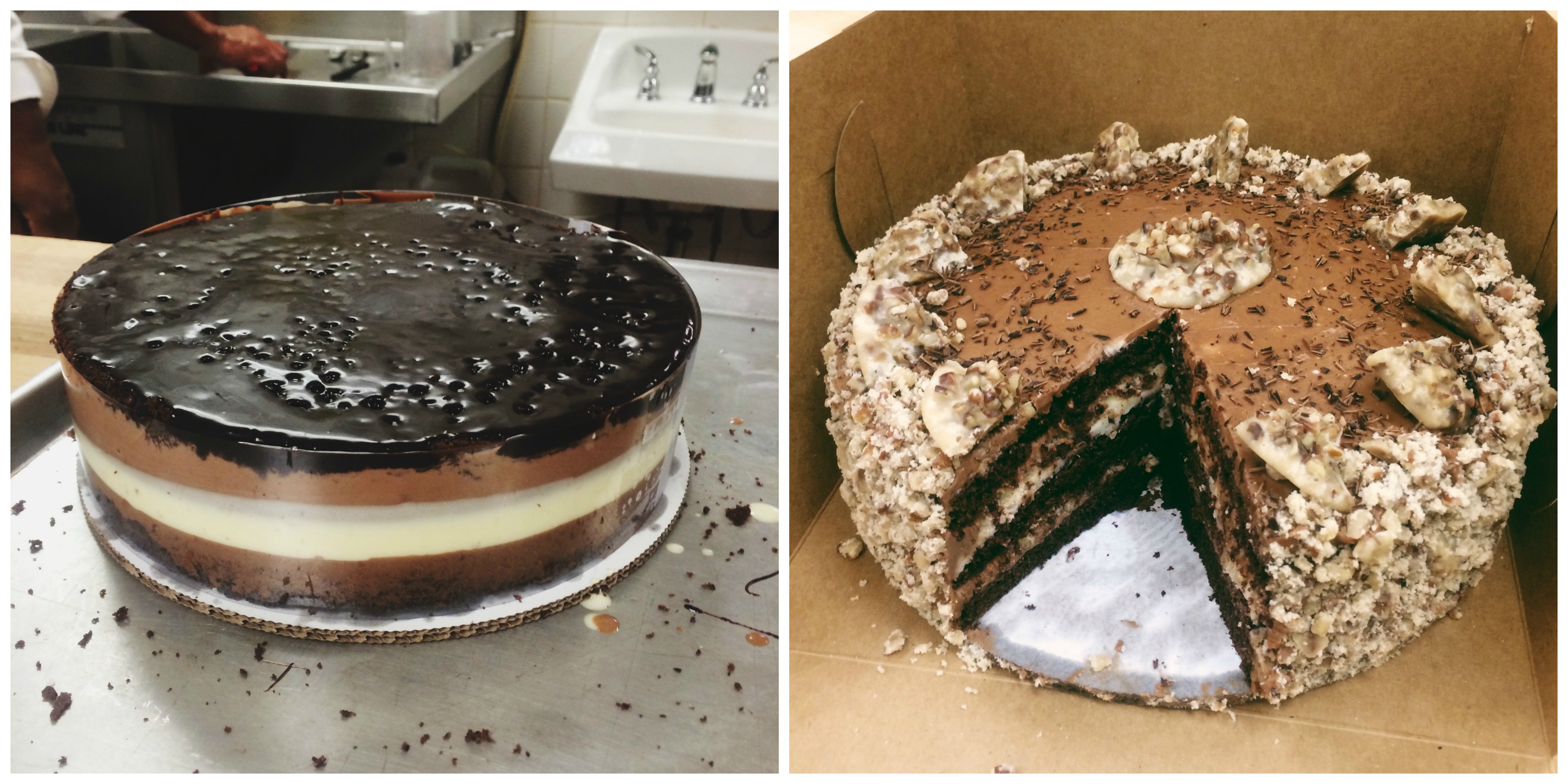 {on the left, a three-chocolate bavarois [before the acetate on the sides were taken off… you take them off just before serving so the bavarois will hold its shape].  unfortunately, the sponge cake kept soaking up the chocolate glaze, but it still looked pretty tasty.  on the right, a chocolate praline cake: chocolate sponge cake layered with chocolate buttercream and pecan pralines.}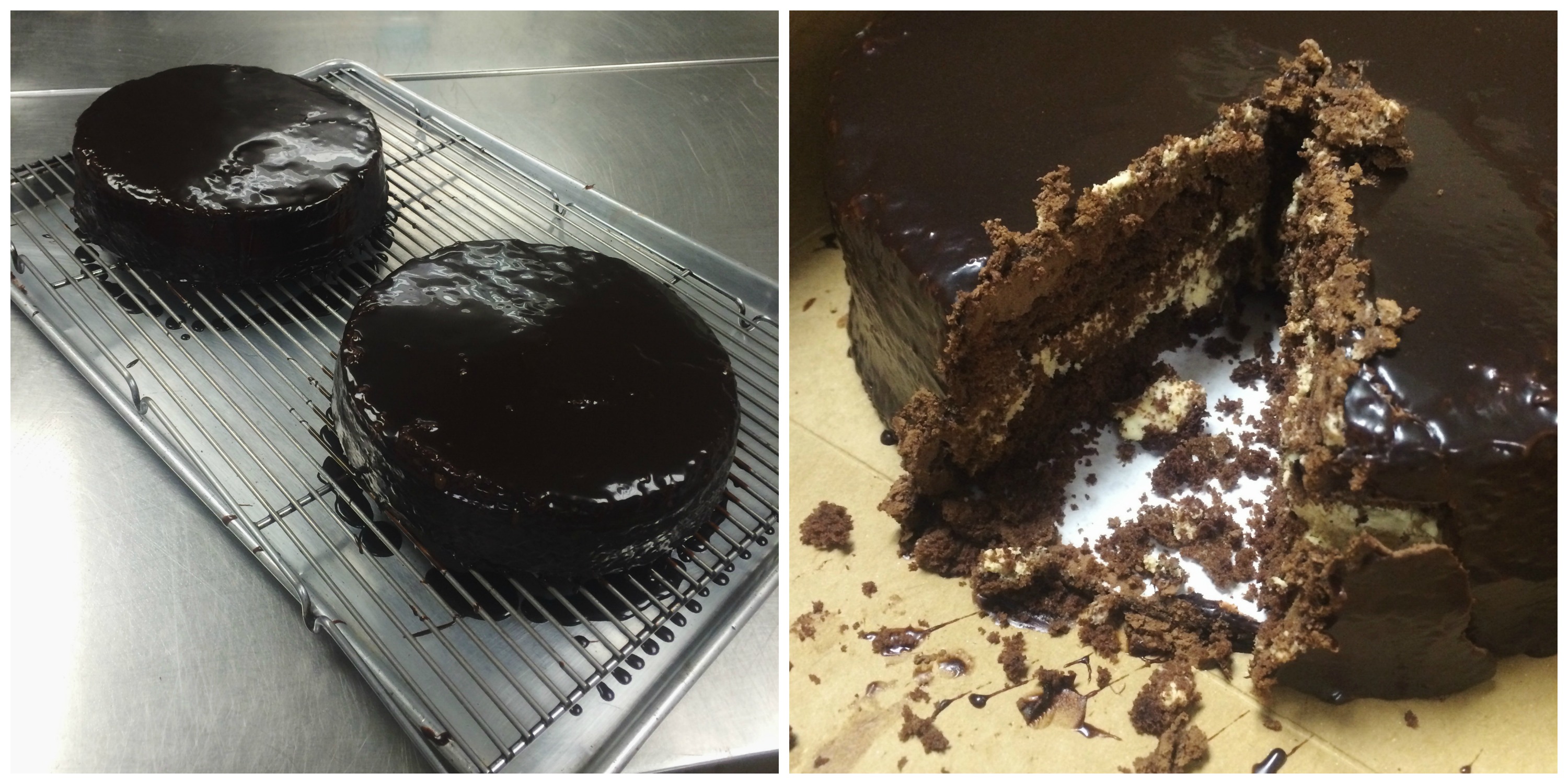 {devil's food cake with a thick layer of peanut butter mousse between the layers, covered in chocolate frosting and then drenched in chocolate glaze}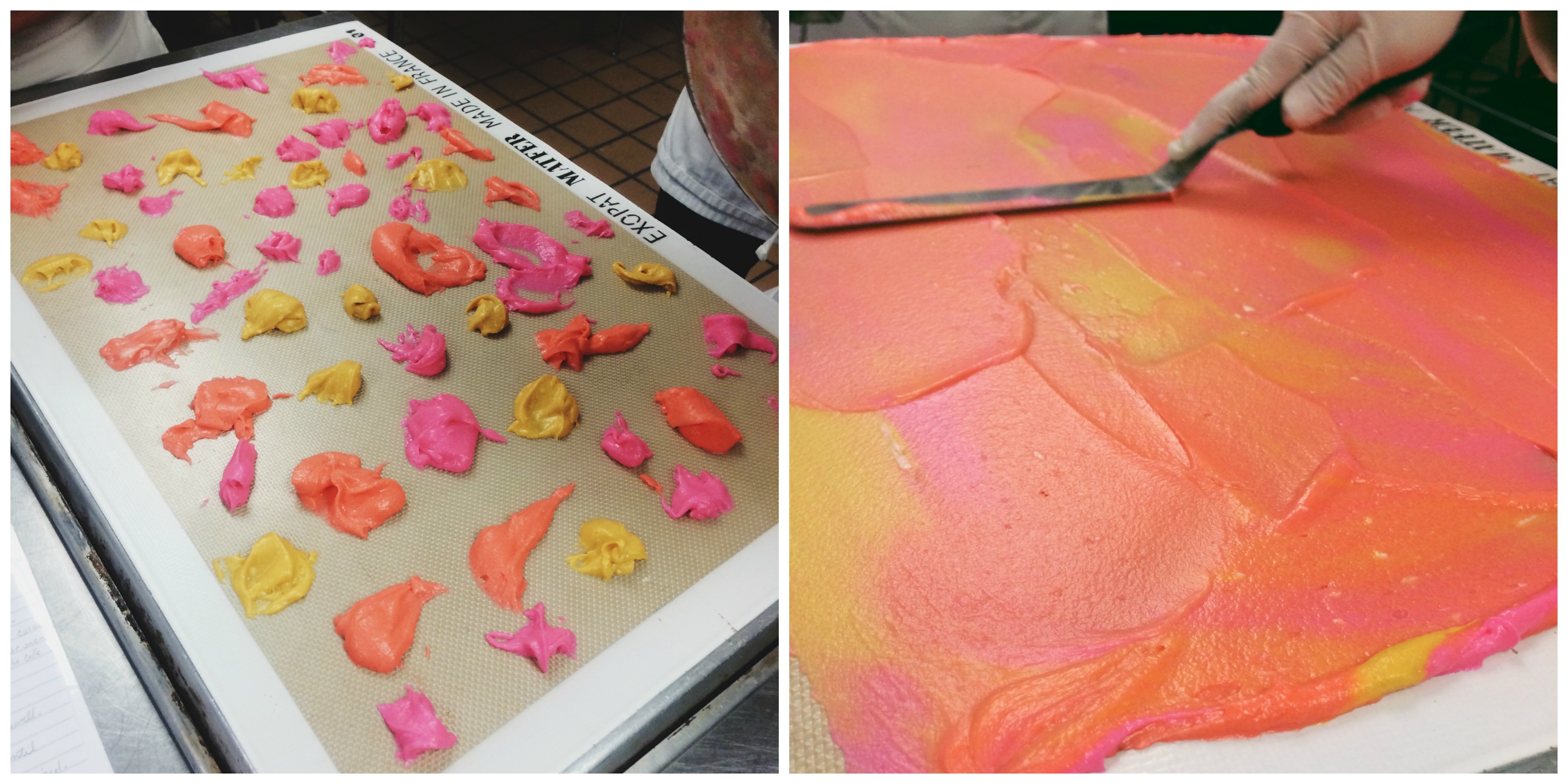 {the making of ribbon sponge cake: use several colors of food coloring to color the batter [which is like a paste].  add dollops of the colors to a sheet pan lined with a silpat and then spread with a palette knife until smooth…}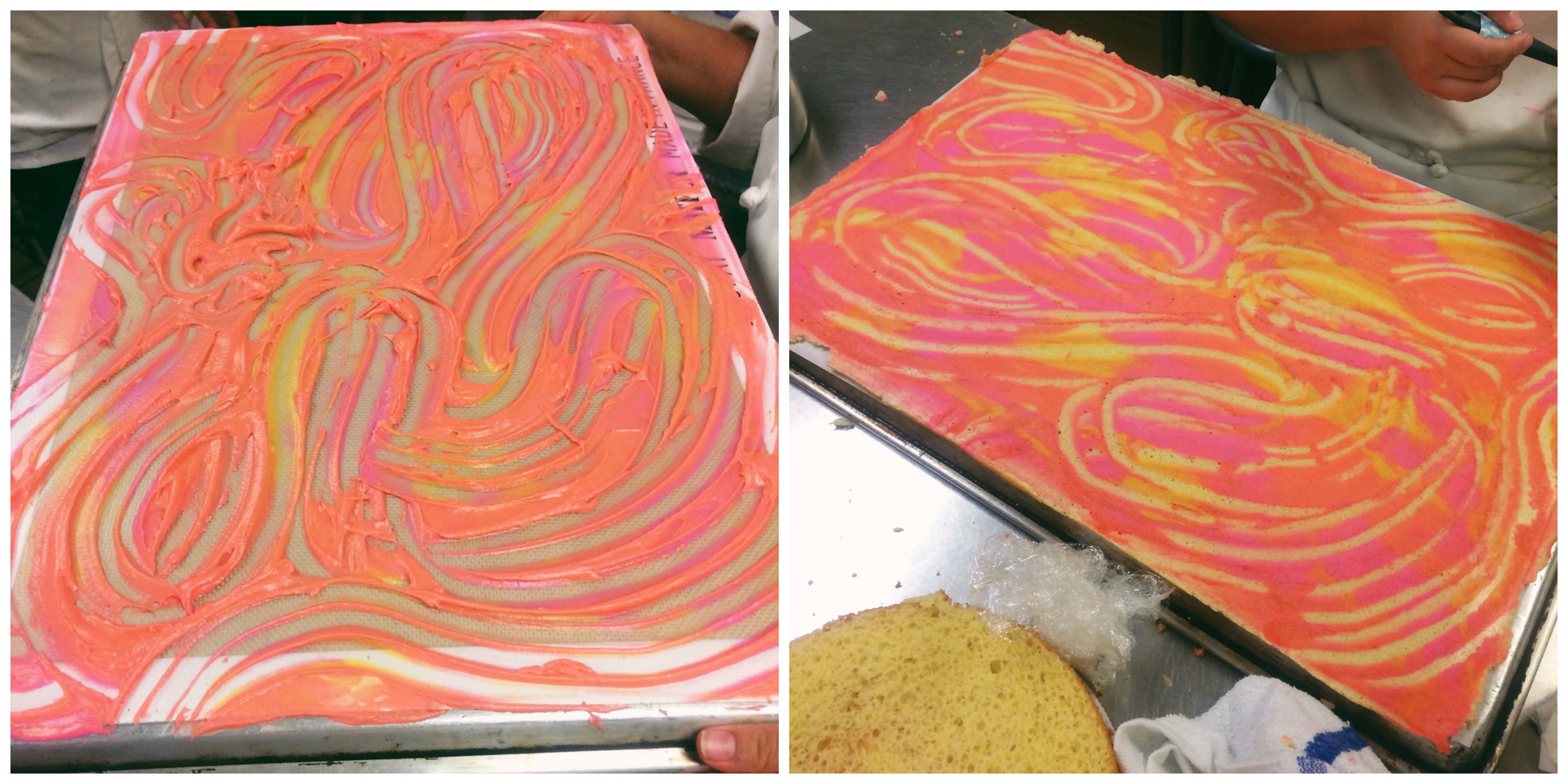 {…then used gloved fingers to swirl the layer of batter to make a pattern or design.  cover with joconde sponge cake batter and bake.}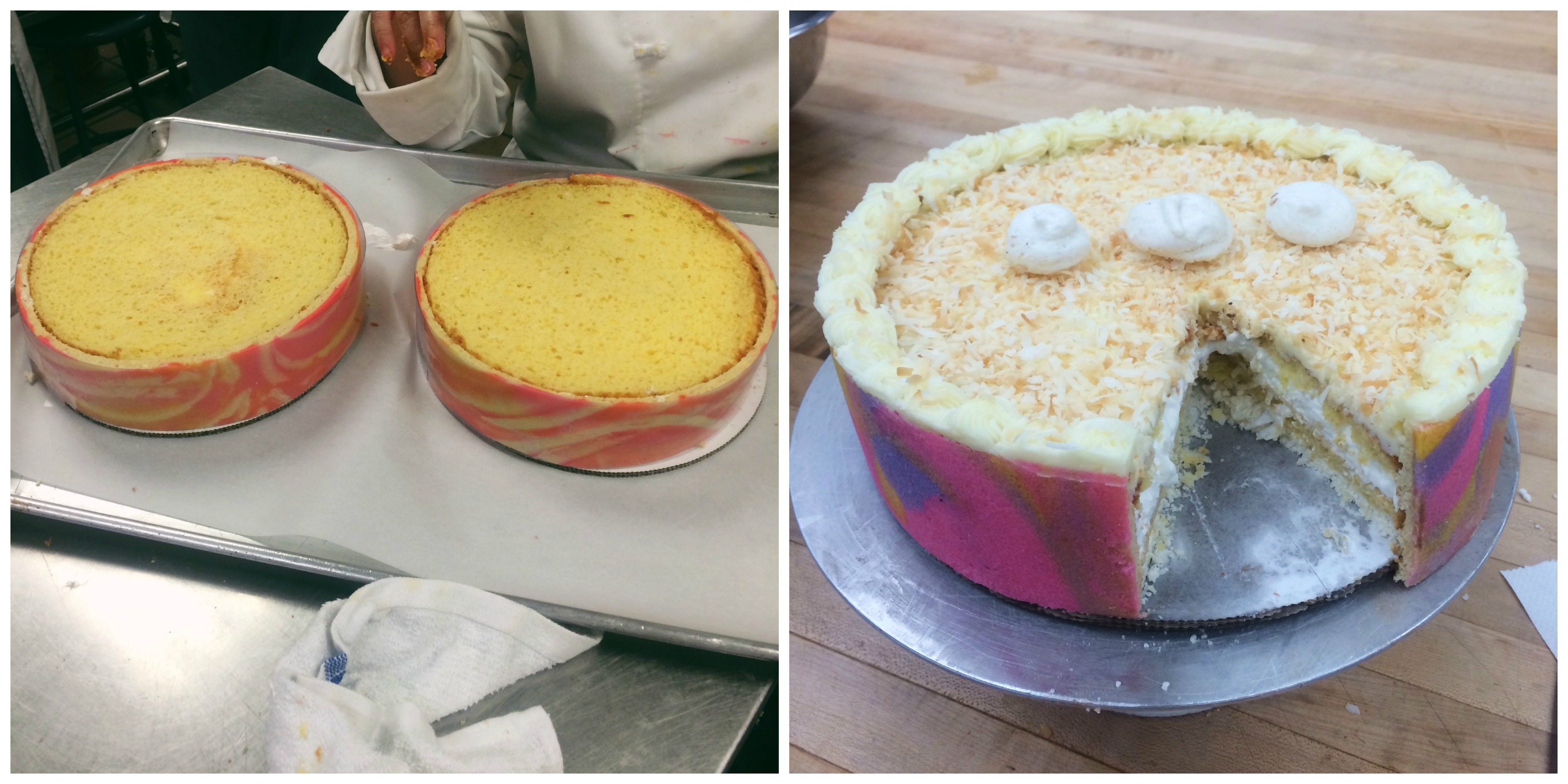 {when it comes out of the oven, you'll have a thin, beautiful, colorful cake to cut and line ring molds.  we used ours for this orange coconut cake: a layer of meringue + two layers of orange chiffon cake sandwiching coconut mousse, surrounded by the colorful ribbon sponge cake [brushed with coconut butter], and topped with buttercream and toasted coconut and meringues.}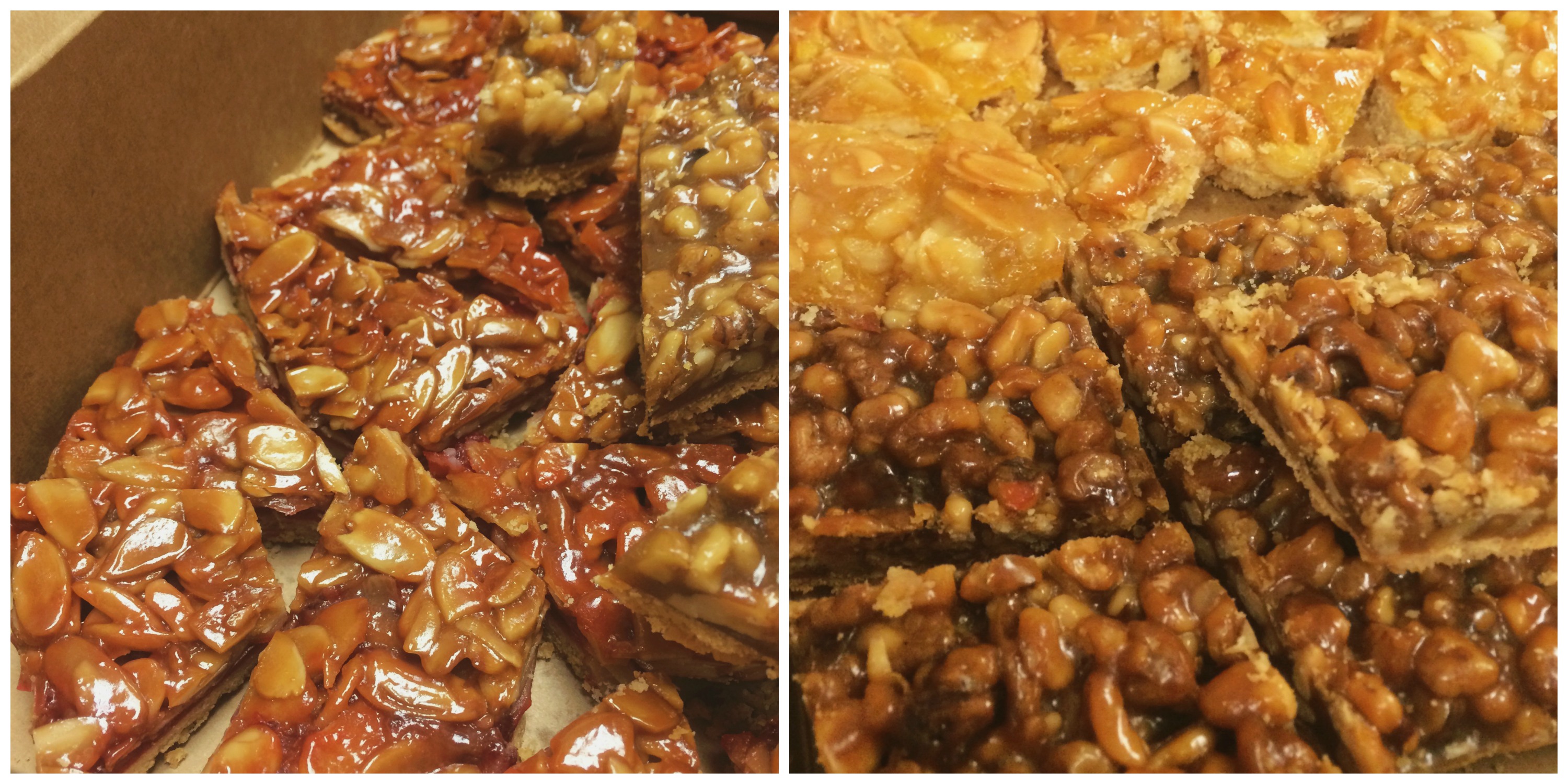 {three types of sec [french for "dry"] petit fours – raspberry florentines in the left photo, and walnut diamonds and pineapple florentines in the right photo}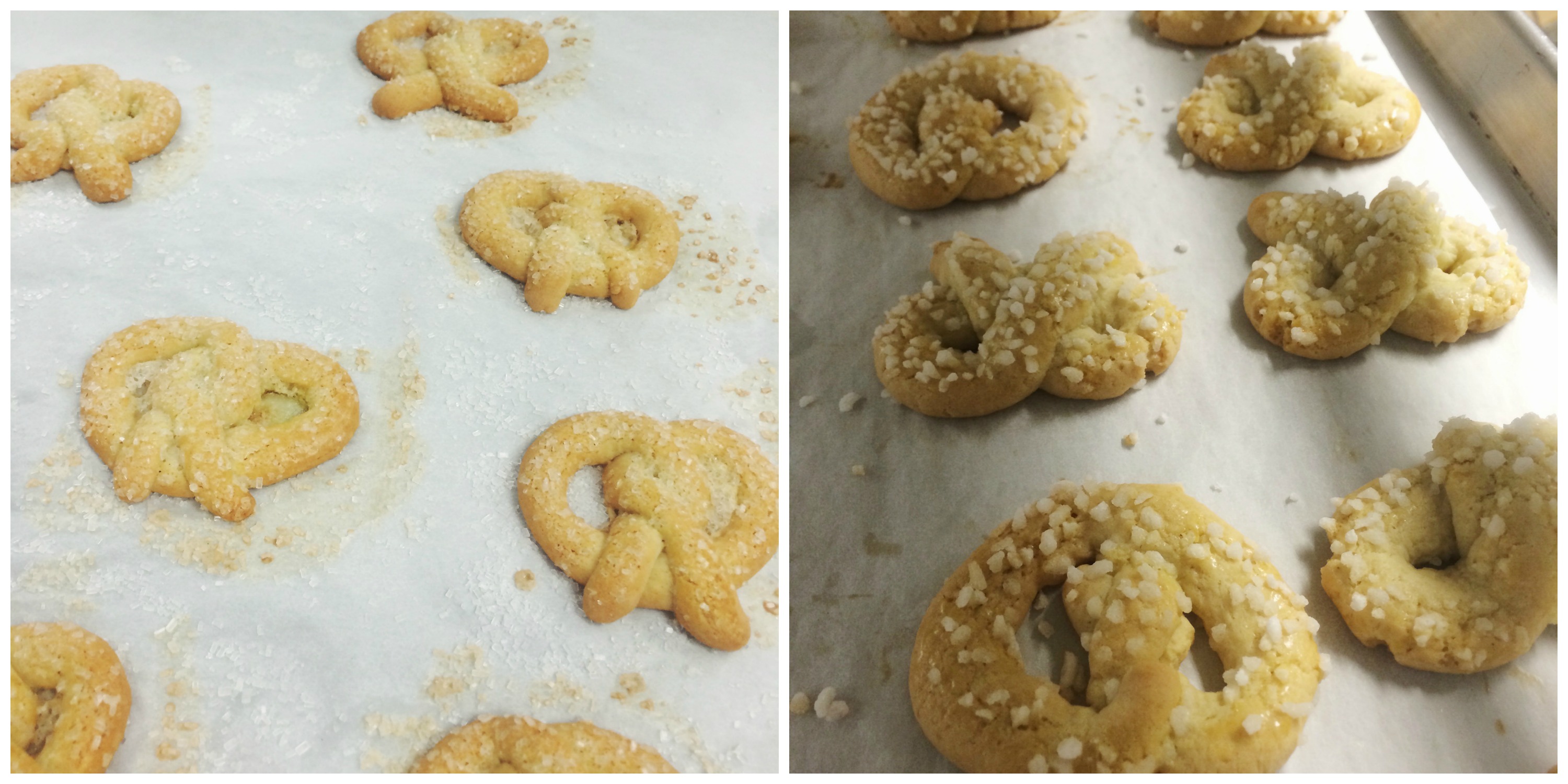 {sugar pretzels, sprinkled with sanding sugar [on the left] and pearl sugar [on the right]}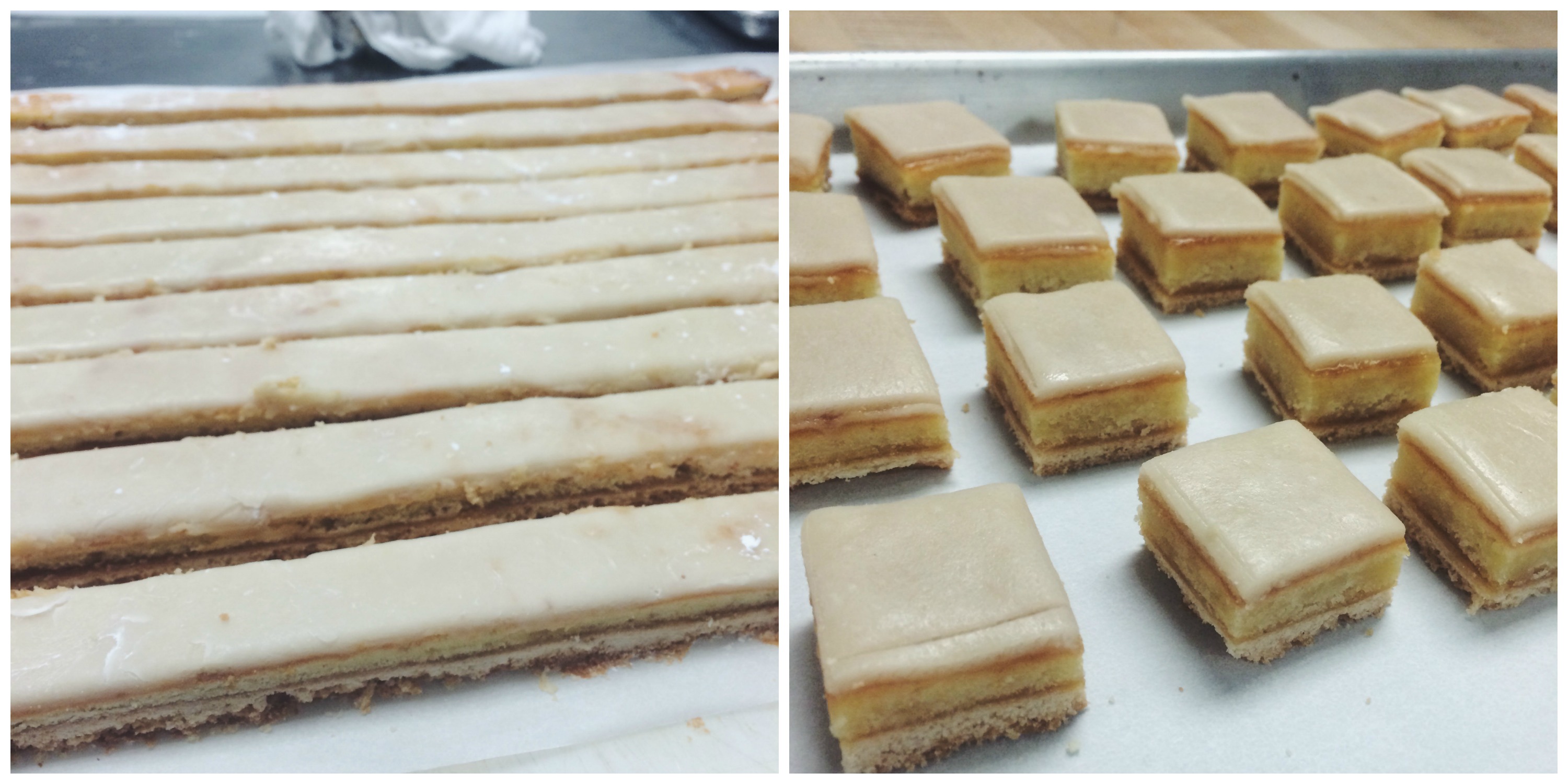 {andddd the making of petit fours.  on the left – cutting, and on the right, cut petit fours ready for dipping!}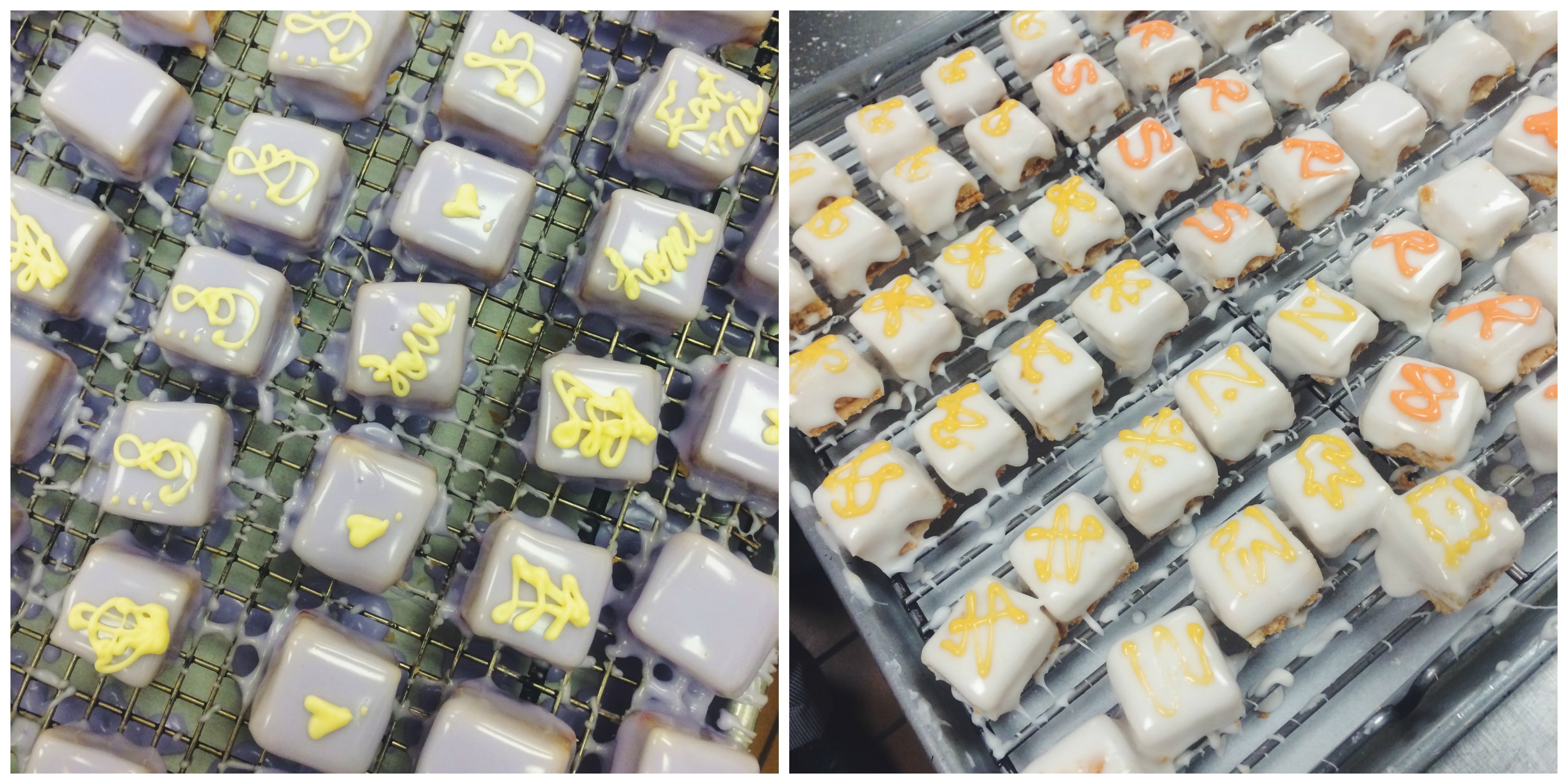 {cute little lavender and yellow ones on the left, and some white with neon on the right.}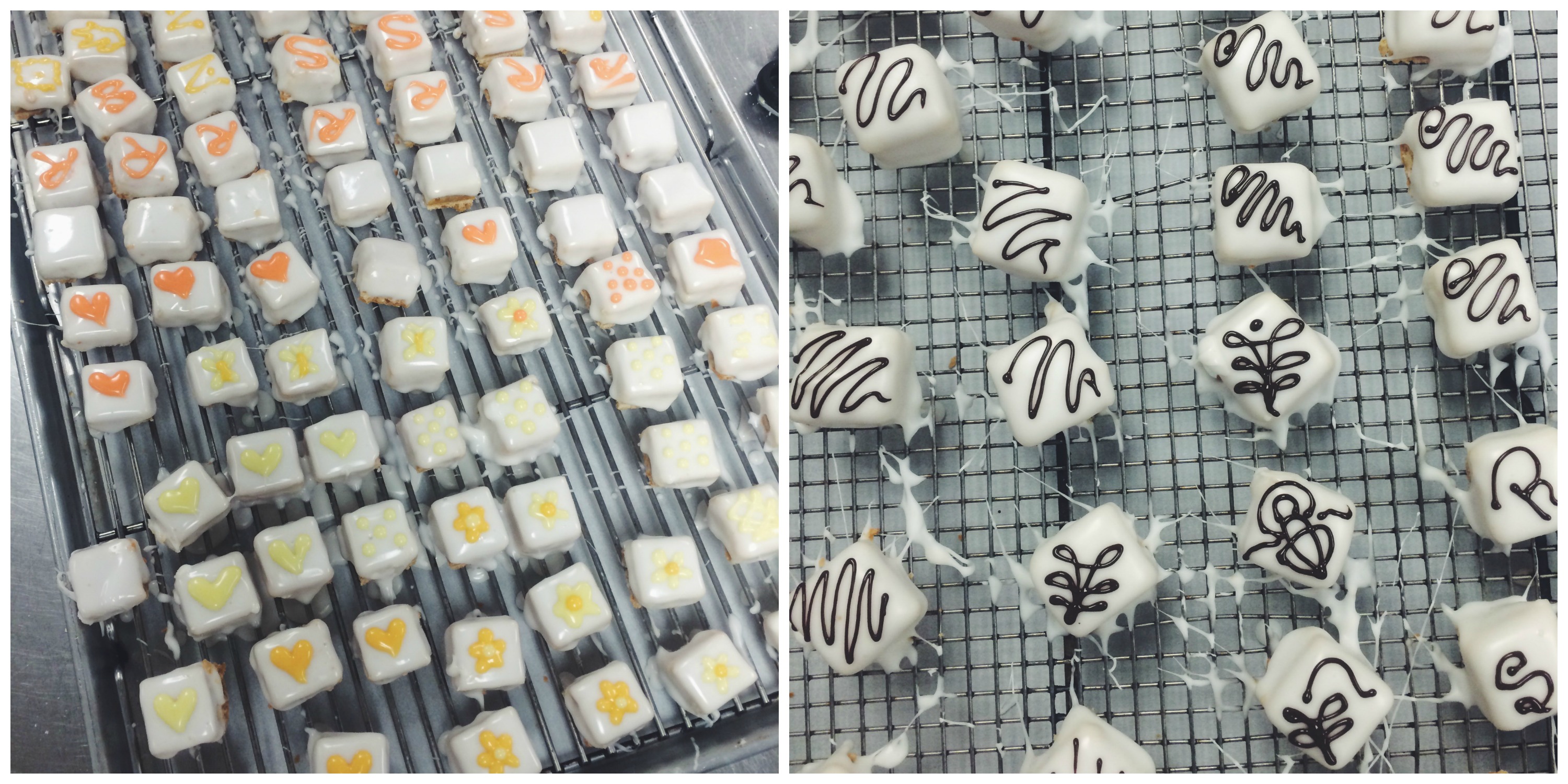 {i love all the ways people decorated them!}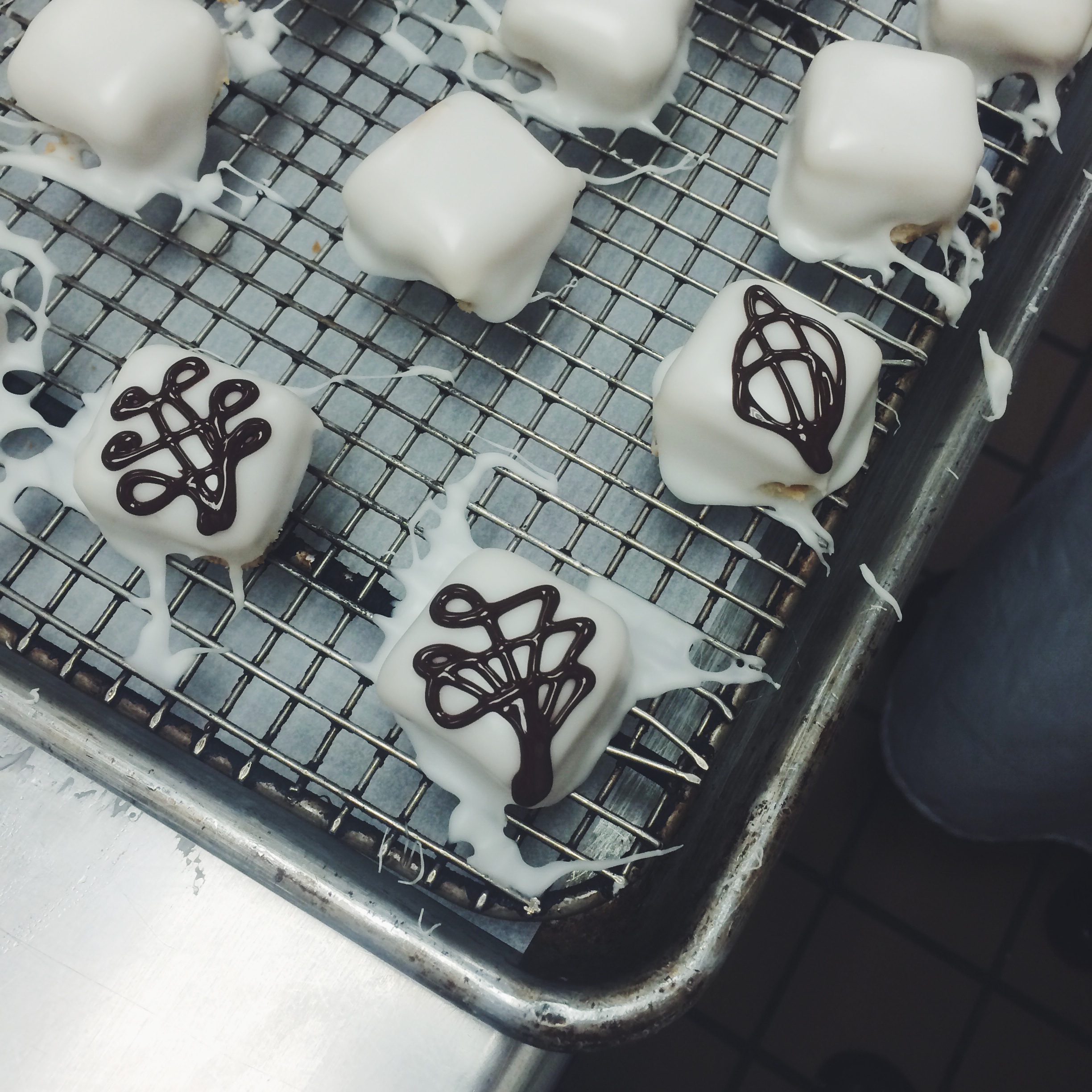 {chef taught us these three classical petit four designs}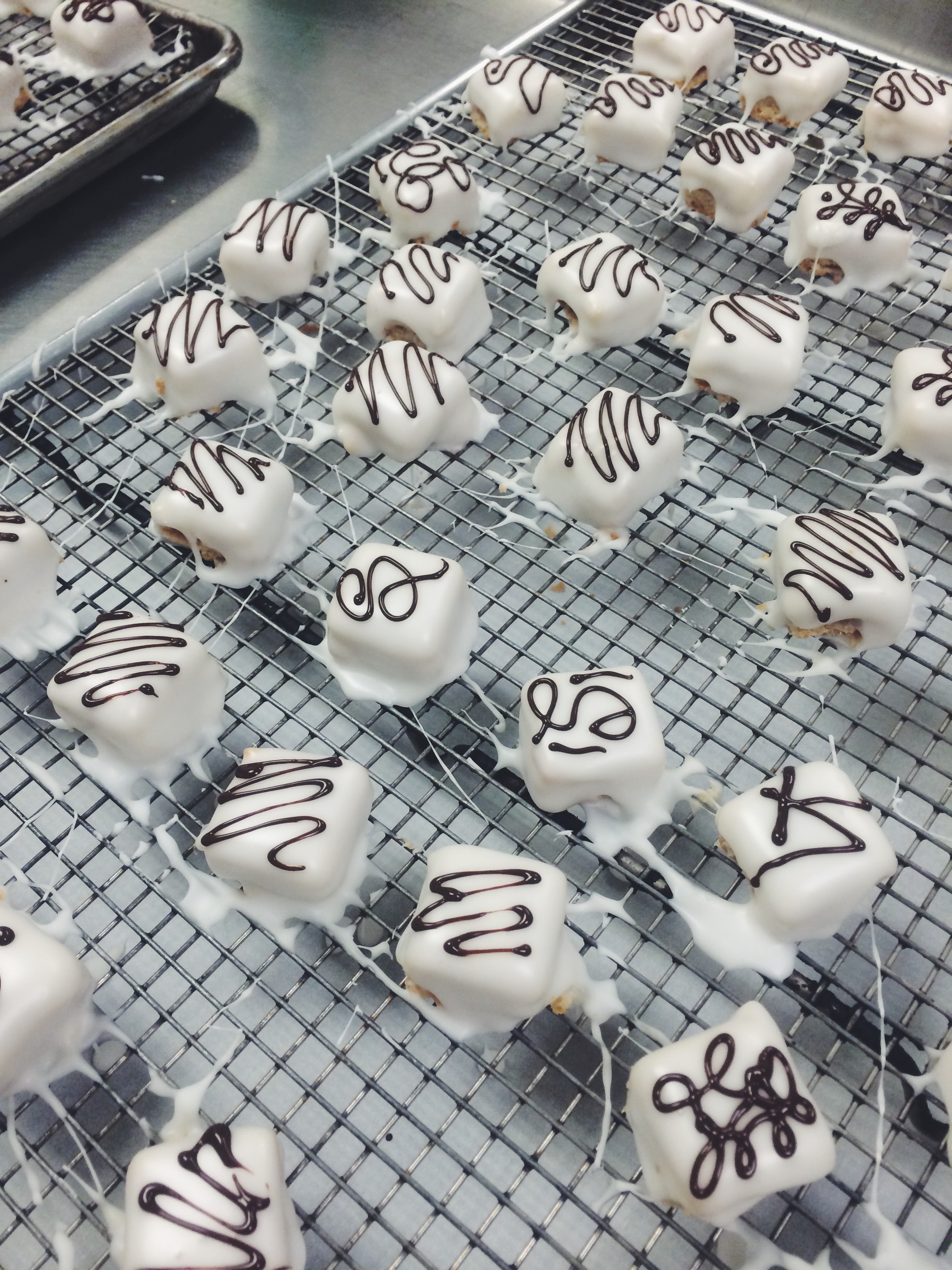 {they're stick-to-your-teeth sweet, but very elegant looking [even when they're still on the messy dipping rack!]}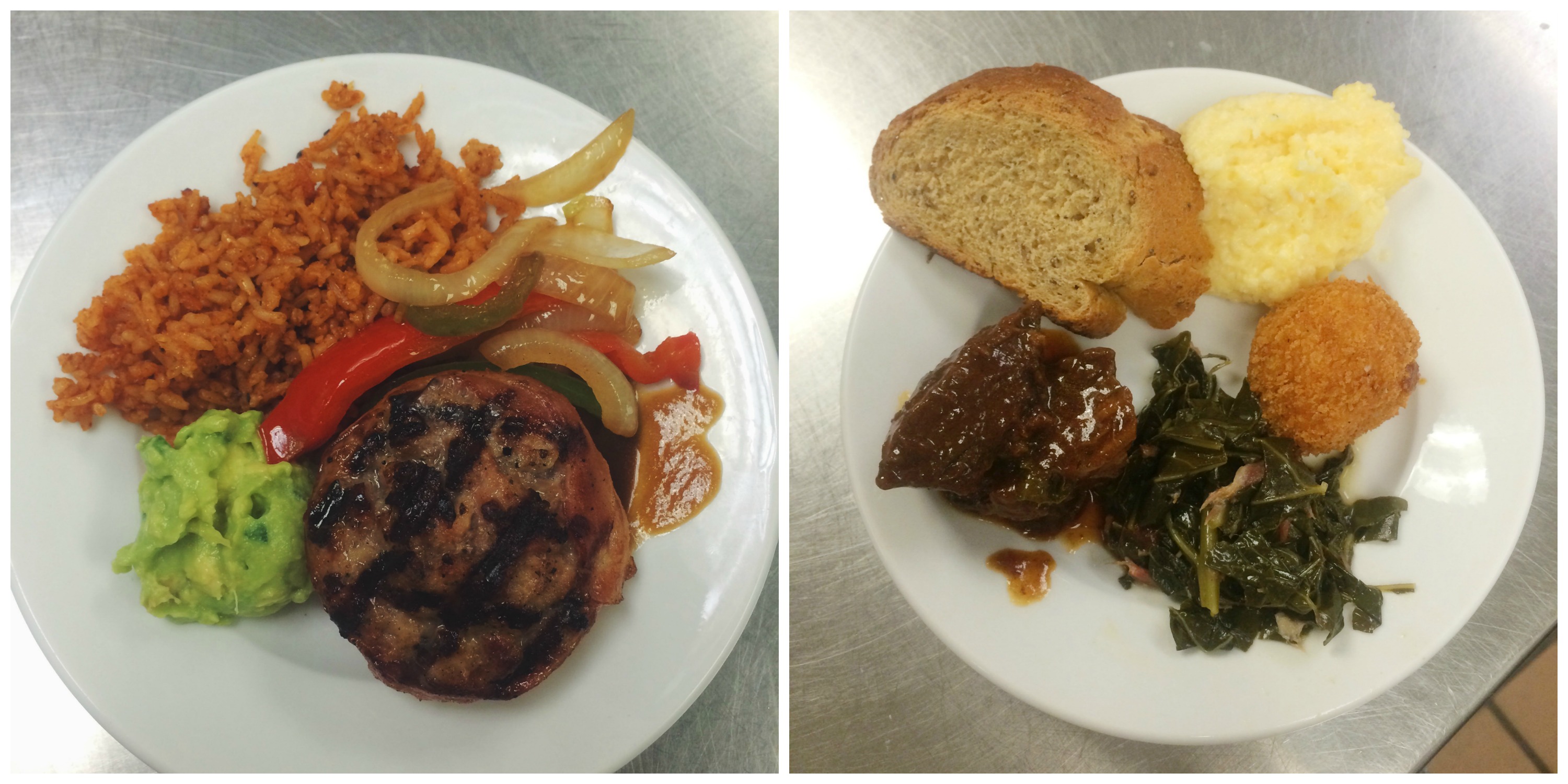 {dinners from the advanced food prep class next door}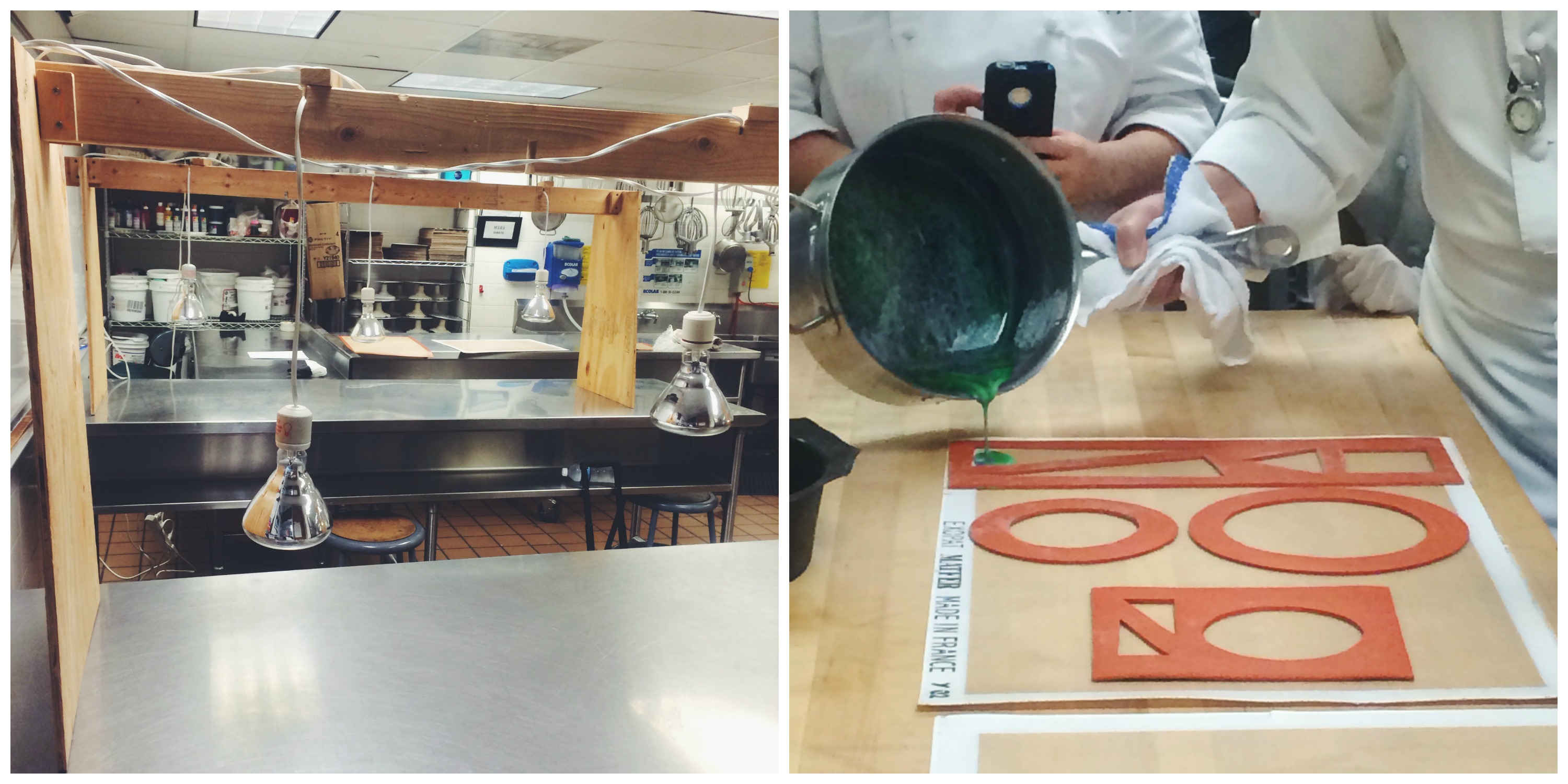 {when we walked into class and it was decked out with overhanging heat lamps and stacks of silpats, we knew it could only mean one thing: pulled sugar!  on the right, making centerpiece bases.  yep, that dark green liquid is sugar.}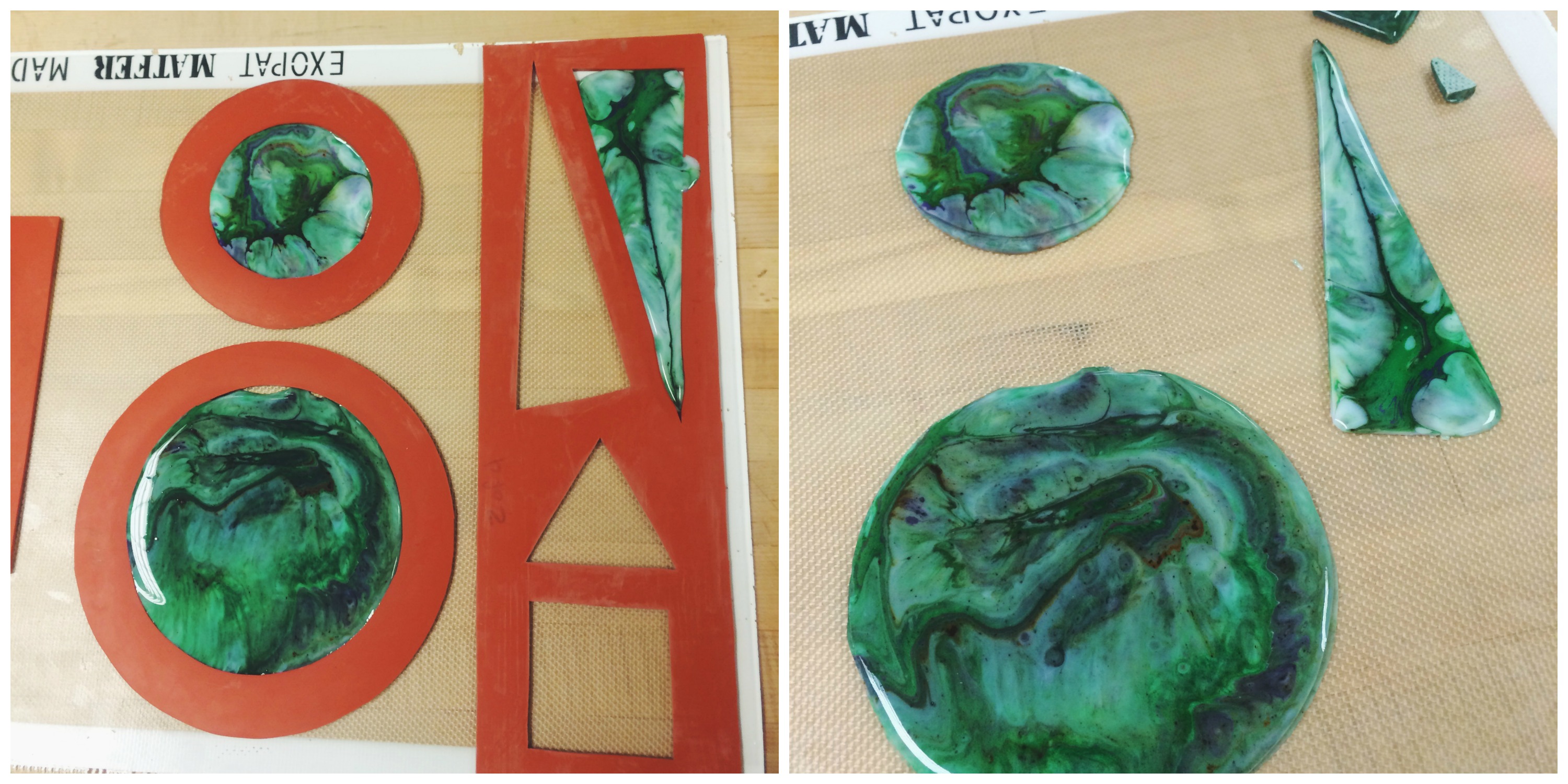 {i couldn't believe how much this sugar looked like art glass.  it made for lovely centerpiece bases.}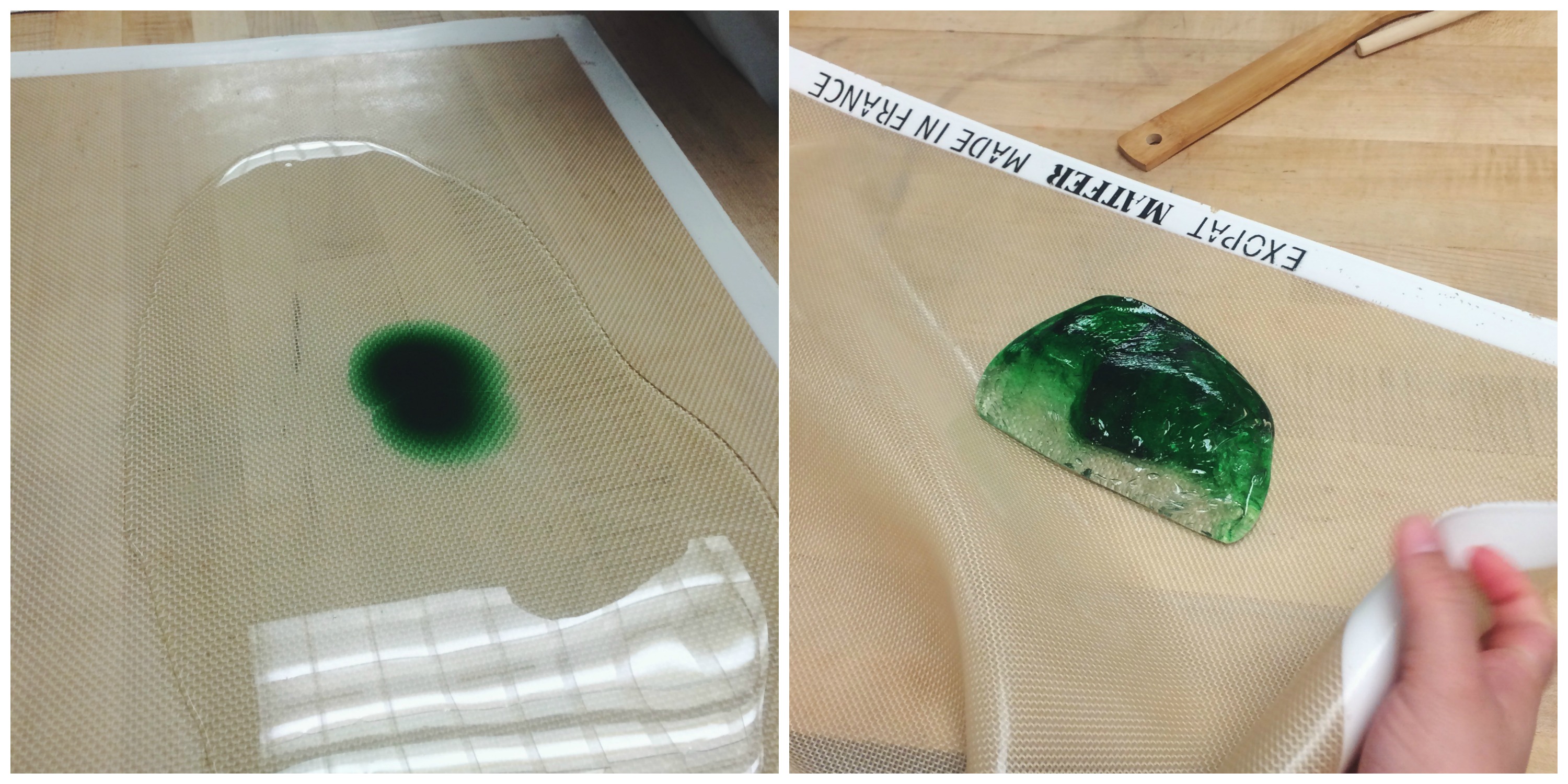 {after pouring the hot sugar onto a silpat, we added food coloring and began to carefully use the silpat to work the sugar as it cooled.}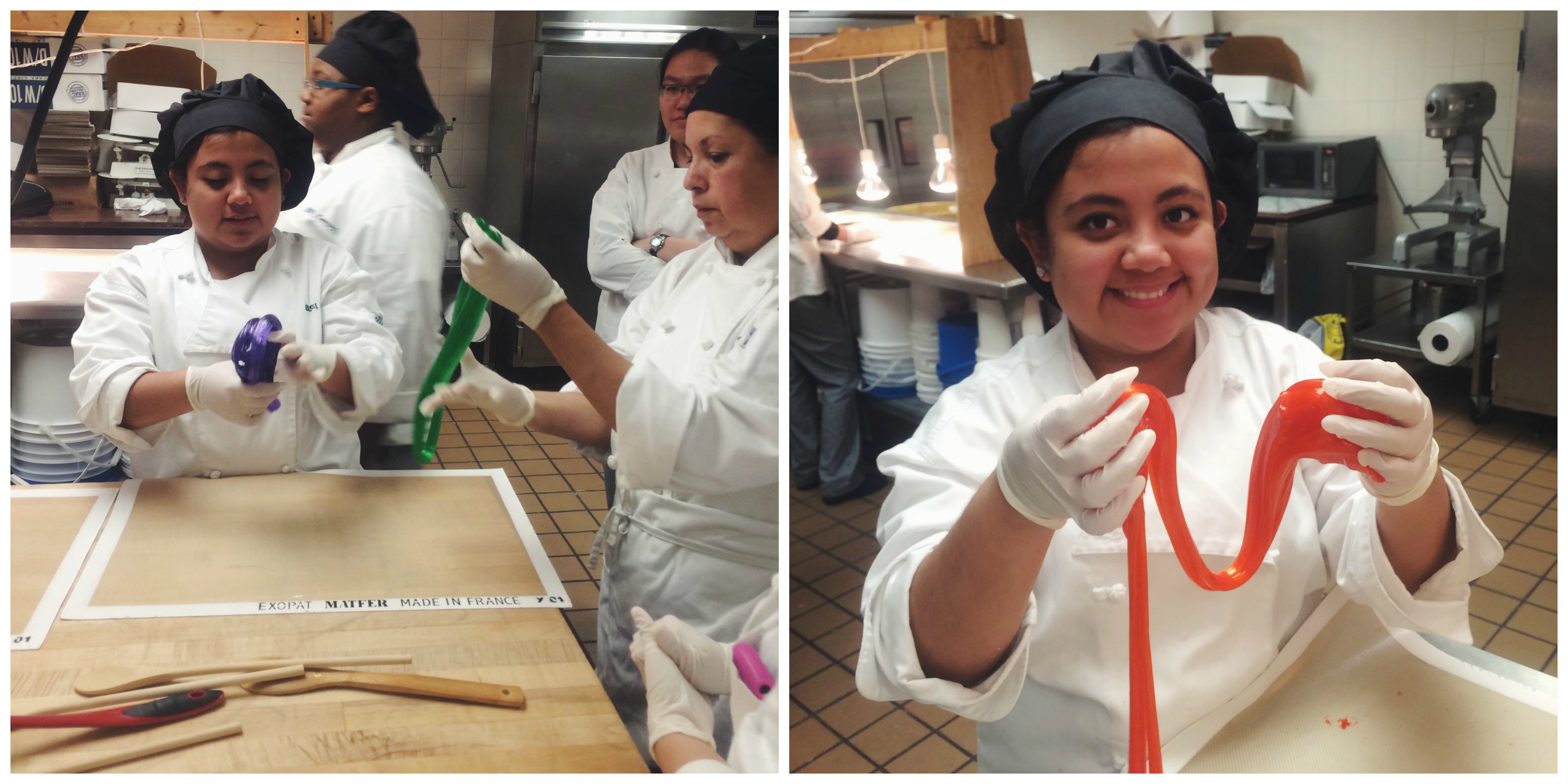 {and once it got cool enough to handle with latex gloves, the pulling began!  it was so fun to work with [but also much more difficult than you'd think!].  if it got too hard, you'd put it under the heat lamp and it would become flexible again… but you had to be sure not to leave it there too long, or it would basically turn into a puddle.}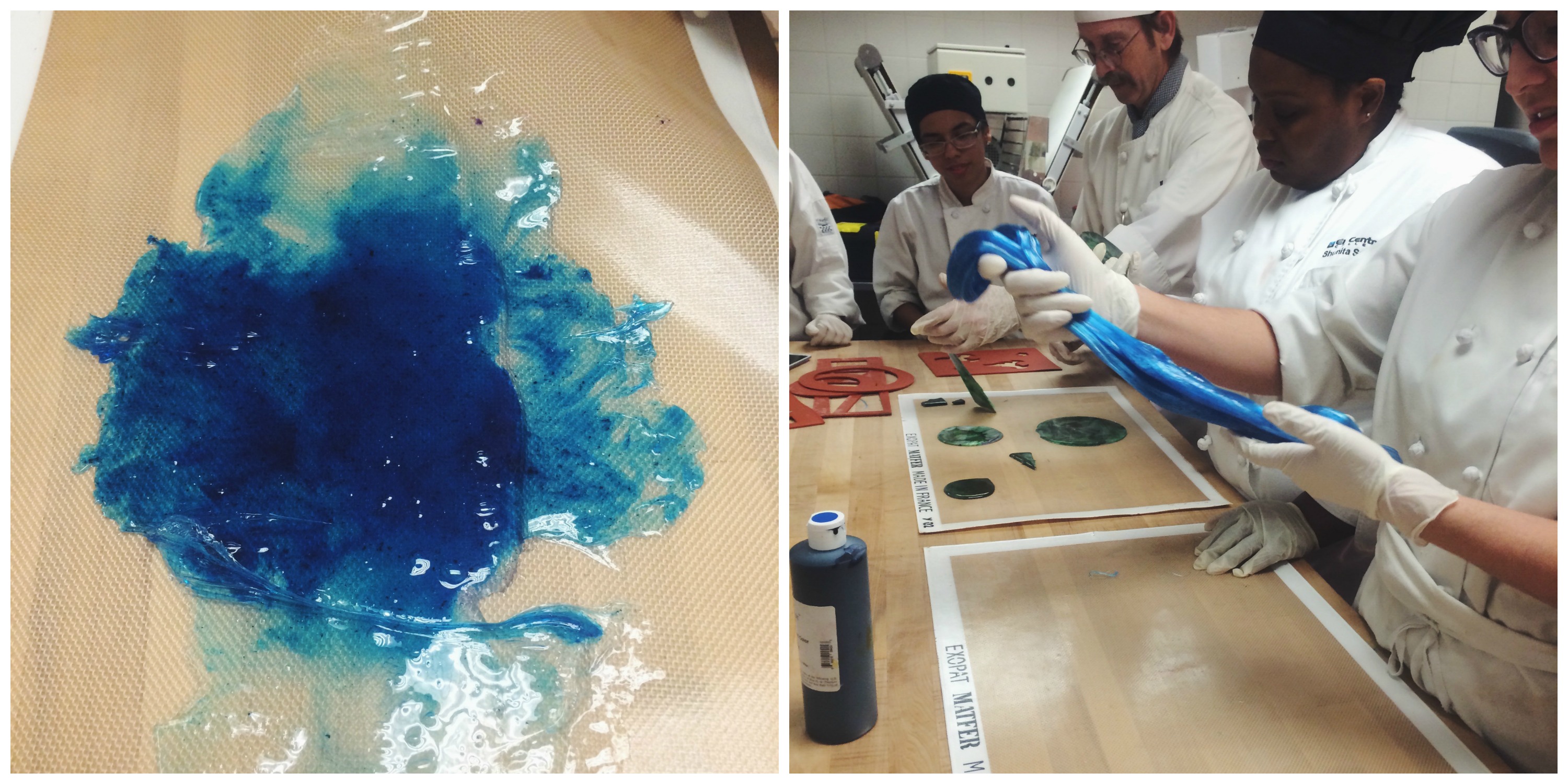 {that gorgeous blue}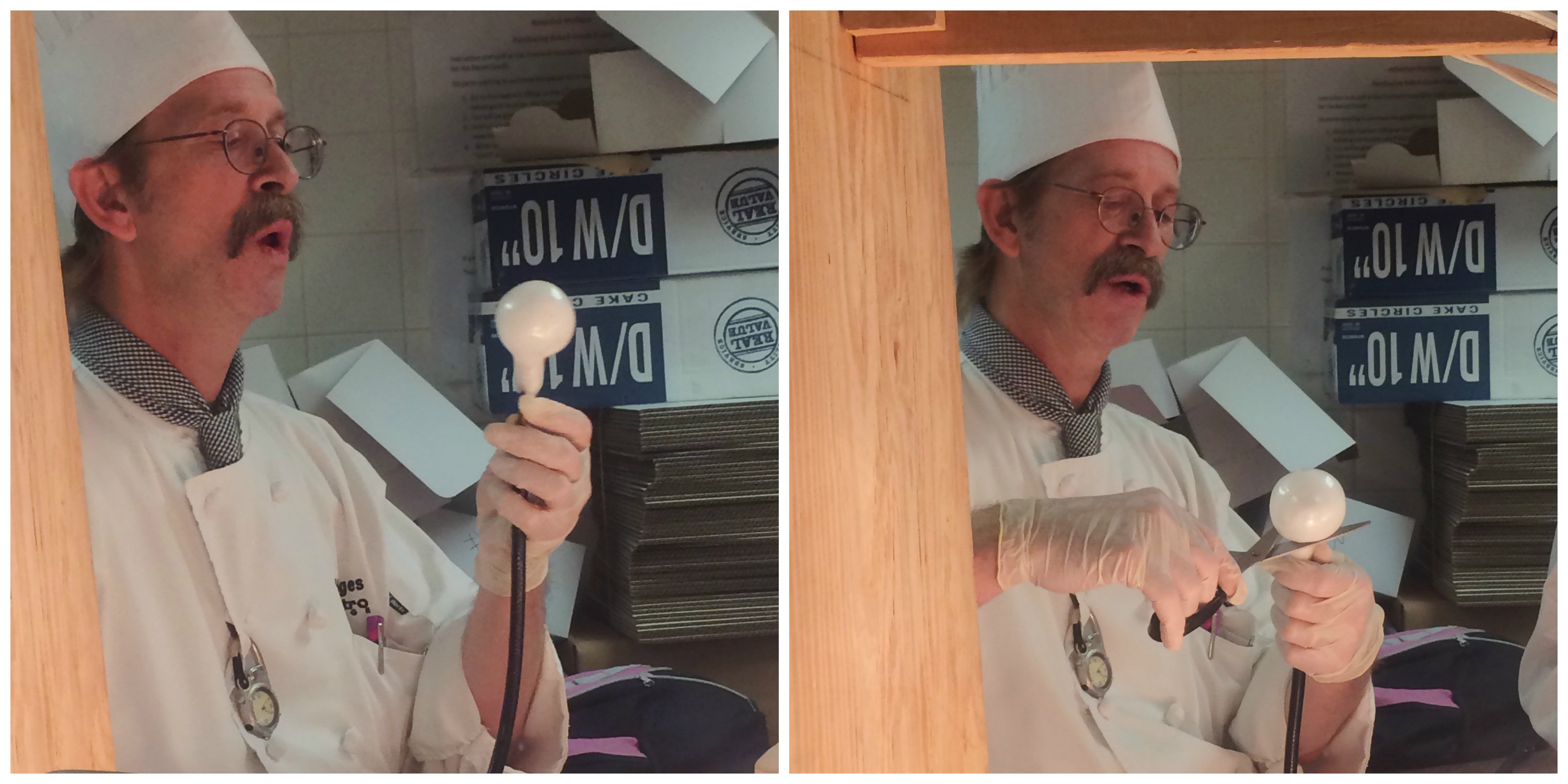 {chef showed us how to make sugar bubbles…}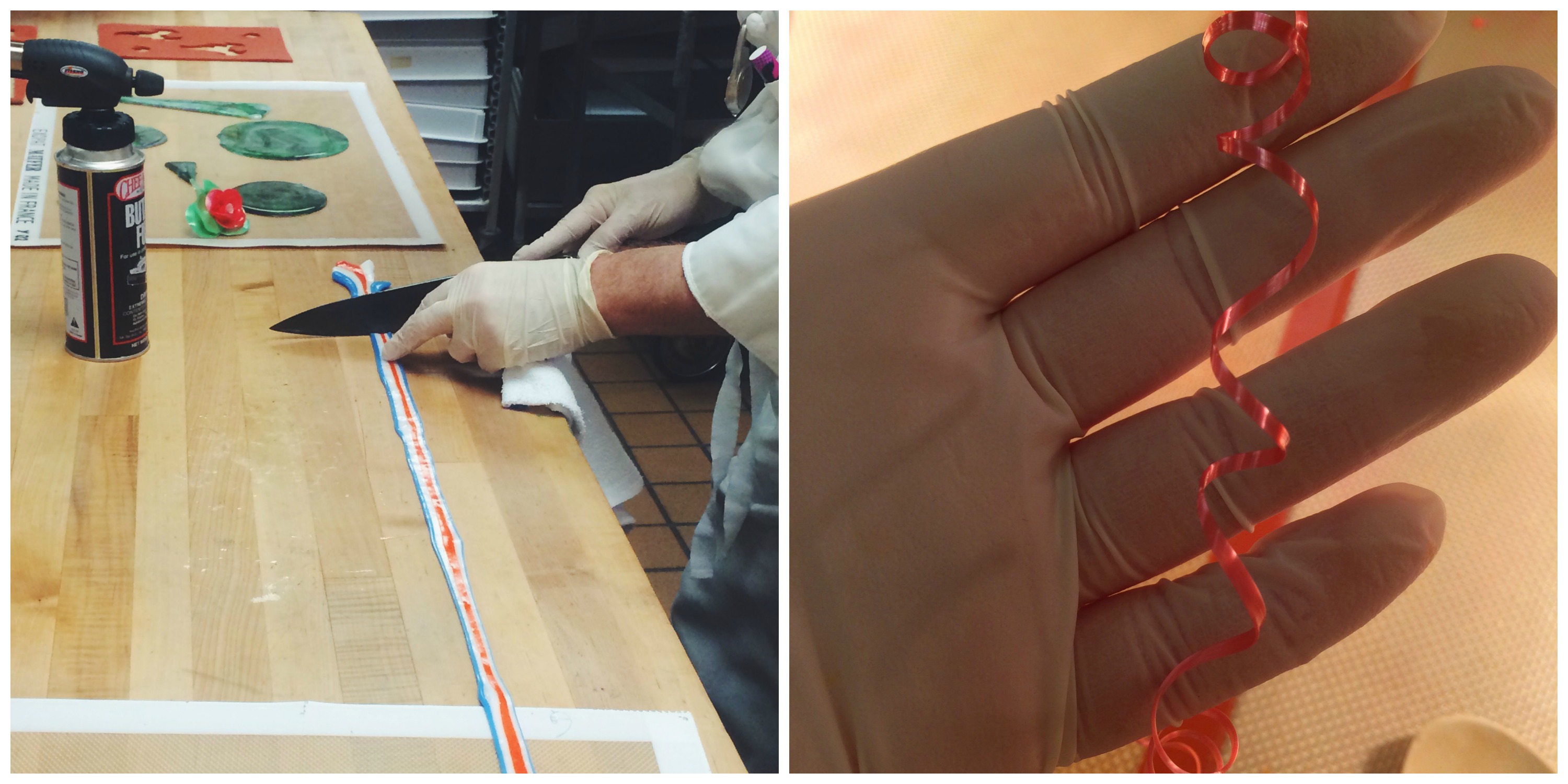 {…and sugar ribbons.}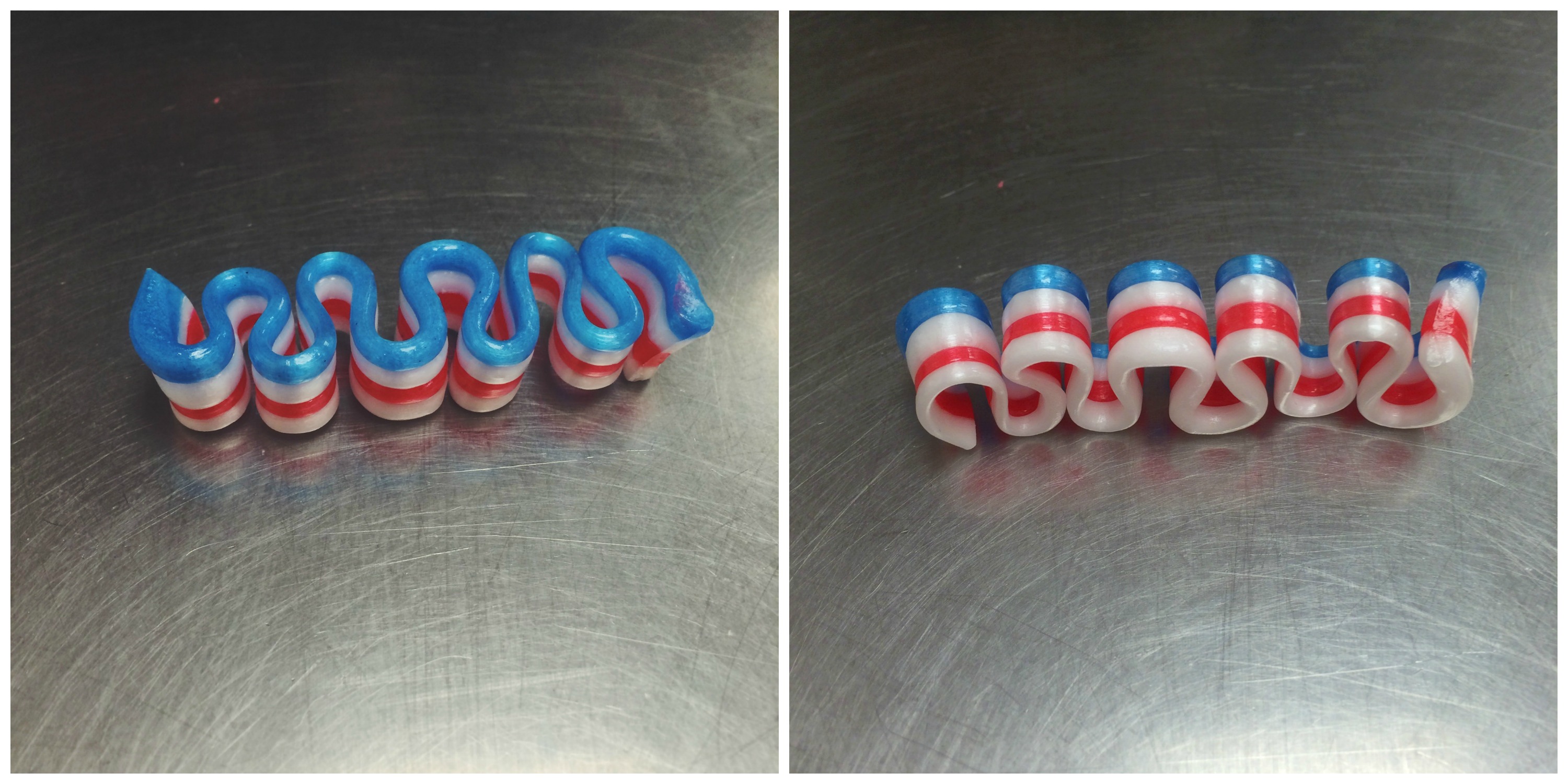 {i made this little piece of USA-colored ribbon candy.}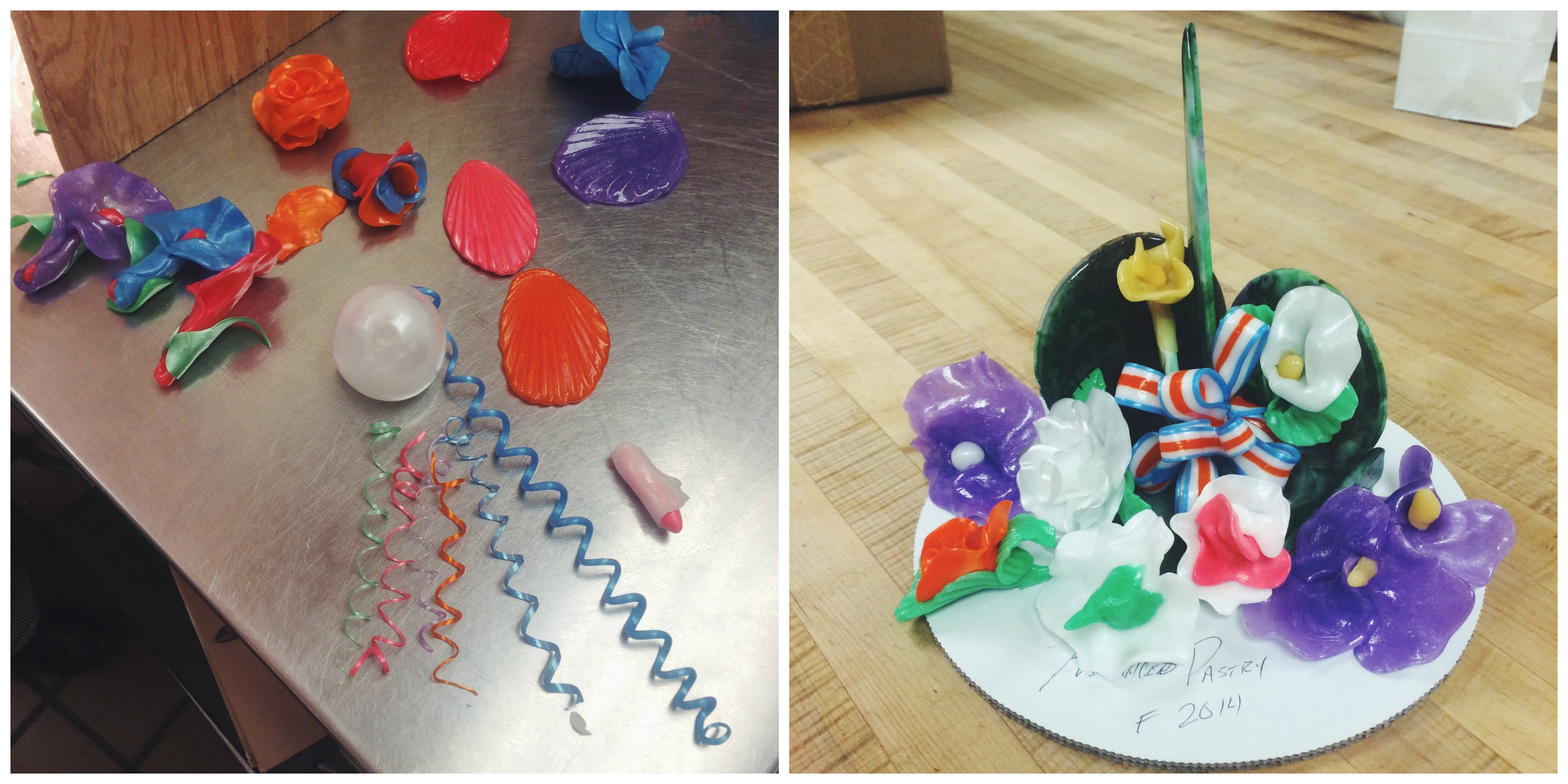 {after we played around with the pulled sugar for a whole class period, chef used our creations to make a class centerpiece.}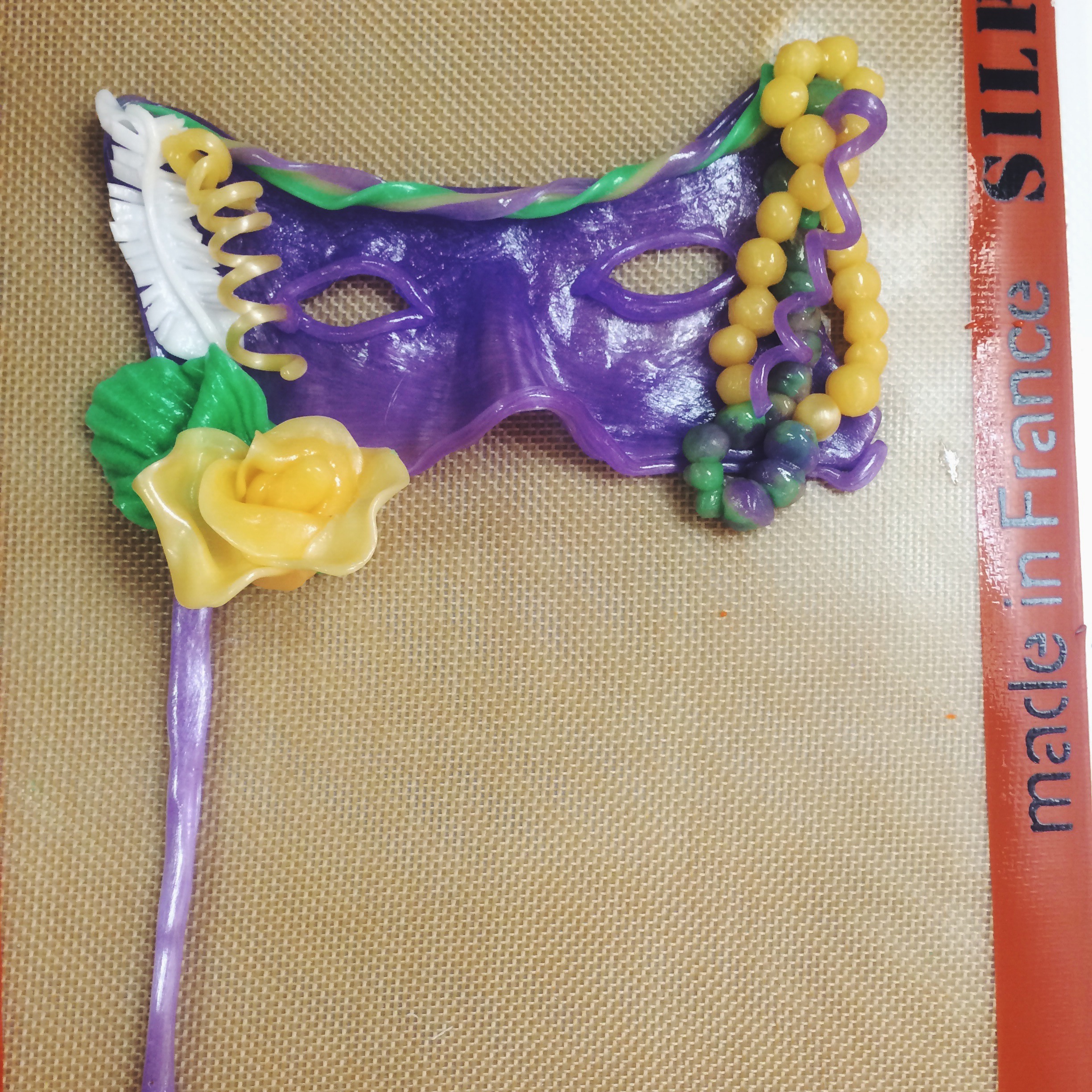 {…but i think everyone agreed that one talented girl in our class took the cake for best creation.  isn't this mardi gras mask amazing??  it's 100% pulled sugar.}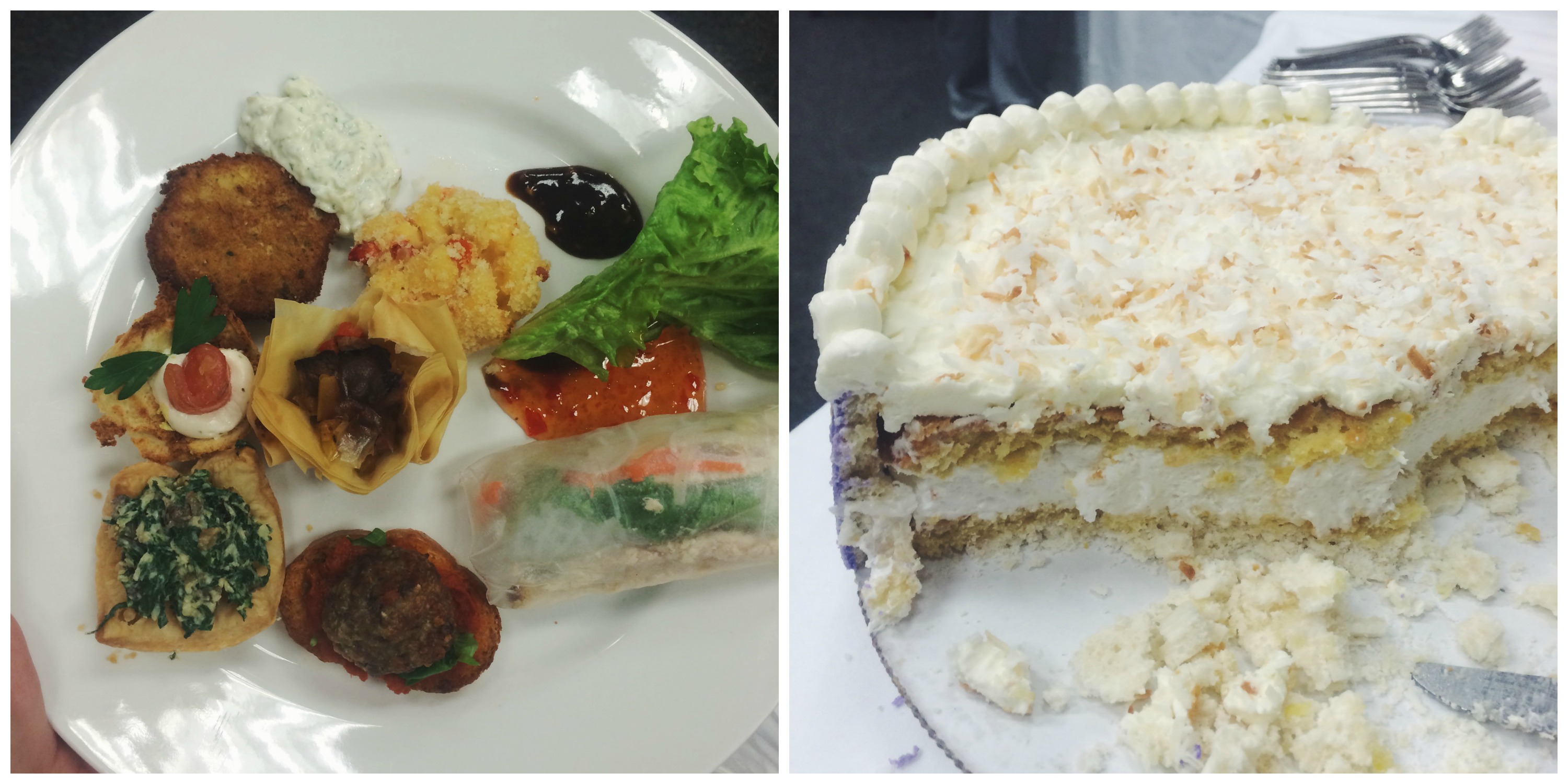 {more deliciousness from the class next door…}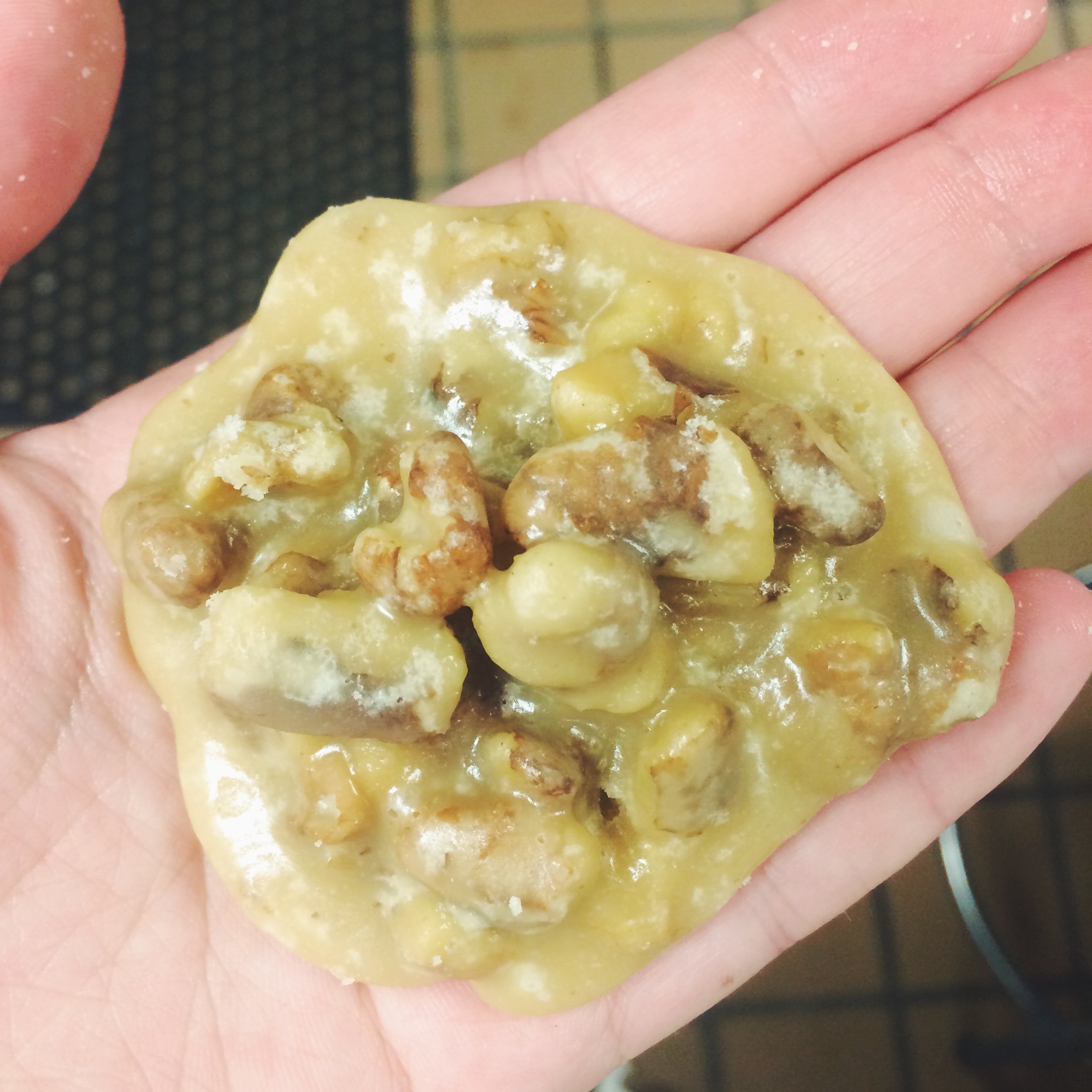 {and for our final exam [the practical portion], we had to make walnut pralines.  they're not the prettiest confection i ever did see, but these pralines got me a 100 and were the easiest thing we made all semester [they were even easier than our fundamentals of baking exams!], so i wasn't complaining.}
i believe that was my last pastry shop class, and i'm kind of sad that that chapter is over.  our bakeshop is such a calm, pleasant place to be.  but it's bittersweet, because it means i'm getting closer to graduating!
see fundamentals of baking part 1 and part 2
also, there will never be a lack of food photos on this blog/on my instagram/in my life/wherever i go, so never fear!  i know you were worried. ;)
happy [almost] tuesday!