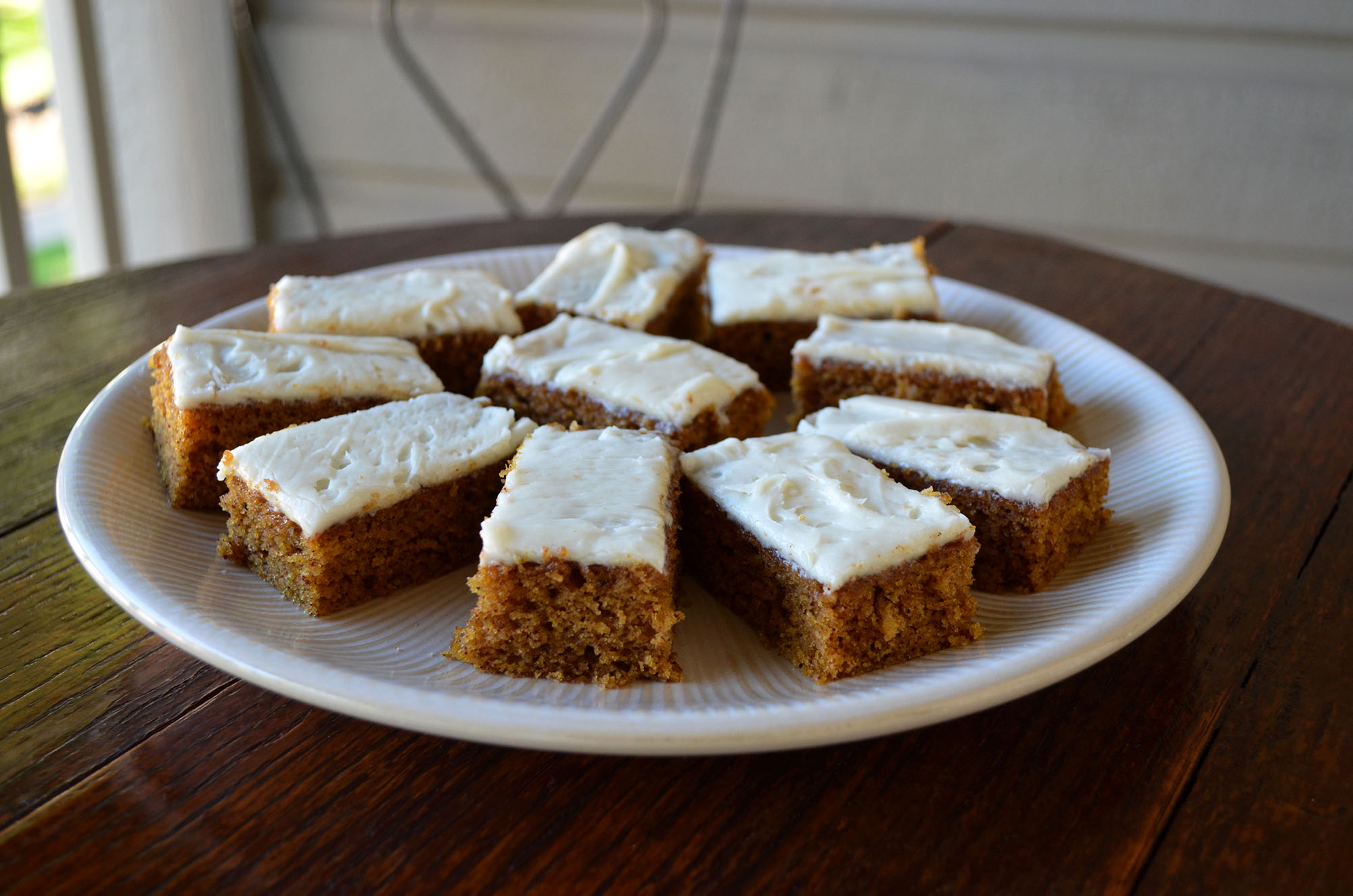 Every year for as long as I can remember, around the end of August or beginning of September, my mom has made a batch of these pumpkin bars.  She cuts them into little rectangles and would send one in our lunches we were younger or serve them as a weekend or after-school treat, and then when we were in college, we'd get a little tupperware container of them to take back to school with us.  It was a way of marking the beginning of fall, the beginning of a new school year.  This year, back in September, my mom sent me a little container of them, just like always.  However, since this year was my first year to really be on my own, I decided that I needed to continue the tradition.  I made my own batch of pumpkin bars to take to work, which really meant 1/4 of the pan for the office and 3/4 of the pan for me. ;)  The ones that I put in the breakroom were completely demolished within the hour, so I think they were a hit!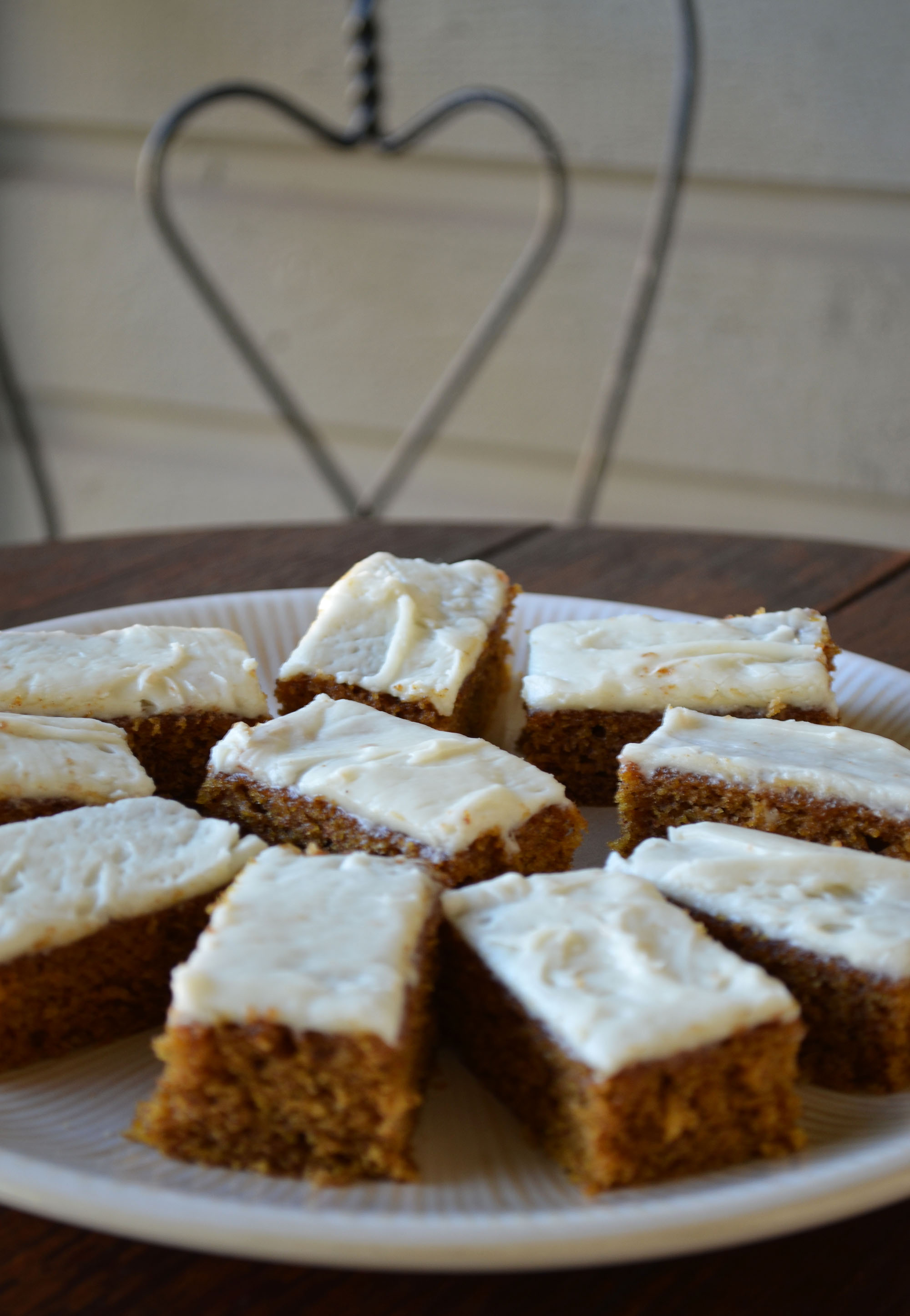 These bars are deliciously moist and taste of autumn spices, and the cream cheese frosting is smooth and so perfectly creamy – when you try one, you will know exactly what I'm talking about.  They should be stored in the fridge, but are best when they are left at room temperature for a half hour or so before serving to soften the frosting.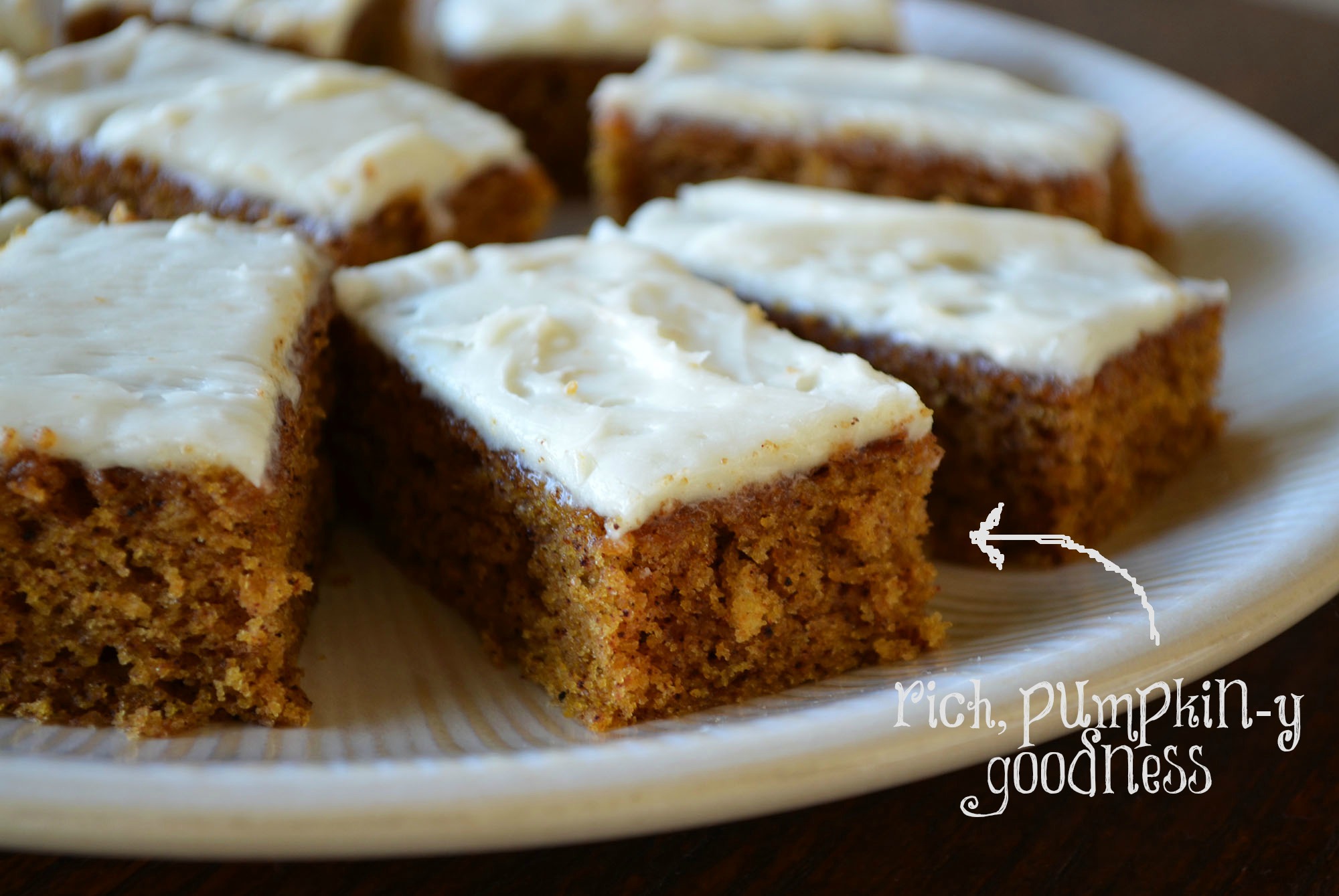 Mom's Pumpkin Bars
4 large eggs
1 cup vegetable oil
2 cups sugar
2 cups solid pack pumpkin
2 cups all-purpose flour
2 tsp. baking powder
1 tsp. baking soda
1 tsp. salt
2 1/2 tsp. ground cinnamon
1 tsp. ground ginger
1 tsp. ground cloves
1 tsp. ground nutmeg
In a large bowl, beat eggs, oil, and sugar until well blended.  Add pumpkin and mix thoroughly.  In separate bowl, mix together flour, baking powder, baking soda, salt, cinnamon, ginger, cloves, and nutmeg.  Gradually add dry ingredients to pumpkin mixture. Mix until smooth.  Pour into greased and flour 11×17-inch jelly roll pan.  Bake at 375° for 20 minutes or until wooden pick inserted in center comes out clean.  Cool before spreading with frosting.
Cream Cheese Frosting:
3 oz cream cheese, softened
6 tbsp. butter, softened
1 tbsp. whole milk
1 tsp. pure vanilla extract
3 cups powdered sugar
In a medium bowl, beat cream cheese until soft.  Add butter, mixing until smooth.  Stir in milk and vanilla.  Gradually add powdered sugar.  Beat until smooth and spread onto cooled cake.
Enjoy, and savor this autumn season with family and tradition!