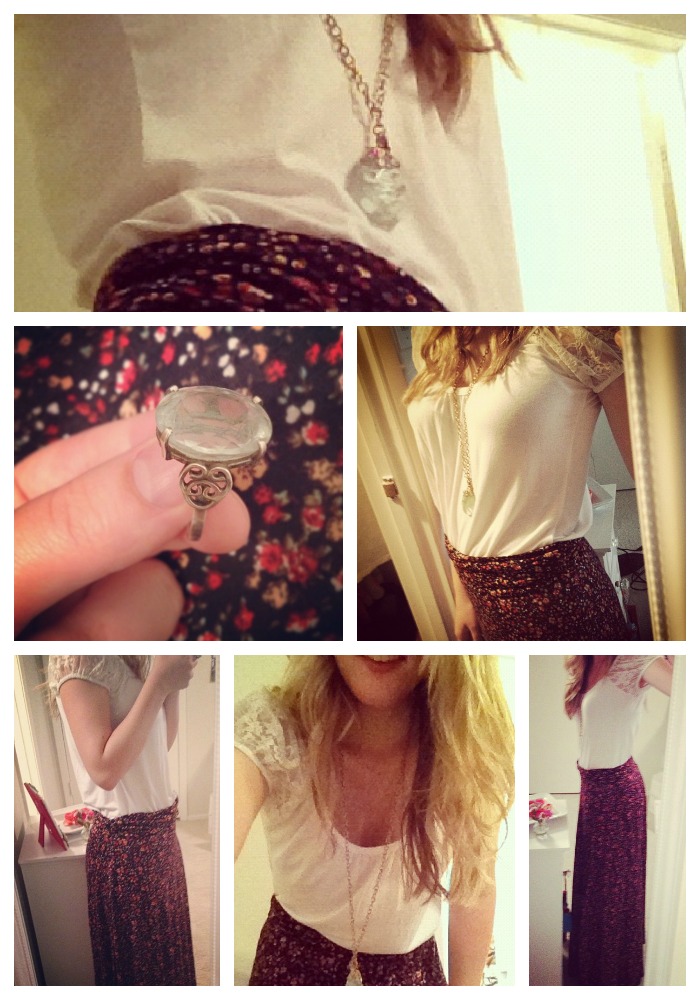 august is approaching quickly, and i'm definitely ready to be in autumn mode.  warm colors, scarves, pumpkin-everything, cool weather [although let's be honest here…the fall weather won't hit texas for at least another two months.  if we're lucky].  makes me think of school days.  good thing i'll be starting culinary school – i'm not ready to give up that student card just yet!
today i wore a black-and-flower-patterned skirt to work that breathed autumn, and I balanced it out with a still-summery mint-colored stone pendant necklace, perfect for this time when i'm ready for fall clothes but summer is lingering.  when you live in a place where it's over 100 degrees every single day for months at a time [and sometimes longer], you know what i'm talking about.  i got both the skirt and the necklace from buffalo exchange, and I paired them with a lace-trimmed cream-colored shirt that i've had forever.
the ring i wore was my grandmother's…when i bought the necklace, i didn't even think about how well it would go with that fun vintage ring.  add some casual brown leather flip-flops and a little brown-berry color to my lips, and i was ready for the day!
xoxo