this is another big topic that everyone wants to ask about – what do you pack for a backpacking trip through europe?  it was definitely trial and error for me, as this was my first time going backpacking, but i can honestly say that i [somehow] packed really, really well.  and to me, this is an accomplishment, because we had more extreme temperatures on this trip than i have on any of the other six trips to europe that i've taken.  i will say that my excessive/obsessive researching, list-making, and weather-checking before the trip may have helped, or maybe i just like to think that. ;)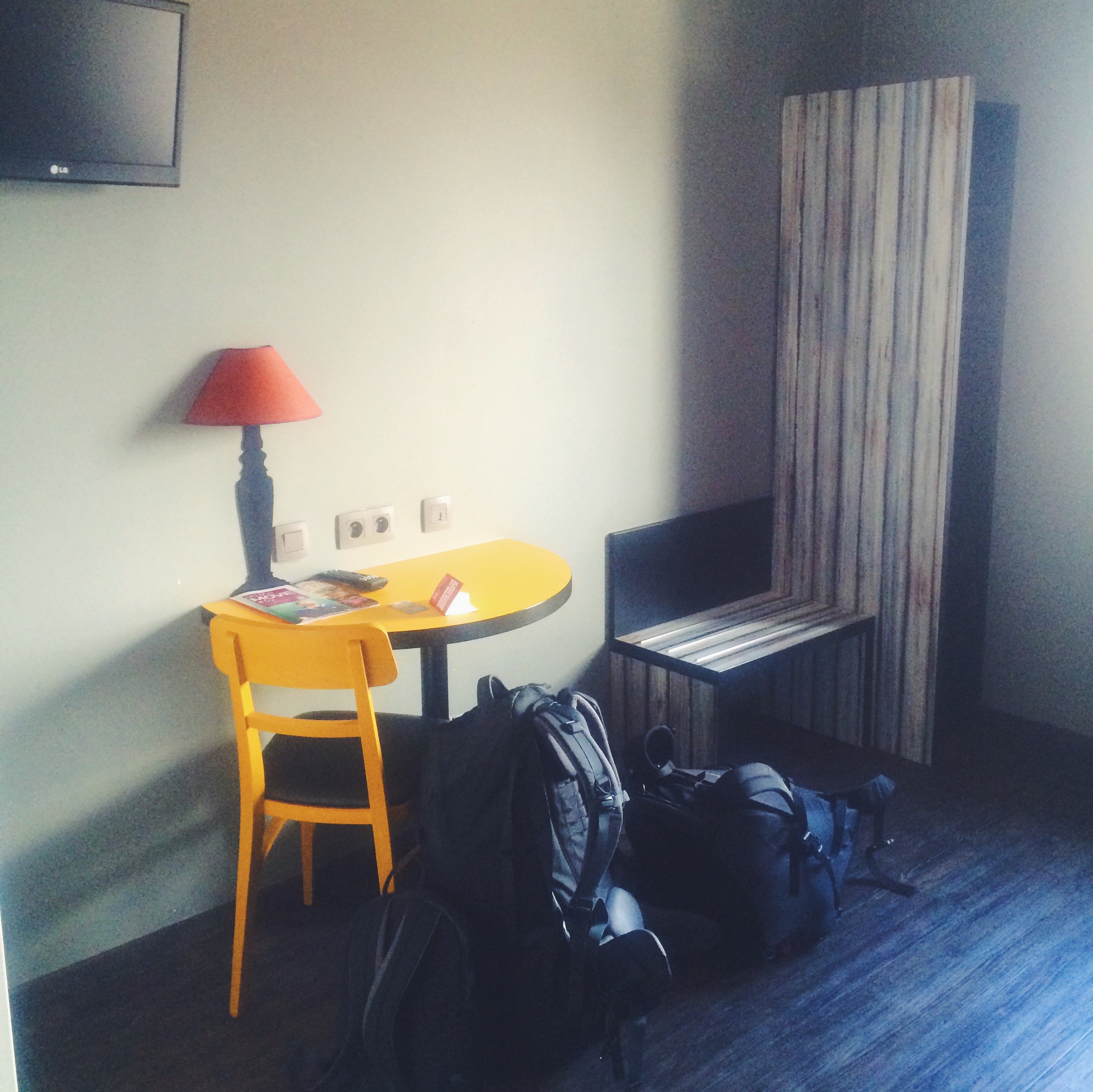 everyone always says to bring layers and a variety of different outfits for hot weather and for cold weather, and i can't even tell you how true this will be if the weather on your trip is anything similar to the weather that we had in europe during those three weeks.  i had packed a couple pairs of jeans, a couple short dresses, a long skirt, a pair of shorts, a couple tank tops, a few short-sleeved shirts, a three-quarter-length shirt, a couple sweaters, a scarf, a windbreaker… basically a wide mix of different layers [more on exactly what i packed further down below], and i used every single article of clothing that i brought.  and not only did i use all of it, but there were times when i was SO THANKFUL to have each piece.
as i mentioned, we had very extreme temperatures… when we arrived in brussels at the start of the trip, it was really cold and rainy – highs in the 50s, wet, and no sun to be found.  this might be normal for belgium, but it's hard to imagine what cold feels like when you're packing in 100-degree sunny texas, so it definitely took us by surprise.  we wore our jeans, warm clothes, rain jackets, scarves, alllllll the layers each day, and by the time we'd been there a couple of days, i was seriously considering buying more pants.  i'd worn both my pairs and was thinking, if this is how the rest of the trip goes, i'll have worn the same two pairs of jeans for like 20 days straight, no joke.  BUT, i figured i'd wait until we get to a few more cities before i did that, and ohhhh boy, am i glad i did.
each day gradually got warmer and warmer, and by the time we reached prague, we were experiencing a major heat wave – unseasonably-hot, record-breaking weather, with [of course] no A/C anywhere.  and let me tell you, we may be used to extreme heat in texas, but there is a HUGE difference between extreme heat with A/C and extreme heat without A/C.  it was reallyyyy hot – texas-hot, in the high 90s, – and in the middle of the day, you couldn't get away from it.  it was suppressing indoors without A/C, and the closest thing to cooling off in the hot hours of the day was finding a cold drink and a patch of shade near the water where you could maybe catch a breeze every so often.  i tend to be more cold-natured and had thrown in the pair of shorts into my backpack at the last minute, but i was ridiculously glad i had brought them [and my short dresses] and was also happy that i hadn't bought that pair of pants at the beginning of the trip… i would never have made it in pants.  anyway, it definitely illustrated the importance of packing layers.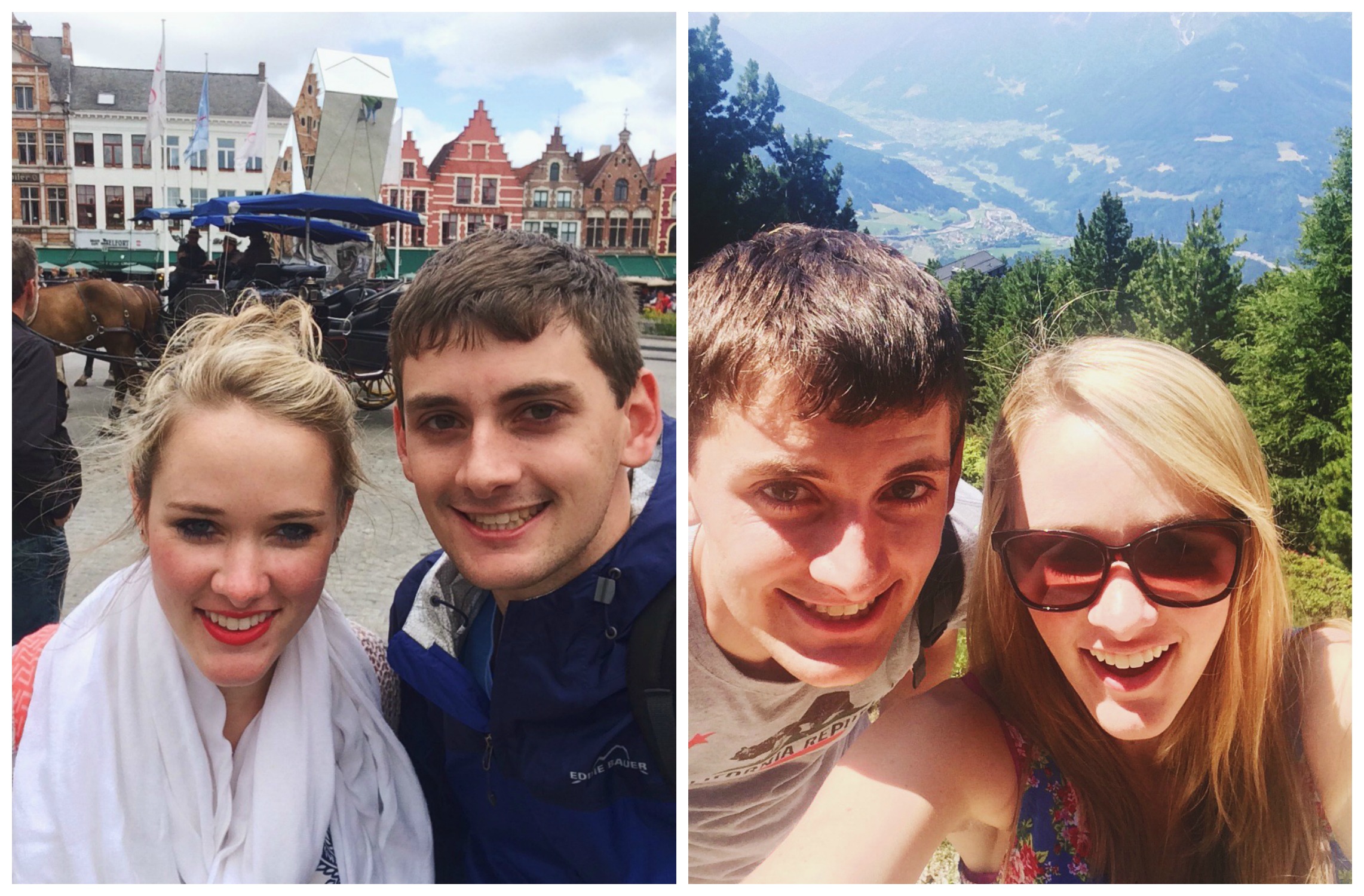 the other thing that saved me is that i could wear almost any shirt that i brought with almost any of the bottoms, and vice versa, and at least one of the sweaters and the scarf could go with everything as well.  i've always hated the idea of picking a color scheme to go with when traveling because it always feels so limiting and then in every picture, it looks like you're wearing the same thing.  so i didn't do that.  instead, i decided on shirts in all different colors and patterns – solids, stripes, florals, etc., but i just made sure to keep the bottoms, sweaters, and scarves solid and neutral OR a color that matched with basically everything.  it worked pretty well, and the best part was that after i had posted a bunch of photos from the trip on my facebook, my boss said, "it seems like you fit a lot of clothes in that backpack because you're always in a different outfit!"  …that's what she thinks. ;)  we were there for three weeks and we ended up doing laundry a couple times.
here's our comprehensive packing list, with some photos:
CLOTHING
mike's was easy:  underwear, socks, a few pairs of jeans, a few pairs of shorts, 1 pair slacks, lots of short-sleeved shirts [polos and tees], 1-2 button-down shirts, 1 long-sleeved shirt, 1 windbreaker, sperries, tennis shoes, shower shoes.
as expected, mine took a big more coordination to find practical, coordinating pieces that would be comfortable, look good in photos, and meet my weather needs.  i will say that there was very little that i actually had to buy… most just came out of my closet, but i had originally pulled a whole bunch of clothing items, laid them on my bed, and little by little, i picked out the items that didn't match or that i didn't think i needed.  i also strongly recommend bringing items that don't wrinkle easily…
here's what i ended up with: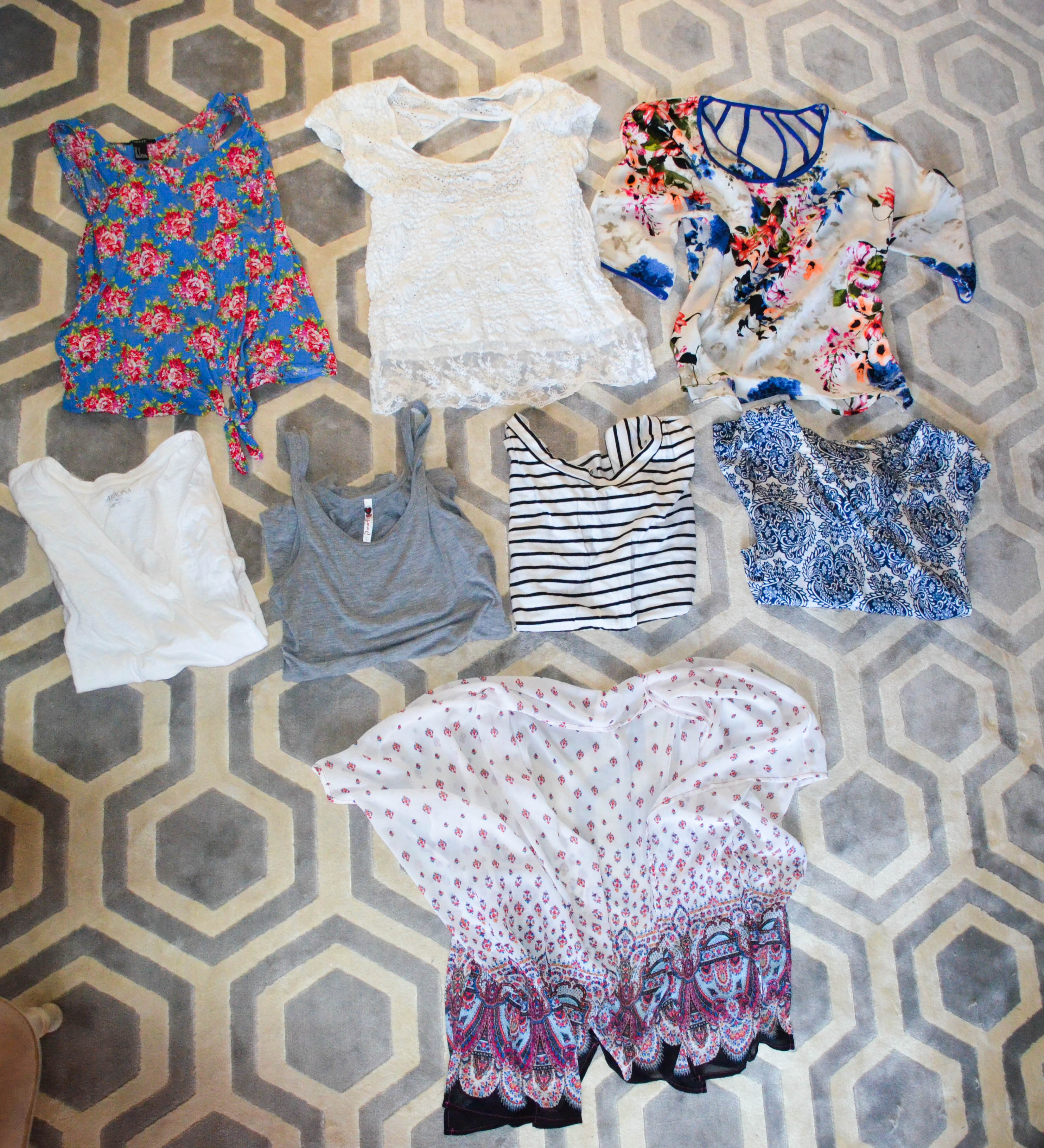 blue tank top with floral pattern
solid white cap-sleeved shirt with an open back and lace on the bottom
floral-print shirt with three-quarter-length sleeves 
solid white v-neck – wore on the plane
solid gray tank top
black-and-white striped cap-sleeved shirt
cap-sleeved shirt with a blue-and-white design
sheer white draping overshirt with three-quarter-length sleeves and a floral/paisley design
blue chambray-colored sheer button-down shirt with white stripes [not pictured], to wear open over a short-sleeved shirt or tank  when needed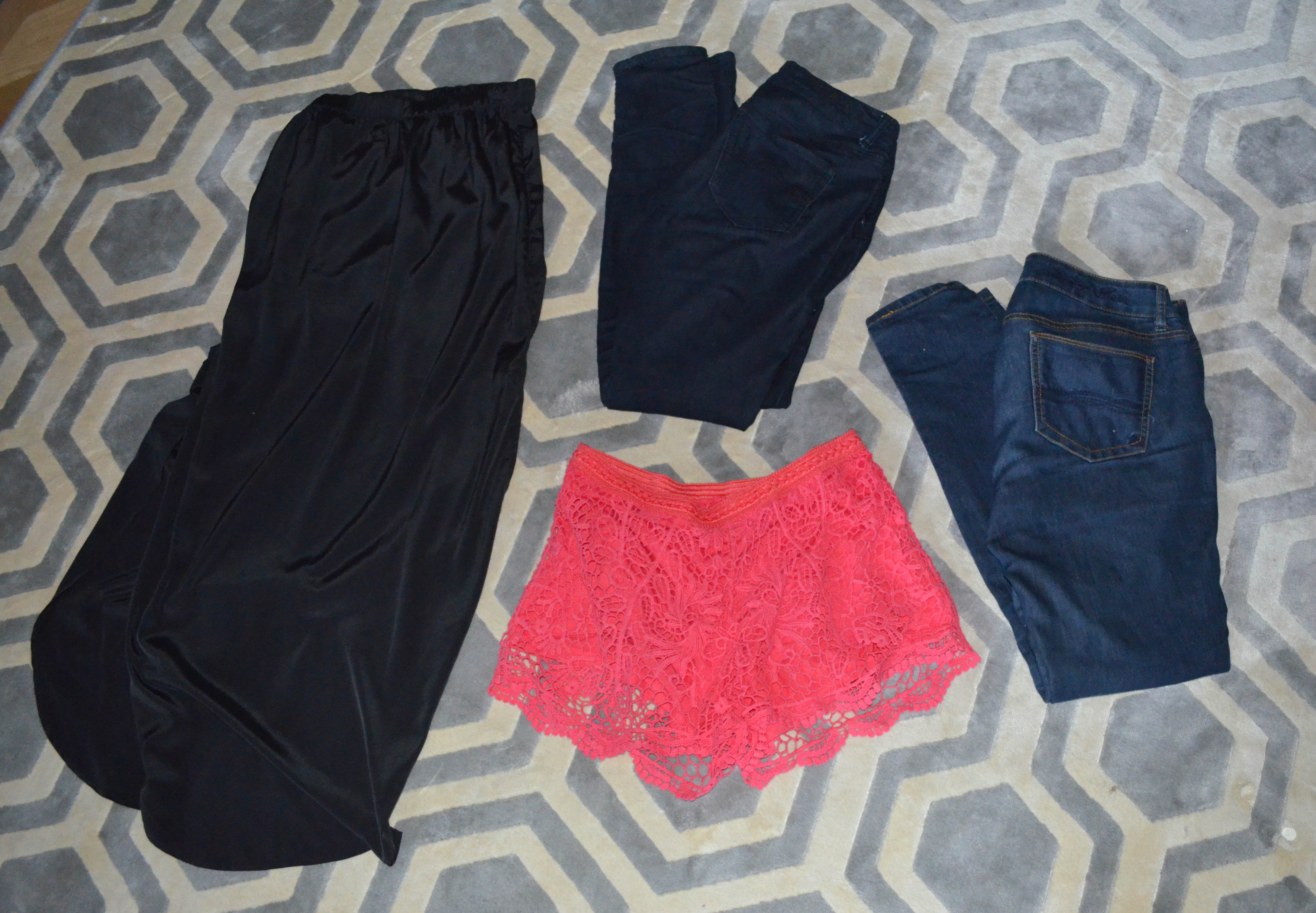 1 long black skirt with a slit
2 pairs of my favorite thin, stretchy jeans [they're kinda like a mix of jeggings and jeans?] – wore 1 pair on the plane
1 pair lacy reddish-pink shorts [what would you call that color?  amaranth?]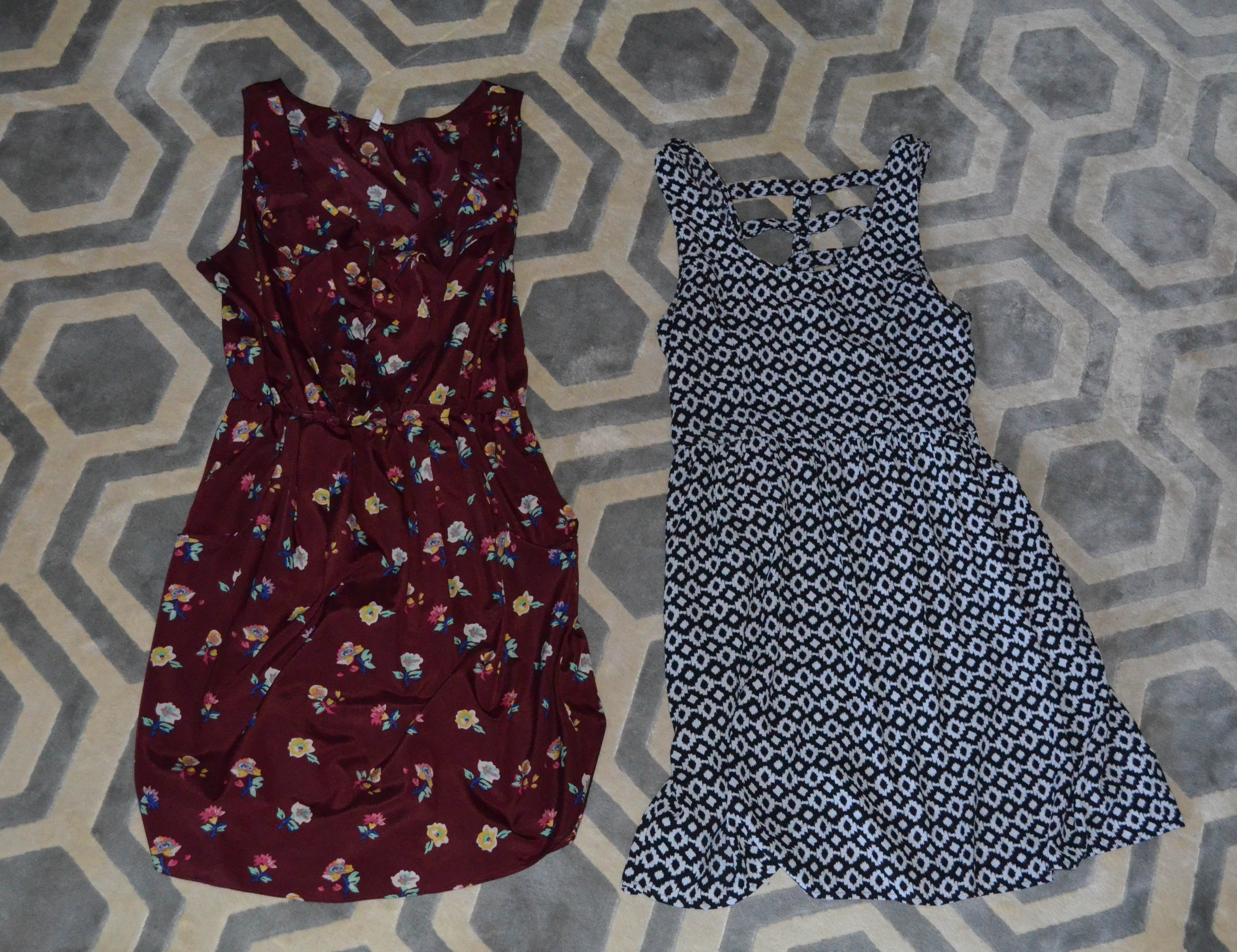 short maroon floral-print sleeveless dress
short black-and-white patterned sleeveless dress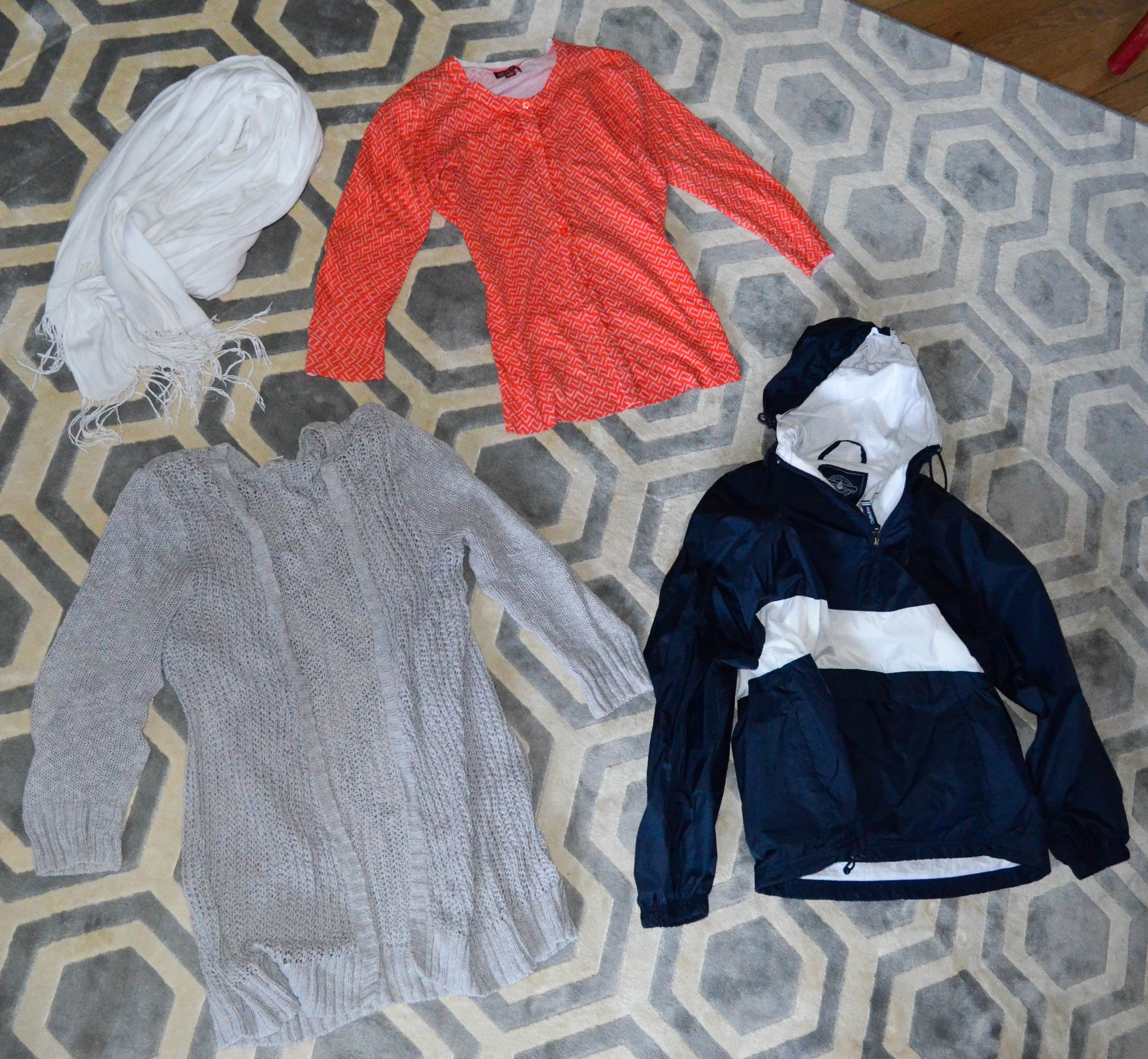 white thin but large scarf
coral cardigan
loose knitted long gray sweater – wore on the plane
navy and white windbreaker with a hood
swimsuit [not pictured]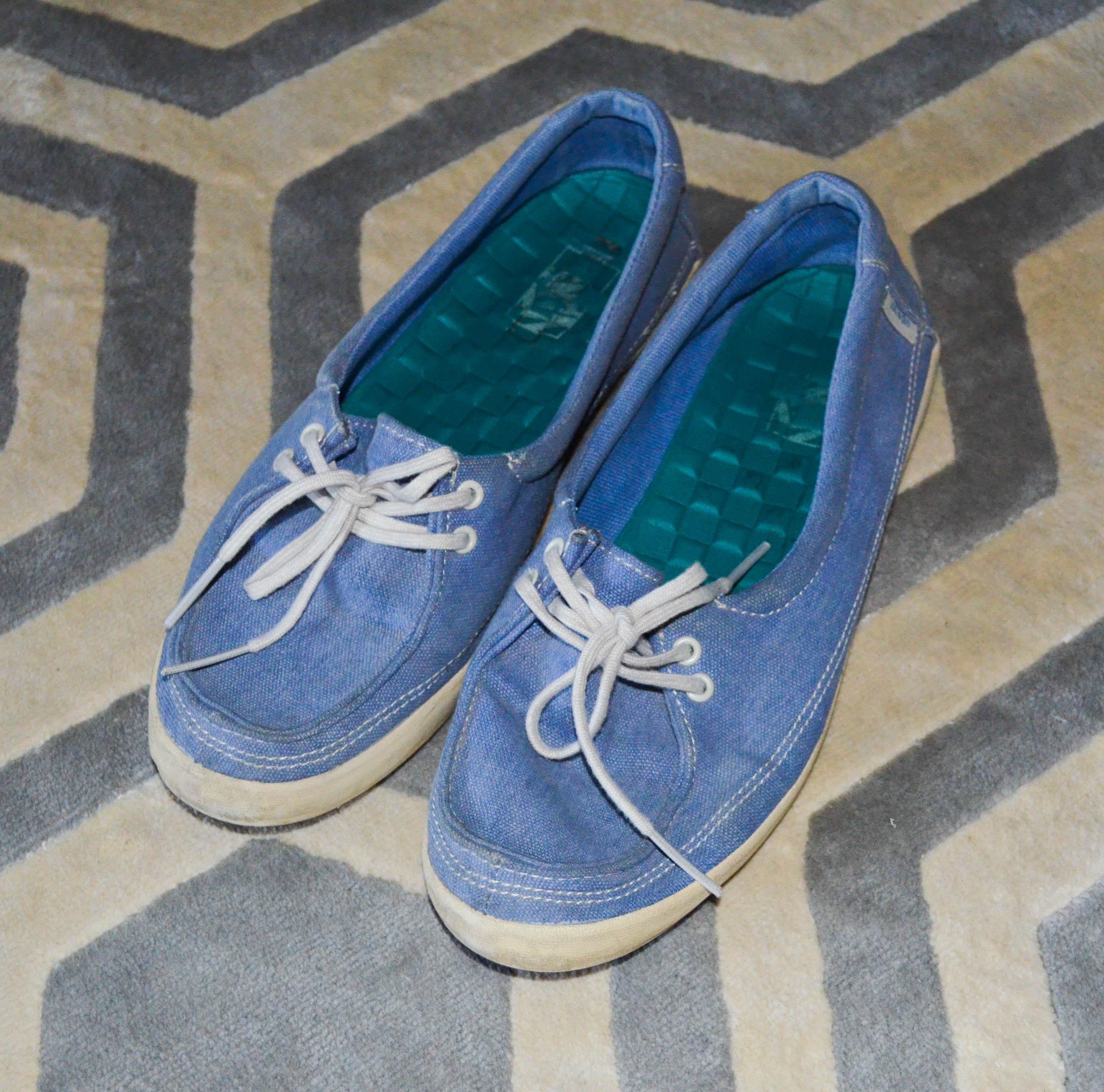 blue canvas slip-on vans [favorite travel shoes ever!] – wore on the plane
old pair of gold sherries [not pictured] – i threw them away at the end of the trip [read about this little trick that mimi taught me at the end of this post!]
old pair of black patent leather ballet flats [not pictures] – i threw these out too for the reason above
rubber flip-flops [not pictured] – to use as shower shoes
socks, underwear, and bras of course [not pictured] – just don't do like i did and forget all your bras at home on the drying rack…i only had the hot pink one that i was wearing and had to go bra shopping when i got to brussels because a hot pink bra under sheer white shirts just wasn't gonna work!
TOILETRIES & SELF CARE
toothbrush/toothpaste/floss
deodorant
face wash
face moisturizer
lotion
shampoo/conditioner/body wash/soap
razors [i used conditioner that i brought as shaving cream]
sunscreen
 contacts and/or glasses
makeup [i brought the bare minimum – 1 foundation, 1 blush, 1 small set of eye shadows, 1 eyeliner, 1 mascara, several lipsticks]
hair brush and comb
hair spray
dry shampoo
bobby pins/ponytail holders
any other hair products/equipment [besides the hair stuff listed above, i only brought a sock bun and a couple headbands]
prescription meds
ibuprofen
immodium
pepto bismal
band-aids
feminine products
hand sanitizer
nail clippers
tissues
wet wipes
small roll of toilet paper [just in case]
ear plugs/eye mask for sleeping
ELECTRONICS
phone and charger
laptop or ipad if you want one [i just brought my ipad] and charger
camera and charger, plus extra memory cards, lenses, lens cleaner, and anything else you might need for picture-taking
hairdryer, straightener, or curling iron if you choose [i didn't bring any of these – a couple hostels/hotels provided hairdryers, and for those that didn't, i let my hair air-dry in a braid or at night in a sock bun.  i decided to go au naturale and didn't bring a straightener or curling iron either.  one thing to keep in mind if you absolutely need your hair tools – the adapter/converter thing can get complicated if you're traveling around because you might need different ones, although i know you can buy a whole pack of them or a fancy one that includes all of them.  just be warned, even when you have the right one, they can still overheat hair dryers and hair tools easily so i would recommend keeping them on the lowest settings.]
converters and adapters [see above… electronic devices like phones and ipads are generally fine and shouldn't overheat, from my experience] – i have this one, which acts as both a converter and an adapter.
travel power strip – this is super helpful since there's often not very many plugs in the rooms and you may want to plug in multiple devices
 DOCUMENTS & IMPORTANT INFO
passport
debit/credit cards and cash
emergency contacts [including family members, banks, travel insurance #, and the # of the U.S. embassy – always good to have]
printed directions and maps for getting from the airport to your first hostel or hotel – this one is a big one because you will be exhausted and jetlagged when you arrive, so anything you can do upfront is going to help out, especially since it might be harder to connect to the internet at some airports overseas
photos of suitcase/backpack zipped and unzipped [with some of the contents] IF you're checking it, as well as bag tags, in case it gets lost
photo copy of passport in case you lose your passport
printouts of hotel/hostel confirmations, train tickets, etc.
OTHER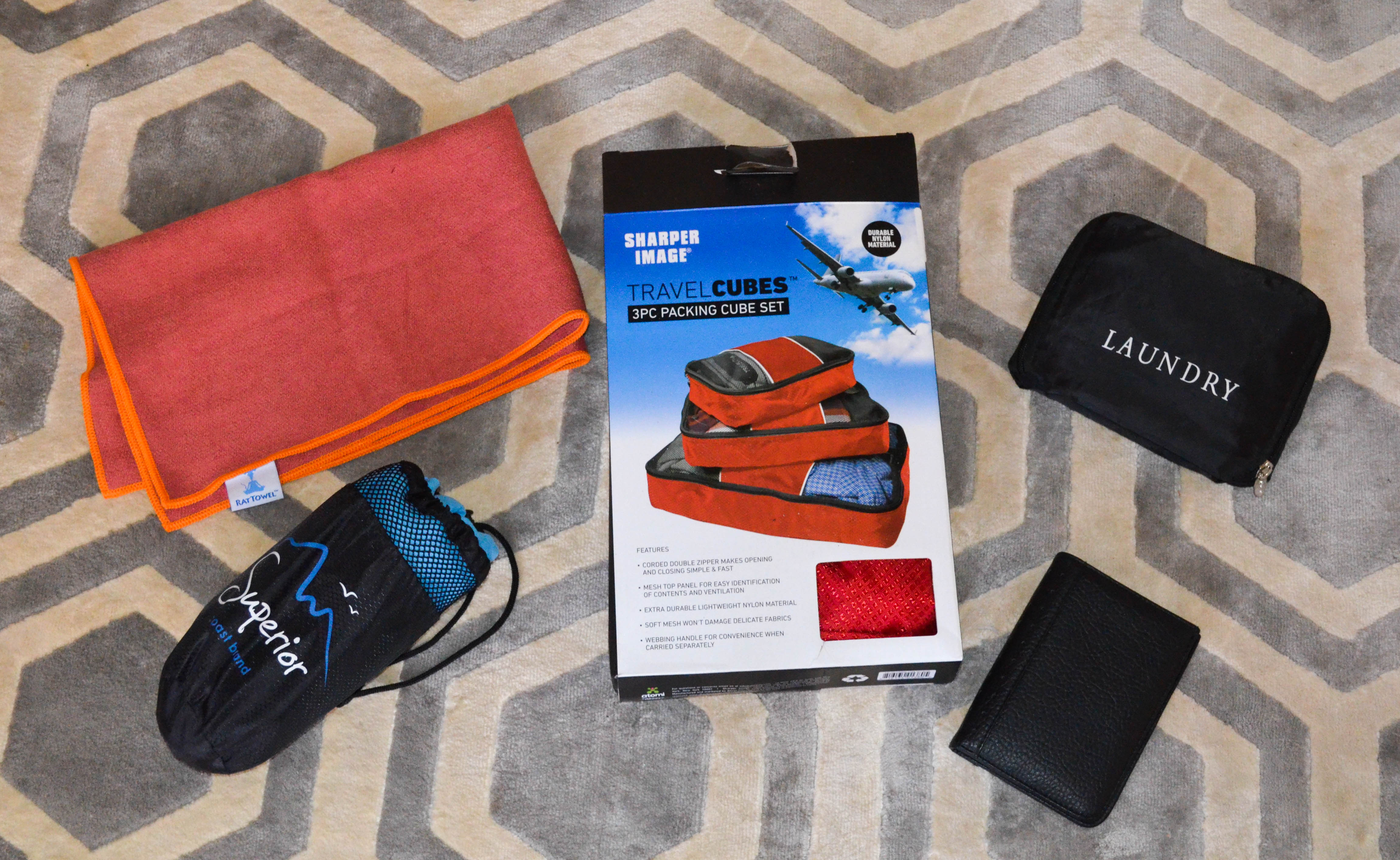 packing cubes – mike and i used these to organize some of the stuff inside our backpacks [i put socks and underwear inside one of them, and some of my extra toiletries/personal items in another one].  i got ours at tj maxx, but you can also find them on amazon.
quick-drying travel towel – these microfiber towels are light and can be folded to be very small, and best of all, they dry quickly.  some hostels do not provide towels, and you may want a towel to go to a beach, bathhouse, etc. so it's a really good idea to bring one.  we loved the ones we got on amazon.
quick-drying hand towel – also handy to have
passport wallet – i got an RFID-blocking one at target that was just big enough to hold my passport, credit cards, cash, train tickets, etc.
flexible plastic collapsible water bottle that clips onto your bag – this was more helpful than i had even thought.  it was light and because it could be clipped onto my bag, it didn't take up any of the precious backpack space.  most importantly, drinks in europe are expensive and come in very small bottles [and tap water can be hard to come by at restaurants], so we were so thankful to have these water bottles [even if it meant just filling them up in the sink], especially when it was hot.  ours were similar to this one.
travel sink stopper – some of the hostel and hotel bathrooms don't have a stopper, so this is nice to have for washing clothes in the sink.  can be bought on amazon or they'd likely have them at a hardware store.
travel laundry soap
travel umbrella
flexible travel clothesline – i bought one similar to this one and it was SO handy to have
padlock – some of the hostels require you to bring your own locks for their lockers
little locks for backpack zippers
retractable cable lock – mike and i each had one of these and i think we only used them once, but it's nice to have if, for instance, you don't have room to keep your backpack with you on the train and instead keep it in one of the compartments near the door.  you can lock it to something so that someone can't run off the train with it.
duct tape – because you never know
a couple gallon-sized ziplock bags and a couple grocery bags – because you never know
scented fabric freshener and wrinkle release – i promise these will come in handy
 i think that's about all… are you overwhelmed yet??  it seems like a lot, but don't worry – if you forget anything, you can stop at a store when you get to europe and buy just about anything.  i'm sure you're also wondering how we fit all this stuff in our backpacks… but we did, somehow [well, it was two backpacks plus my camera bag which also served as a purse].  just pack smart, and if you're traveling with someone else, try to share whatever you can [travel power strip, laundry soap, ibuprofen, etc.] and split them between your bags.  if there was anything that mike and i could just bring one of, we did and just shared.
i'm almost ready to start posting photos from each portion of our trip, and i can hardly wait to show them to you!  it was such a great time.  happy sunday!  xoxo