a few last words of wisdom on backpacking europe [and just traveling to europe in general]: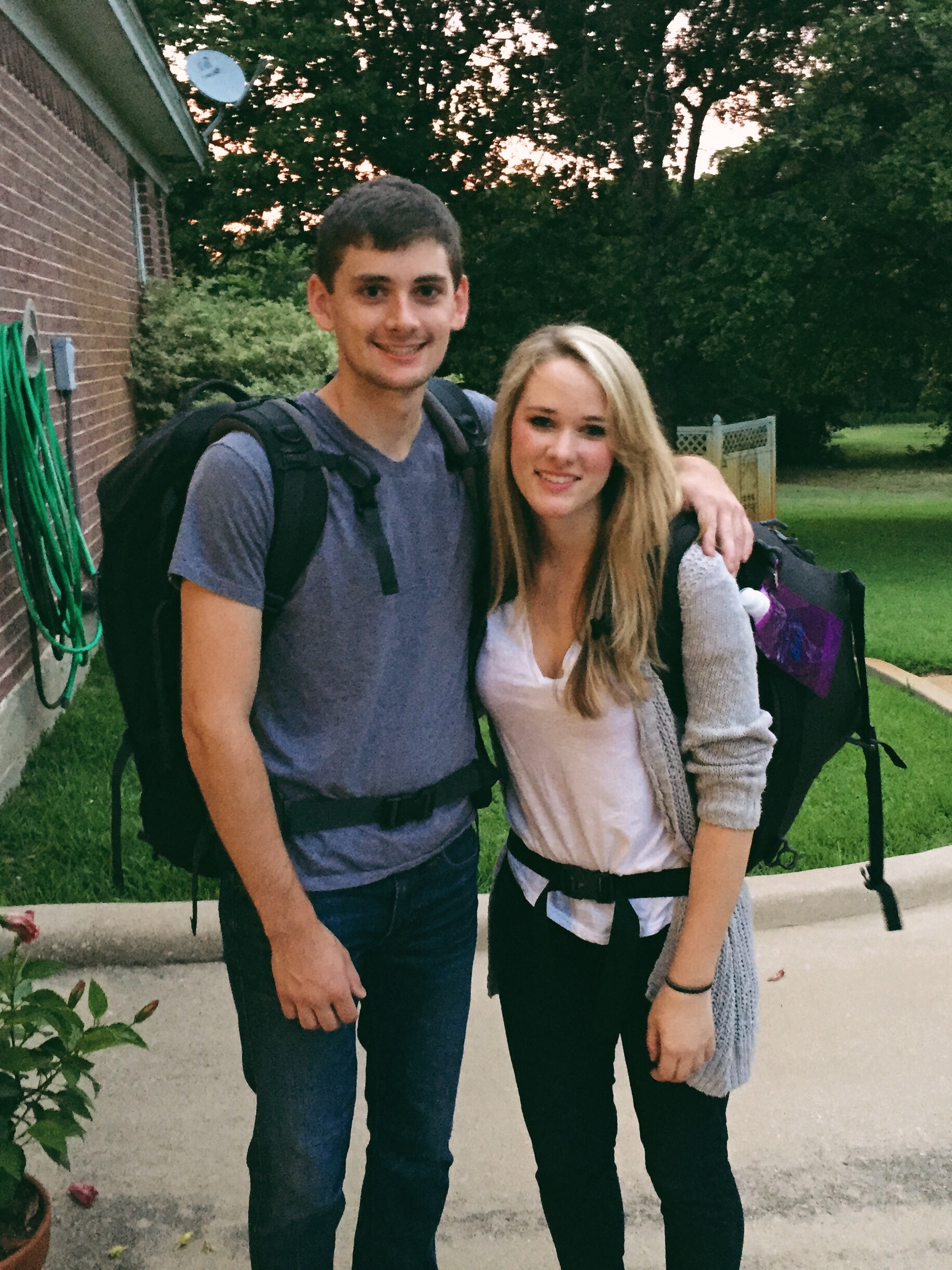 : :  it's a good idea to leave your itinerary [flight info, what cities you'll be in on which dates, and hotel info], photocopies of your passport, and your bank information with someone you trust at home.  mike and i left this info with our parents, just in case.
: :  don't forget to call your bank[s] to let them know you'll be leaving the country and on which days.  otherwise, they could put a hold on your card which is not something fun to deal with in another country when you're trying to withdraw cash.
: :  if you have a route planned, book your train tickets in advance.  it saves so much headache.  and don't book the trains before checking out this site  – it will tell you everything you need to know for each leg of your trip!
: :  touch base with your travel partner[s] and ensure that you're on the same page about what you want to do and see, and it's okay to split off at times to ensure that you all get to do what you want to do.  when it comes to travel, mike and i enjoy most of the same things, so we didn't split off very much, but we did separate in budapest so that i could do some shopping and he could watch a tennis match, and we were both happy and relieved to have some time to ourselves doing what we loved without having to drag along the other person when they might i have preferred doing something else.  we also set some ground-rules and goals for the trip.  ours were:
*wake up as early as we can without getting behind on sleep and try not to lounge too much in the mornings in order to fit in as much as we could in a day [there were, of course, exceptions to this rule, but overall we made an effort not to be lazy in bed in the mornings].
*see a lot of the historic sights but limit the amount of tours and museums we go in to only the top priority ones [we're not huge museum people, in general.  the ones that we did tour were fantastic!].
*do a lot of walking, check out different neighborhoods, eat a lot of street food, go to markets – definitely our style.
*do our restaurant research and hold out for good food and/or cultural food…we're generally not the type to get hungry and just pop into the closest restaurant because we don't feel like walking to a better one.
*it's okay to take a break during the day to rest, refuel, and check email – cafes are great places to do this while still taking in the culture.
*have at least one or two really nice meals.
*day-drinking was acceptable [if not encouraged! – we were on vacation!], and we didn't hesitate to have a cocktail, a beer, or a glass of wine if we felt like it.  however, we both made sure we were smart about it; i.e., we had plenty of fun but didn't get wasted.
*keep track of money spent – we kept a running bill with each other and paid each other back at the end.
*get photos of each hostel from the front and from the inside.
*get a picture of the two of us in each place.
*get a postcard from every place.
*get a couple short videos of each place, whether it be people, views, food, drinks, landscapes, so that we'd have plenty of material to make this video.
your list might look a lot different, depending on what you like to do, but it's just nice to have some alignment and expectations with your travel buddies.
: :  in many of the big cities around europe, you'll want to get a metro pass once you arrive.  you can buy each ticket individually, but usually it's cheaper and easier to just get a day pass, three-day pass, etc.  figuring out the metro the first couple of times you use it in each city will take a little time, but once you get the hang of it, they're SO handy to be able to hop on and off.
: :  i've already talked about the trip it app [in this post], but i also like the ulmon app for accessing maps without being connected to wifi, and you can also download google maps for many big cities for free.  another app you might want is a wifi finder app which can help find free wifi in a city.  there are a whole bunch of wifi-finding apps out there, and i may not be the person to recommend one since i downloaded one for the first time yesterday.  but it seems like it's going to be nice to have!  sometimes the places that you'd least expect end up being the most difficult to find free wifi [like hamburg, germany].
: :  i'm a member of AAA, mostly for the reason that i live alone in dallas and if i ever had car problems or a flat tire, they take care of me, but a benefit to the membership is that you get tour books of all different cities and countries for free.  tour books are somewhat antiquated, BUT i like to bring them on the plane to read on the way, make notes of any useful info, tear out any pages that are helpful, and throw away the book when i get off the plane.  they're free, after all.  if you can find a cheap one at half price books, you can do the same thing.
: :  i've mentioned this before, but i think it's a really good idea to print out maps and directions for getting from the airport to the first place you're staying [it will likely involve taking a train or metro], and it's just a lot easier to have an idea of what you're going to need to do to get there BEFORE you're exhausted and jetlagged.  even when i'm not jetlagged anymore, i still try to take some time the night before we leave on our next leg to research how to get to the hostel from the train station, since you never know if you'll be able to get good free wifi at the train stations.  it's a good idea to save these directions on your phone, screenshot them, whatever.
: :  if you can get a paper map from your hostel, hotel, or a visitors center, get one and carry it with you.  these came in handy more than we thought they would!
: :  know the name of the train station you're supposed to get off at and double-check it before getting off.  otherwise you might end up getting off too early, like mike and i did in hungary.  and it happened to be at a station where no one spoke english, which made things a lot more complicated… also, if you think you're going to fall asleep, make sure you set an alarm so that you wake up before your stop.
: :  double-check your change when you get it back and take note of approximately how much money you have in your wallet at any given time.  most of the vendors and waiters you meet will be honest, but there was one time when we would have gotten ripped off on our backpacking trip if we hadn't been paying attention.  keep an eye on your belongings and be aware of your surroundings.  it's nothing to be fearful of – just be smart and you shouldn't have trouble.
 : :  keep a travel journal, even if it's just a simple list of the things you did.  post any photos as soon as you can and try to caption them to include the names of the things you did.  that way, if you ever want to go back or give people recommendations, you'll remember the names of the places you went and the things you saw.
 : :  enjoy every moment, even when things don't go as planned.  despite any mishaps, you'll be longing to go back and do it all again.
check out my other posts on backpacking europe:
happy adventuring!  xoxo