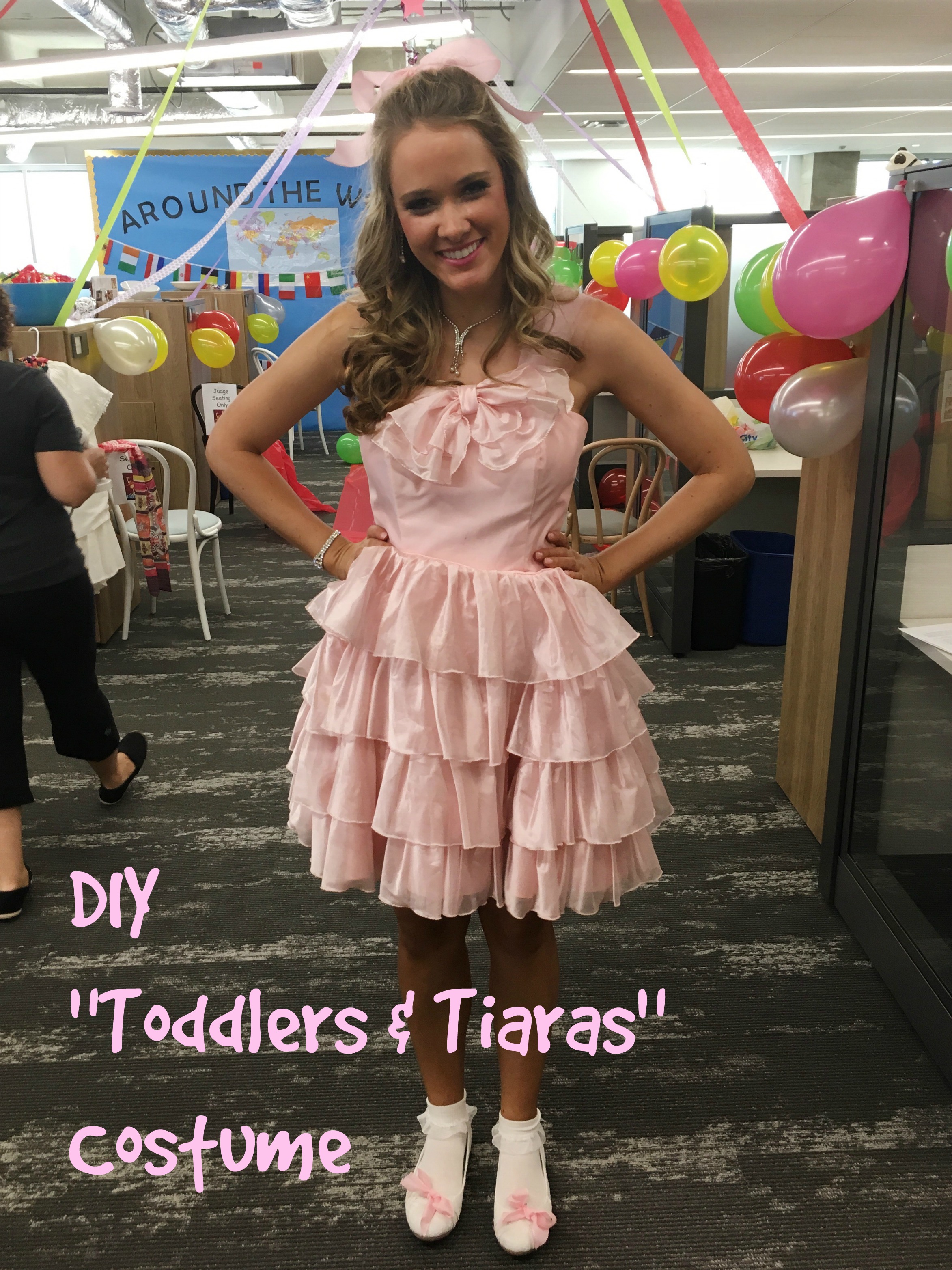 i know i'm late on the costume tutorial front, but who has time to post a halloween costume tutorial before halloween???  okay, maybe a lot of people, but not i. :)  you can put this idea in your back pocket for next year!
it has sort of become a tradition for me to make/put together my own halloween costumes and post a tutorial on here.  last year i was the cookie monster, and the year before, i was the morton salt girl.  i don't sew, and i usually end up making the costume the day of or a day or two before i actually wear it, so it's important for my costumes to be quick, easy to execute, and no-sew!
this year, i actually have two costume tutorials to post.  the first one is a "toddlers and tiaras" costume [you know, that ridiculous show about tiny little pageant girls and their crazy parents] that i made for our halloween skit at work.  it was hilarious and we ended up winning the company award for best skit – i'll post more photos of that in another post!  anyway, this costume doesn't really involve making anything, just putting stuff together.
here's how i did mine: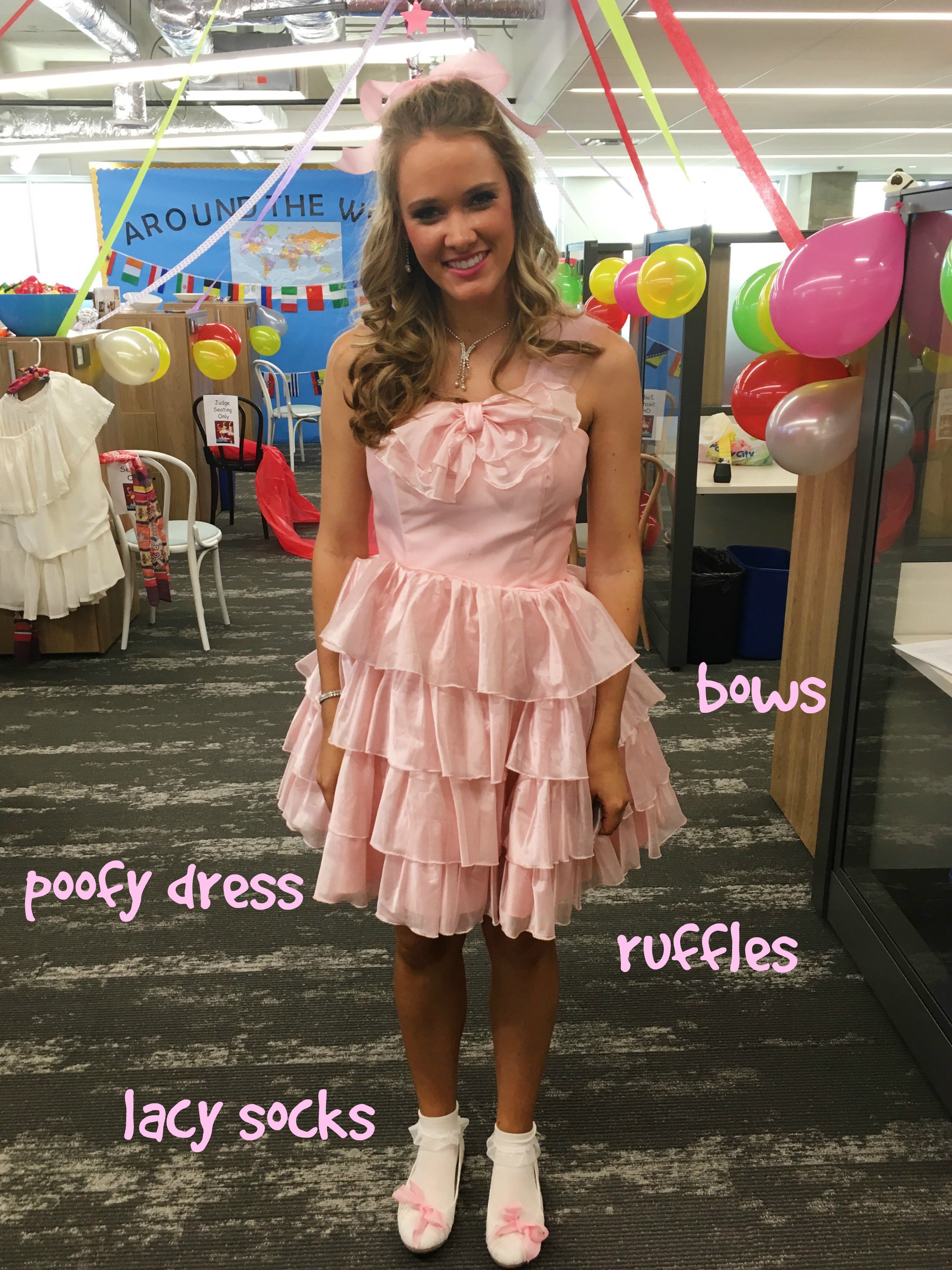 first off, you need a poofy dress.  the more ruffly and sparkly, the better!  pink was an obvious color for me, but any bright color would do the trick.  i found mine at a local vintage shop, lula b's, which has a large selection of vintage and exotic clothing.  i believe it was actually an old bridesmaid dress [a very ugly one at that!], and despite a few shortcomings, it was as poofy as can be [with lots of bows and ruffles!!] and well worth the $22.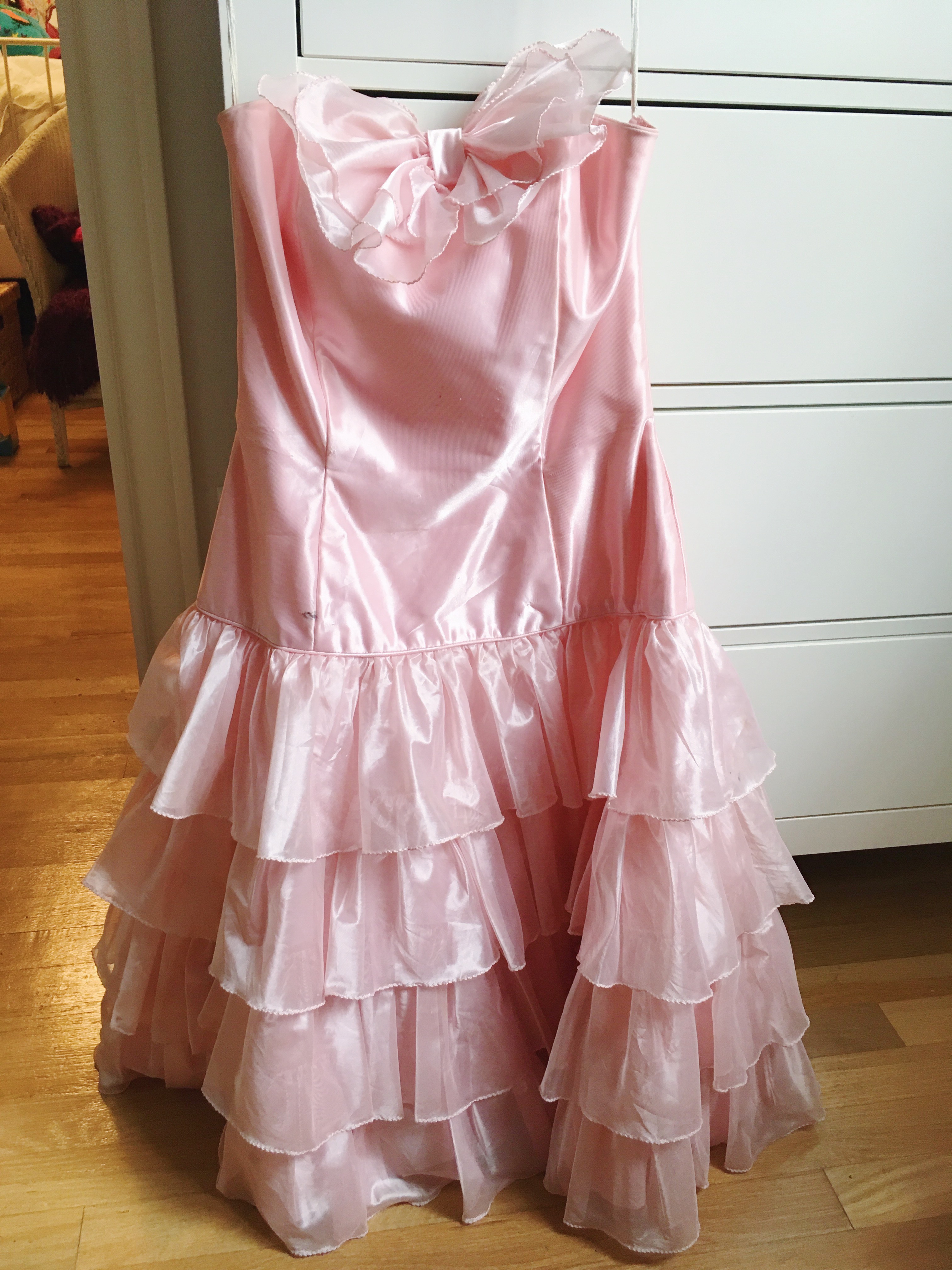 but this dress needed some doctoring.  here's why: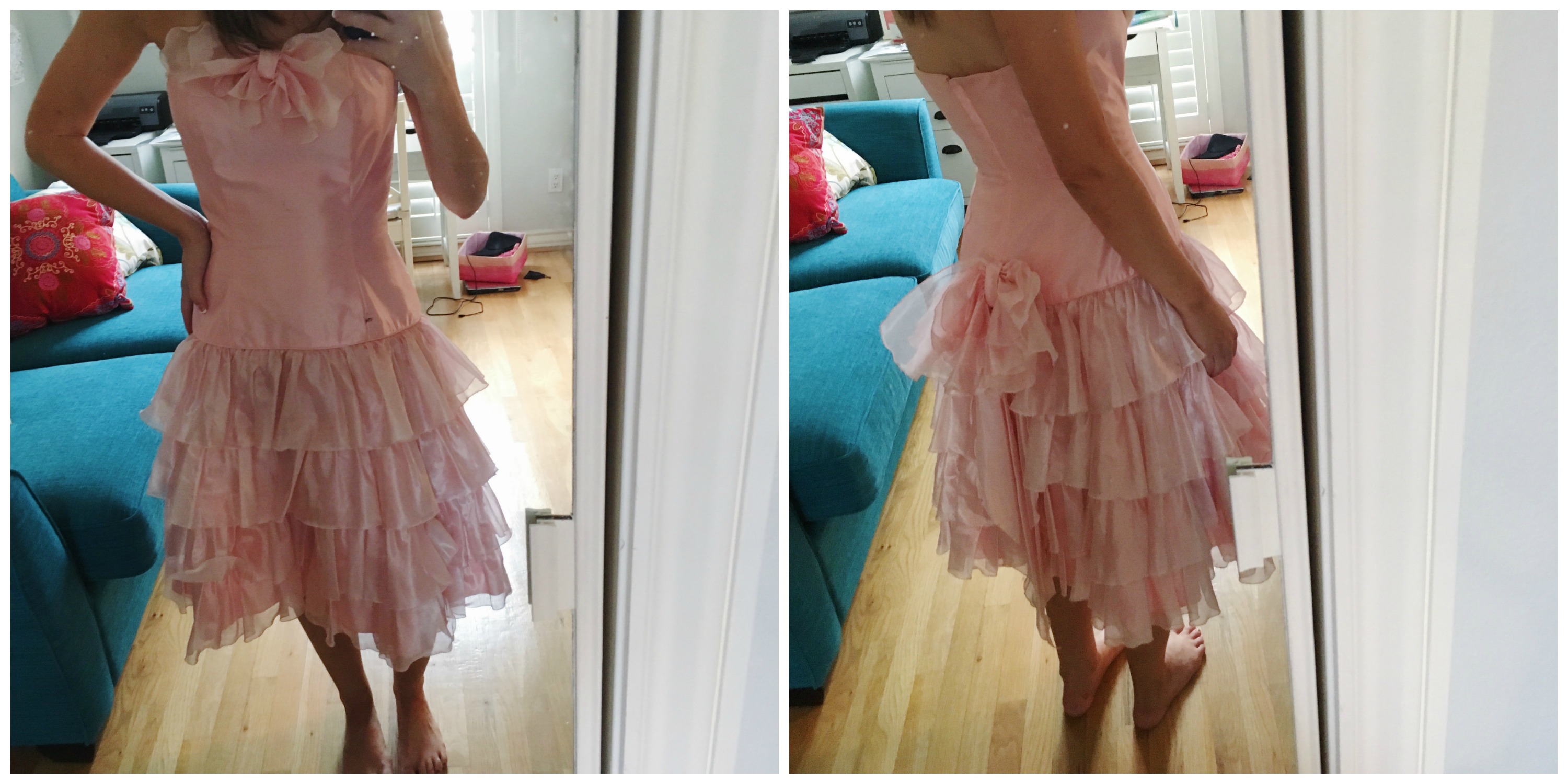 first of all, the dress had a drop waist, which doesn't look very little-girlish nor current.  it was definitely not very flattering on me.  plus it was a little long!  and secondly, there was a large black stain on the left side of the waist of the dress, just above the ruffles.  by moving the tiers of ruffles up higher on my waist, i could eliminate the problem of the dress looking too "adult" or 1920s/80s/90s, make the dress more flattering for my figure and a little shorter, AND hide the stain.  but i don't sew and i didn't want to alter the dress permanently because i wanted to be able to sell it back after i wore it, so i was able to safety-pin the tiers up a level: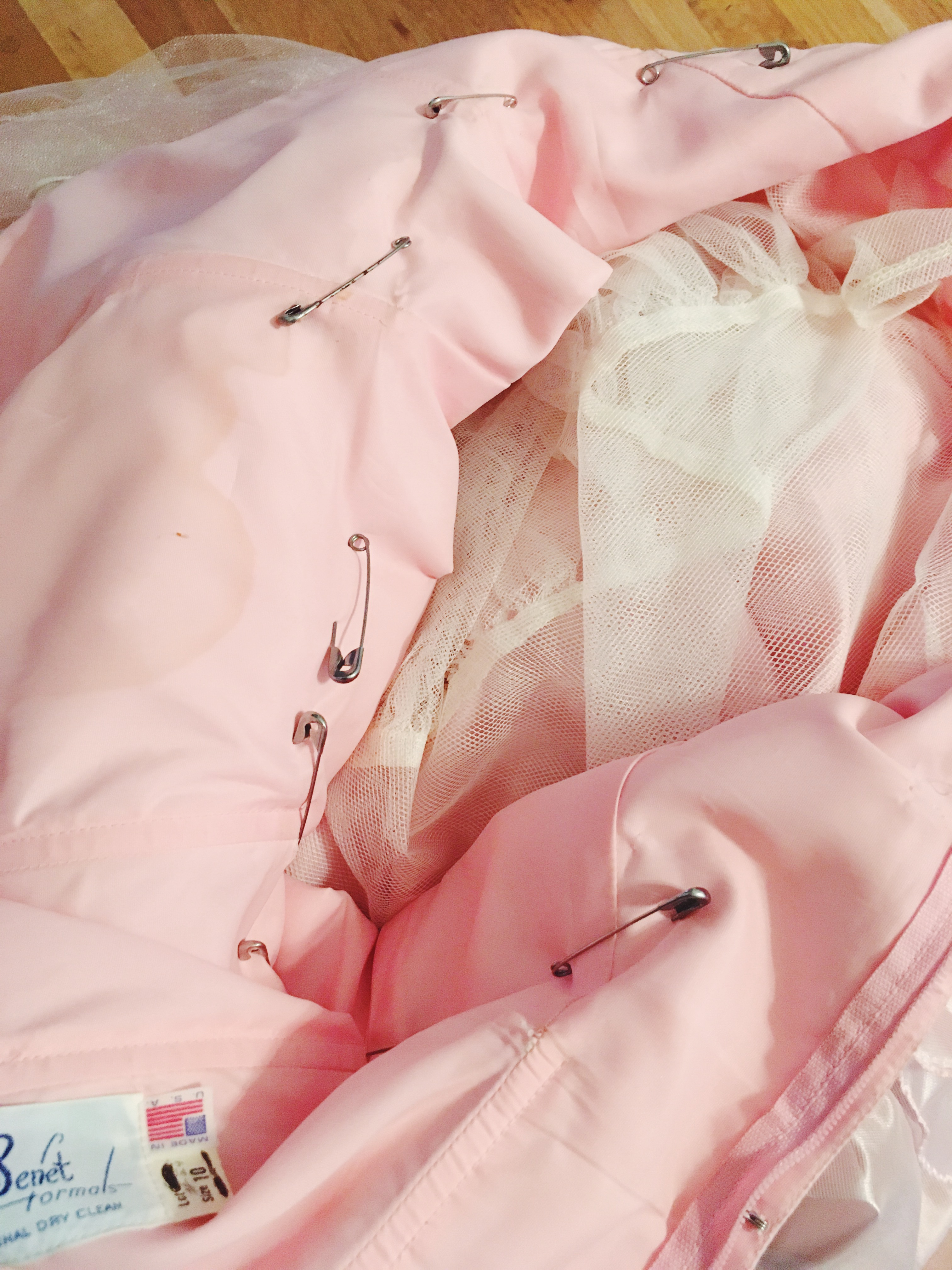 it looks like those safety pins would be irritating against my skin, but they really didn't bother me.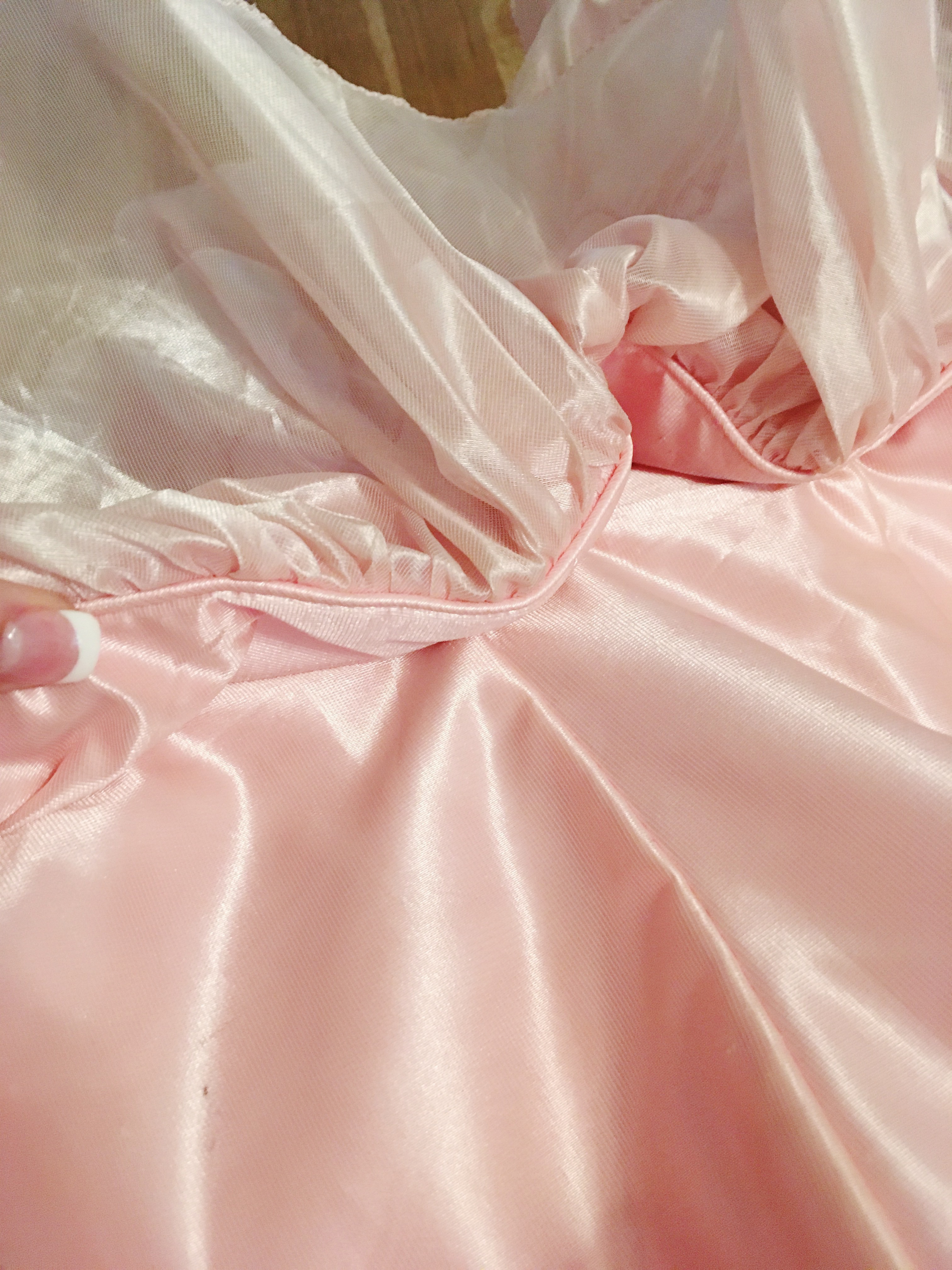 it wasn't perfect nor exactly straight, but i think it did the trick: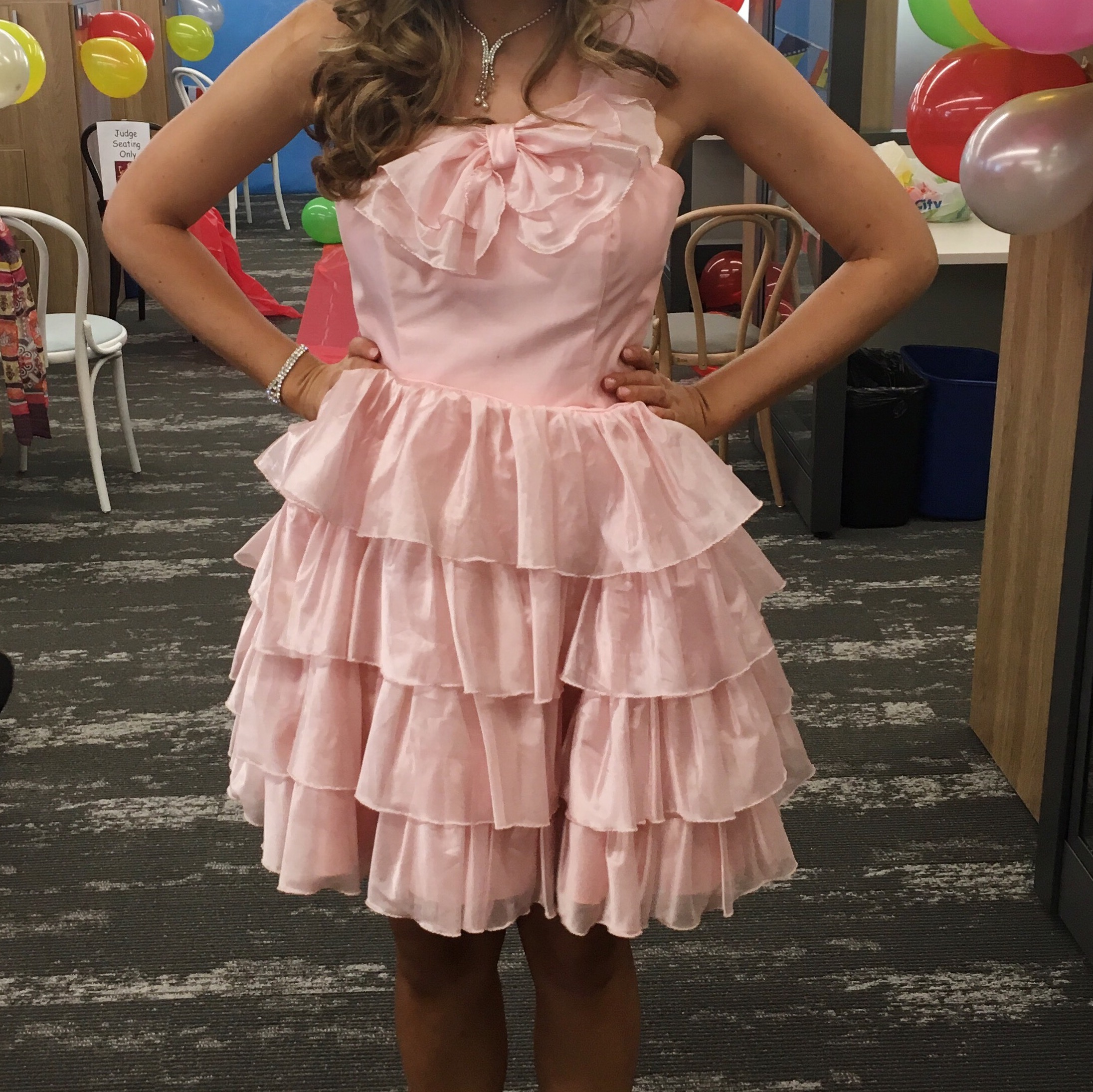 much better!
i also thought that the dress needed straps, because 1.)  i don't like wearing strapless dresses and 2.) it's less common to see little girls in strapless dresses.  again, i didn't want to permanently alter the dress because i wanted to be able to sell it back, so i took some pink ribbon [the same ribbon i used for the bow in my hair and on my shoes] and some pink tulle and fashioned my own non-permanent straps.
first, i cut two strips of tulle that i could bunch up a little and make into straps, and then i hot-glued the tulle onto little strips of the ribbon: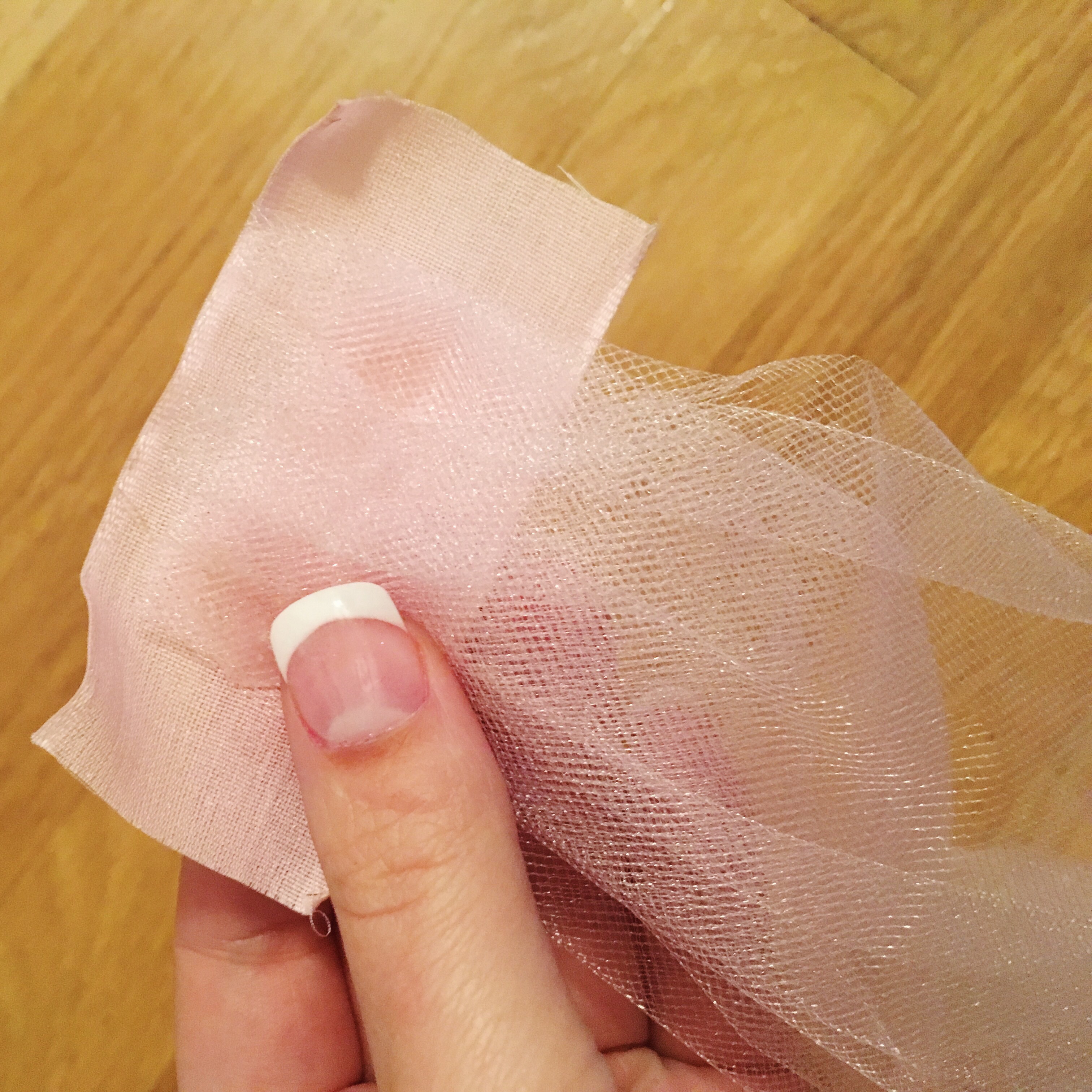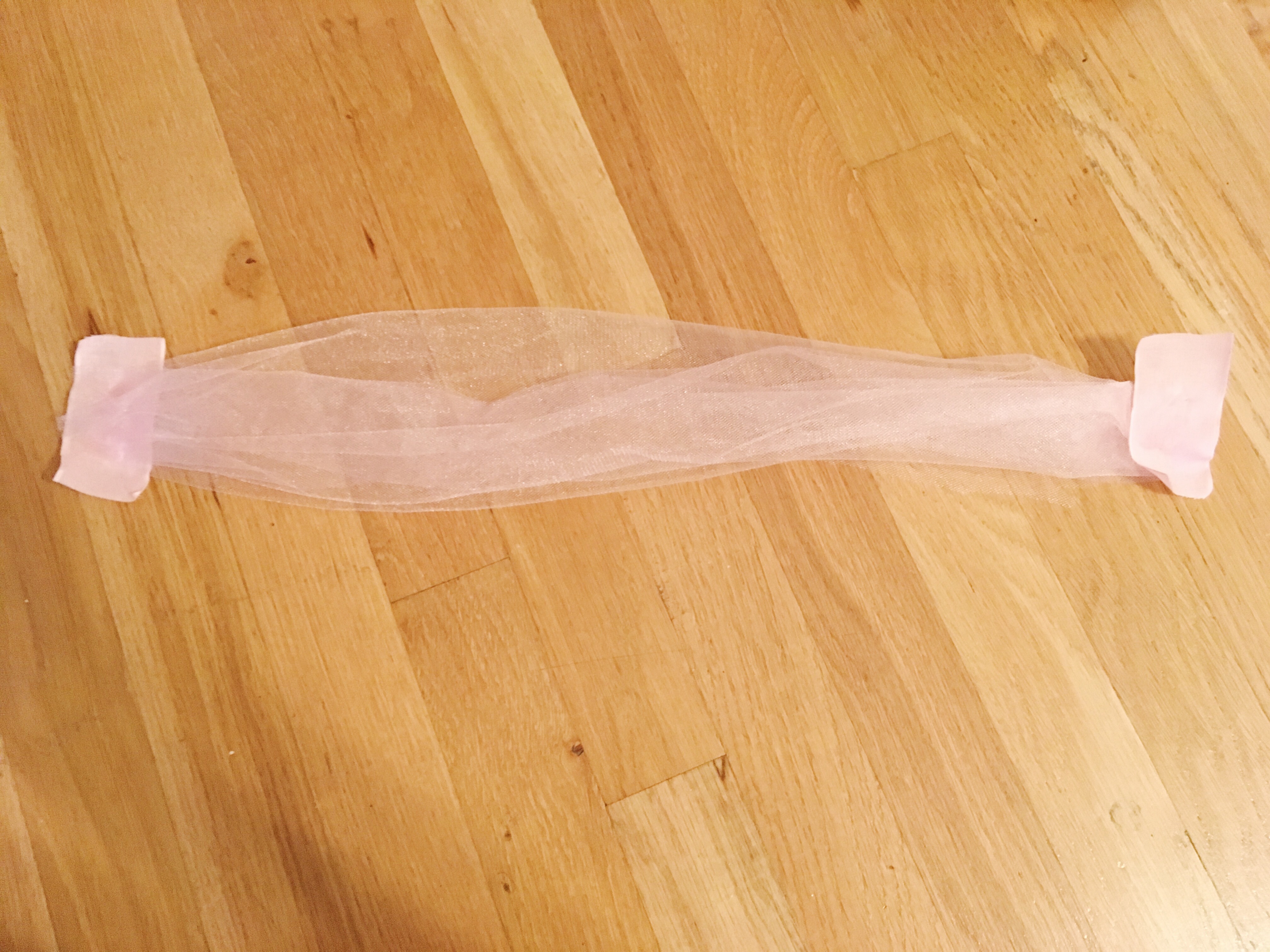 then i safety-pinned the strips of ribbon into place on the dress.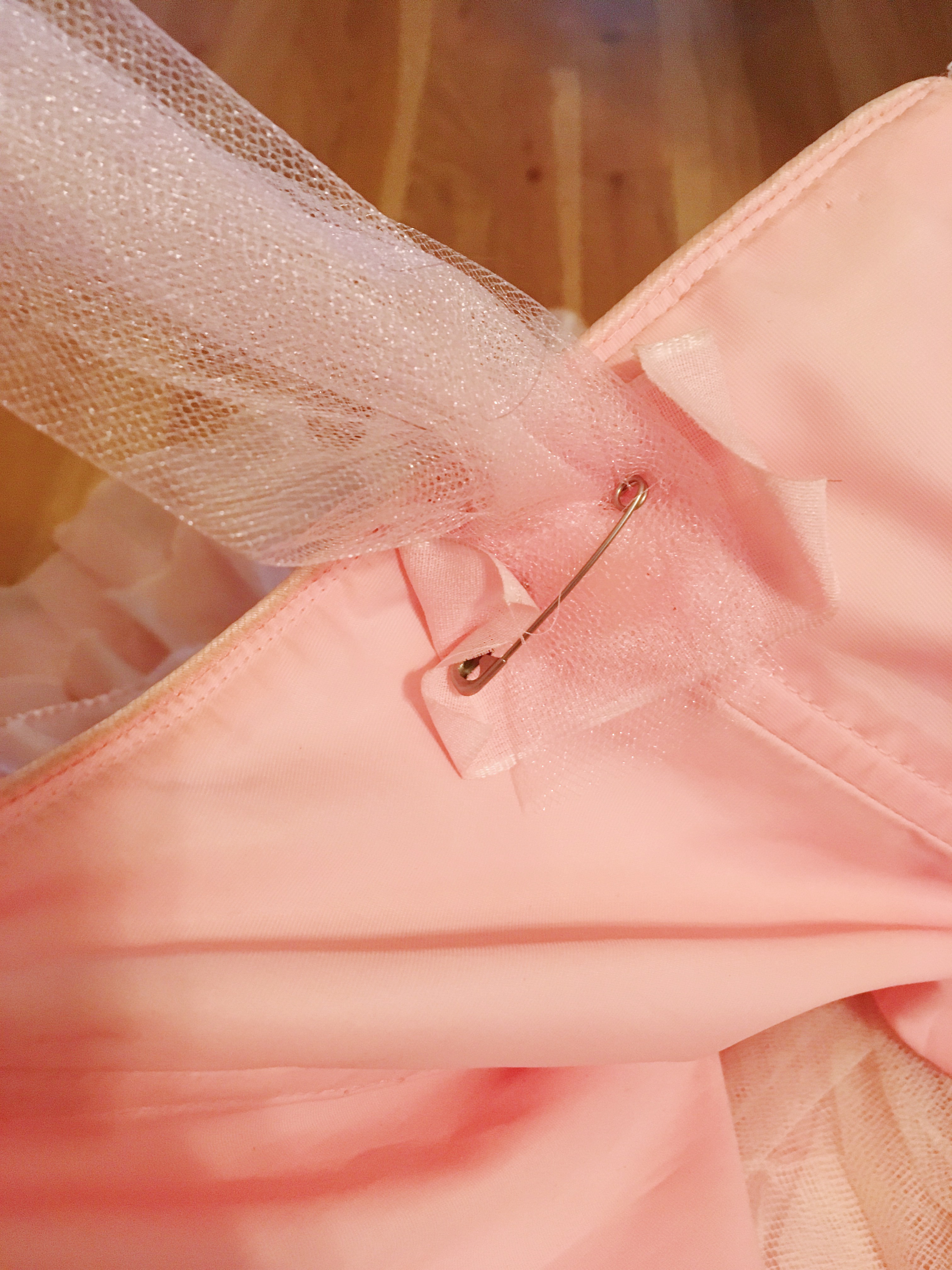 this really worked well, and you could barely even tell that they weren't originally a part of the dress when i was wearing it.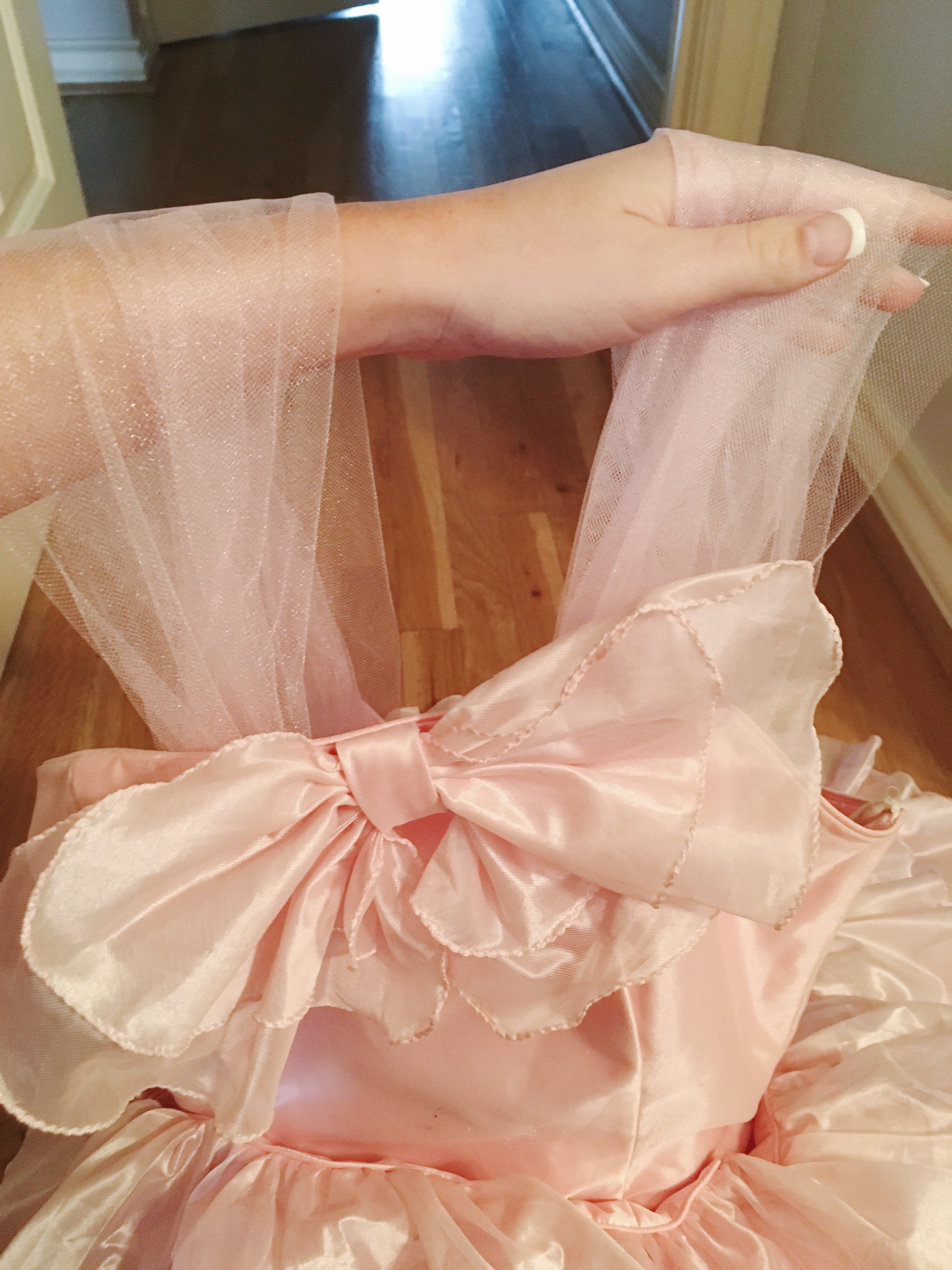 obviously it would be ideal to get a dress that doesn't require any sort of alterations for the costume, but sometimes you have to make do with what you can find, and i wanted to show you how i fixed mine up.
and then there are some other things besides the dress that are going to get you all pageant-ready!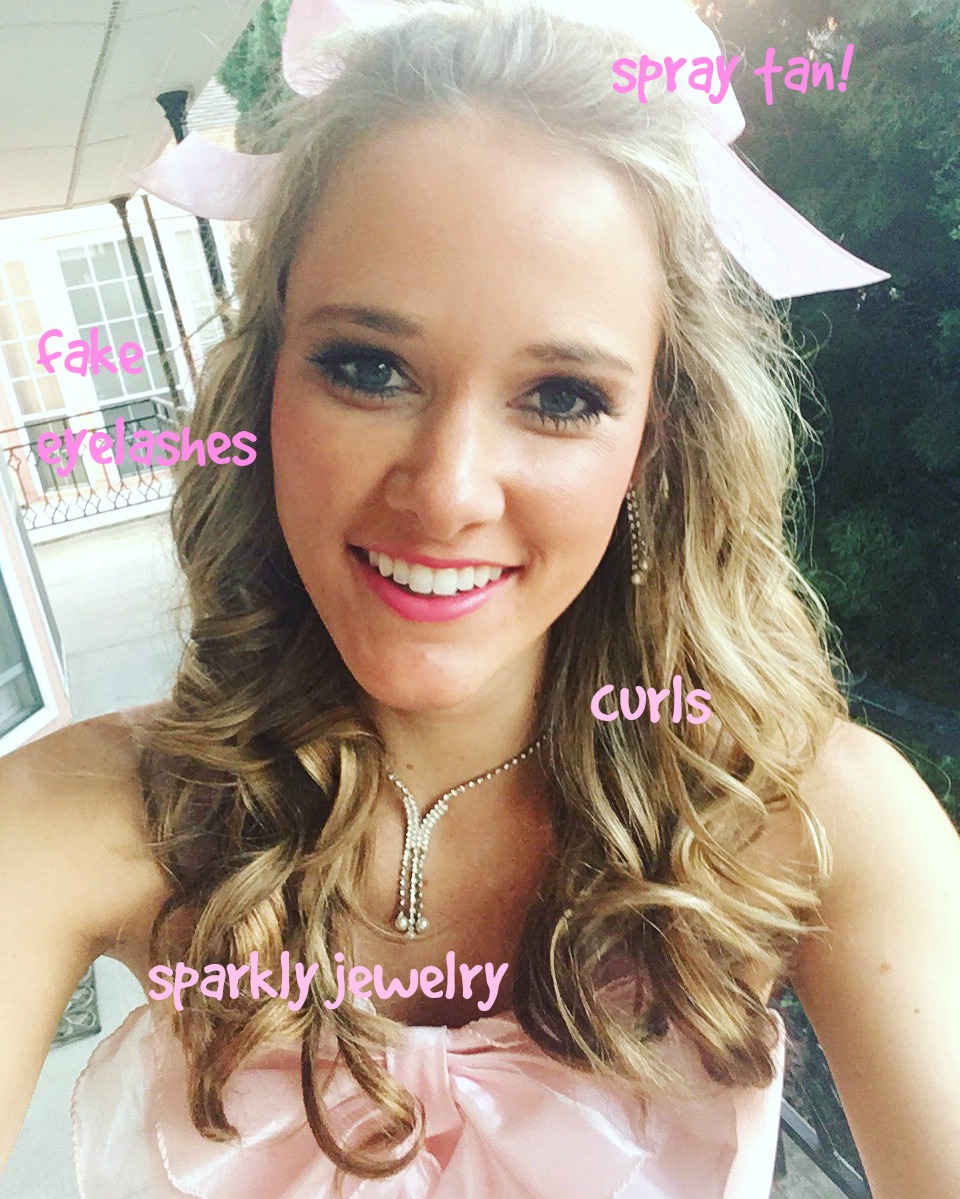 a spray tan isn't necessary BUT it can really add to the costume, especially if you naturally have fair skin.  i definitely do, and i tend to get "medium" spray tans, but for this particular costume, i got the "dark."  and oh boy, i was a bit orange, which was perfect! :)  it was pretty funny.  everyone at work agreed that the spray tan made the costume!
then you need to wear lots of makeup, some fake eyelashes, maybe use teeth whitener for the occasion, and curl your hair.  the bigger the hair is, the better.  unfortunately mine will only get so big!  oh well, i tried.  and of course you'll have to add some sparkly jewelry!
and you'll definitely need some lacy socks and shoes with bows.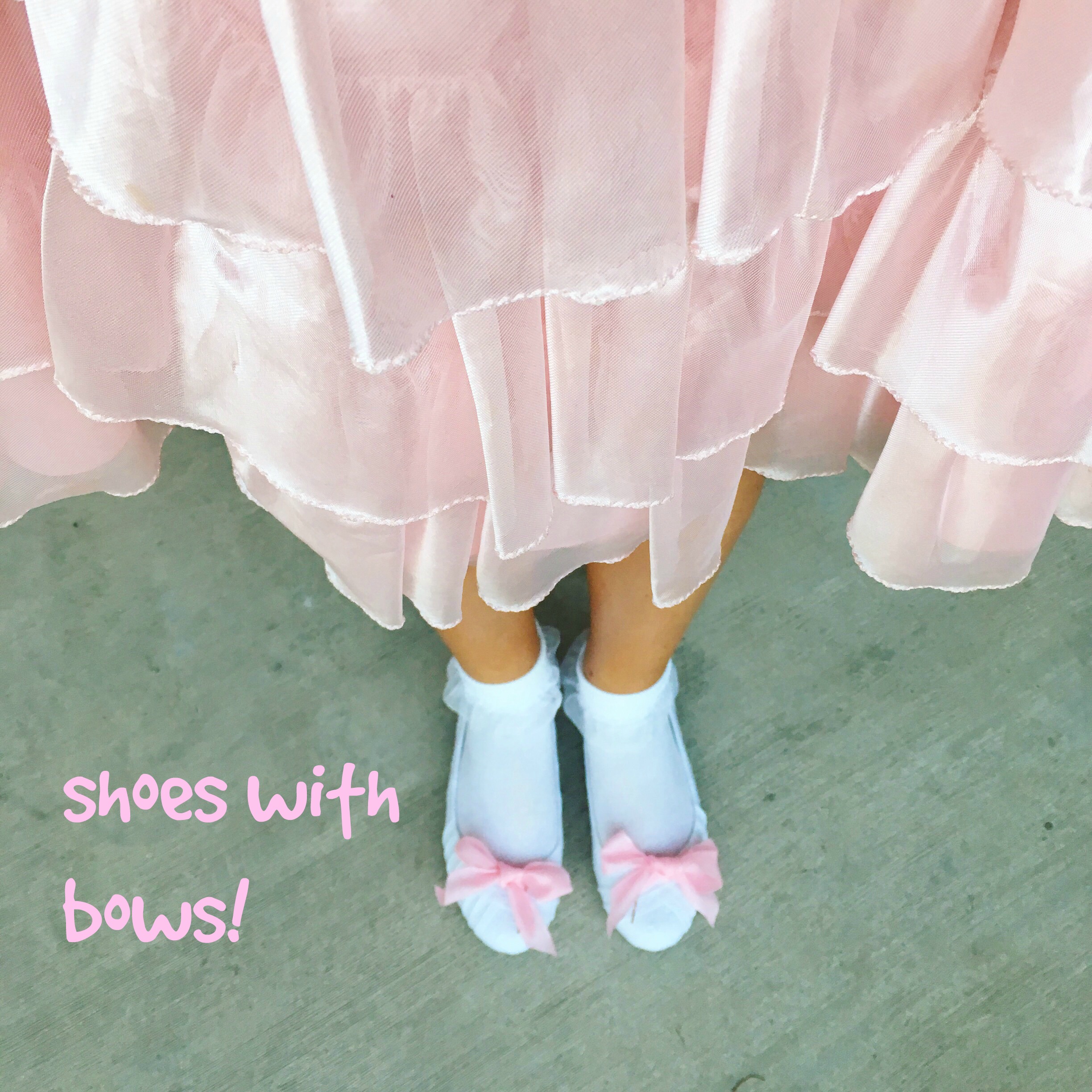 i found a pair of lacy socks at the dollar store that i could fit into [i think they were for kids ages 6-8 or something – socks stretch!  haha], but you could also just take a pair of regular white "bobby socks" and hot-glue some lace onto them.
for the shoes, i went to payless and found some white ballet flats on sale and then pinned some pink bows onto them.  you could also hot-glue them, but i was all about the non-permanent alterations this year and i figured that white ballet flats might come in handy for another costume at another point.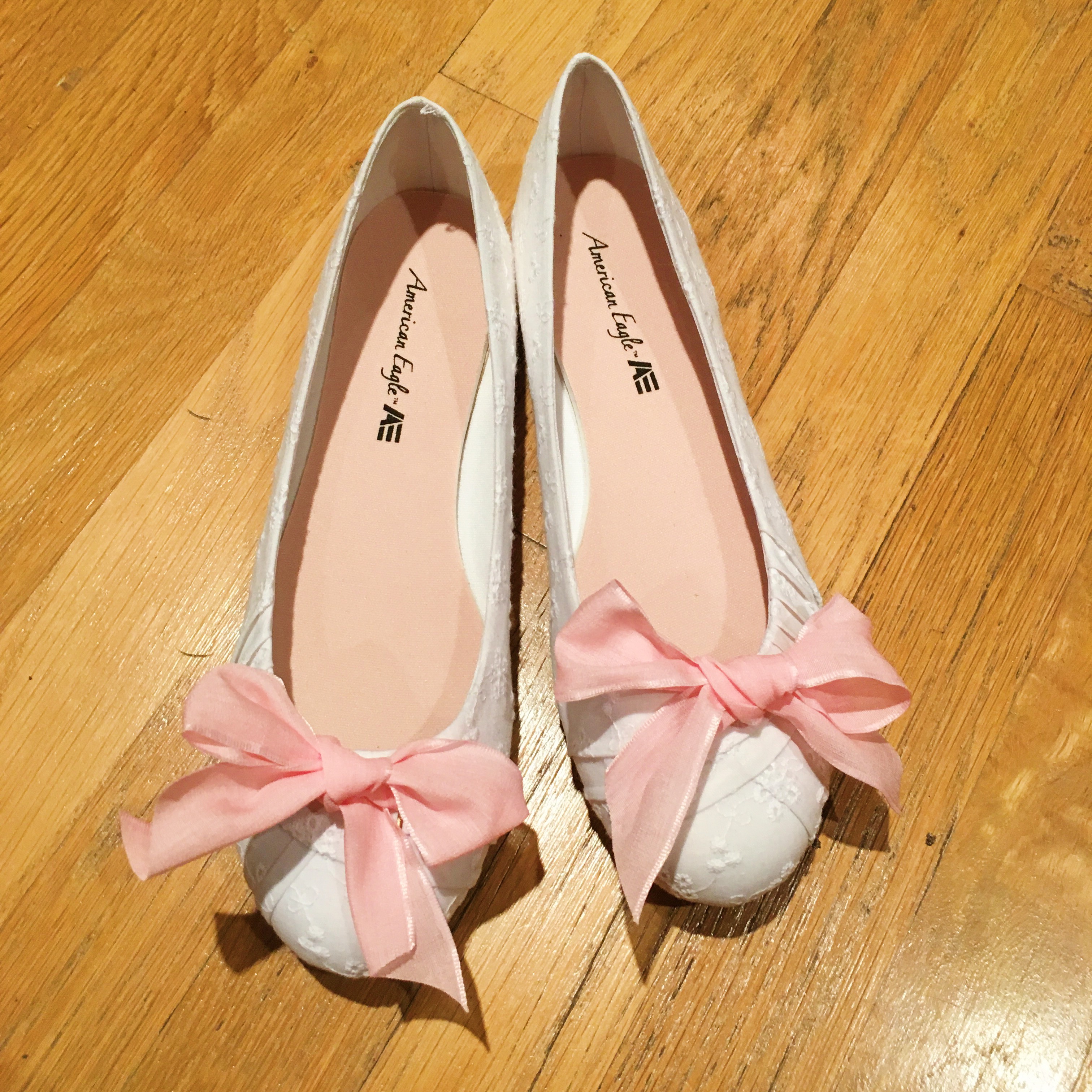 finally, you probably noticed that my costume for the skit didn't include a sash or tiara because those were part of the skit.  but these would definitely be something you'd want to include with your "toddlers and tiaras" costume!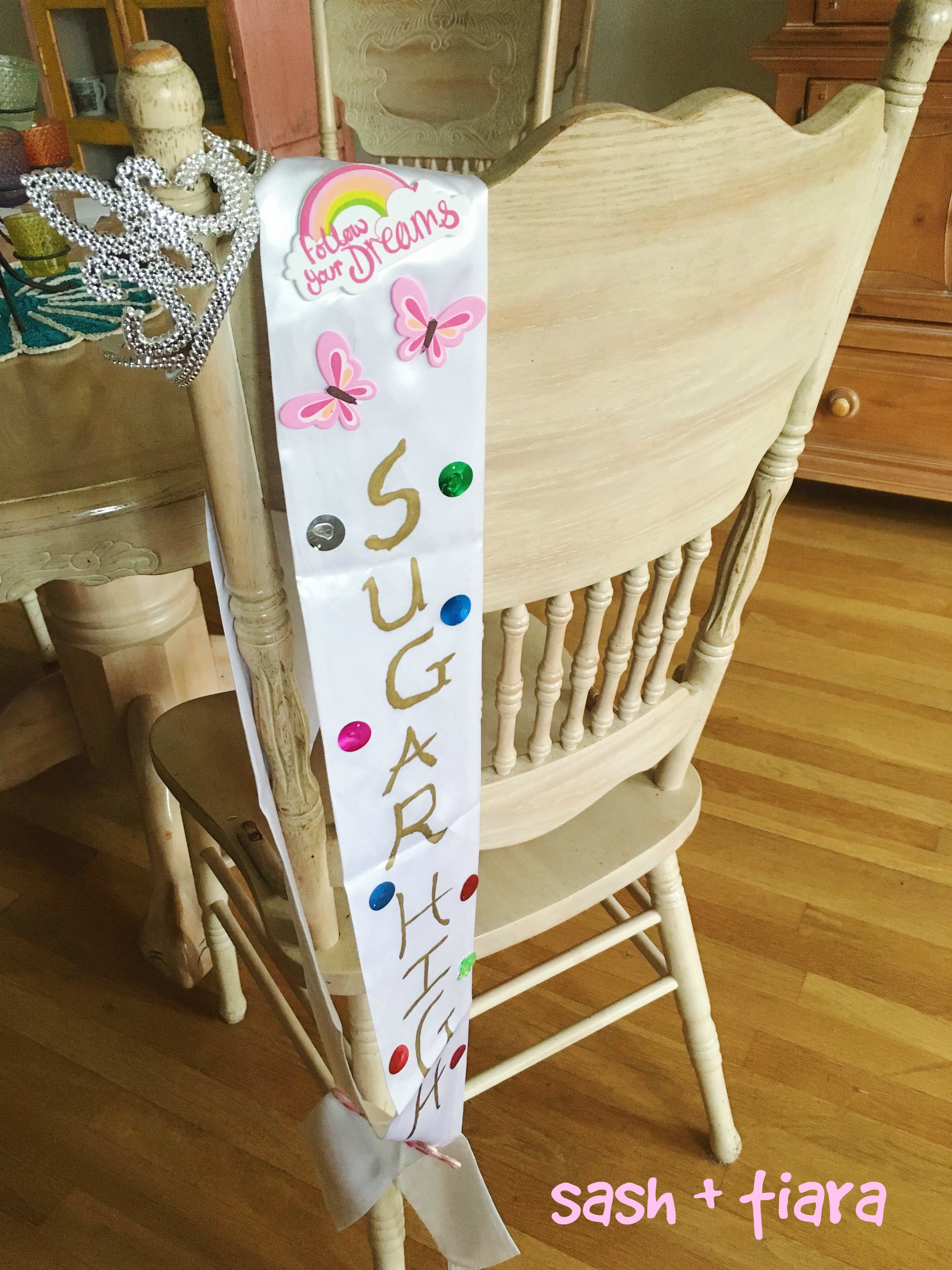 the sash in this photo says "sugar high" – again, part of the skit, but i would put something on it like "little miss dallas" or something along those lines.
you could also include a teddy bear, pacifier, or sippy cup to play up the "toddler" aspect of the costume.
and ta-da!  there's your easy "toddlers & tiaras" costume!  you'll be pageant-ready and cute as can be!  xoxo