continuing on with our backpacking trip… [to see photos of the other places we went on our trip, flip through my posts tagged "backpacking"]
visiting the czech republic was exciting for me because it was my first time going to one of the more "eastern european" countries.  we were also excited to be in the country of our ancestors, since mike and i are half czech.  prague was less expensive than the other countries we'd been to thus far, but like many of the other countries we'd been to, it had a medieval feel.  it still felt like western europe for the most part, and we found it to be very lovely.
we stayed at a little hotel/hostel called the attractive penzion, which was in a little attic-type space with alcoves and one tiny window and was admittedly a bit hot with no A/C in the summer heat wave that europe was experiencing, but it was in a fabulous location in old town, right across from the charles bridge and very convenient to bars and restaurants.  we stayed in prague for three nights, and during our stay, we went up to petrin hill, visited a monastery where beer was made, checked out prague castle/st. vitus cathedral, saw the john lennon wall, walked on the charles bridge, experienced the nightlife in old town square, and explored vyšehrad, a historical fort/castle.
one of the things that we found interesting is that we always thought of the word "castle" to be somewhat synonymous with "palace" [except maybe that castles indicate higher security; i.e., walls around it], and we were surprised to see that prague castle and vyšehrad castle were, in fact, beautiful churches with buildings/walls surrounding them.  it turns out that the definition of a castle is just a building or group of buildings that have high walls surrounding them, and that the walls may not always be surrounding a palace or spectacular dwelling place like you see in the movies, but sometimes it may just be a church + a village.  st. vitus cathedral [at prague castle] and the basilica of st. peter and st. paul were certainly beautiful though, and it was neat to see how the walls and buildings had been built around them.  anyway, we had a grand time and were happy to get to spend three nights in prague instead of just two.
here are some photos of our adventures in prague: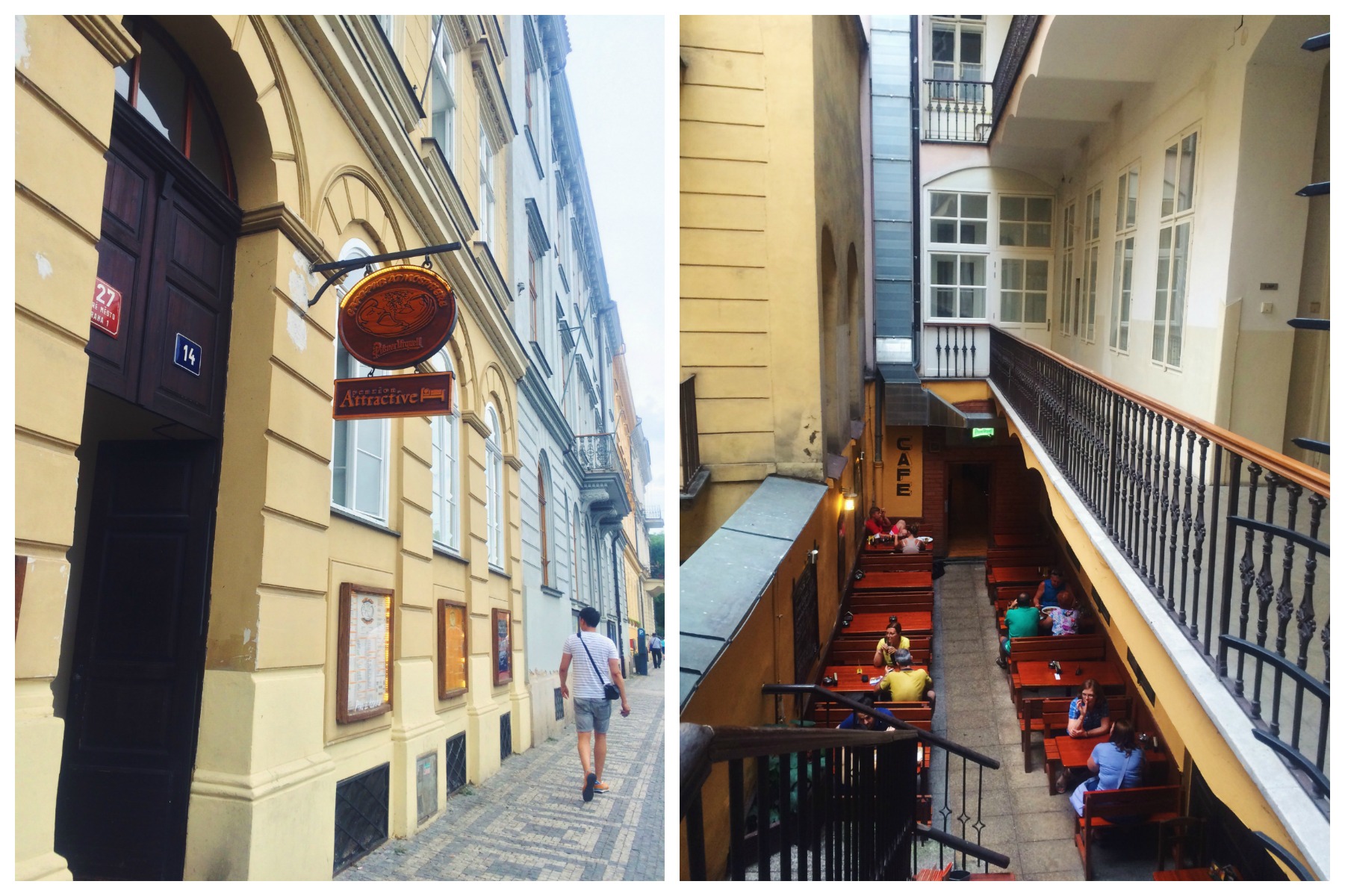 {our hostel/hotel!  on the right, you can see a little cafe in the same building as the pension that we passed on our way up to the room.}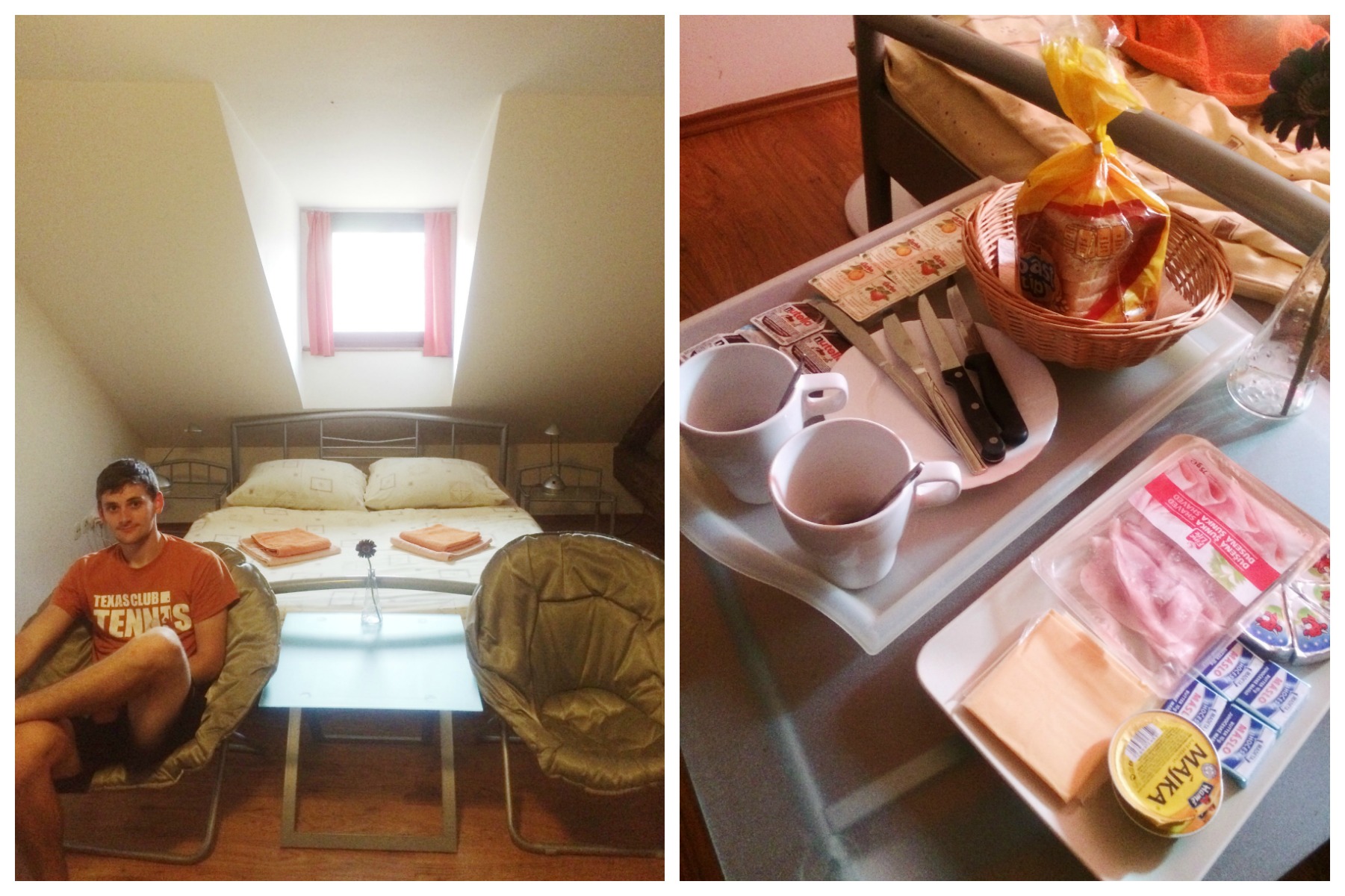 {on the left, our little room!  it was small and not at all fancy, but we were happy to have our own bathroom.  on the right, we got breakfast each morning that was included with our stay… white bread, lunch meat, american cheese, tuna spread, soft cheese wedges, and nutella – again, nothing fancy, but it was nice to begin the day with a bit of sustenance and not have to pay for it.}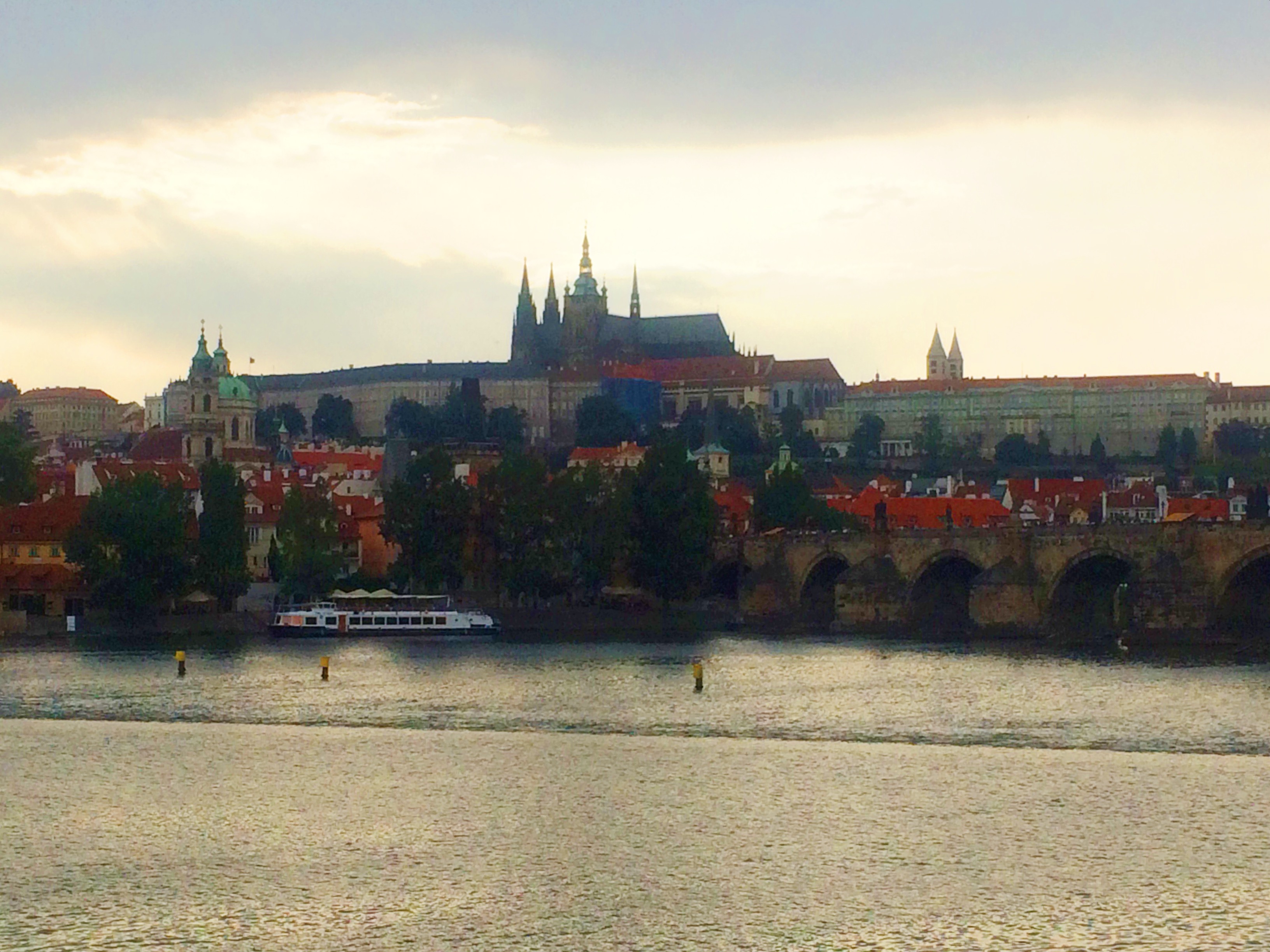 {our first glimpse of prague castle!}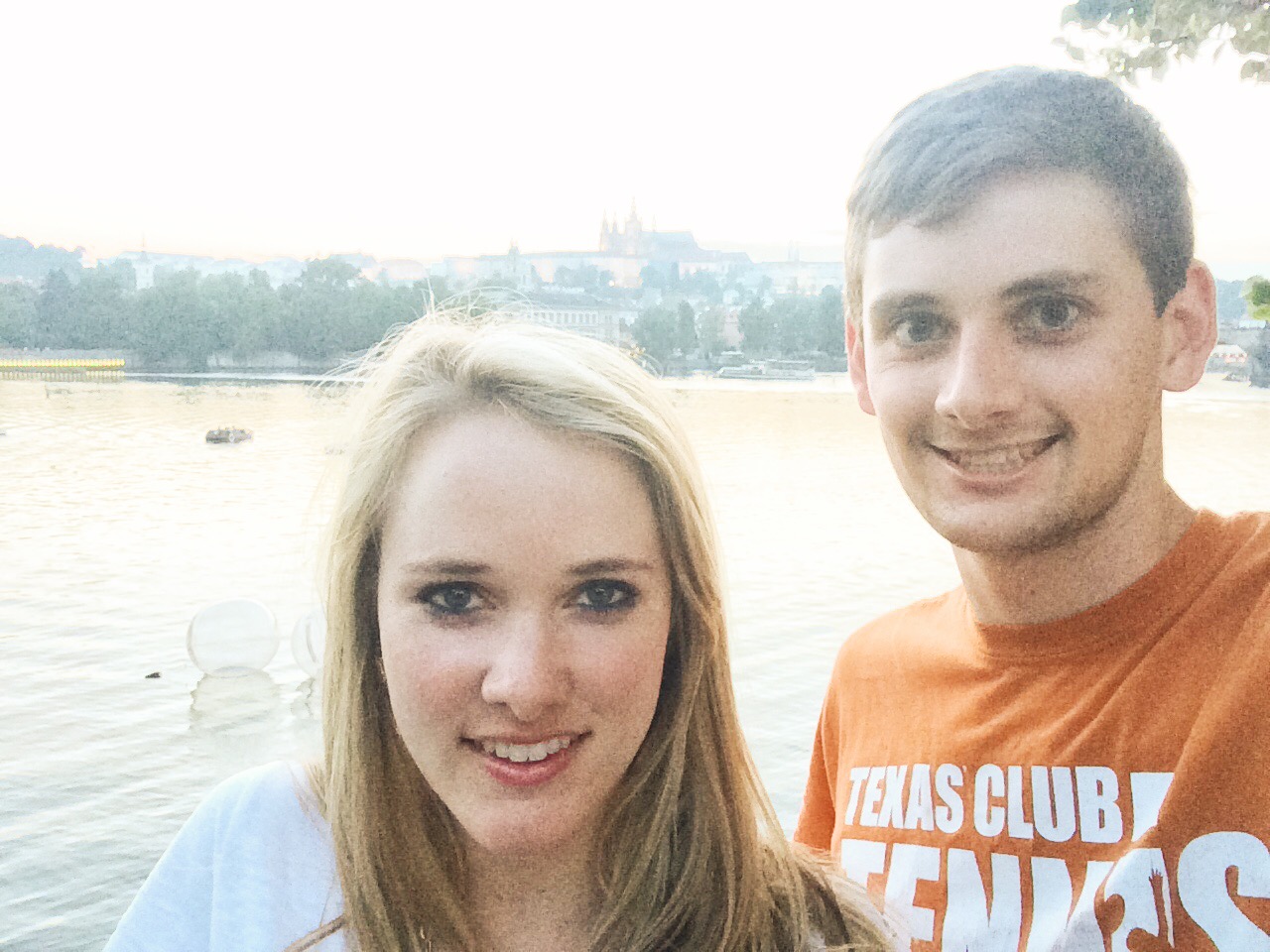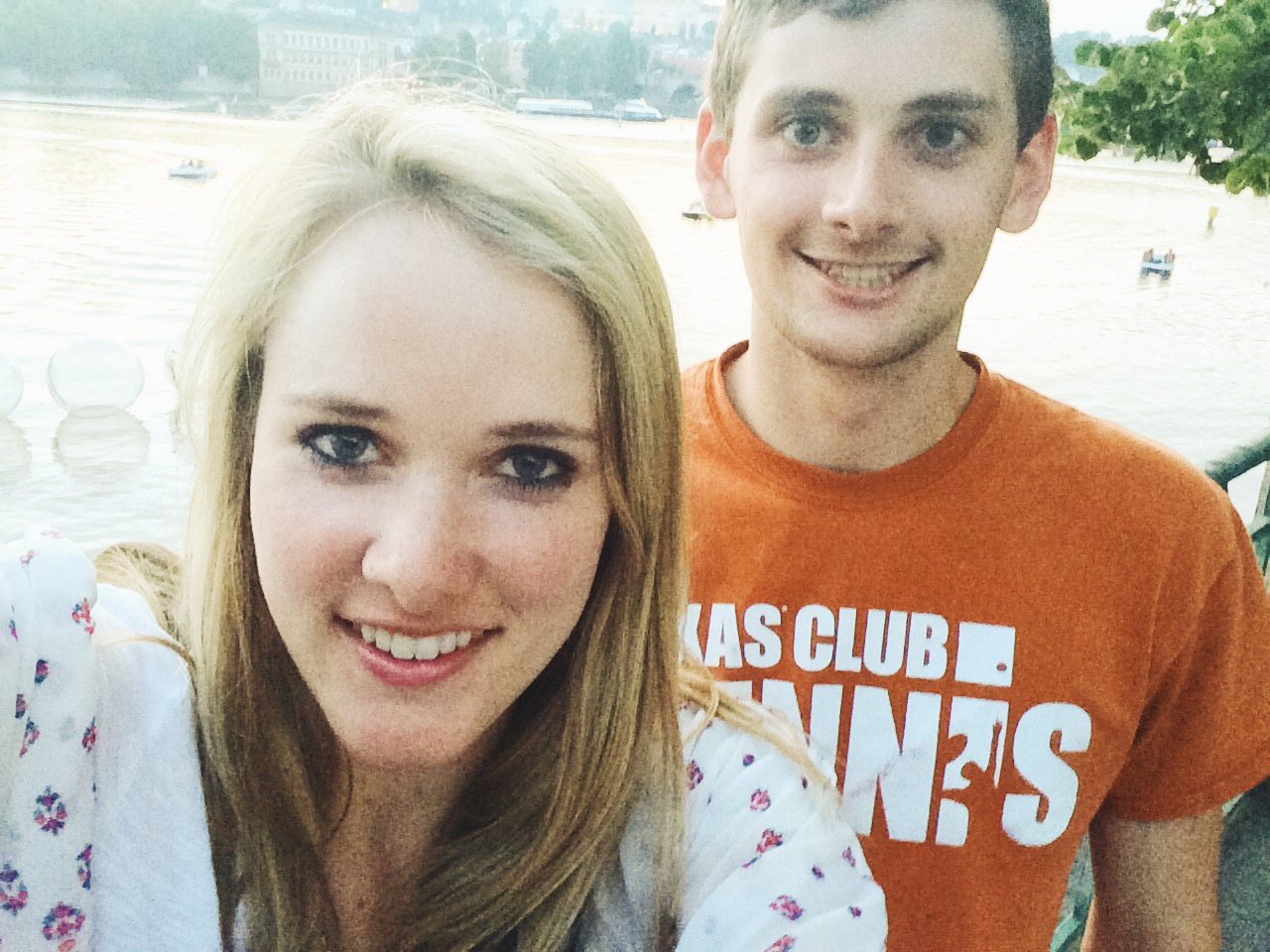 {selfie attempts}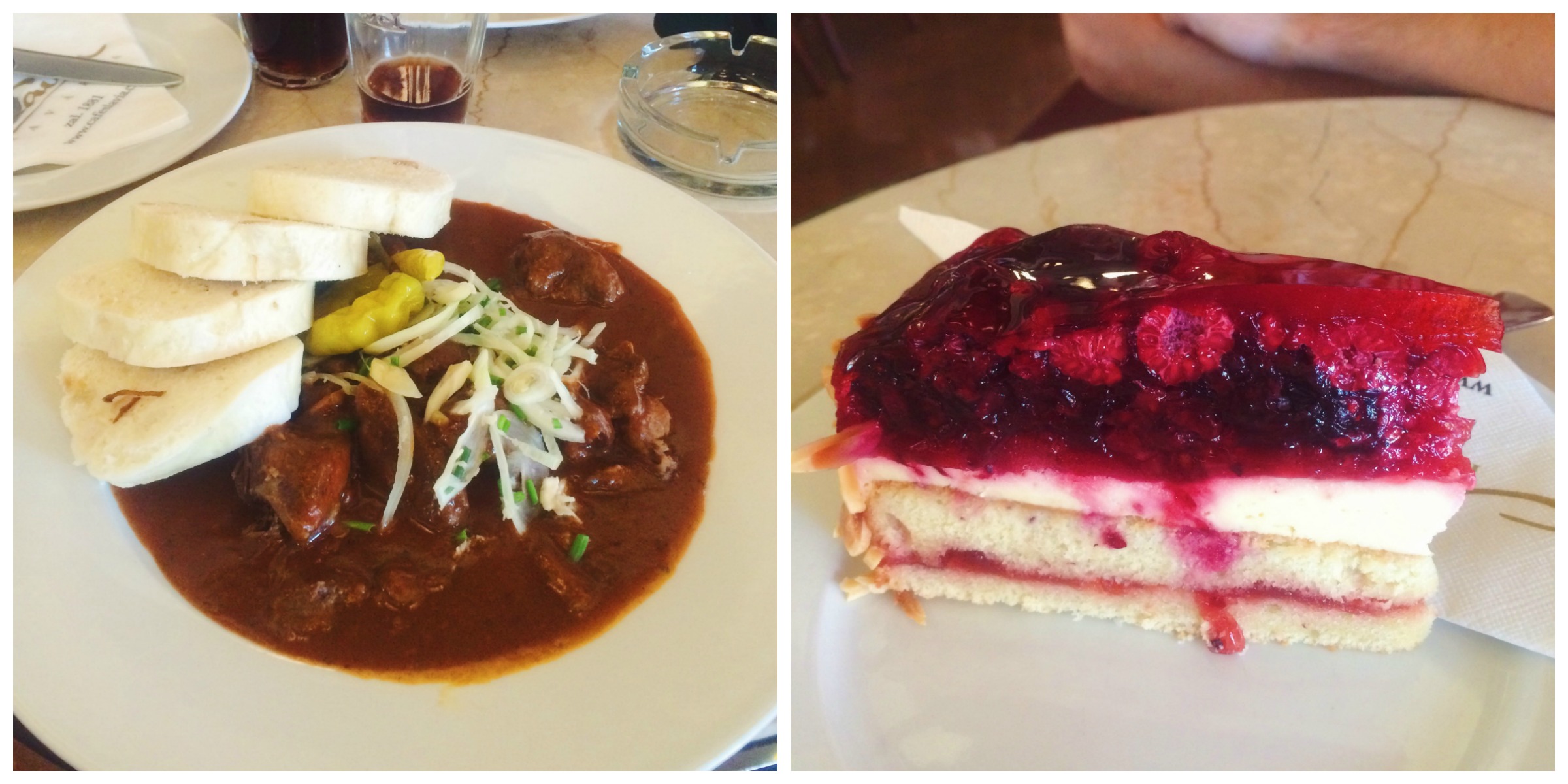 {goulash with bread dumplings for dinner, and we shared a raspberry cake.}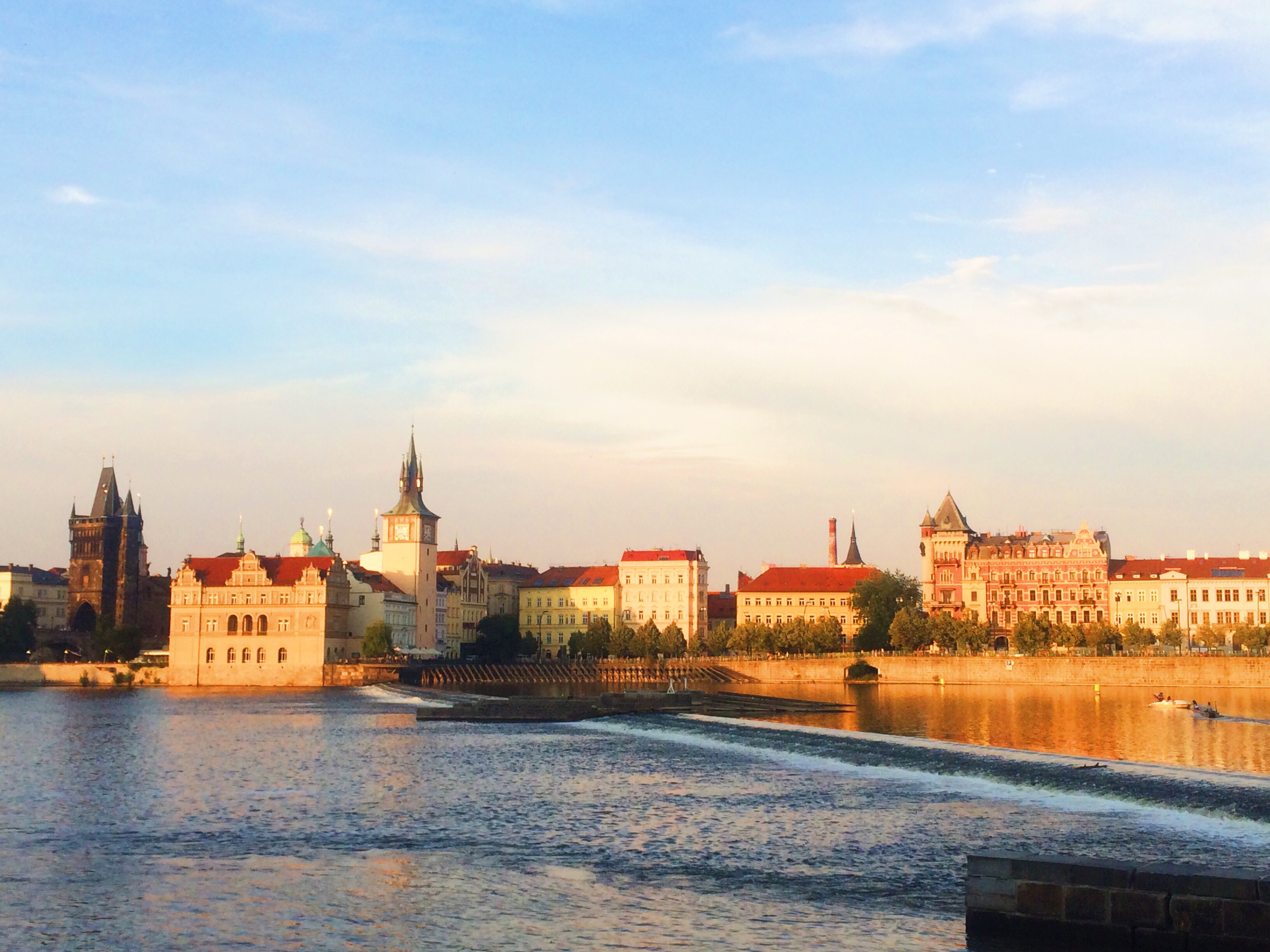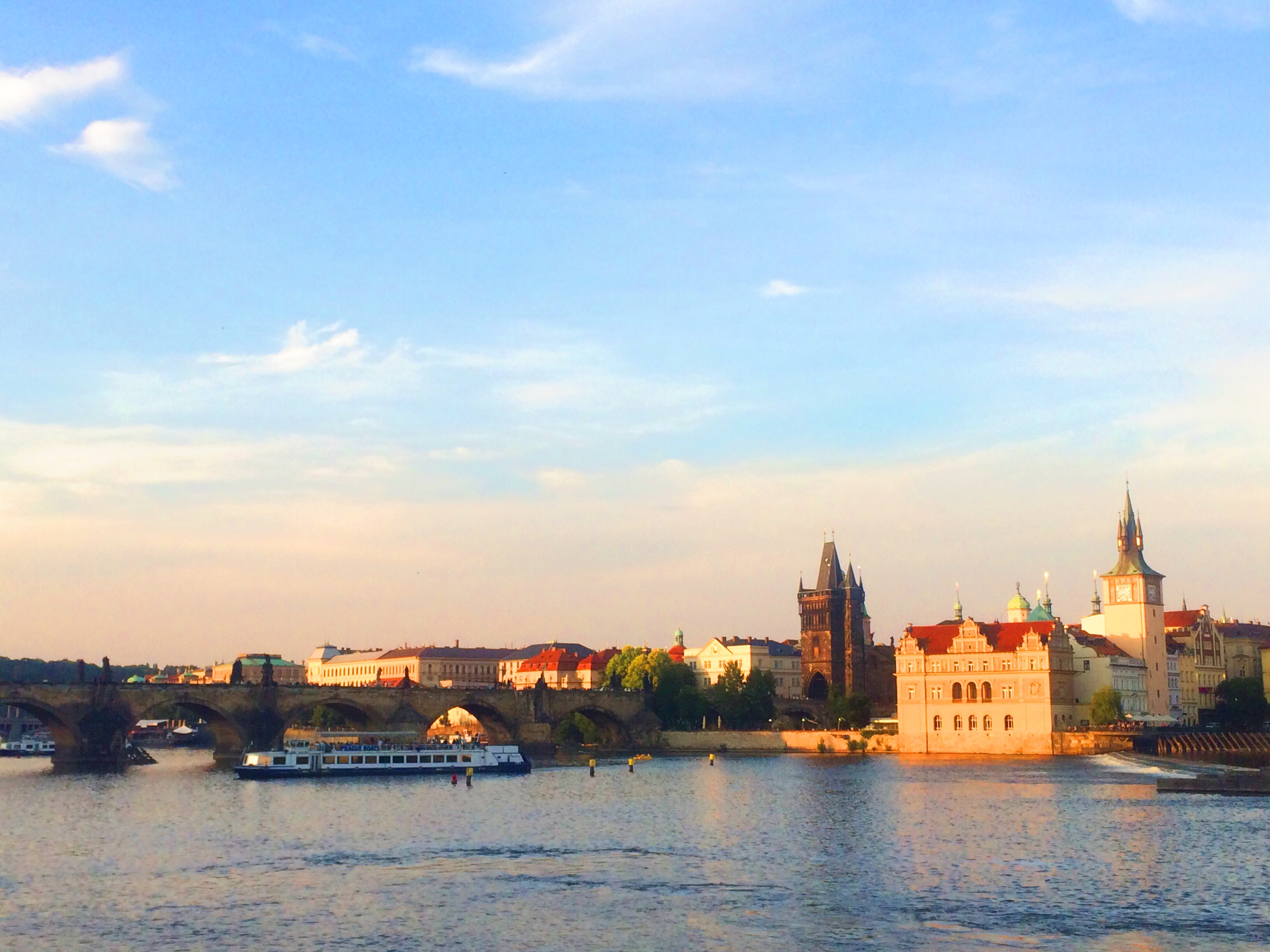 {prague is a beautiful city.}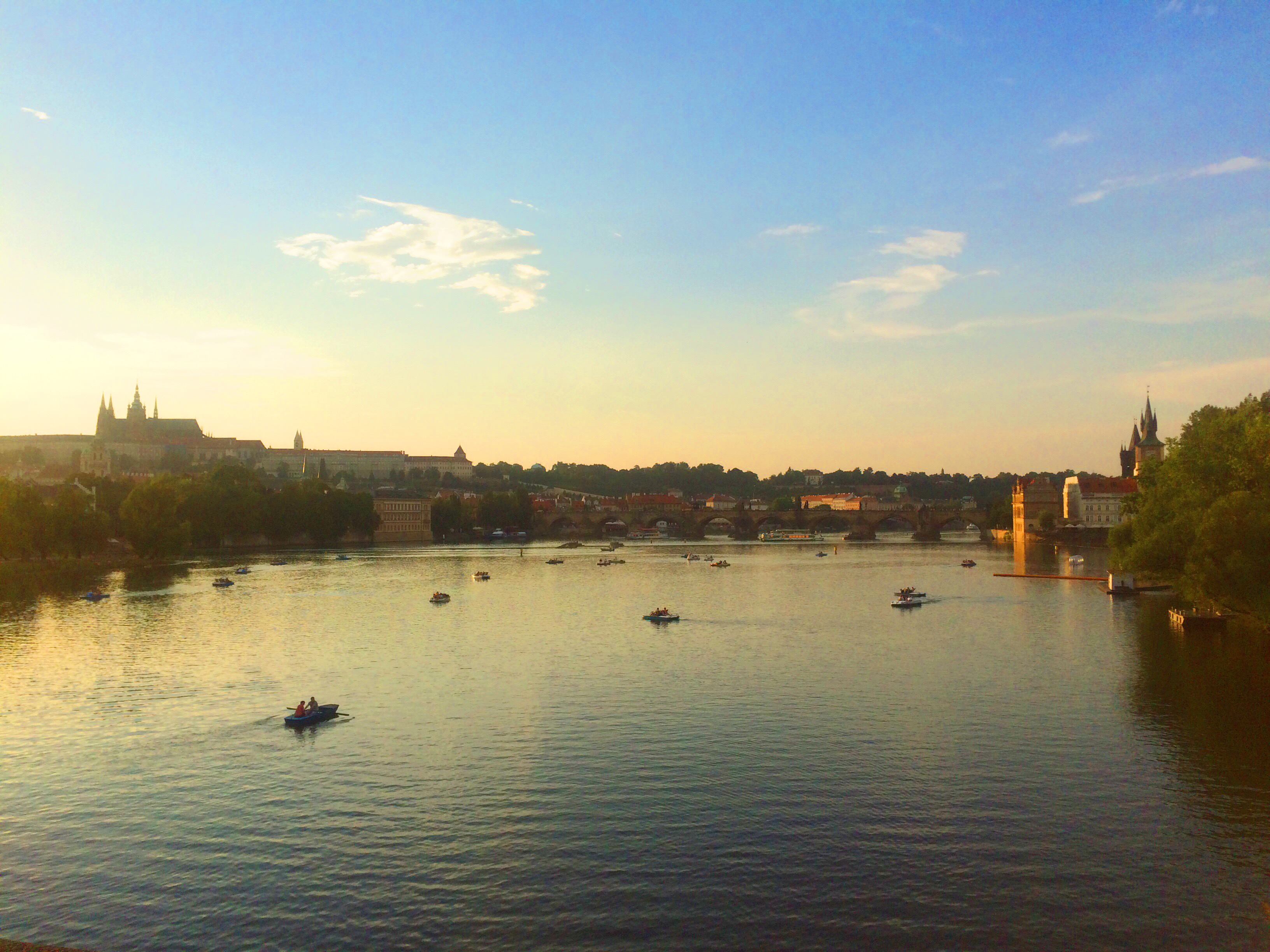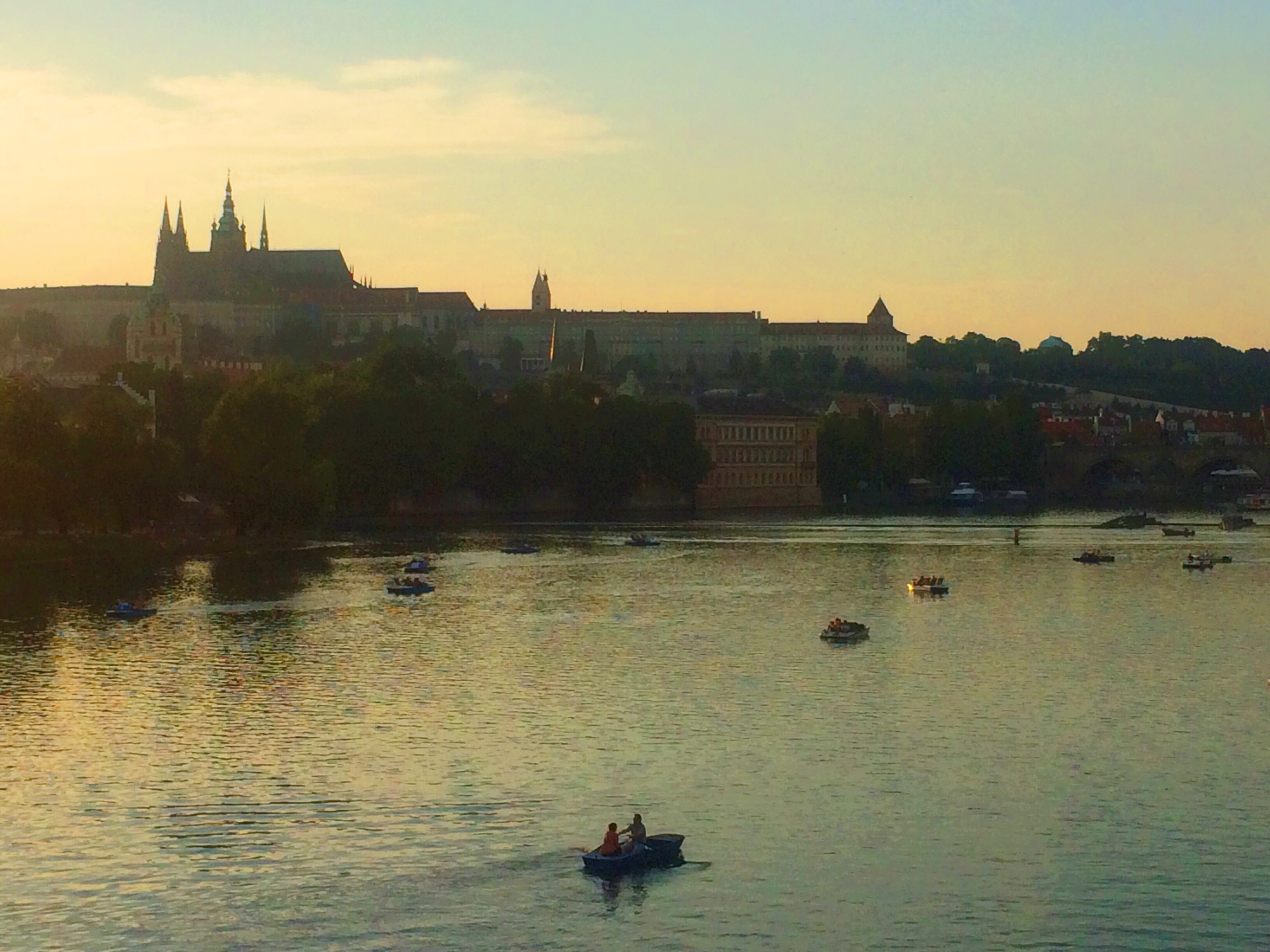 {there were so many people out on rowboats!}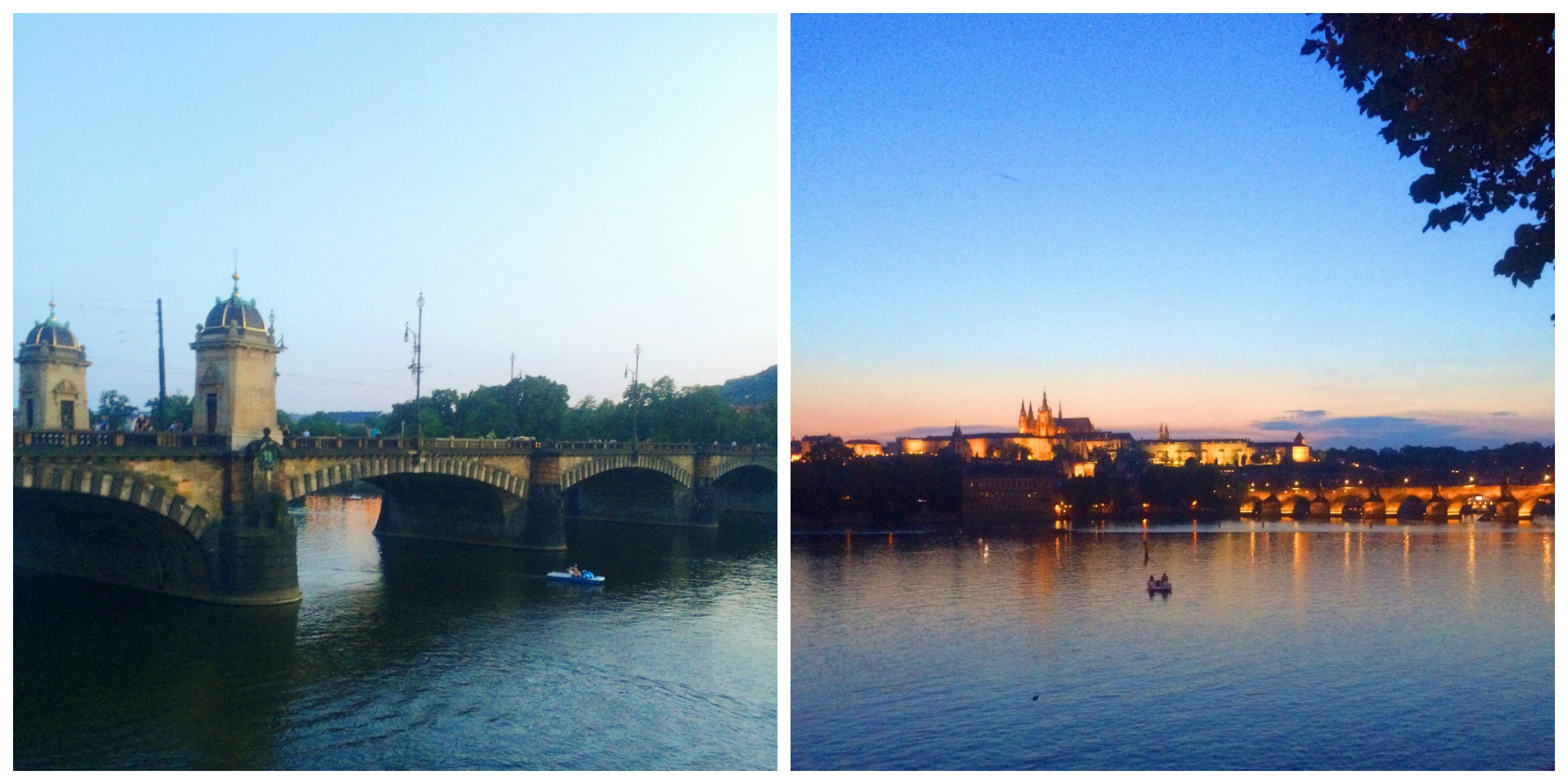 {this was a fun walk in the evening.}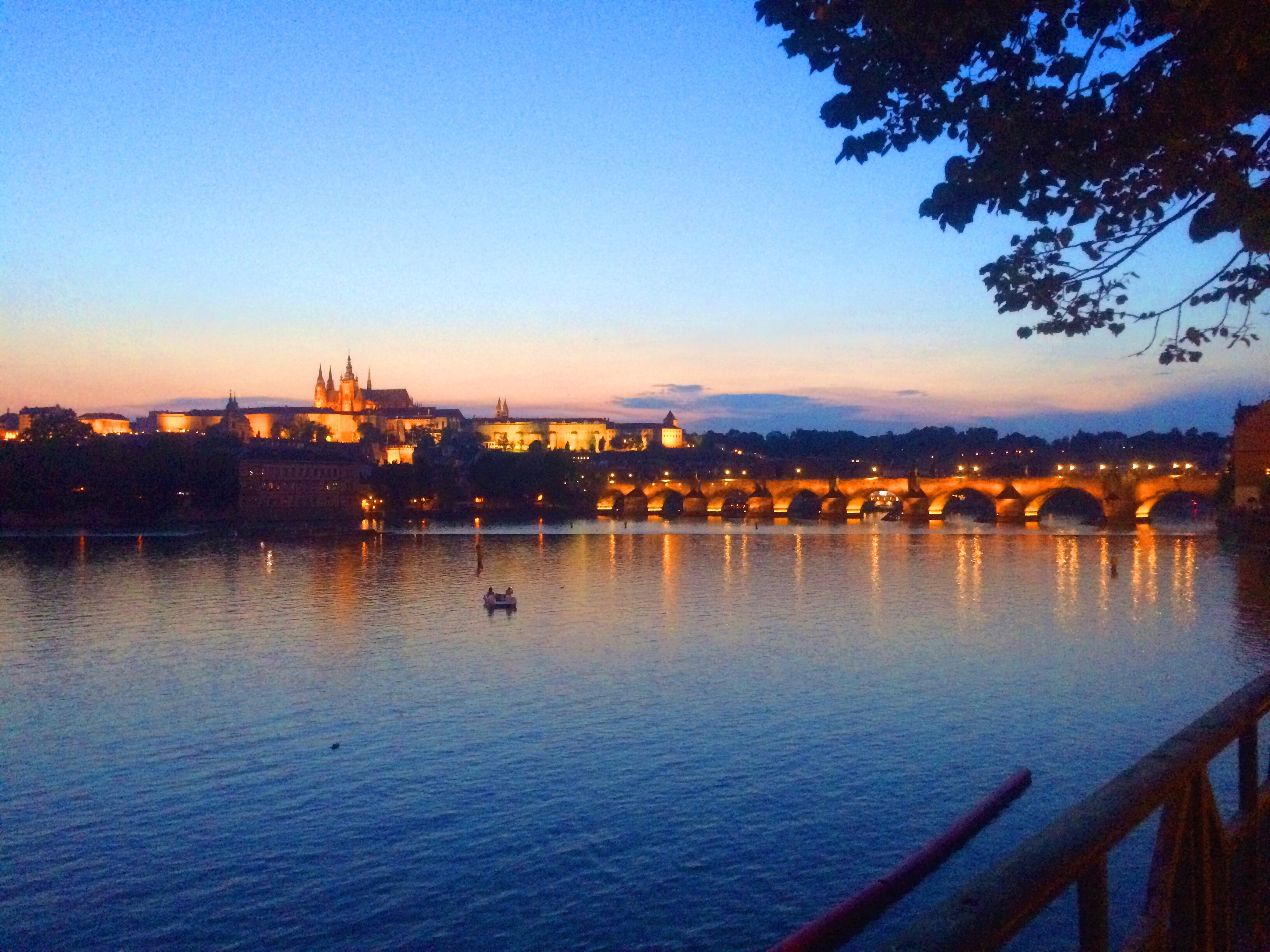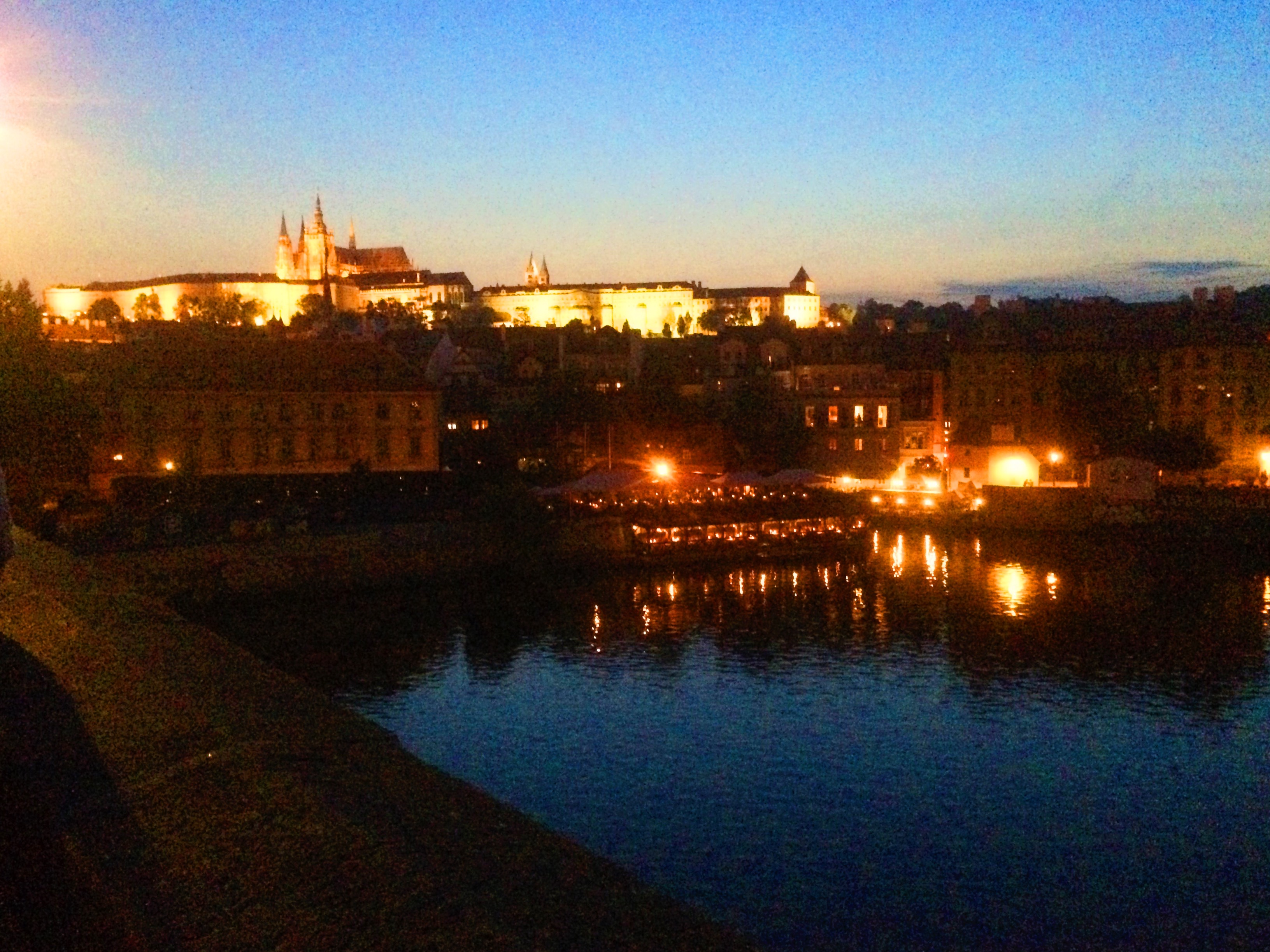 {prague at night is pretty magical.}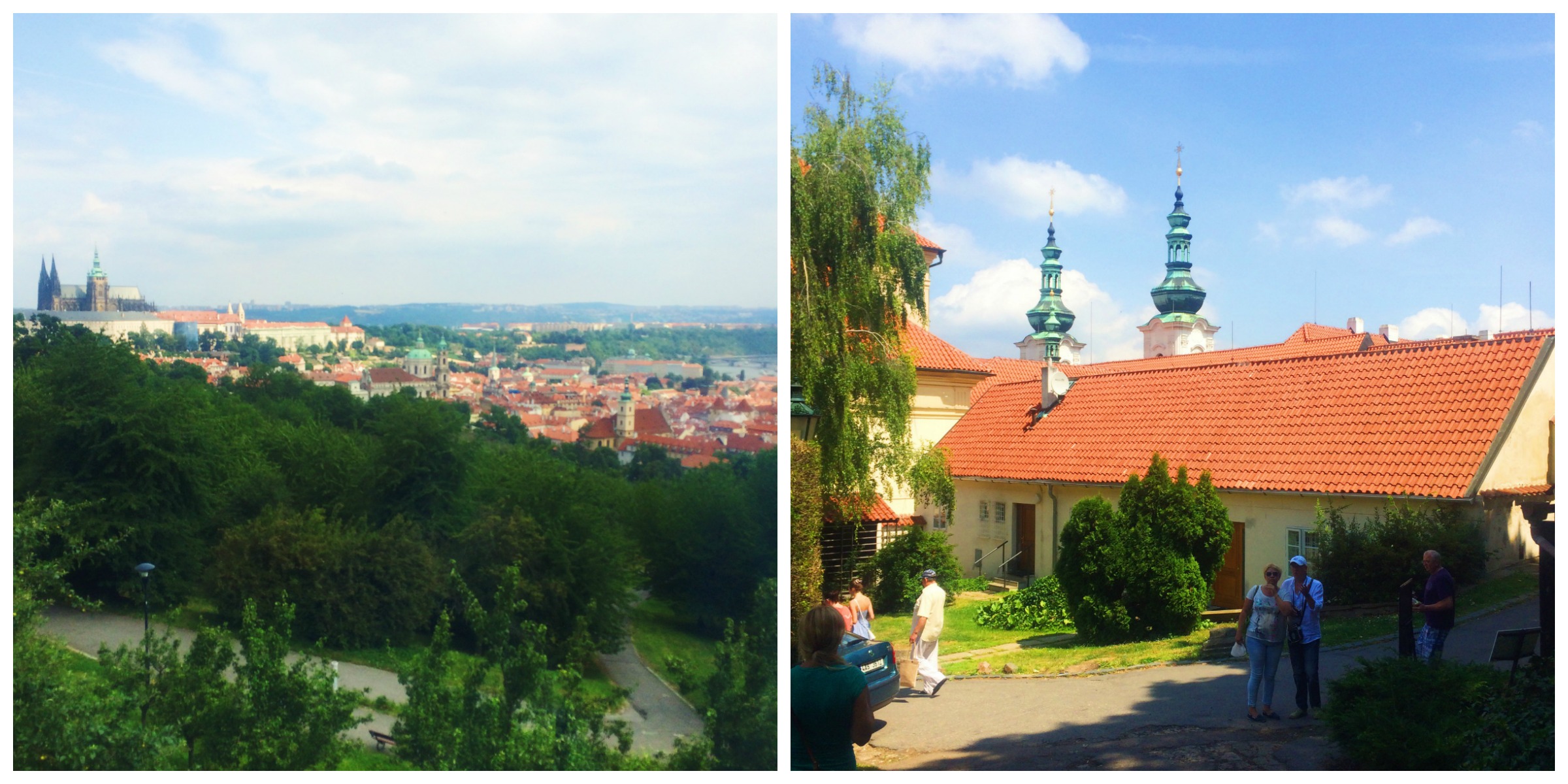 {on the right is strahov monastery, the monastery that i was talking about that brews beer!  we weren't able to tour it, but we did have a beer here and it was great!}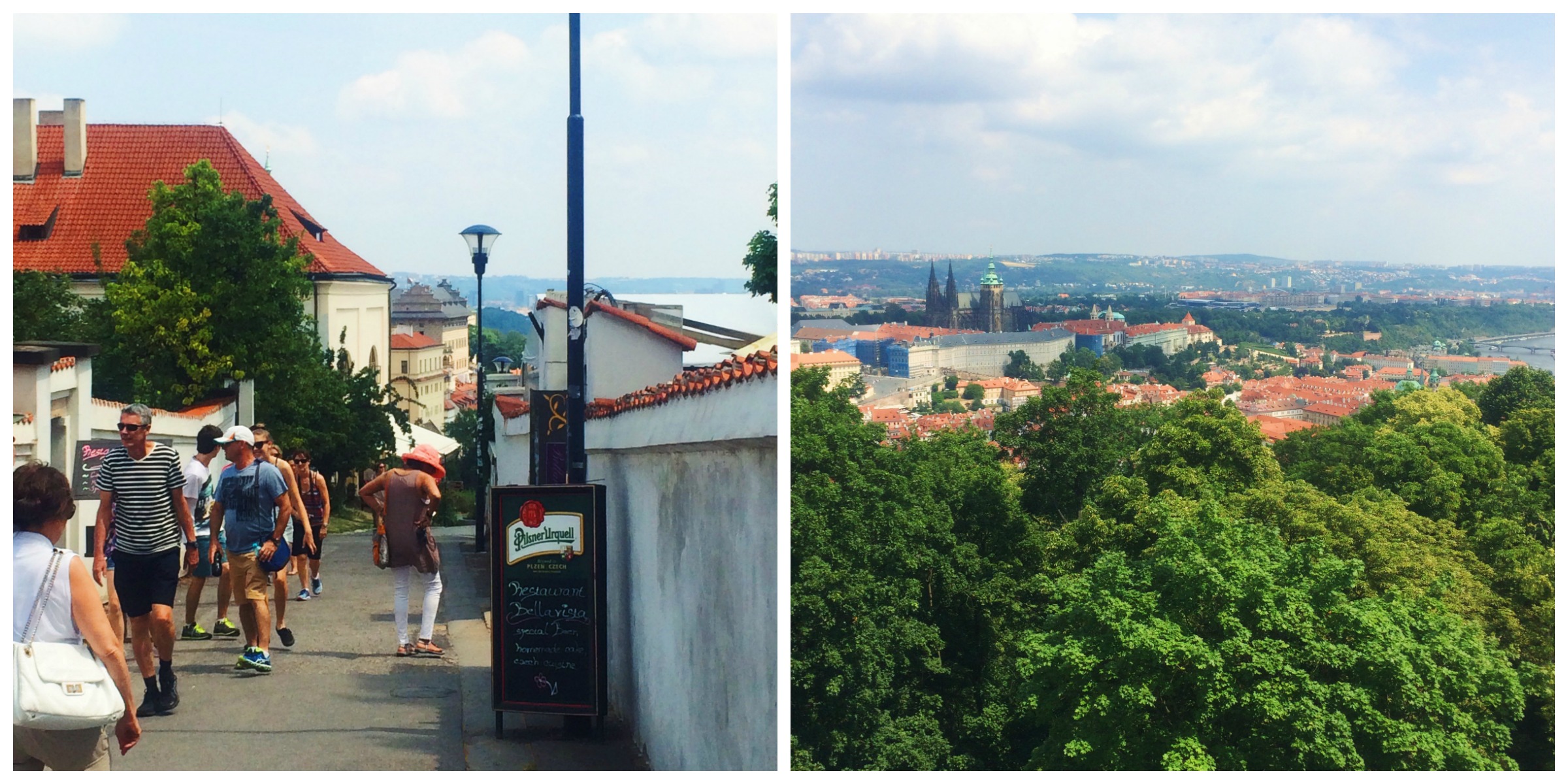 {another fun walk with beautiful views.}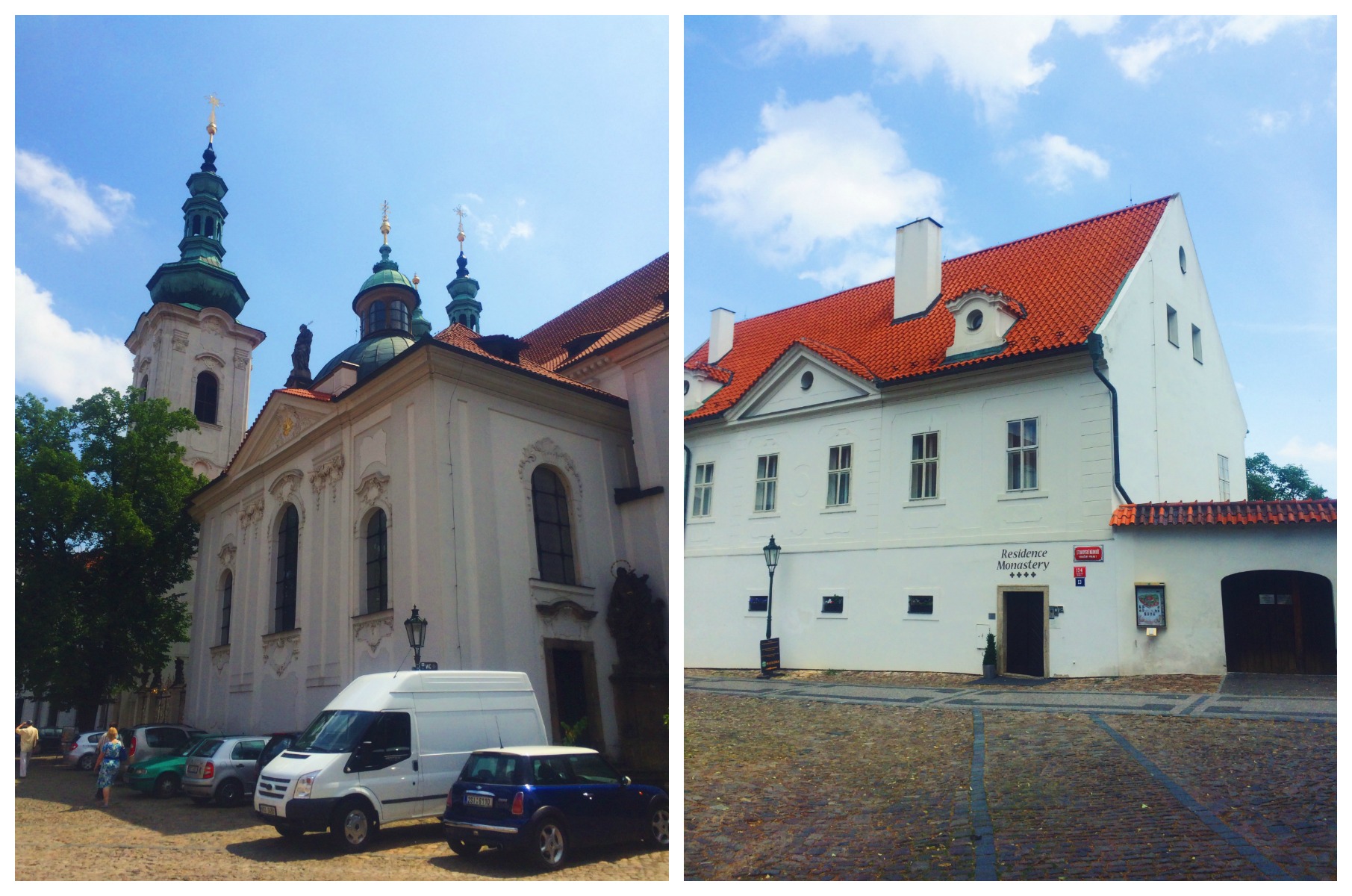 {on the left, st. michael's church, and on the right, another shot of strahov monastery.}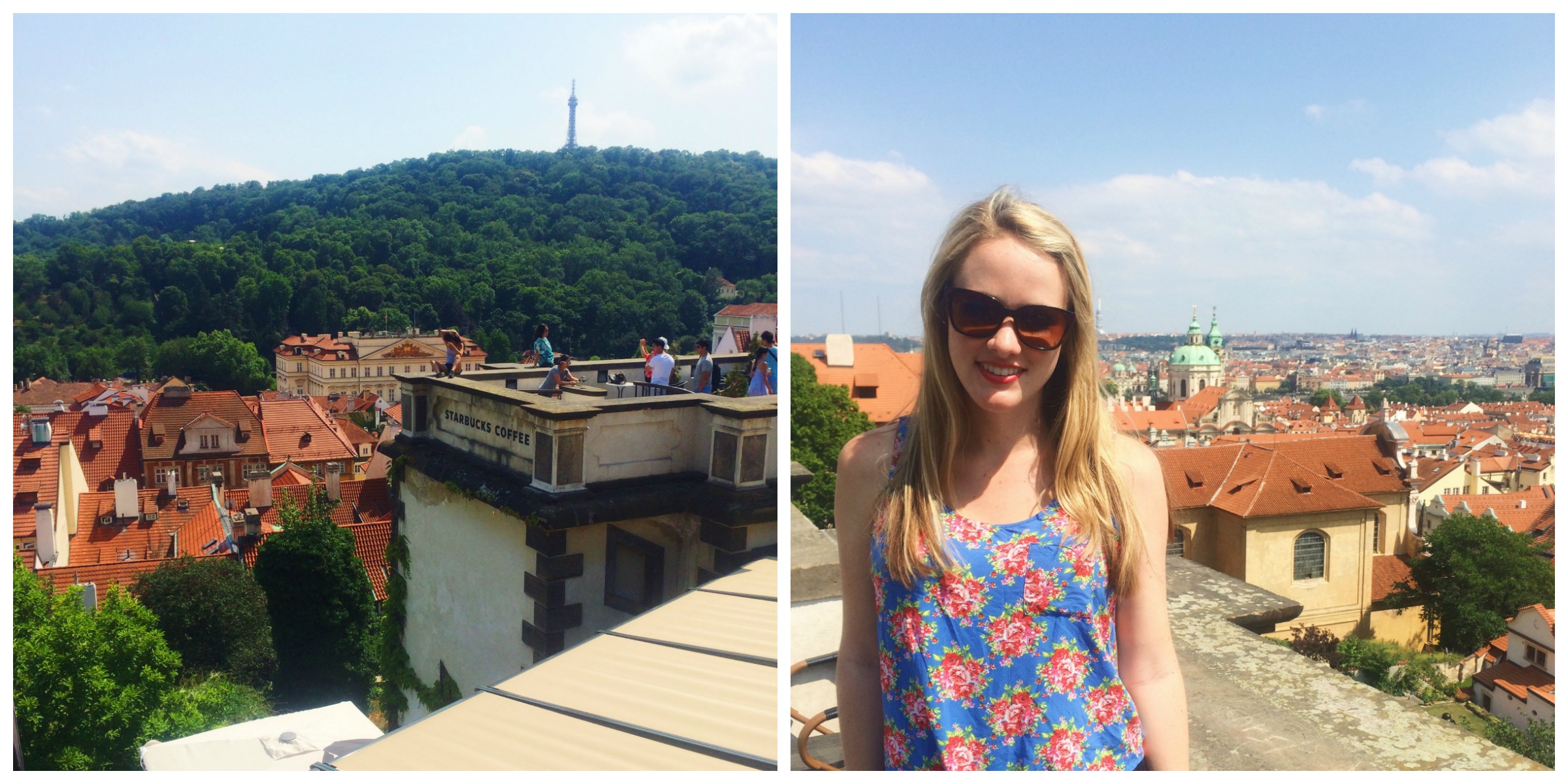 {see that starbucks with a beautiful rooftop view of the hills and the city of prague??}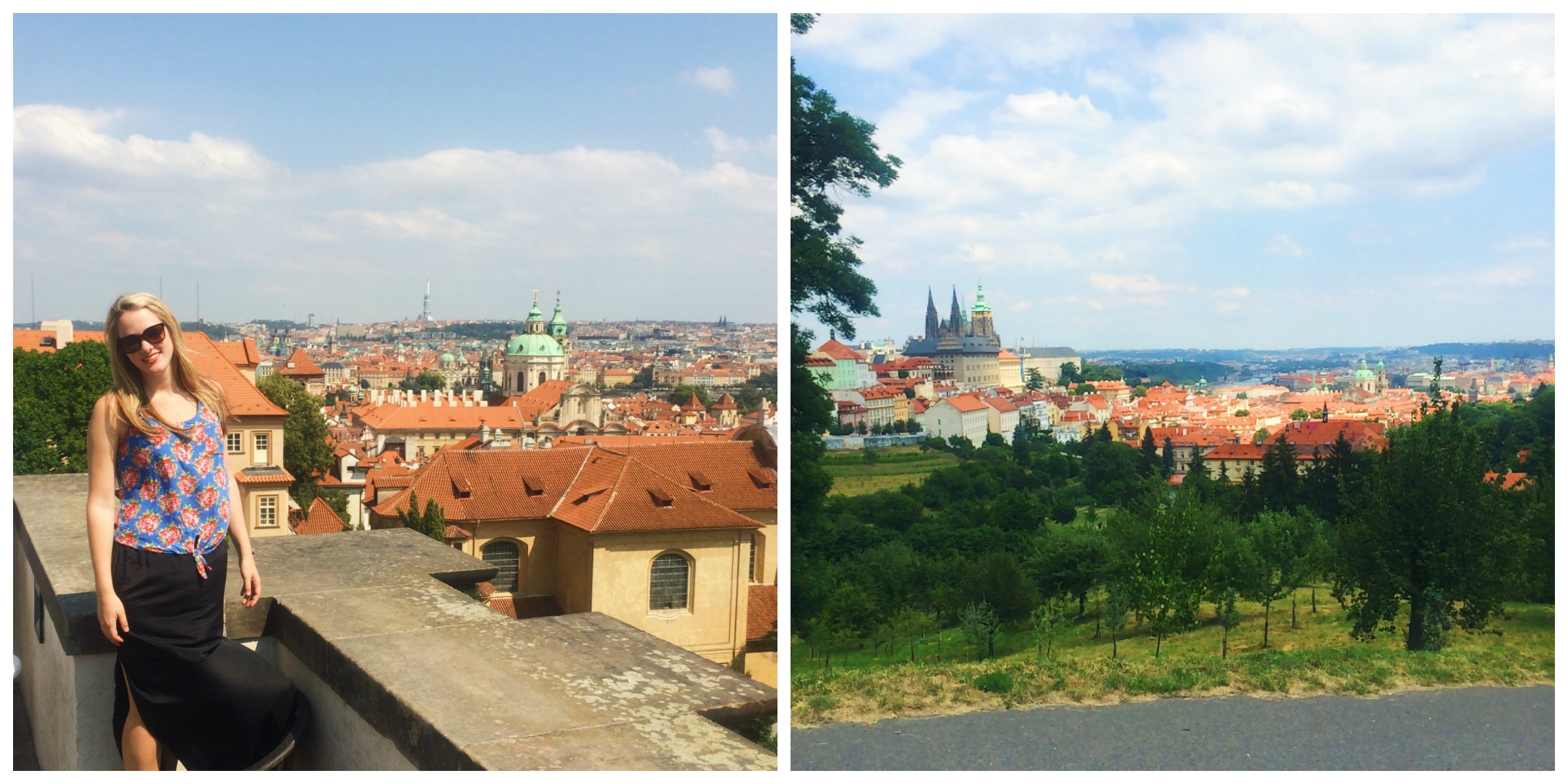 {not the most flattering picture of me with the wind blowing up my skirt and shirt [!!] but i couldn't get over all those red roofs!}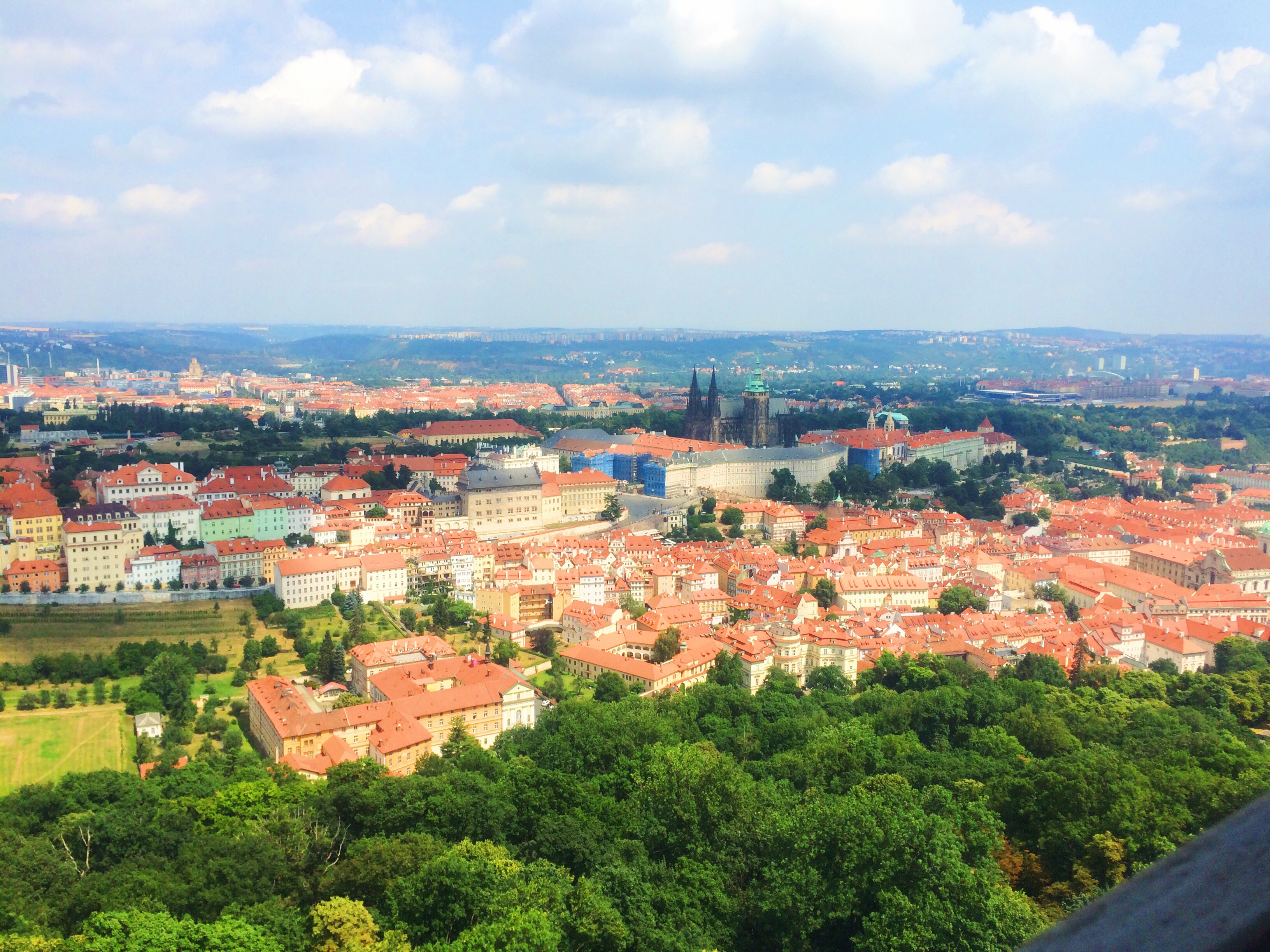 {this view.}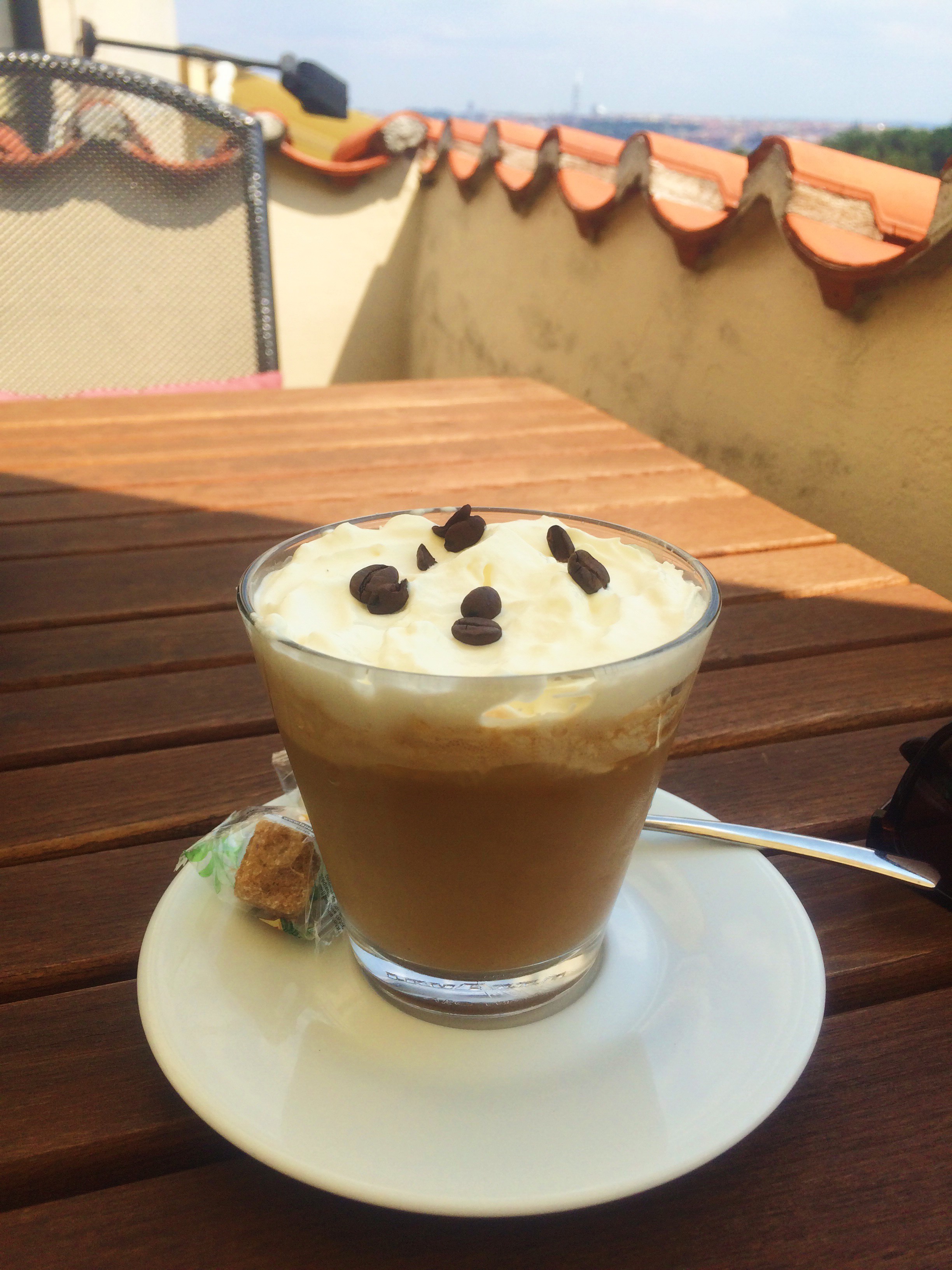 {apparently in austria and the czech republic, an "iced coffee" comes with ice cream AND whipped cream.  and we weren't sorry about it.  this was dessert and an afternoon pick-me-up as we sat on the rooftop of a cafe on a hill overlooking the city.}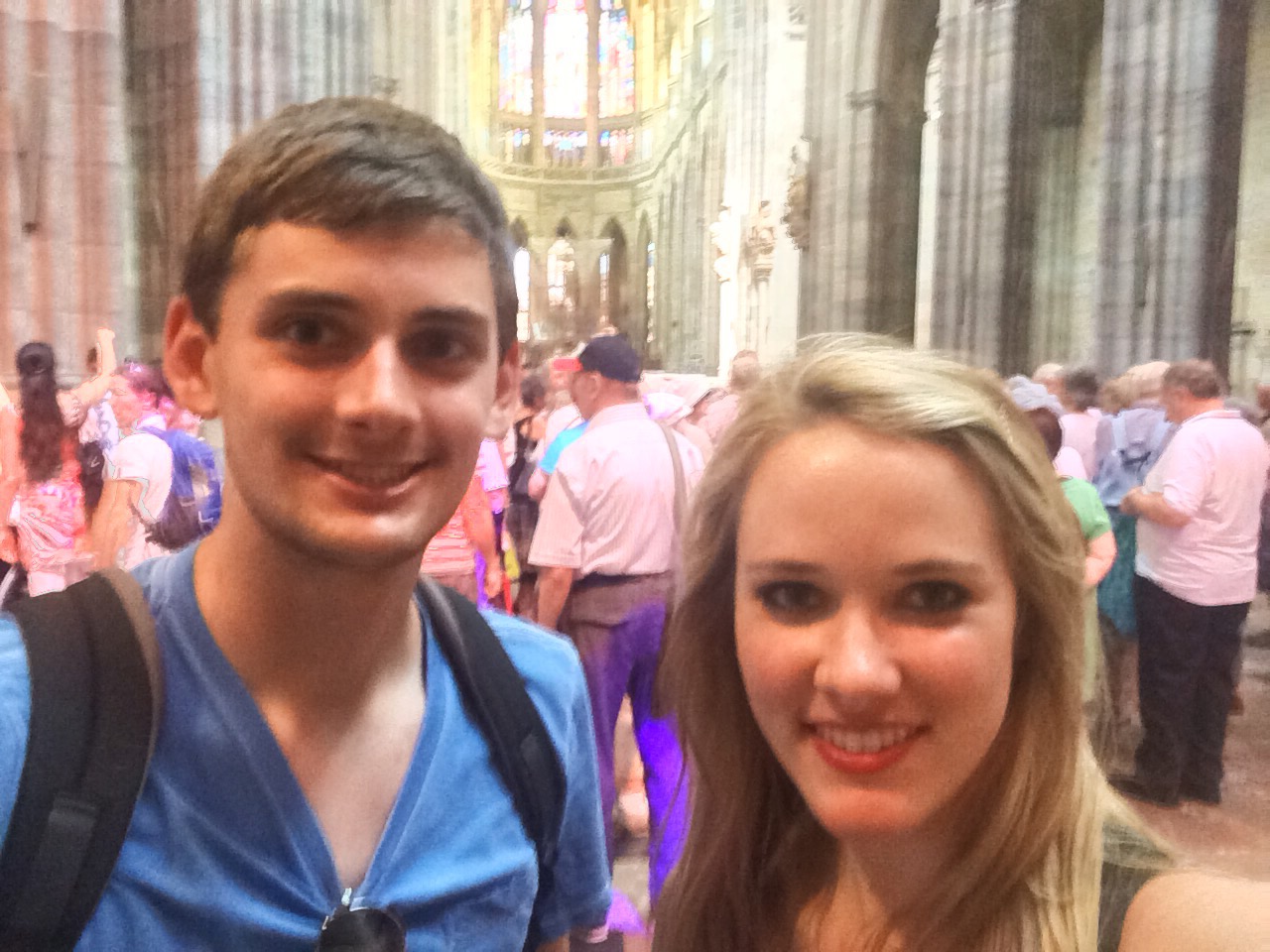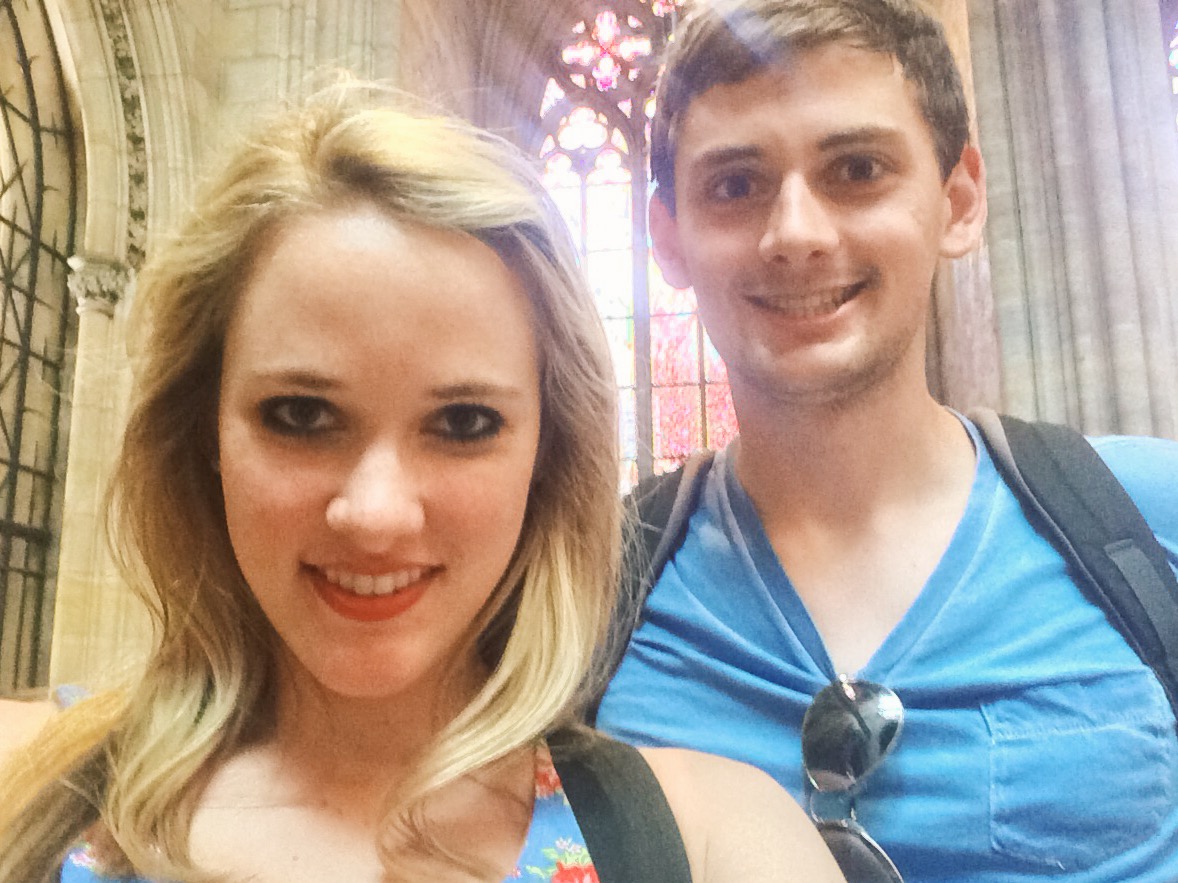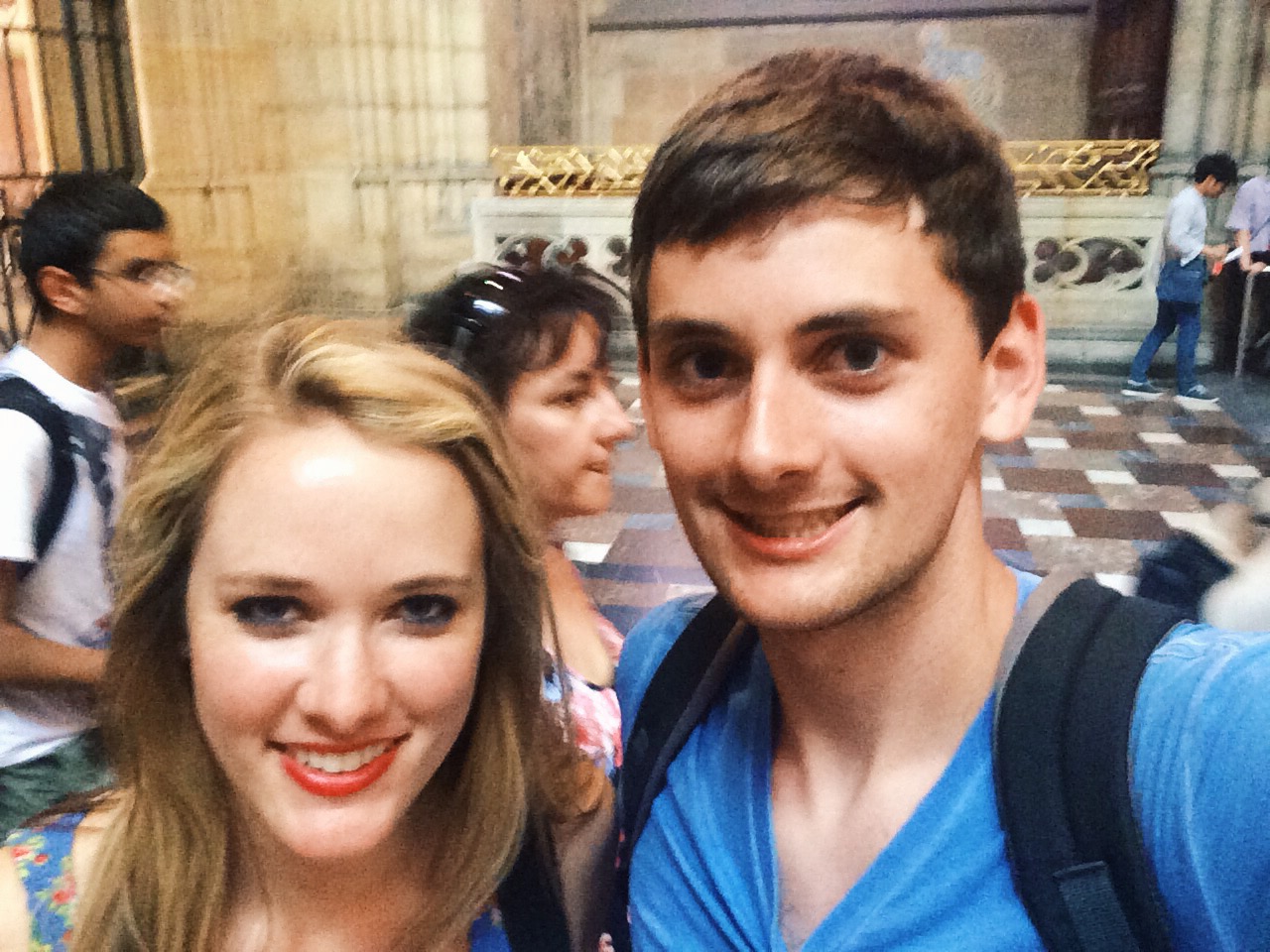 {more selfie attempts, this time in st. vitus cathedral at prague castle.}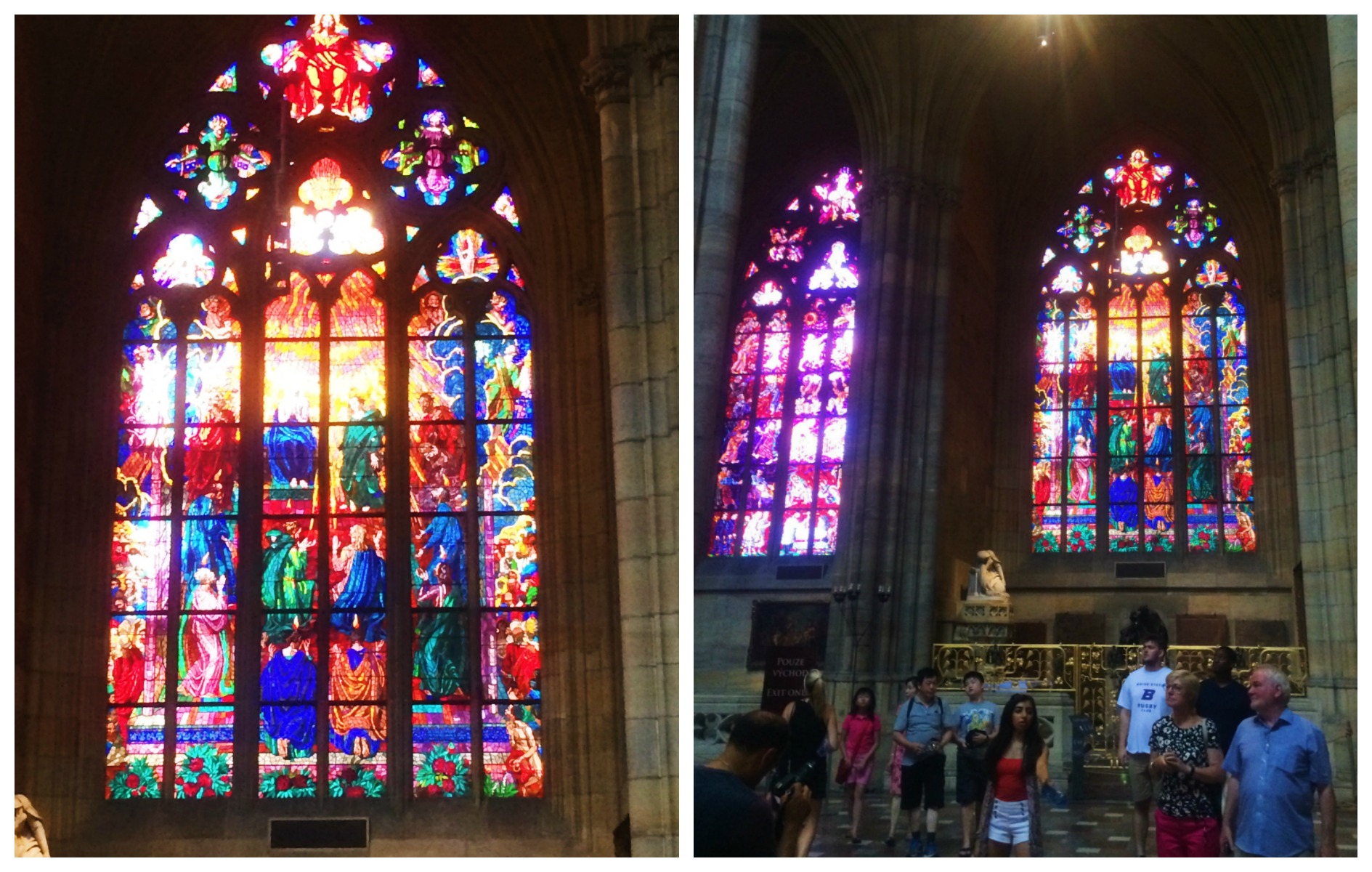 {the gorgeous windows the cathedral!}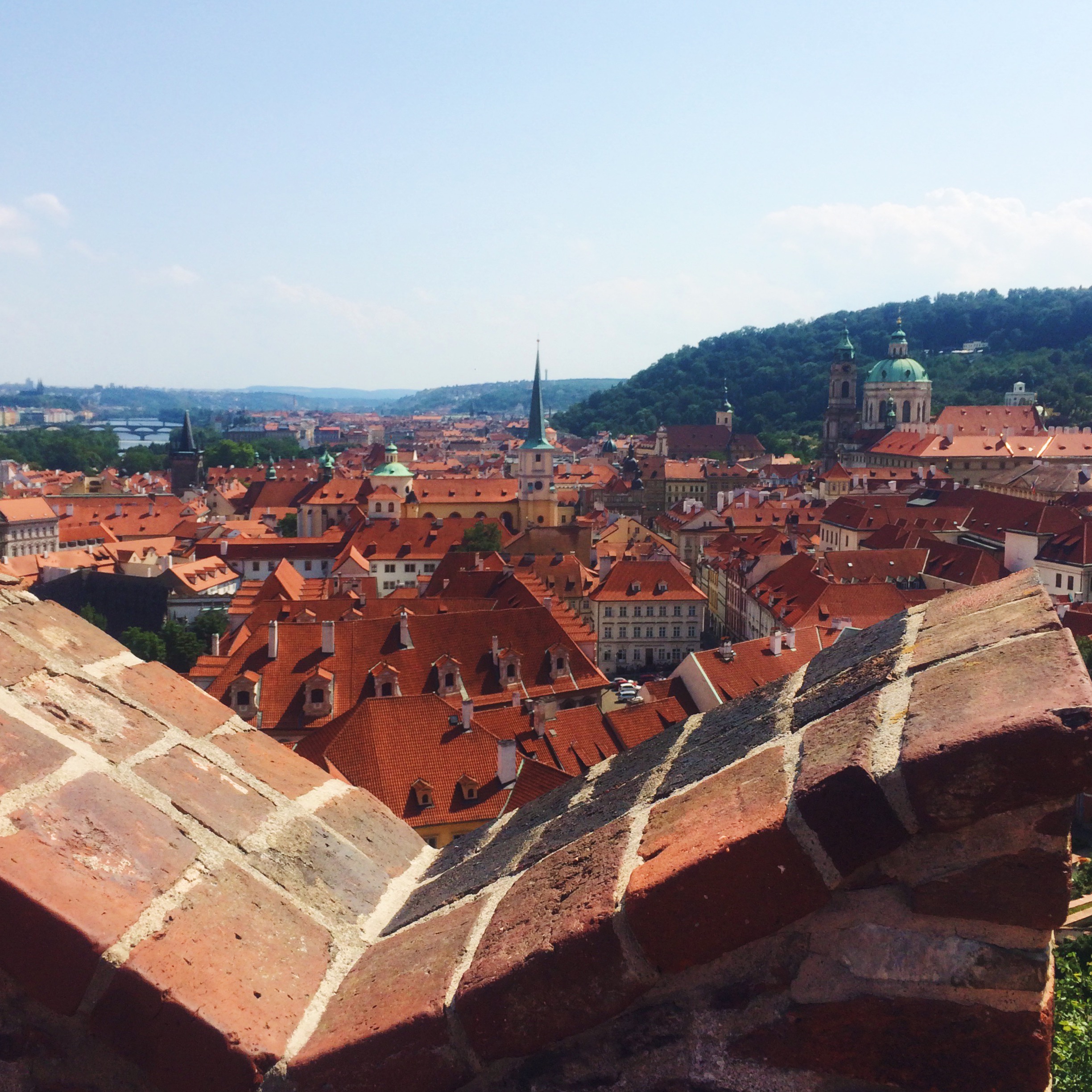 {red roofs galore.}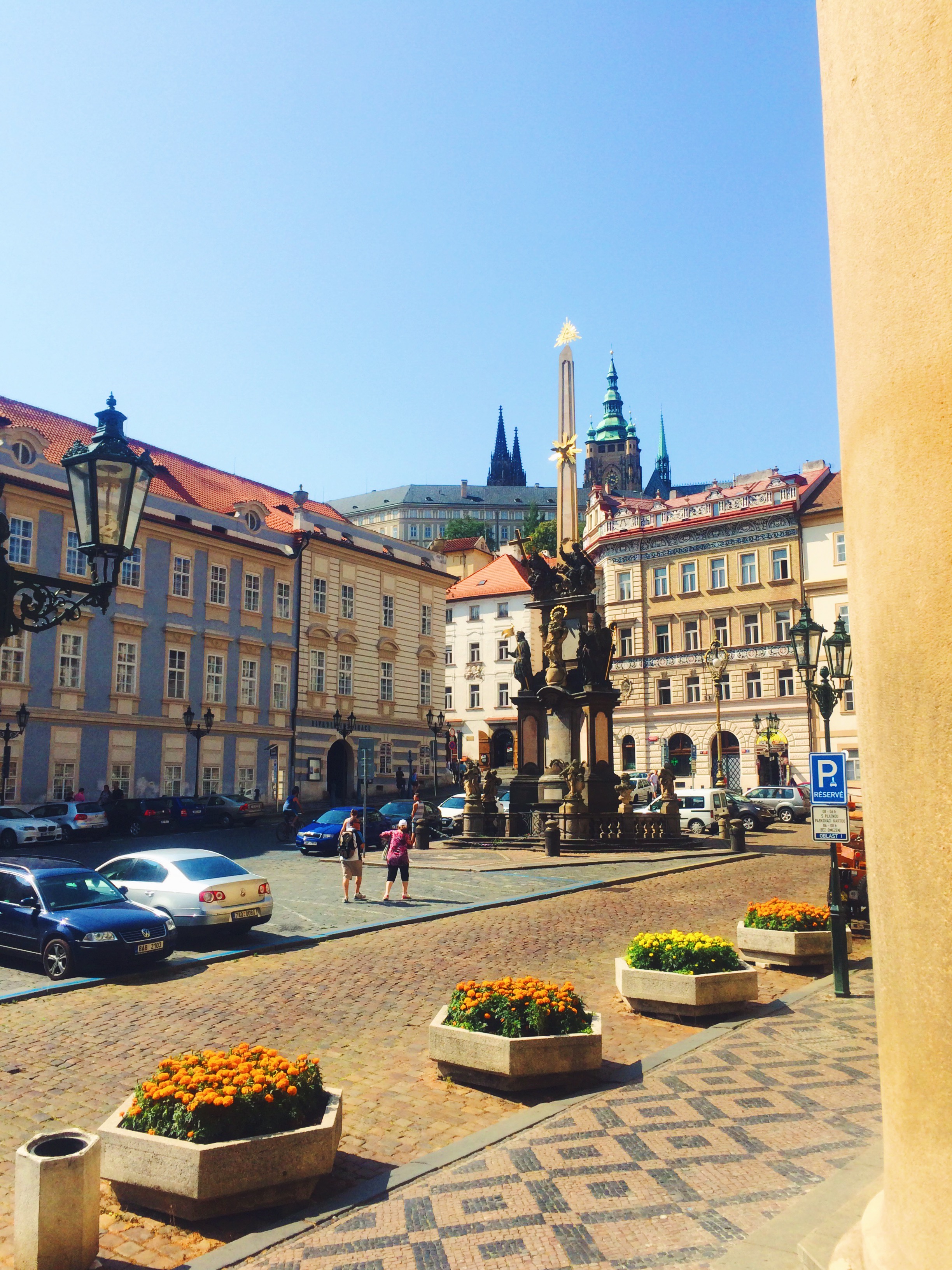 {inside prague castle}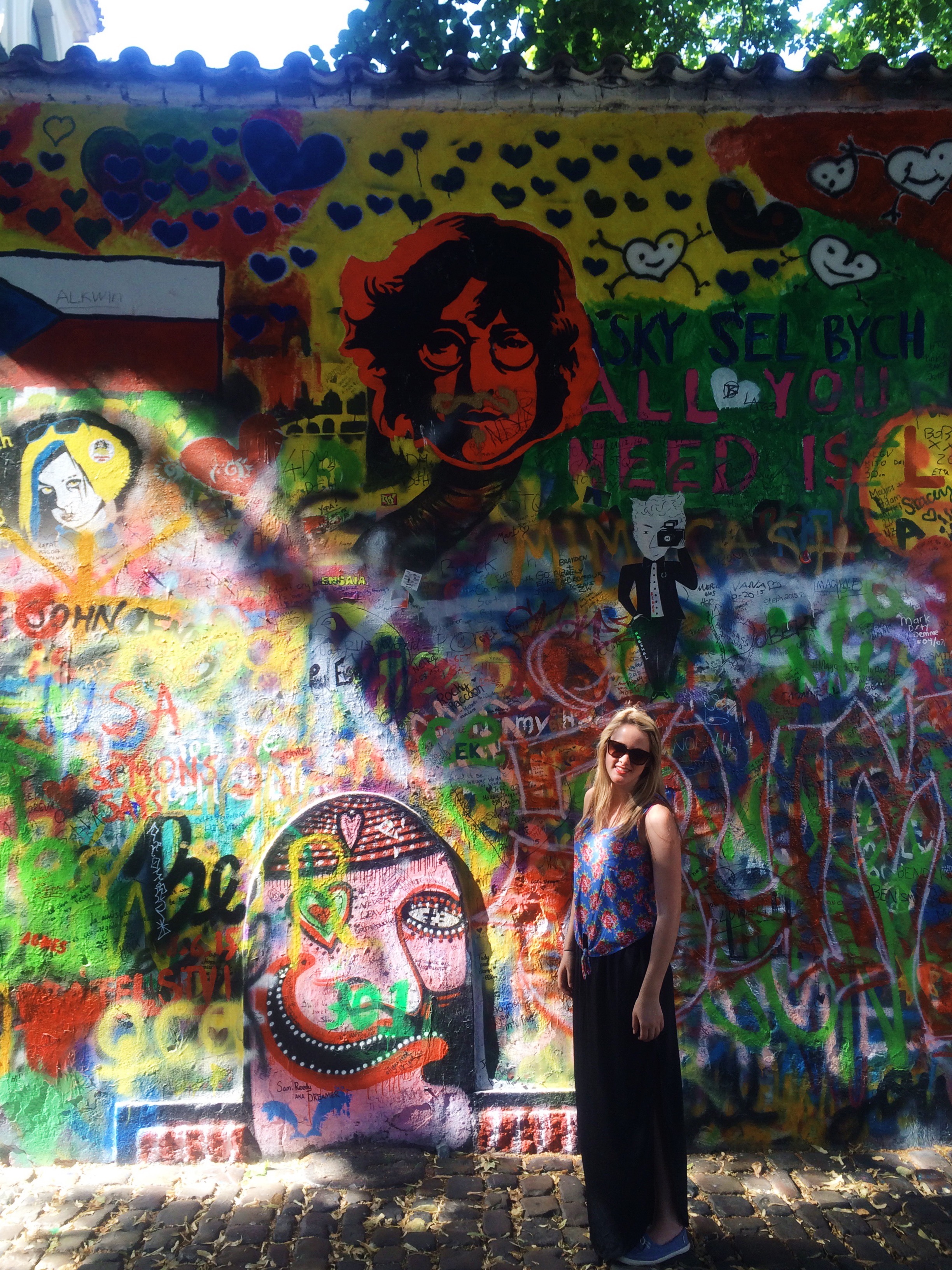 {the john lennon wall}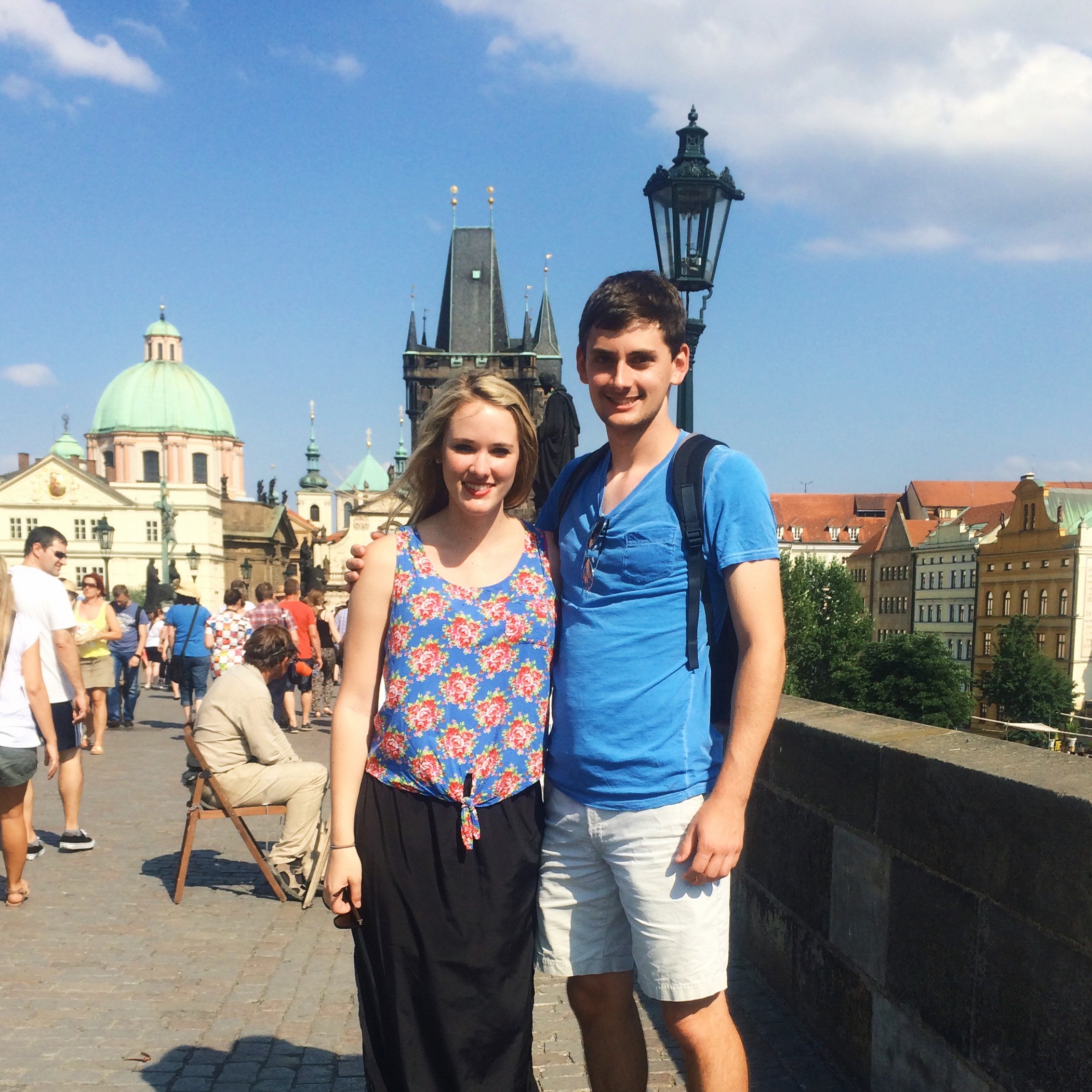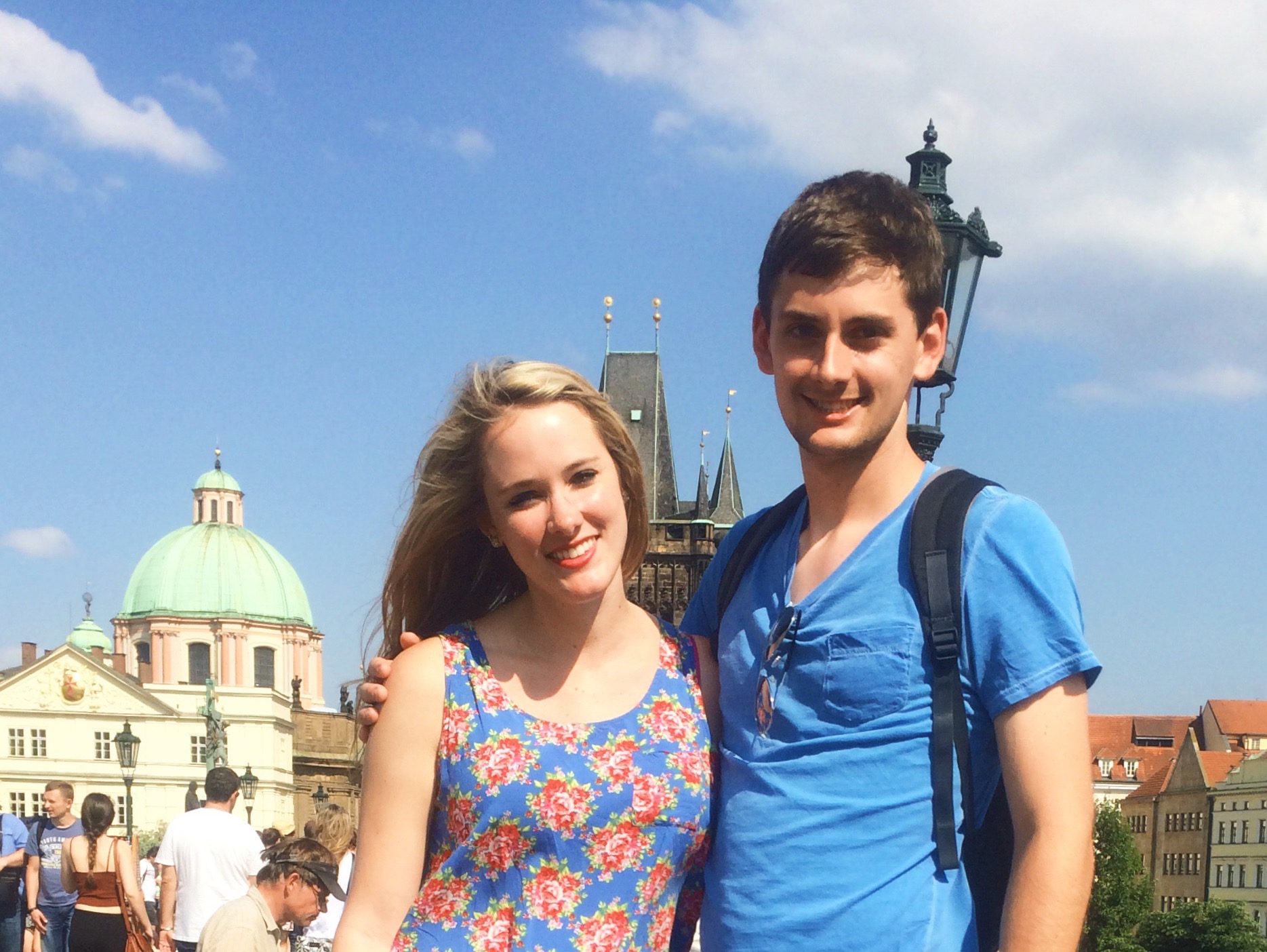 {on the charles bridge}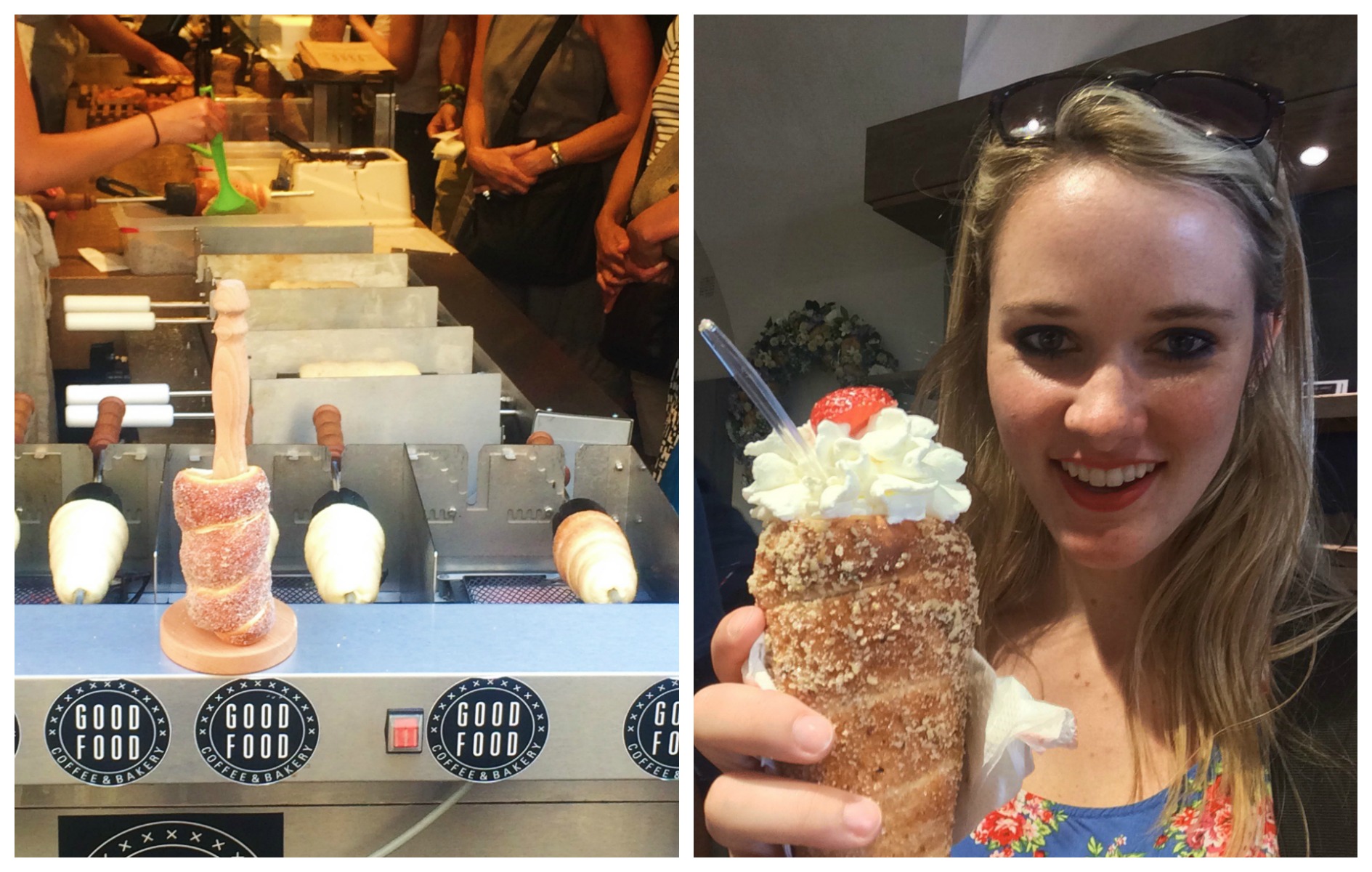 {i don't know what these are called but we just had to get some.  you know, to continue our healthy eating streak. ;)  mine had strawberries and whipped cream…}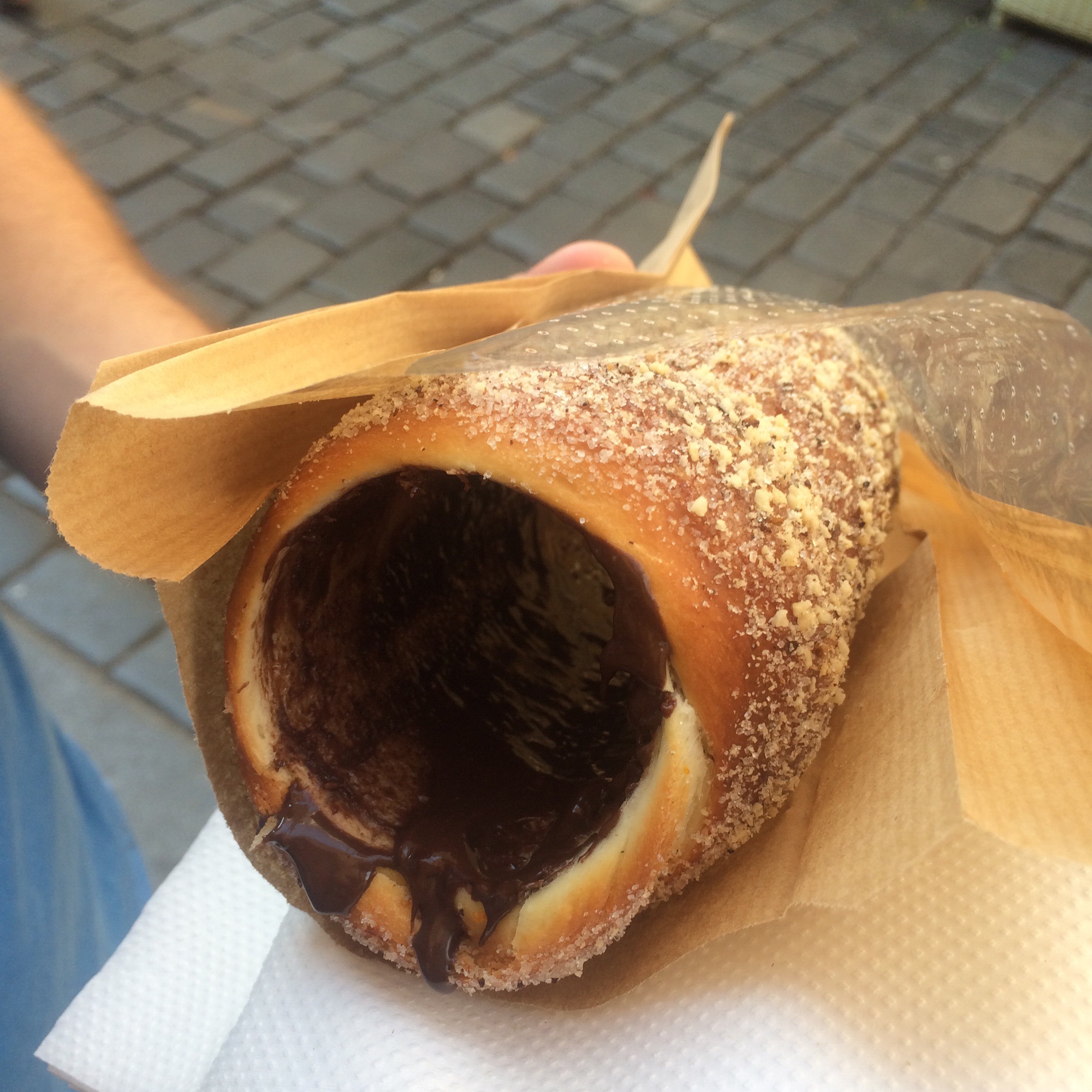 {…and mike got one with chocolate inside!}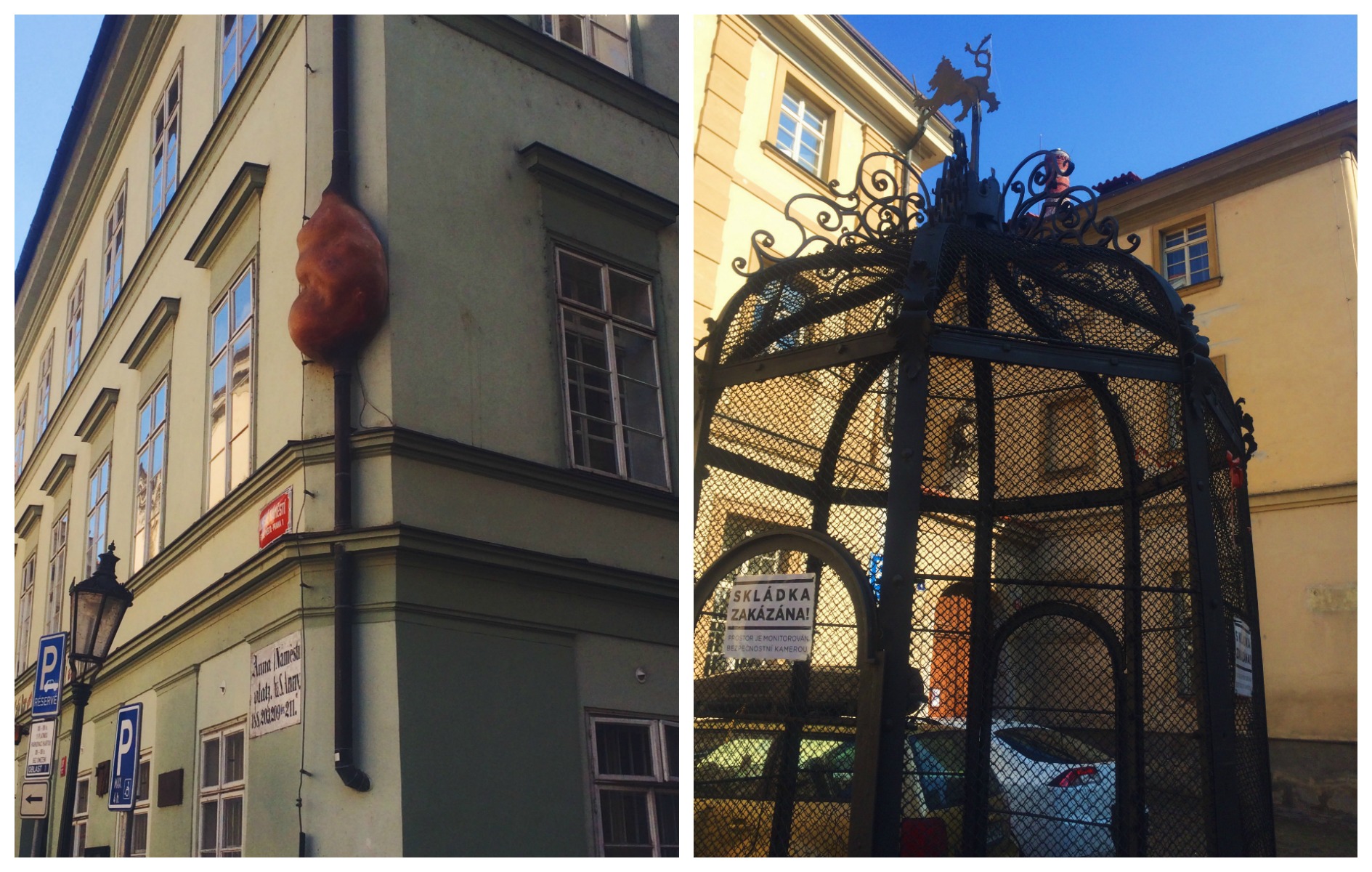 {on the left, that awkward moment when you notice that a particular gutter looks oddly like a stomach… umm, what??  and on the right, an old well in the middle of the city.}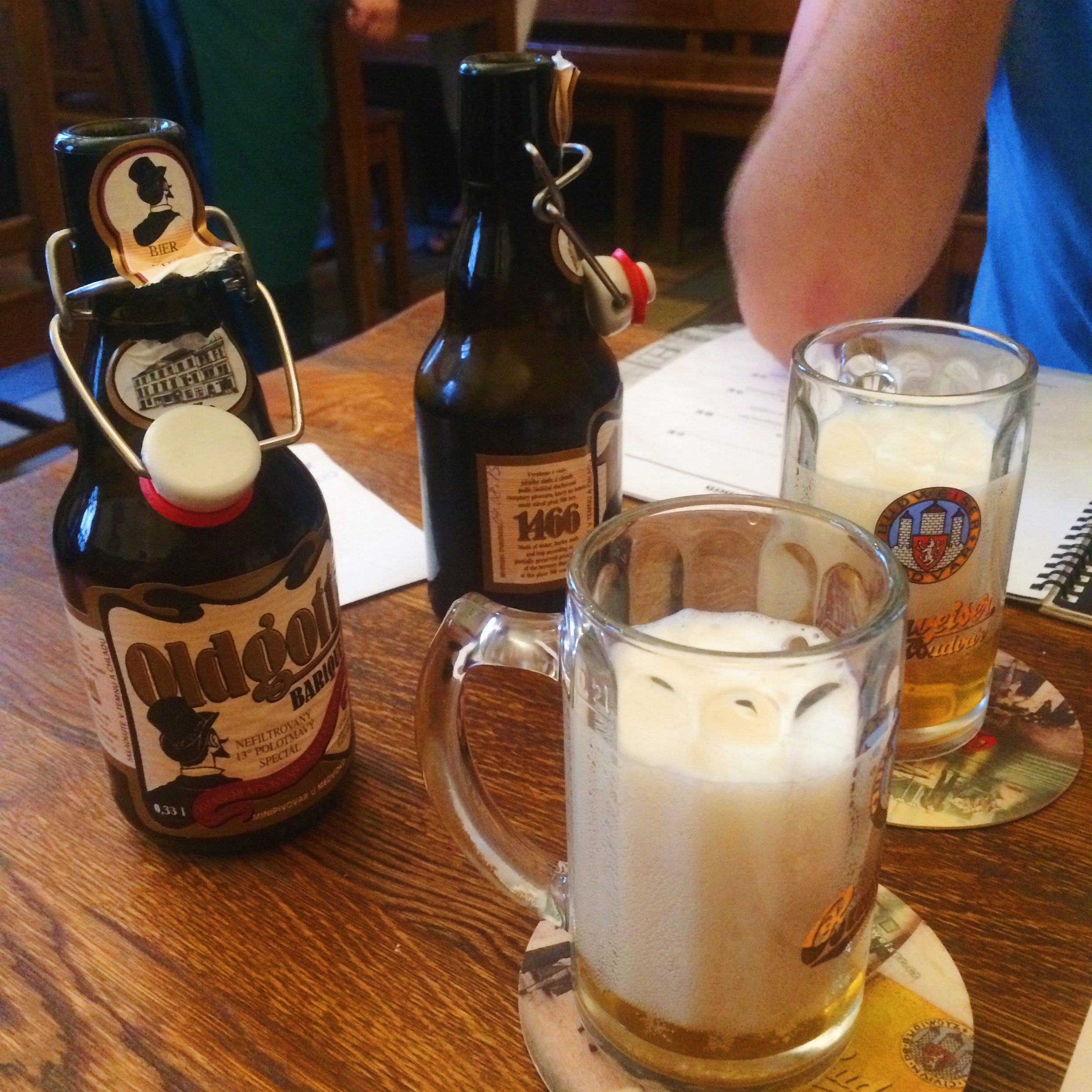 {trying new beers.  always.  got a lot of head on this one though!!}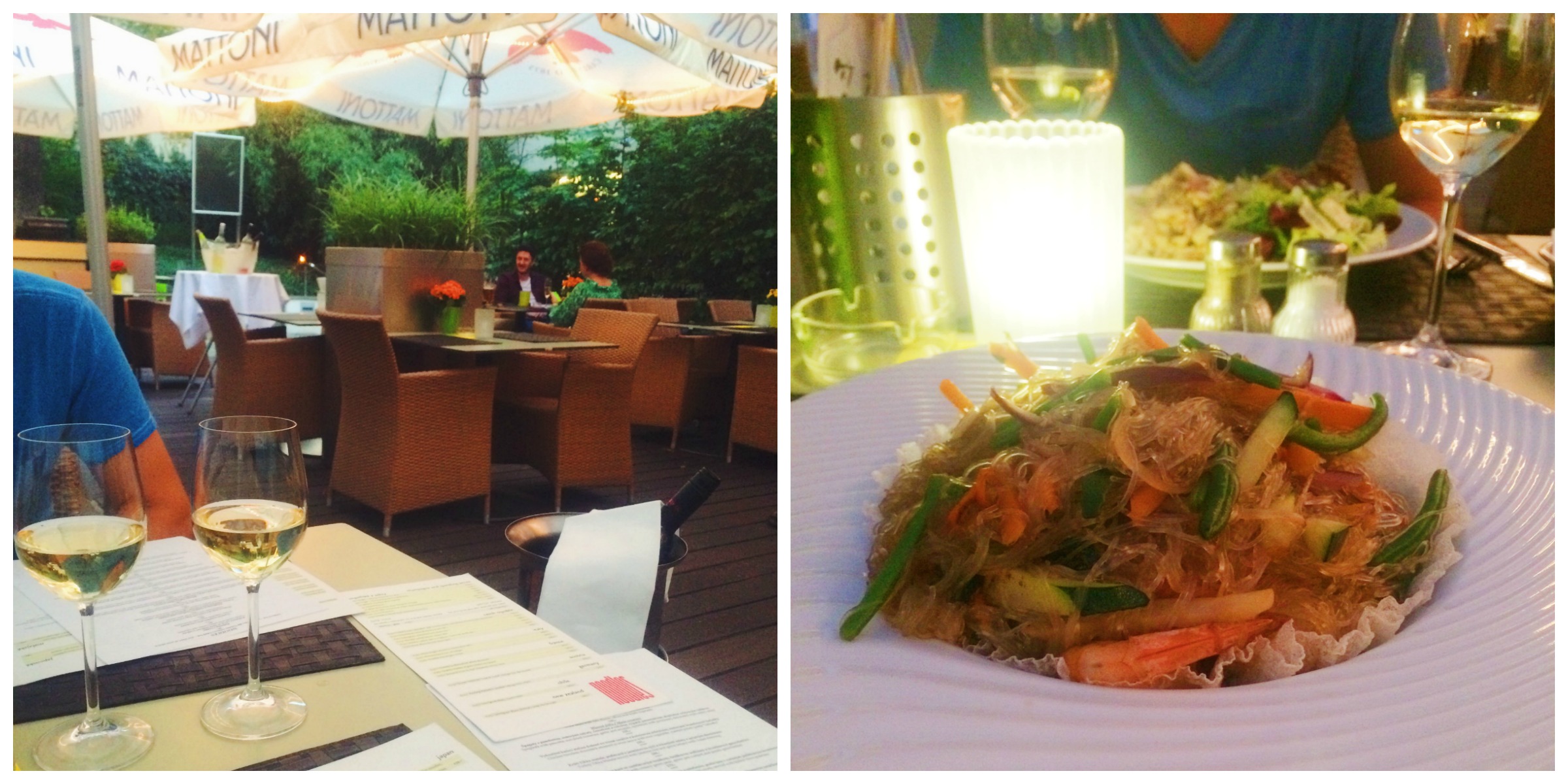 {we had a really nice dinner + a bottle of wine at noodles, a restaurant in a chic hotel that featured pasta inspired by all different countries around the world.  i had thai glass noodles and mike had german spaetzle.  it was delicious and the place was really nice – it felt very upscale and we loved those czech prices!!}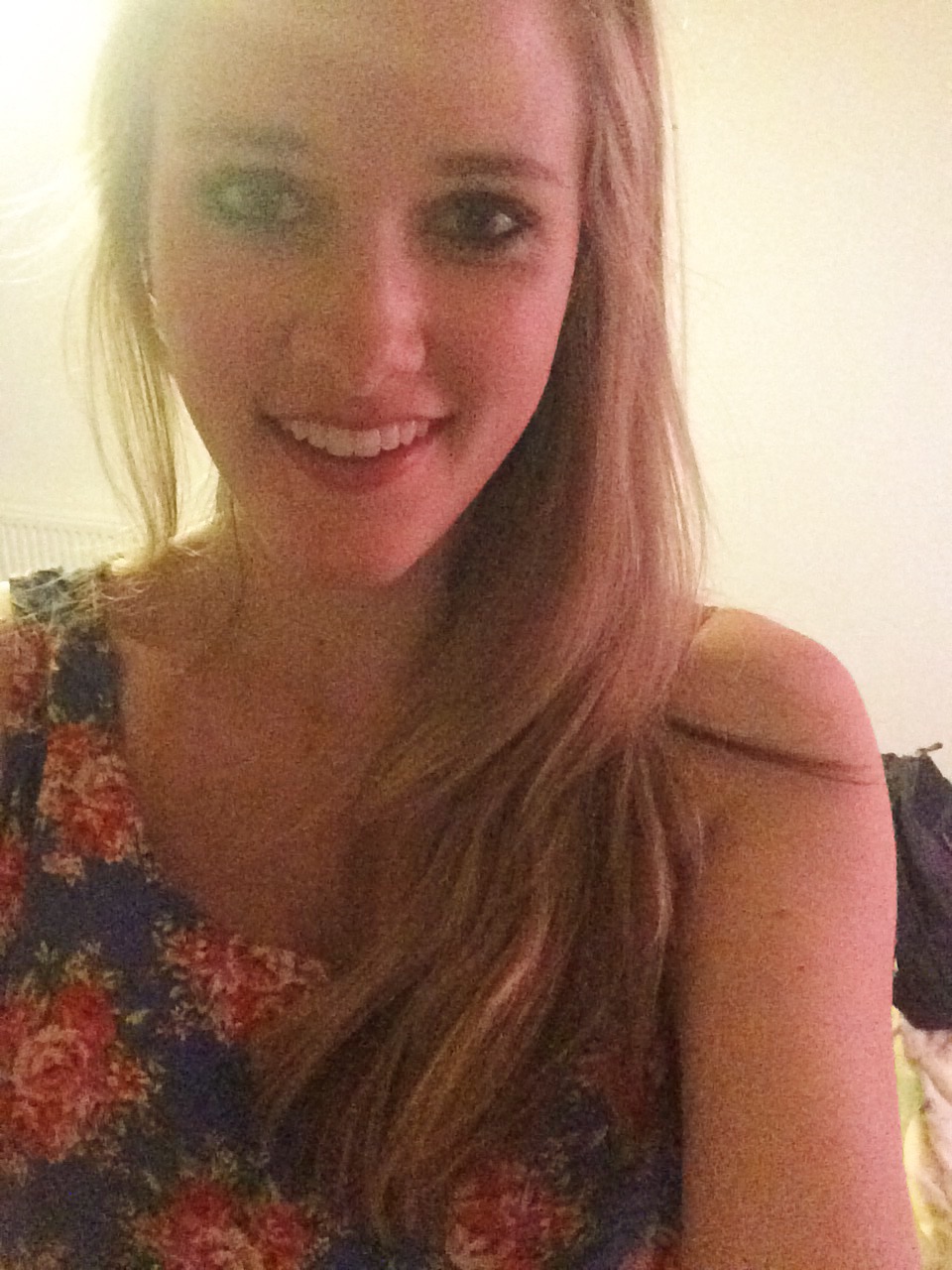 {selfie [for no reason]}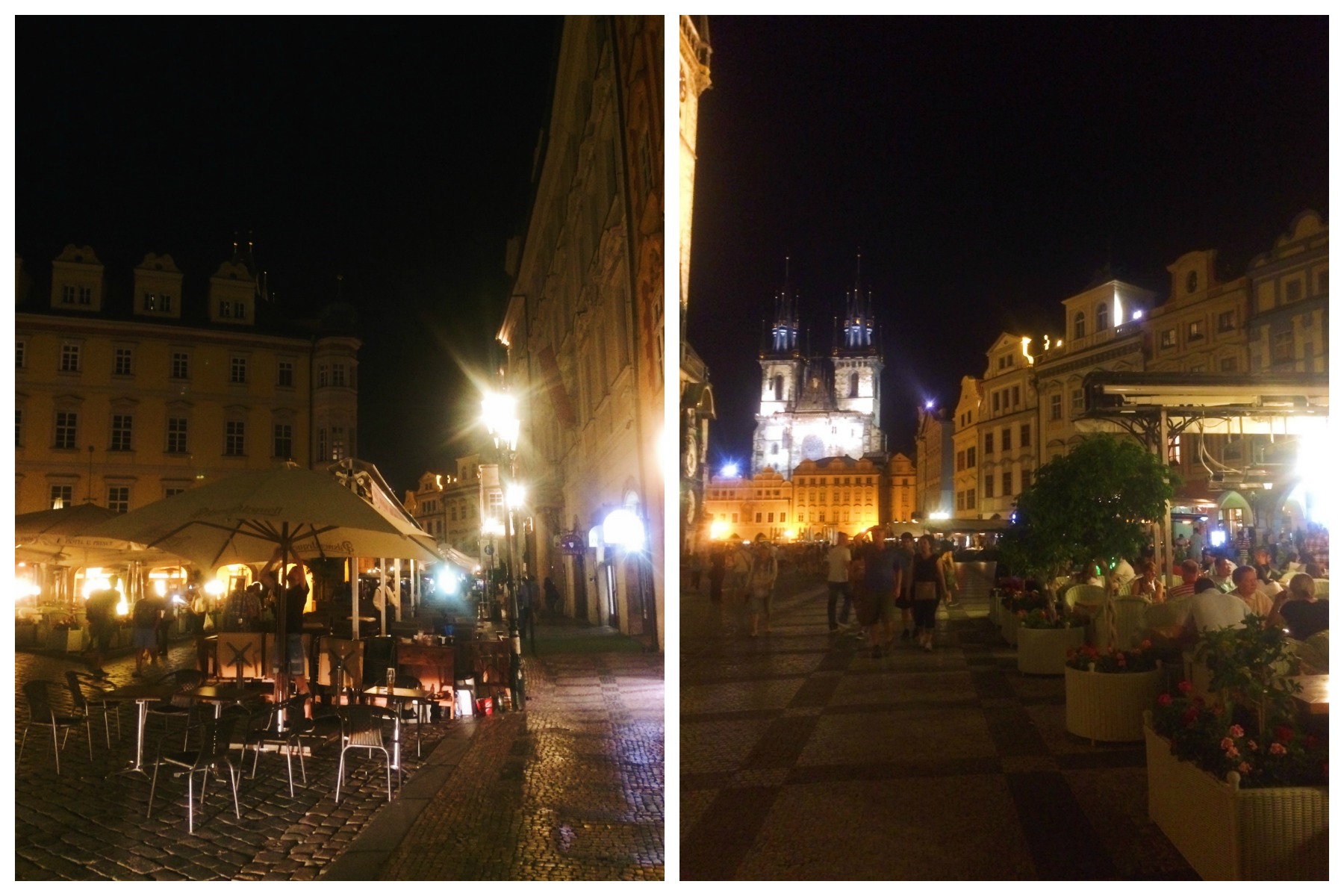 {we went out that night in old town square.  it was pretty cool to be there in the evening with everything lit up.}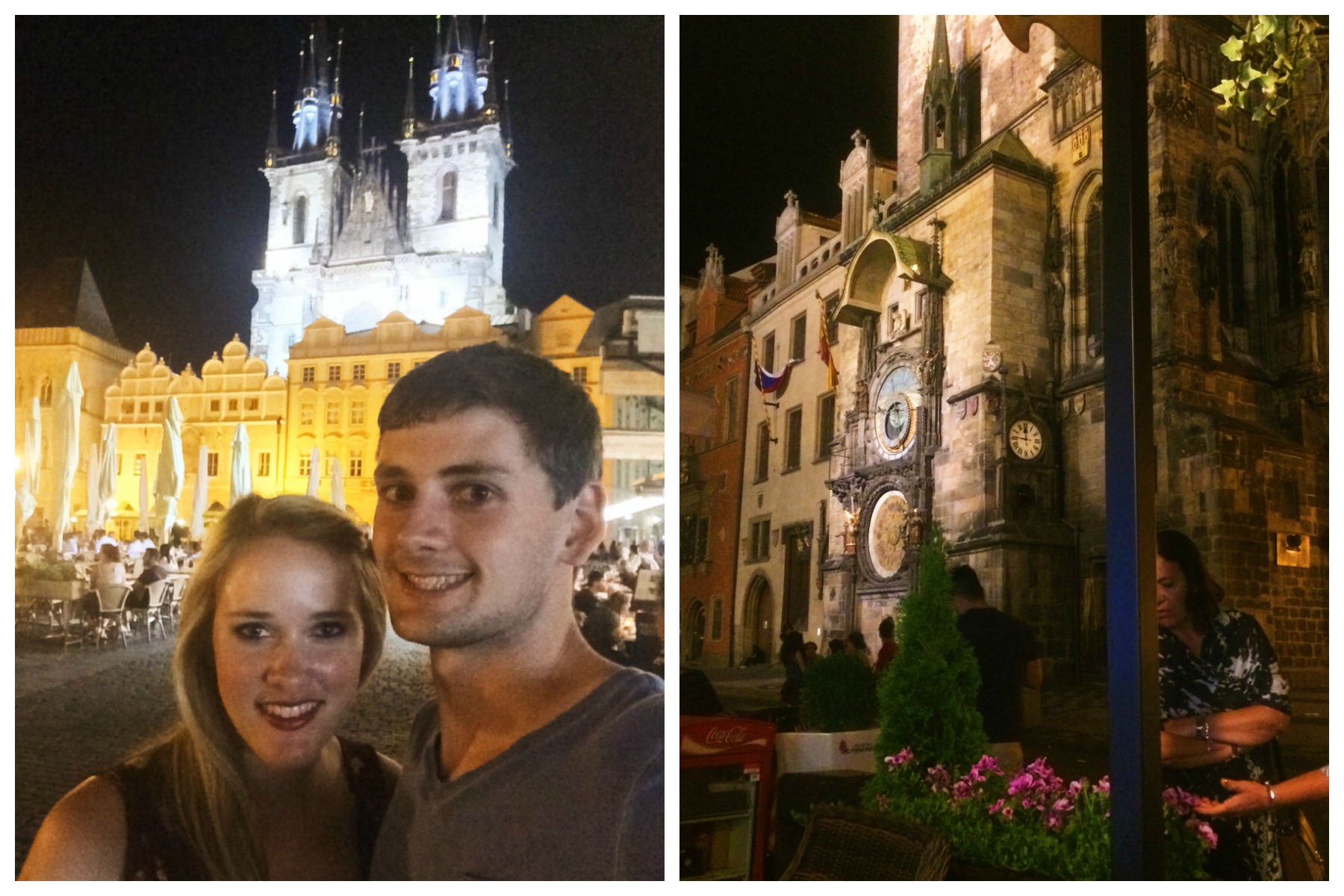 {on the right, the famous astronomical clock!}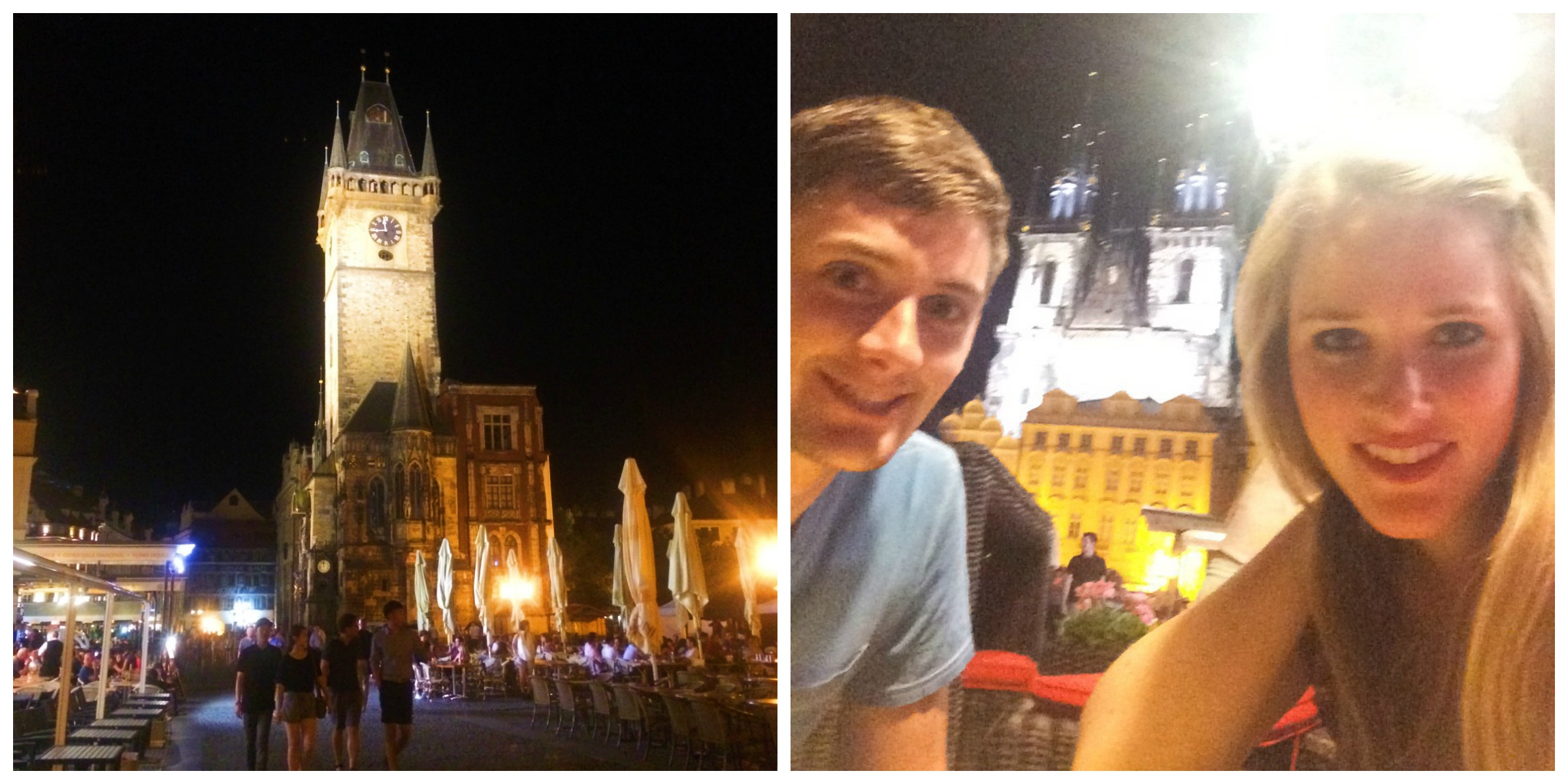 {so fun!  and i have a halo over my head for obvious reasons} ;)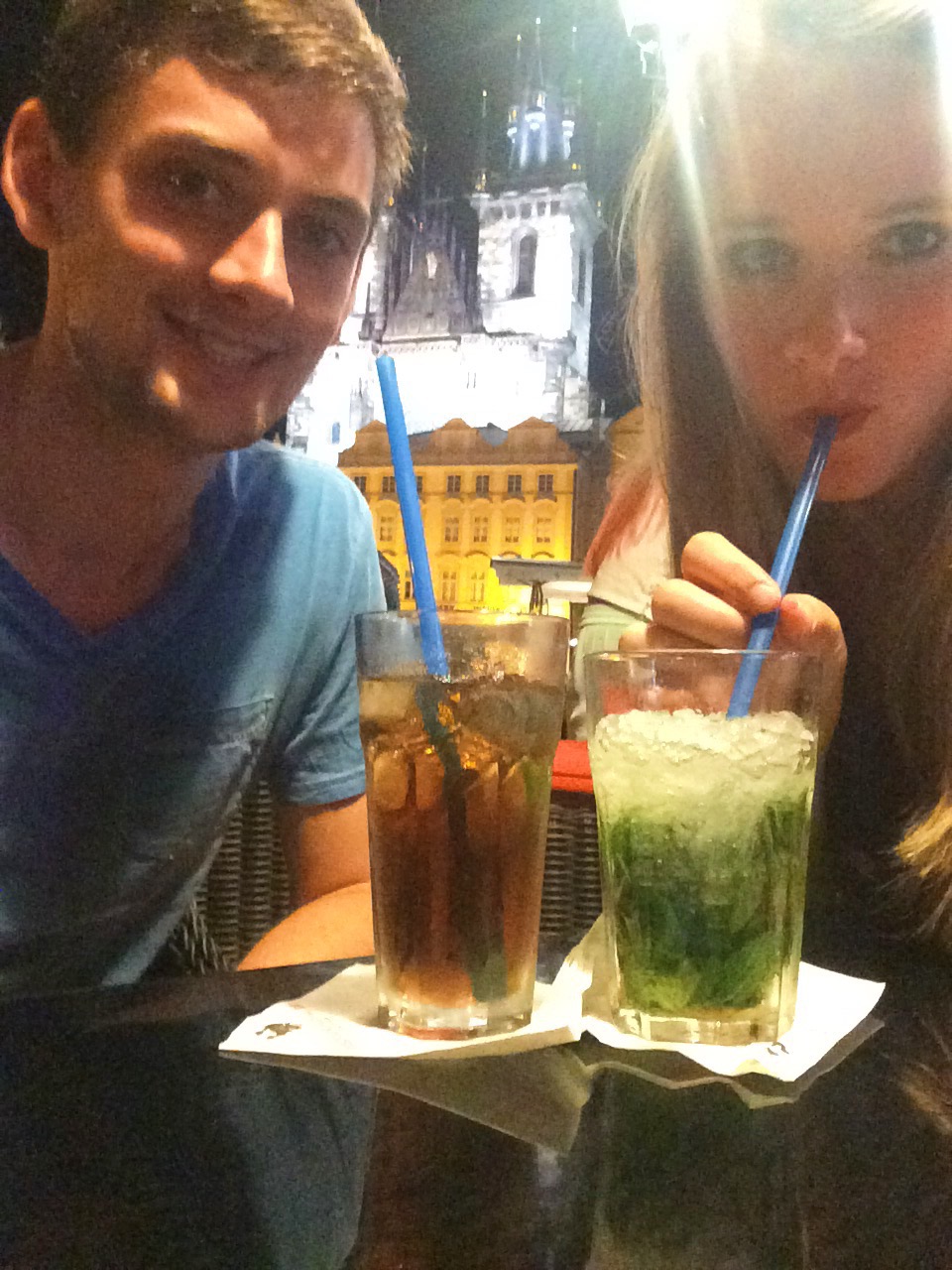 {that backdrop though… pretty amazing, right??  i promise it was real!}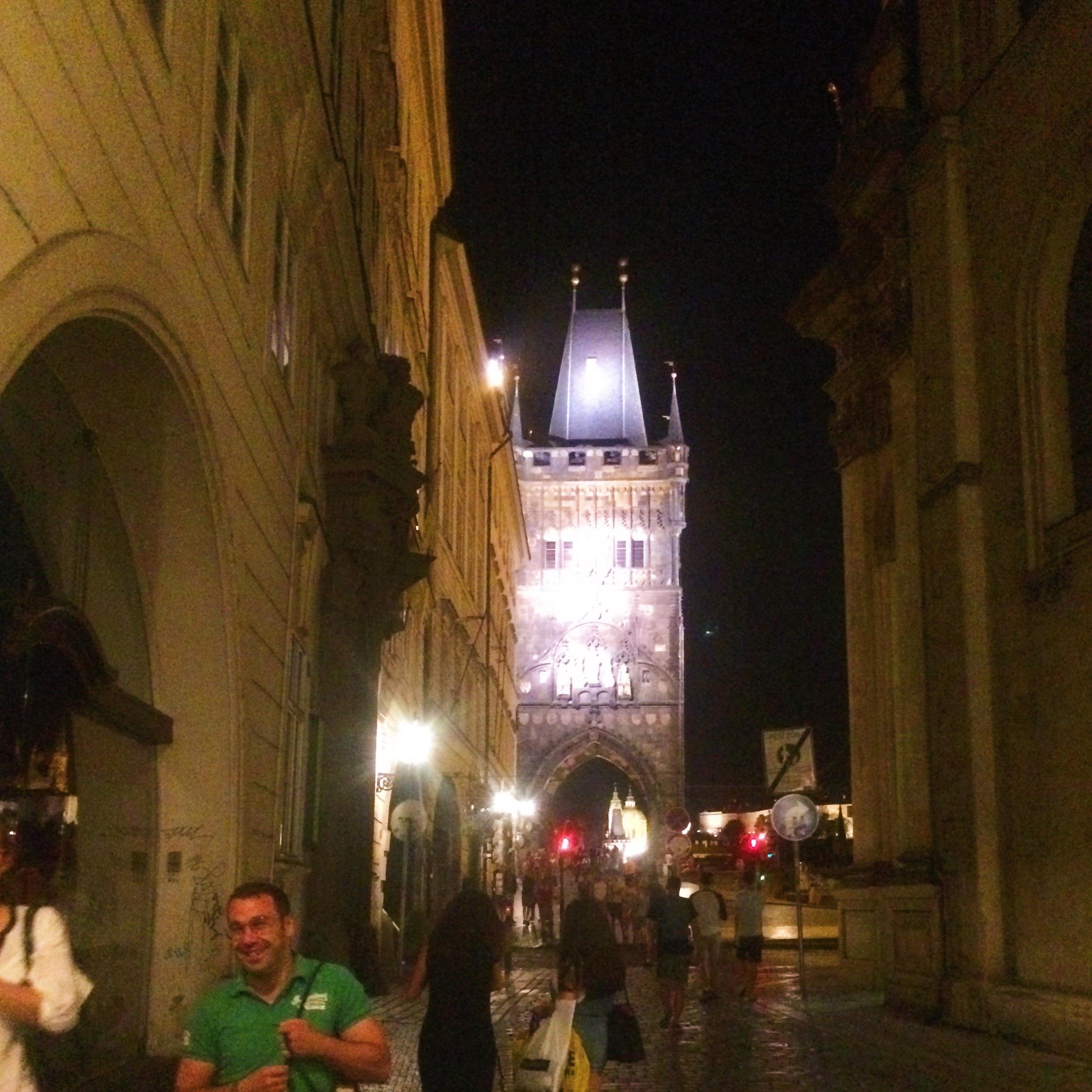 {the charles bridge at night}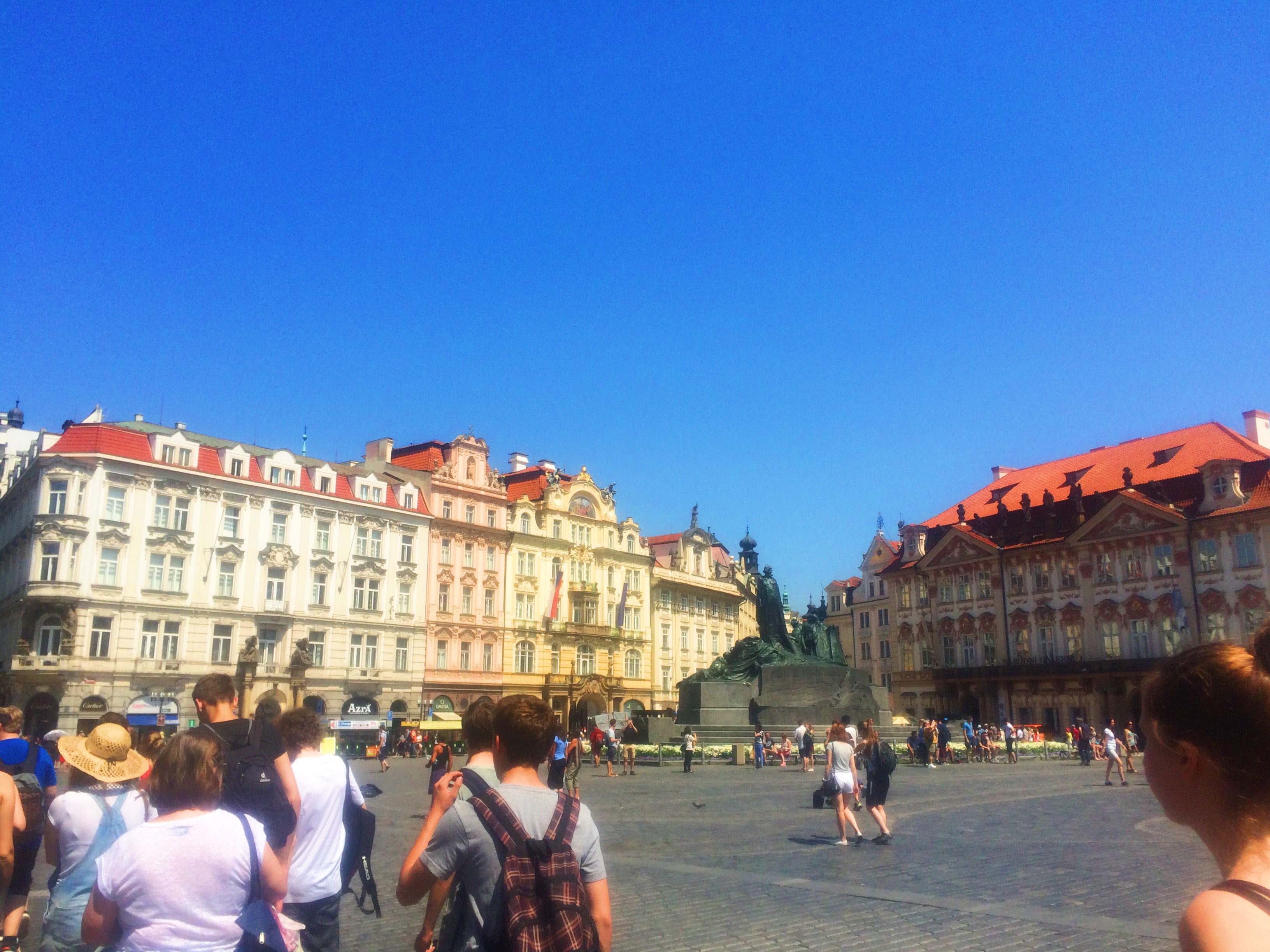 {old town square by day}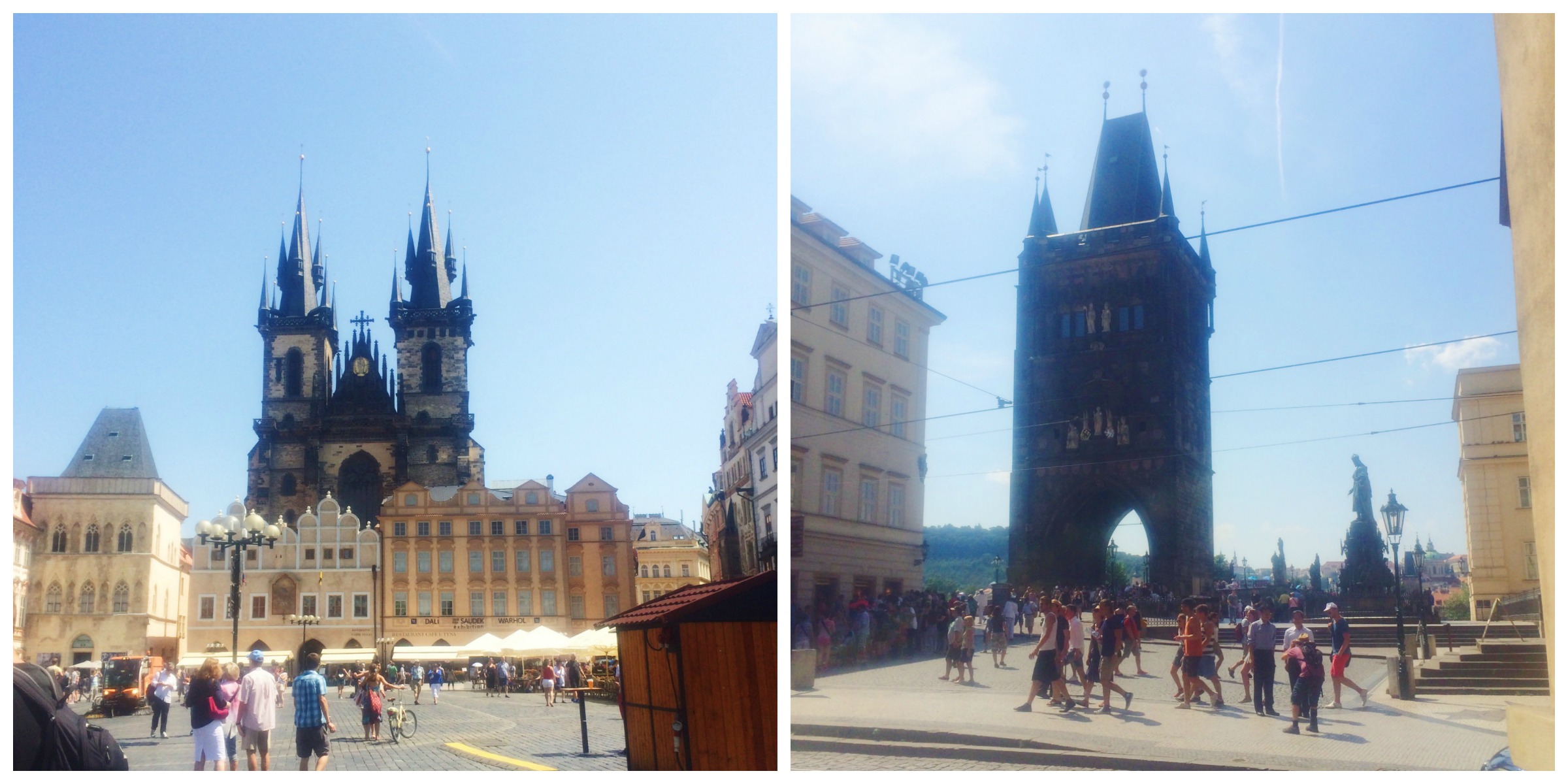 {we decided that disney had to have used prague for inspiration for some of their buildings and castles…}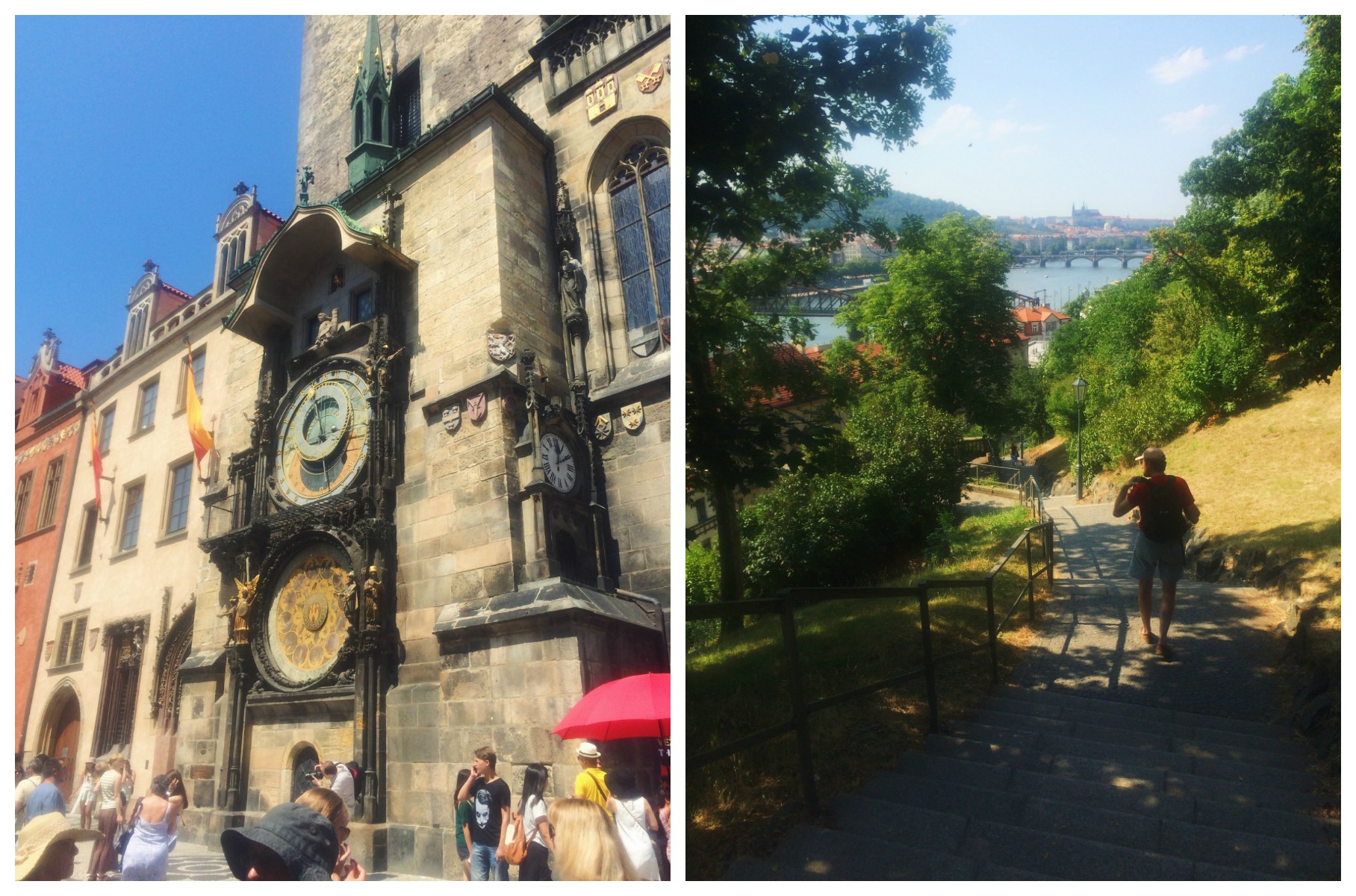 {and the astronomical clock by day!  on the right, walking around vyšehrad.}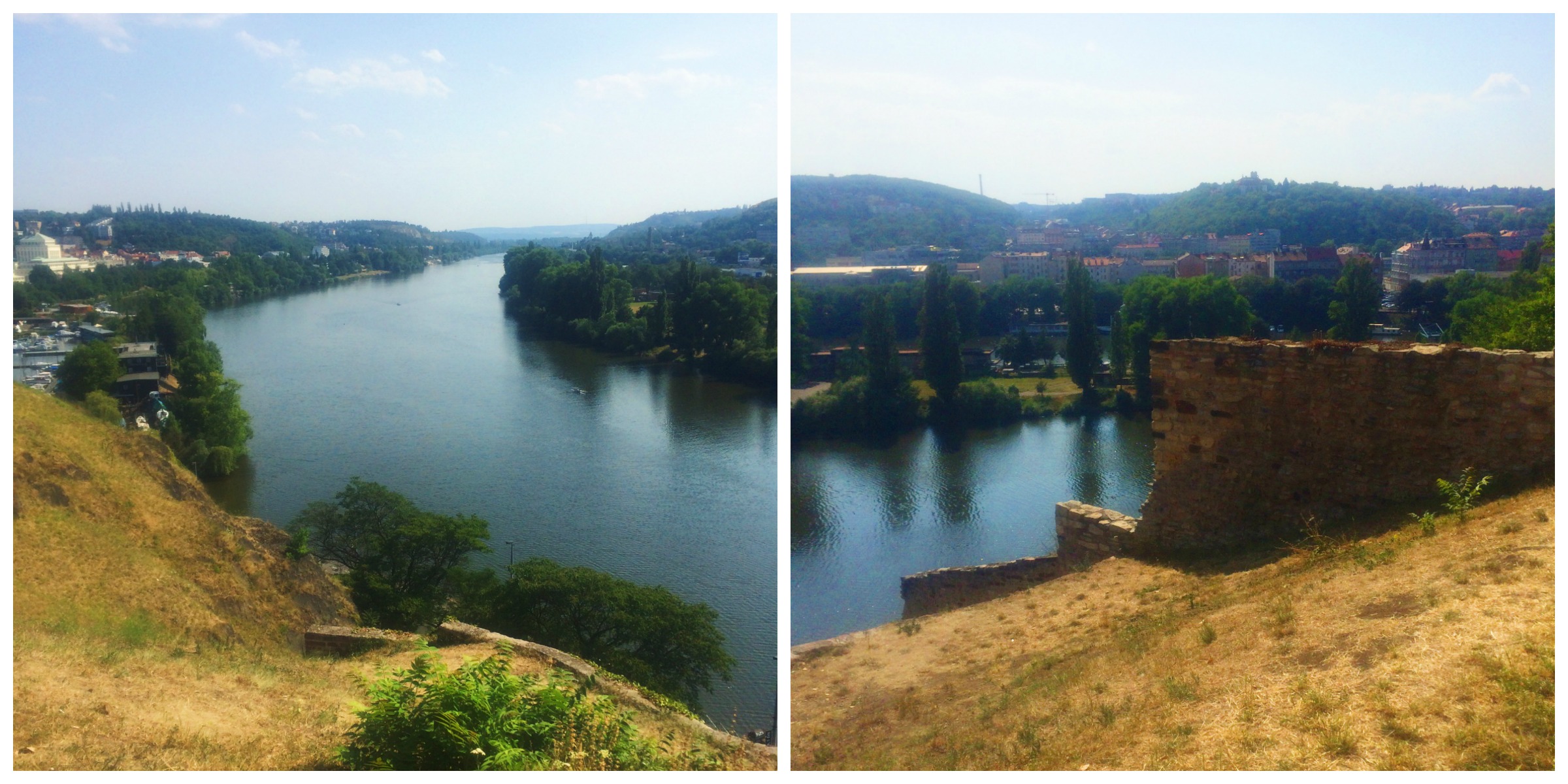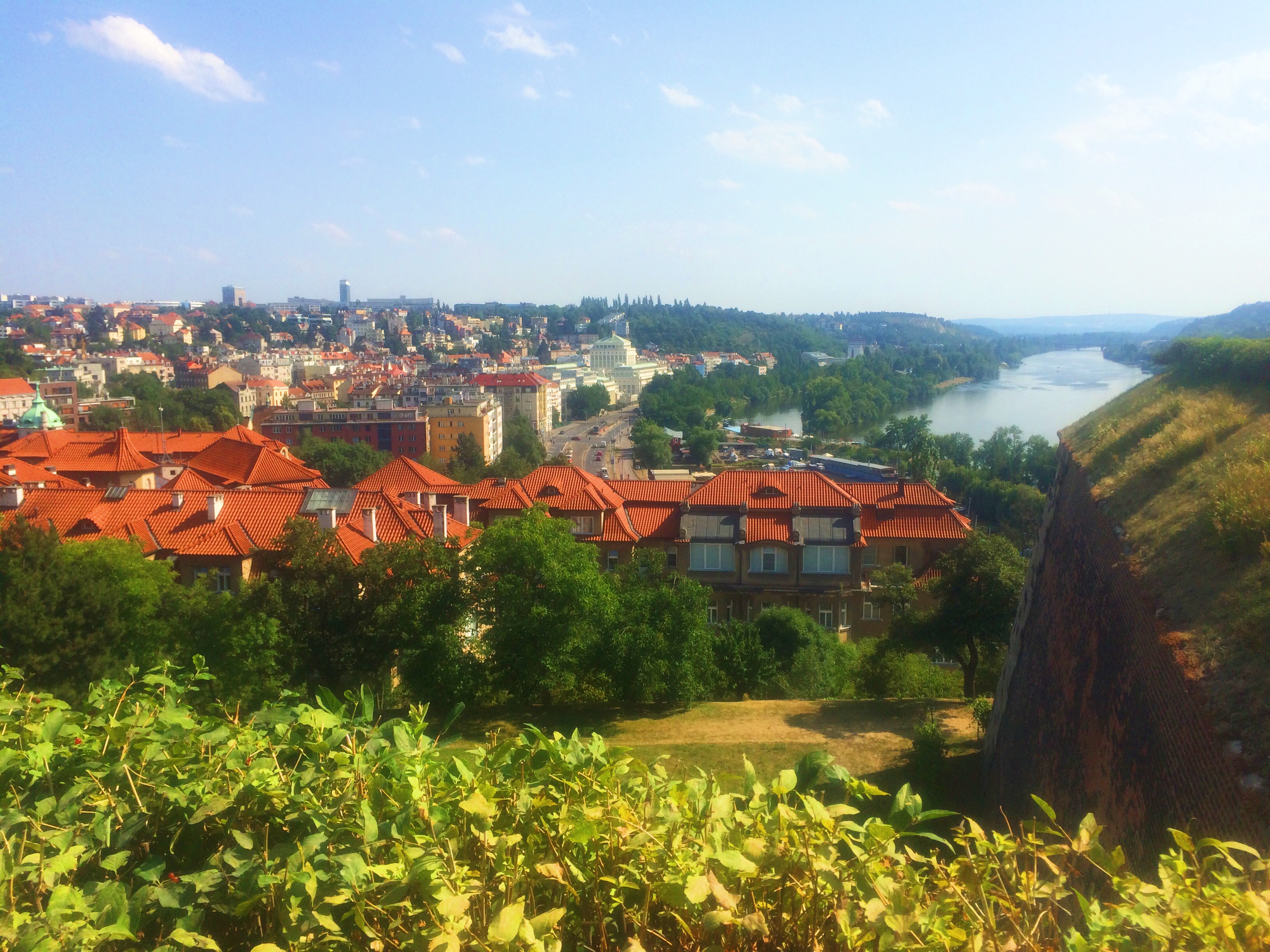 {more beautiful views from the old fort at vyšehrad.}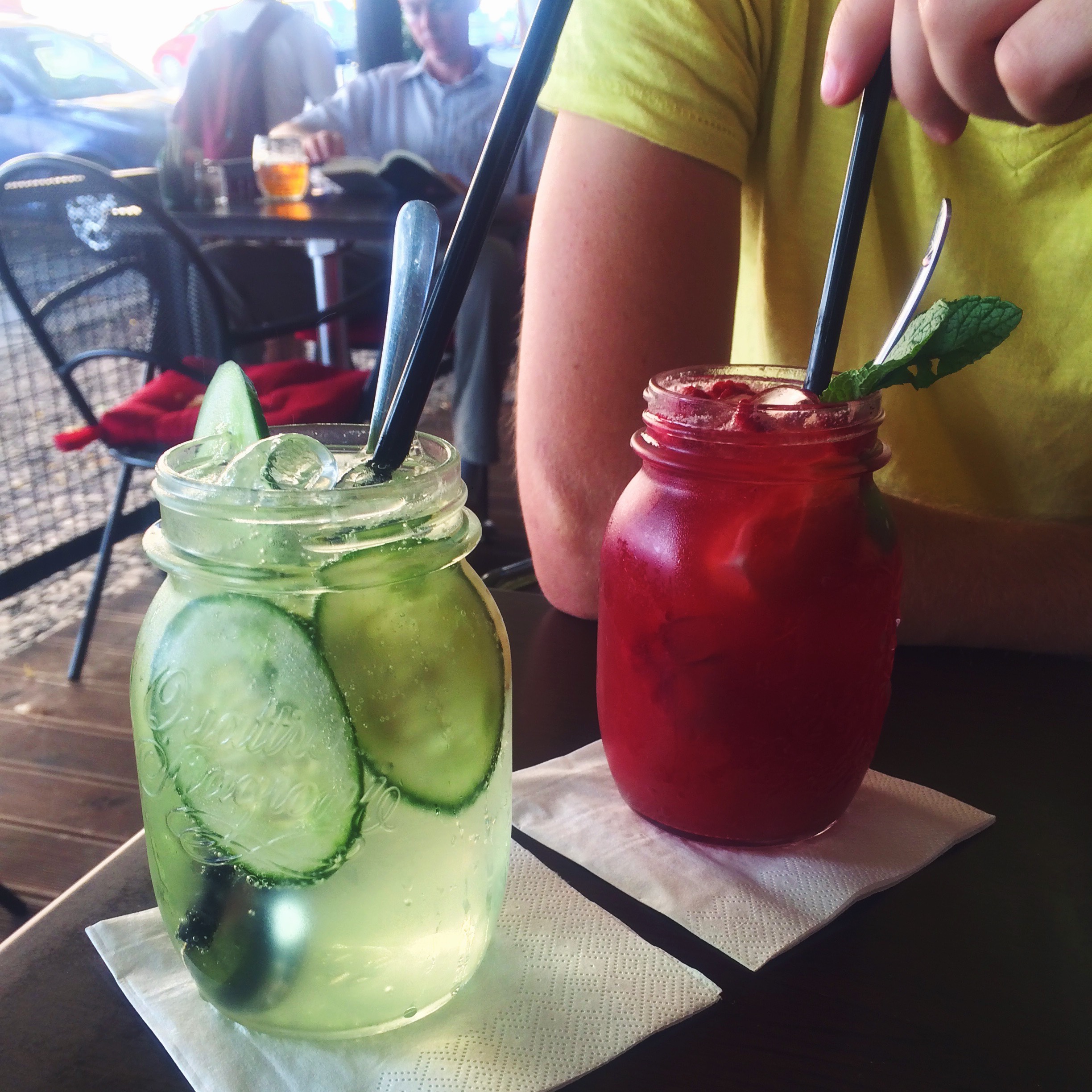 {we stopped on the way down the hill for a drink to cool down.  mike had a raspberry lemonade and i had a cucumber lemonade!}
and those were the highlights from our time in prague.  more photos from my nikon coming soon!  xoxo