i guess it's about time that i post the first half of my dining room service class, since i finished my last culinary final ever LAST NIGHT!!!!  yeah, i can't believe it either.  all i've known in the past four and a half years since i graduated is going to school in the evenings while working, and now i'm alllllll done.  i don't even know what to do with all this free time [but you better believe i'll find a way to fill it!  HA!].  a part of me is almost a teeny bit sad about being finished with this season of life, so let's reminisce on one of my last classes this semester.
to be honest, i wasn't really looking forward to dining room service class, which is all about being in the front of house – setting tables, making centerpieces, serving, and managing the beverage station at a restaurant.  the dining room service class works in conjunction with the international cuisine class [which i took a year ago, photos here and here] and the advanced baking & pastry class to run a restaurant at our school that's open for lunch and dinner on tuesdays by reservation only.  for the dinner service, the restaurant doors open at 5:30 sharp and all guests have to be there at that time or pretty close to it because we start kicking everyone out at 7 pm to eat and then clean up.  besides fighting the rush hour traffic downtown to be there at 5:30, it's a pretty great deal for guests – $12 for a three-course meal.
in the dining room service class, we take turns being the maître d', the manager of the waitstaff.  the maître d' designs and prints menus, plans out the room based on the reservation numbers, plans the table setting and napkin fold, creates the centerpieces, decorates the side table, assigns the staff their pre-service jobs and tables, welcomes guests and collects the money at the door, and basically runs the show. it's a lot of work, so i was very thankful to get it out of the way on the second week of service so that i didn't have to worry about it for the rest of the semester.
and as much as i was dreading this class, it really was pretty fun overall.  we have a great group of students in that class, and i can't believe i'm saying it, but my instructor that i used to get soooo frustrated with [remember her from this post??!] has actually become pretty endearing to me.  she's still up to her same tricks – yelling, calling us out, berating us – but i'm used to her personality now, and i just laugh alongside my classmates when she starts on one of her yelling rants.  and a lot of times, she starts laughing with us!  she definitely cares about us, even if it's sometimes hard to tell!!  i might even miss her antics a tiiiiiiny bit now that i'm done. ;)  she's also very knowledgeable and has a gift for displaying food on a plate and serving dishes on a buffet table, among other things.  she really did impart some valuable knowledge on me this year.
and the best part of the class was getting to sit down after service and eat the delicious food that the international cuisine class and baking & pastry class made.  they did a fabulous job!  here are some photos from the first half of the semester… most of these were taken at our pre-service tasting meeting: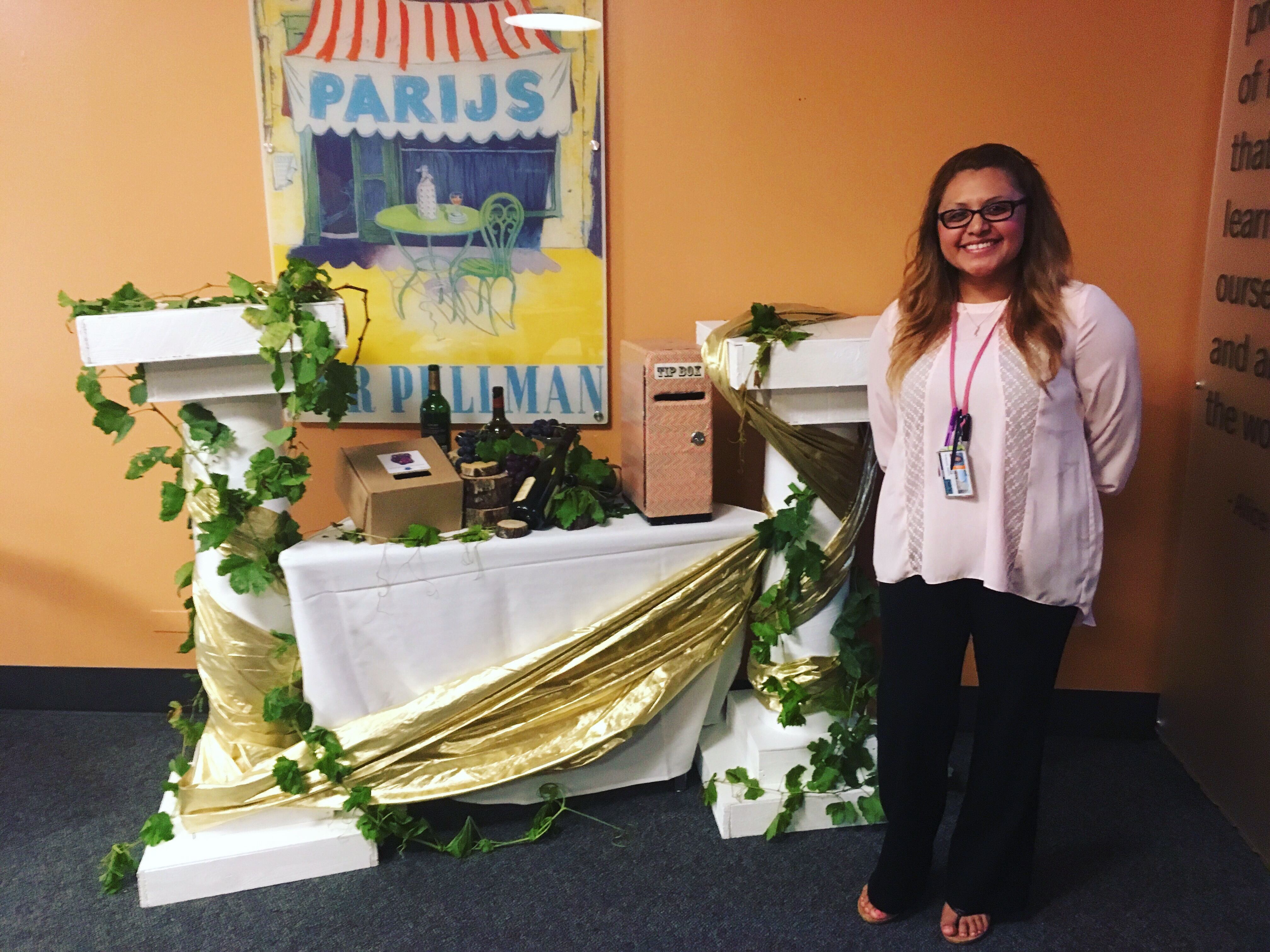 {this is ruby, our first maître d' of the year.  the theme of the first week was greece.  she did a fantastic job and set the bar high!}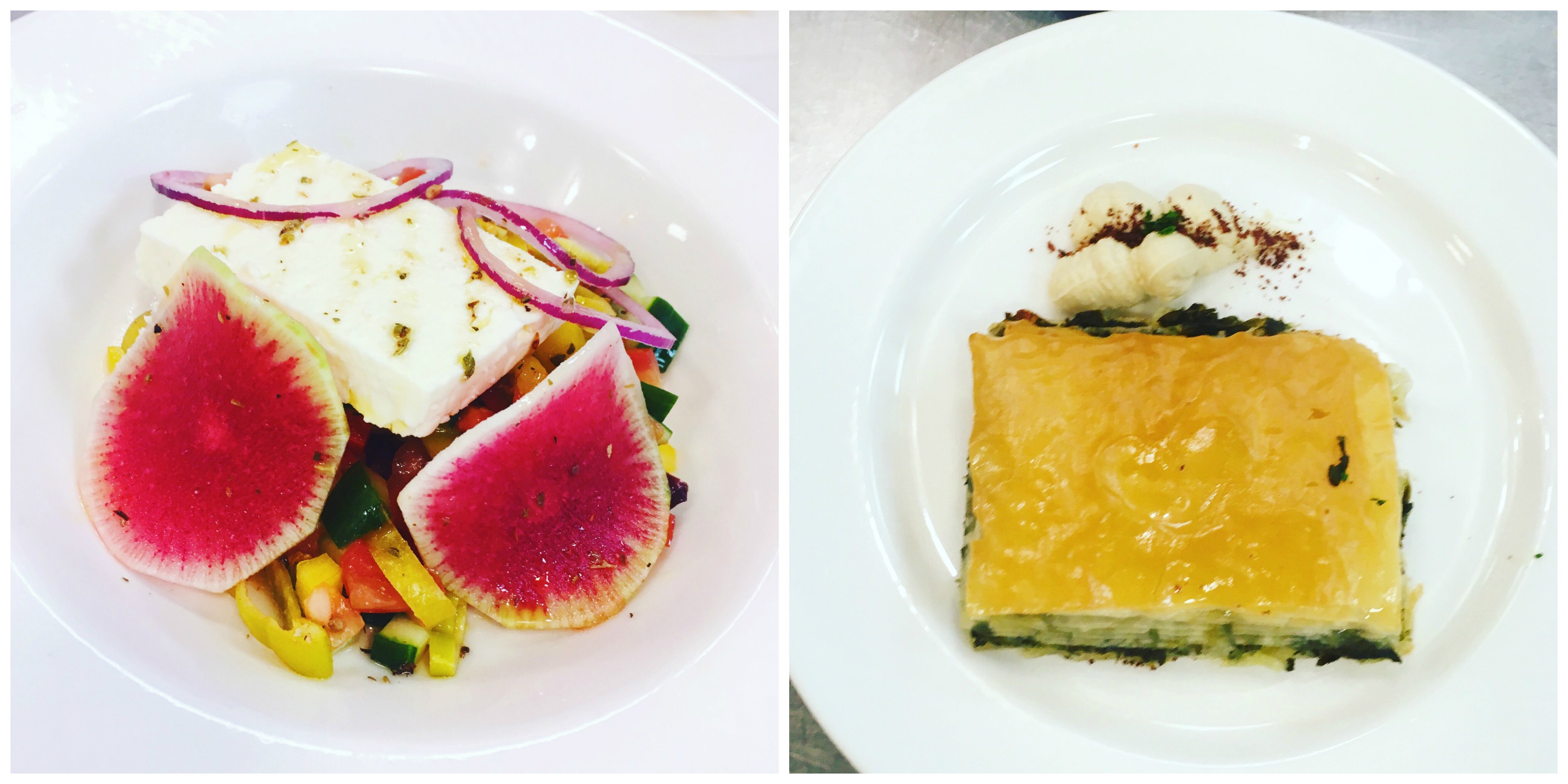 {the two options for the first course:  on the left, greek salad – tomatoes, bell pepper, cucumber, onion, feta, kalamata olives, and greek dressing, topped with watermelon radishes.  on the right, spanakopita – phyllo dough layered with spinach and feta cheese, served with hummus.}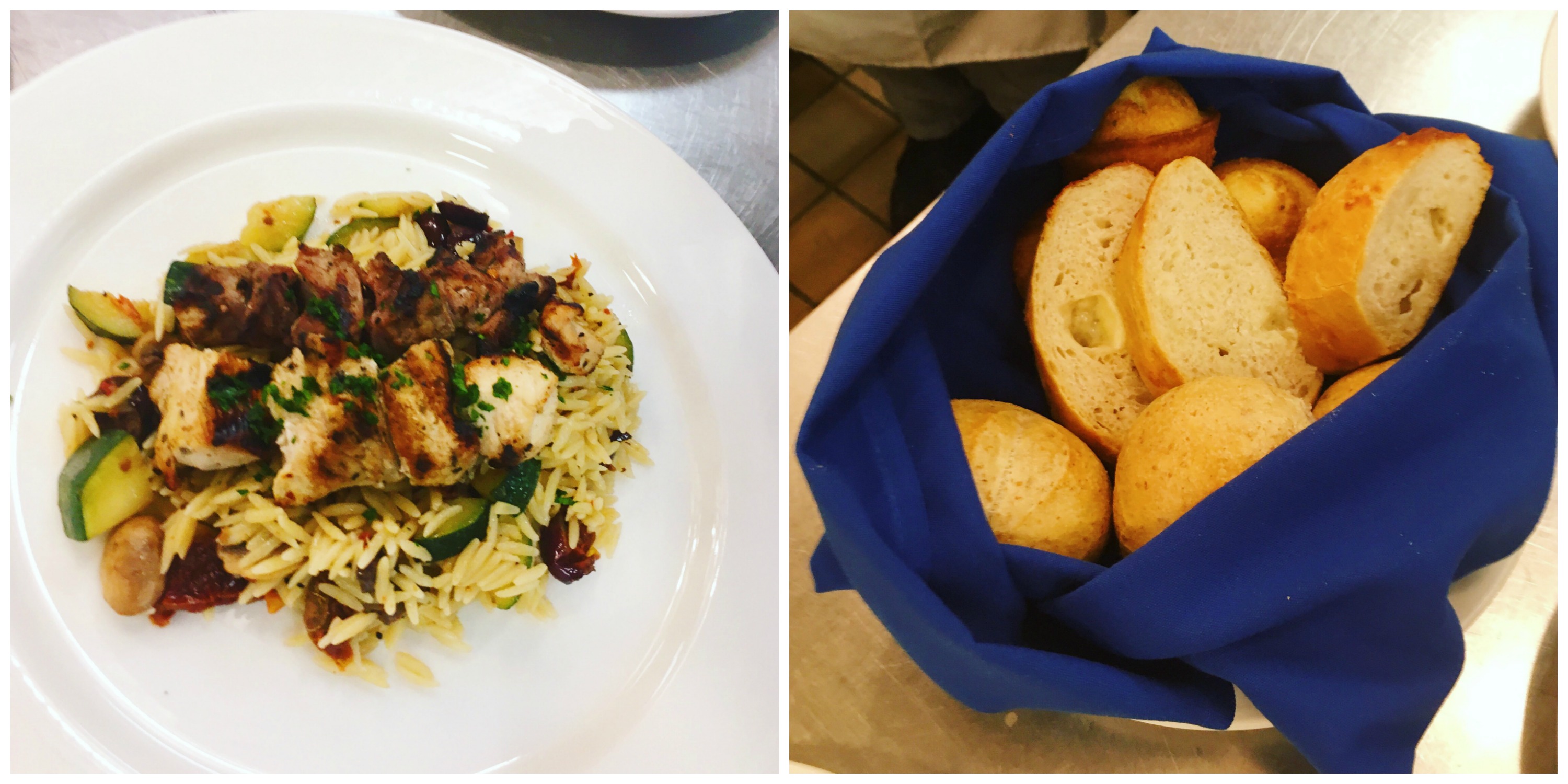 {on the left, the entree: grilled chicken and pork souvlaki with orzo [and a side of tzatziki, not pictured].  on the right, the breads:  olive rolls, greek cheese bread, and lemon rosemary muffins.}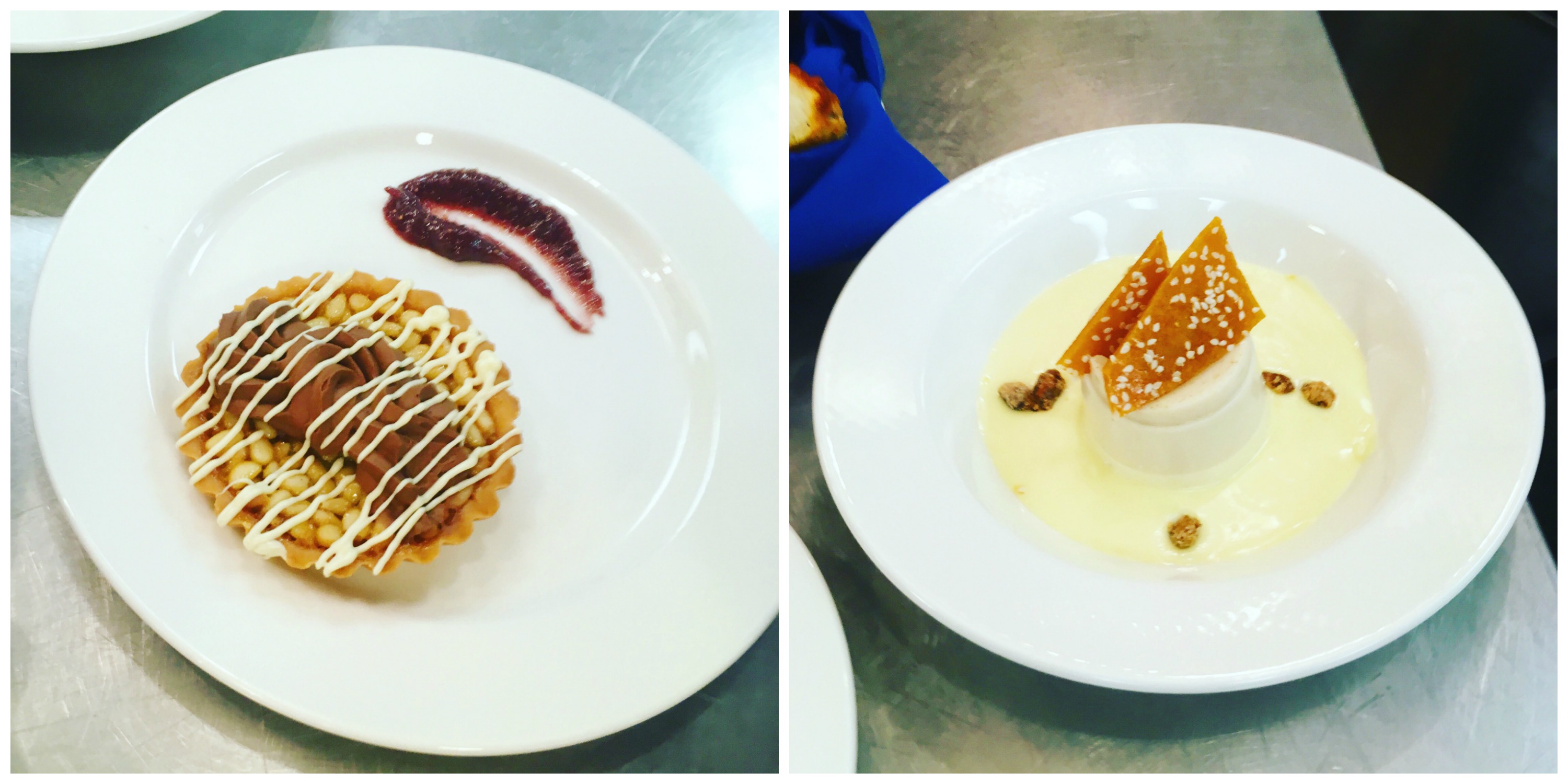 {the two options for dessert:  on the left, honey pine nut tart with chocolate cremeaux and fig compote.  on the right, pistachio panna cotta with white chocolate orange sauce and sesame seed brittle.}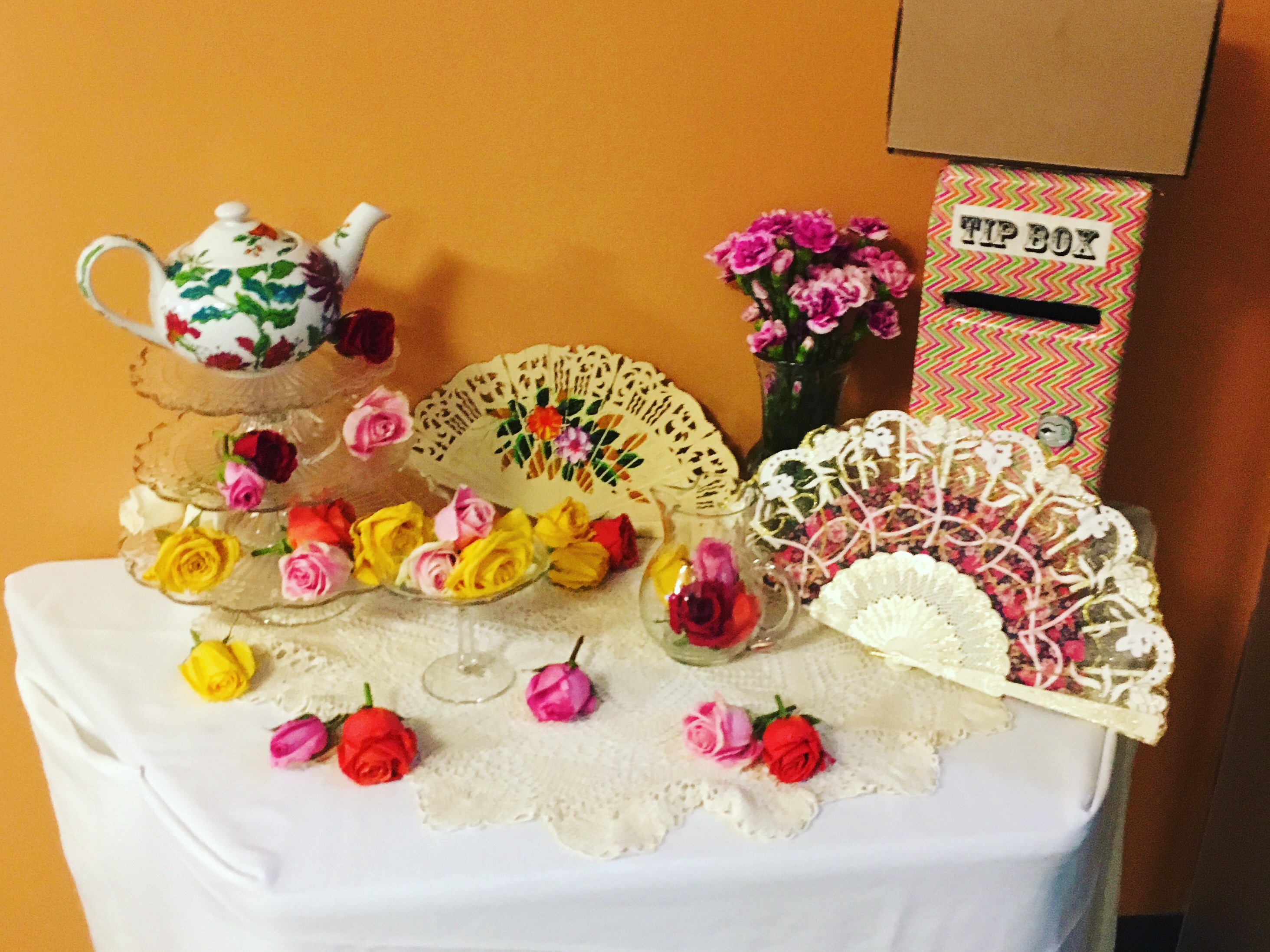 {this was my week – the second service.  the theme was great britain, so i did an english garden theme.  this was the side table that i decorated.  i was so busy that i didn't get any photos of the individual dishes, but thankfully my fellow student nathan was kind enough to let me post the photos he took.}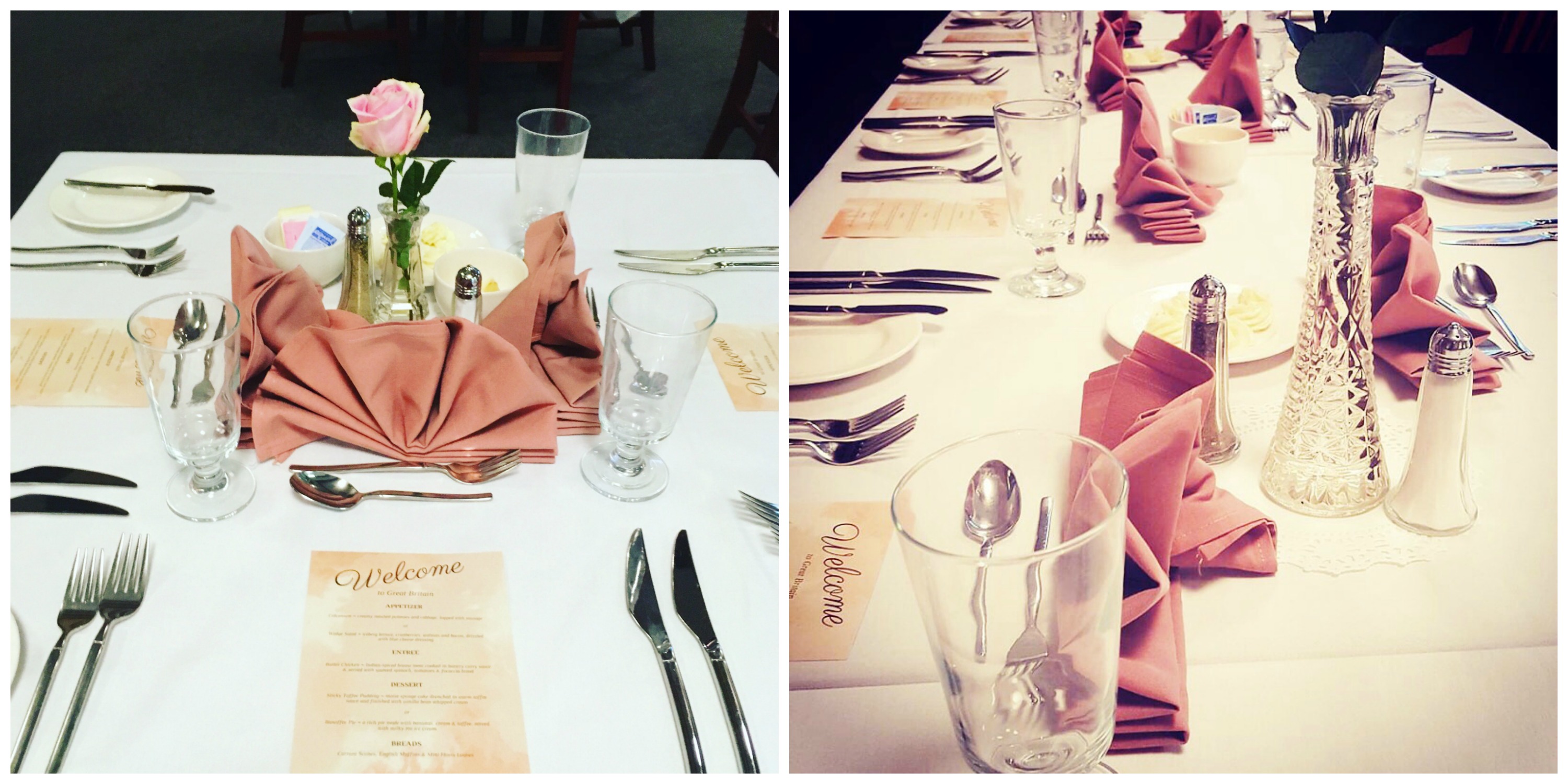 {the place settings!  i did a fan napkin fold.  photo credit for the picture on the right goes to nathan.}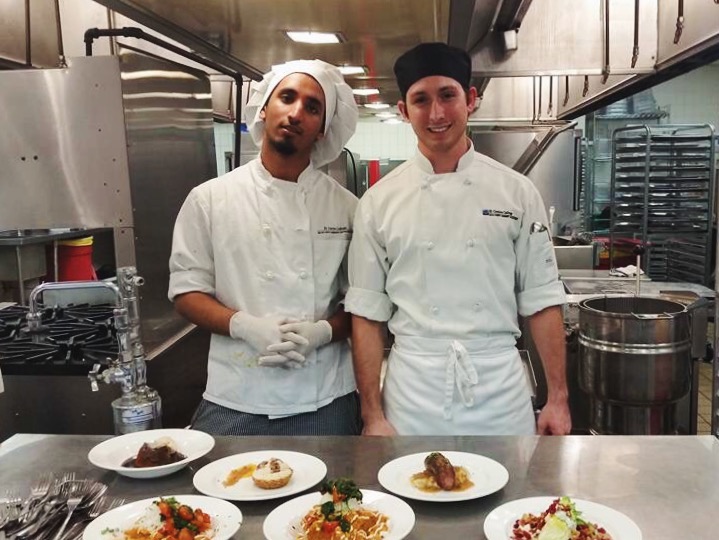 {the chefs from this week.}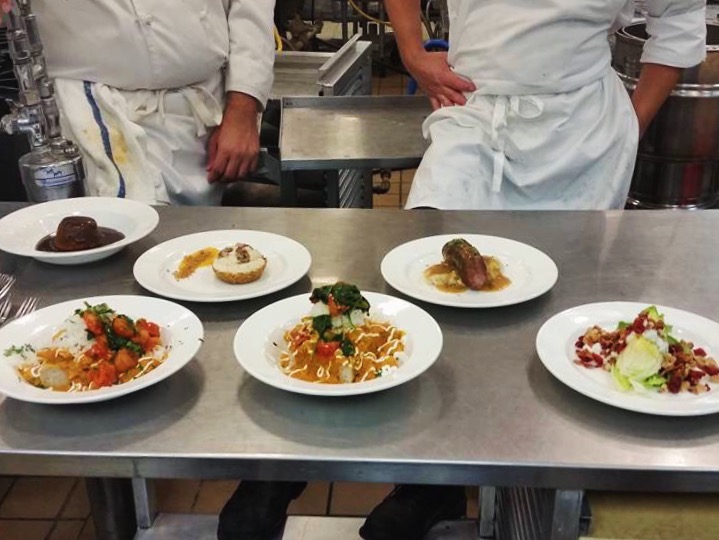 {…and here's the food, although not very close-up!}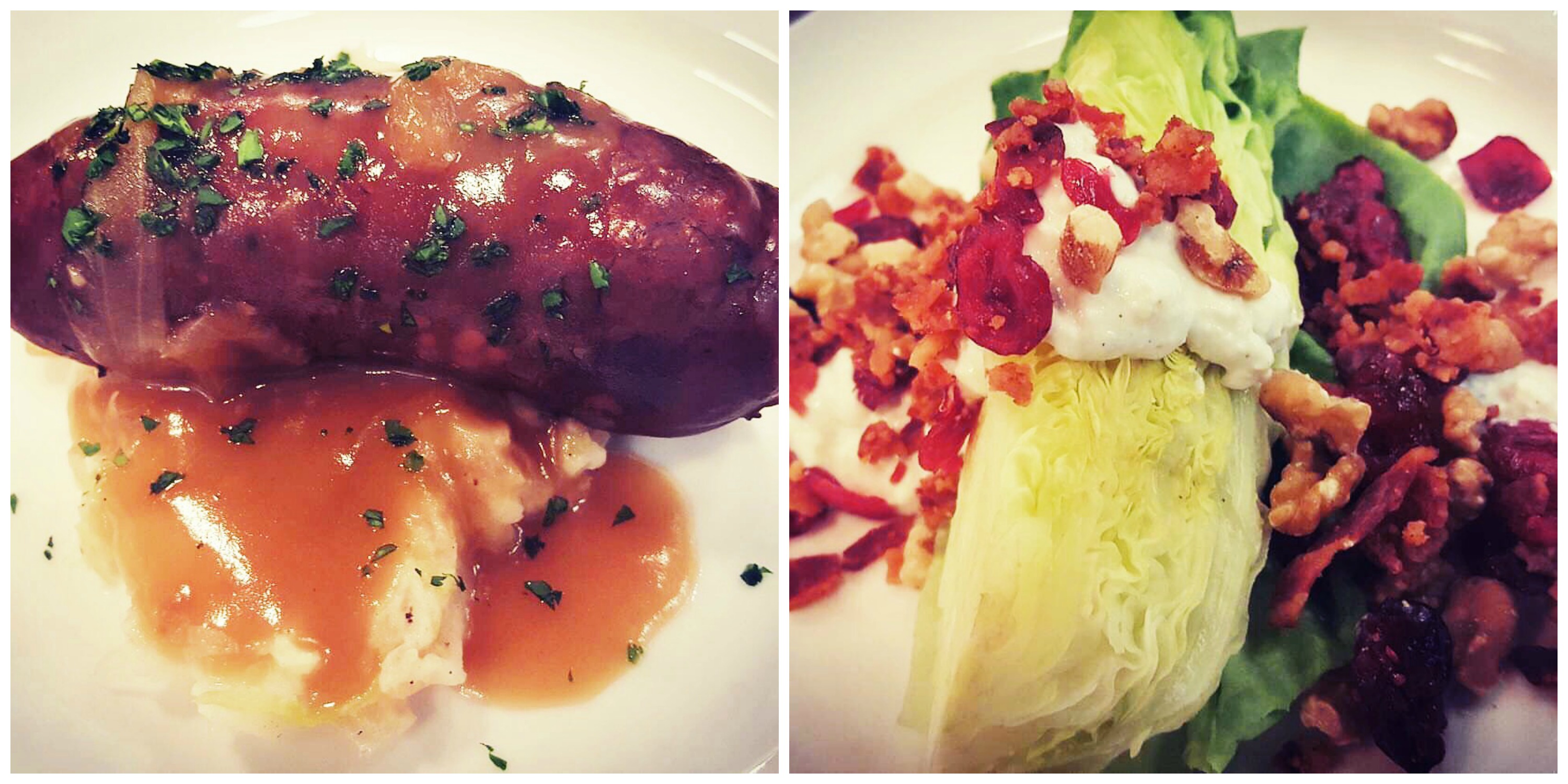 {the two options for the first course:  on the left, colcannon – creamy mashed potatoes and cabbage, topped with homemade sausage.  on the right, wedge salad with iceberg lettuce, cranberries, walnuts, and bacon, drizzled with blue cheese dressing.  photo creds: nathan.}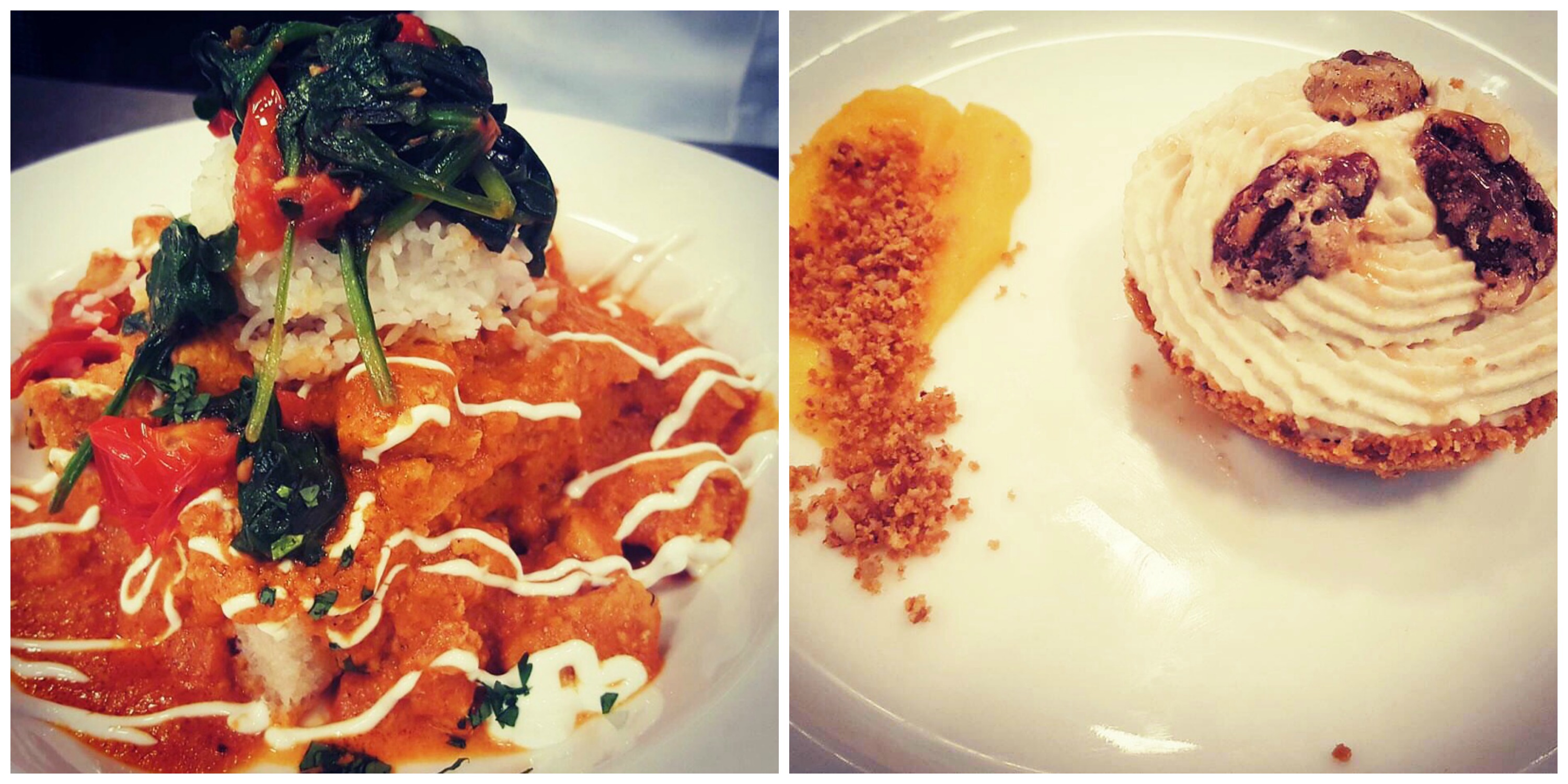 {on the left, the entree:  butter chicken – indian-spiced breast meat cooked in buttery curry sauce and served with sautéed spinach, tomatoes, and flatbread.  on the right, one of the options for dessert, banoffee pie – a rich pie made with bananas, cream, and toffee, served with an apricot sauce.  and not pictured is the other dessert, toffee pudding – moist sponge cake drenched in warm toffee sauce and finished with milky tea ice cream.  and the breads this week were currant scones, english muffins, and mini hovis loaves.  photo creds: nathan.}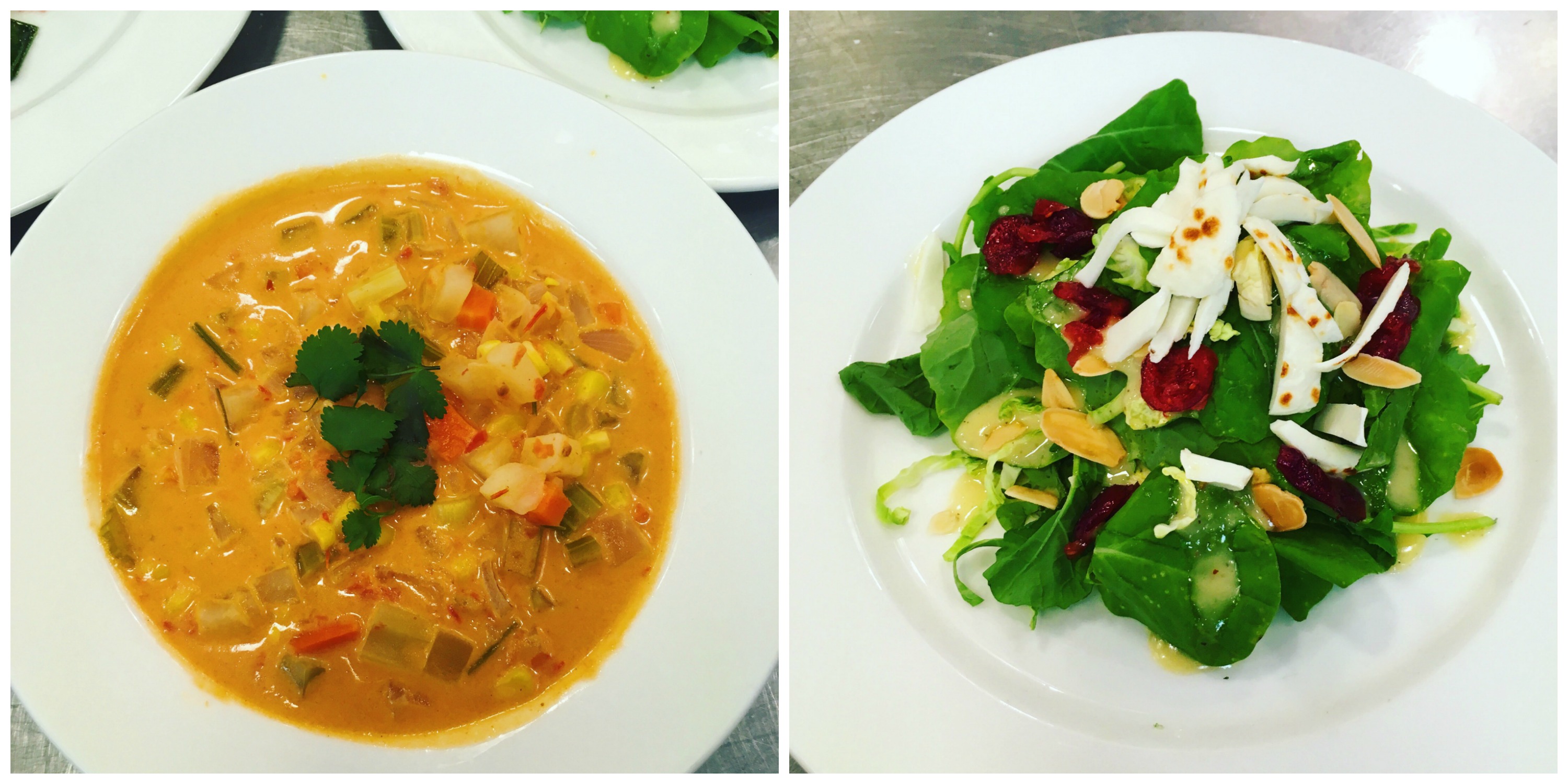 {next it was british columbia.  these were the two options for the first course:  on the left, pacific veggie chowder with coconut milk, potatoes, carrots, celery, and corn.  topped with cilantro, my fave!  and on the right, kale cranberry salad with seared cheese curds, almonds, and vinaigrette dressing.  LOVED the seared cheese curds idea!}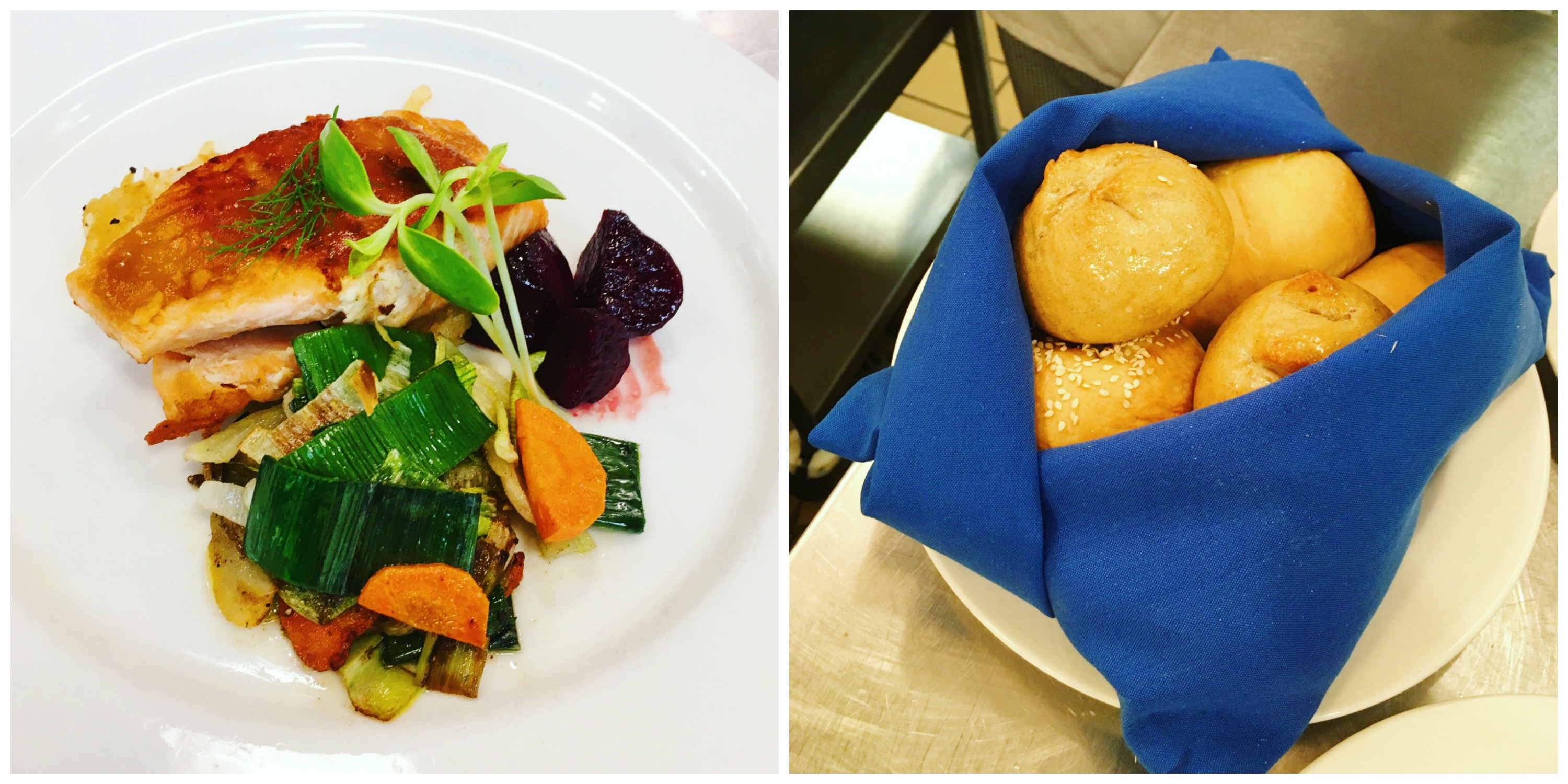 {course two:  miso-glazed salmon on potato hash, served with sautéed leek, fennel, carrots, and maple-glazed beets.  for breads, we had honey rye rolls, white pan bread, and montreal bagels.}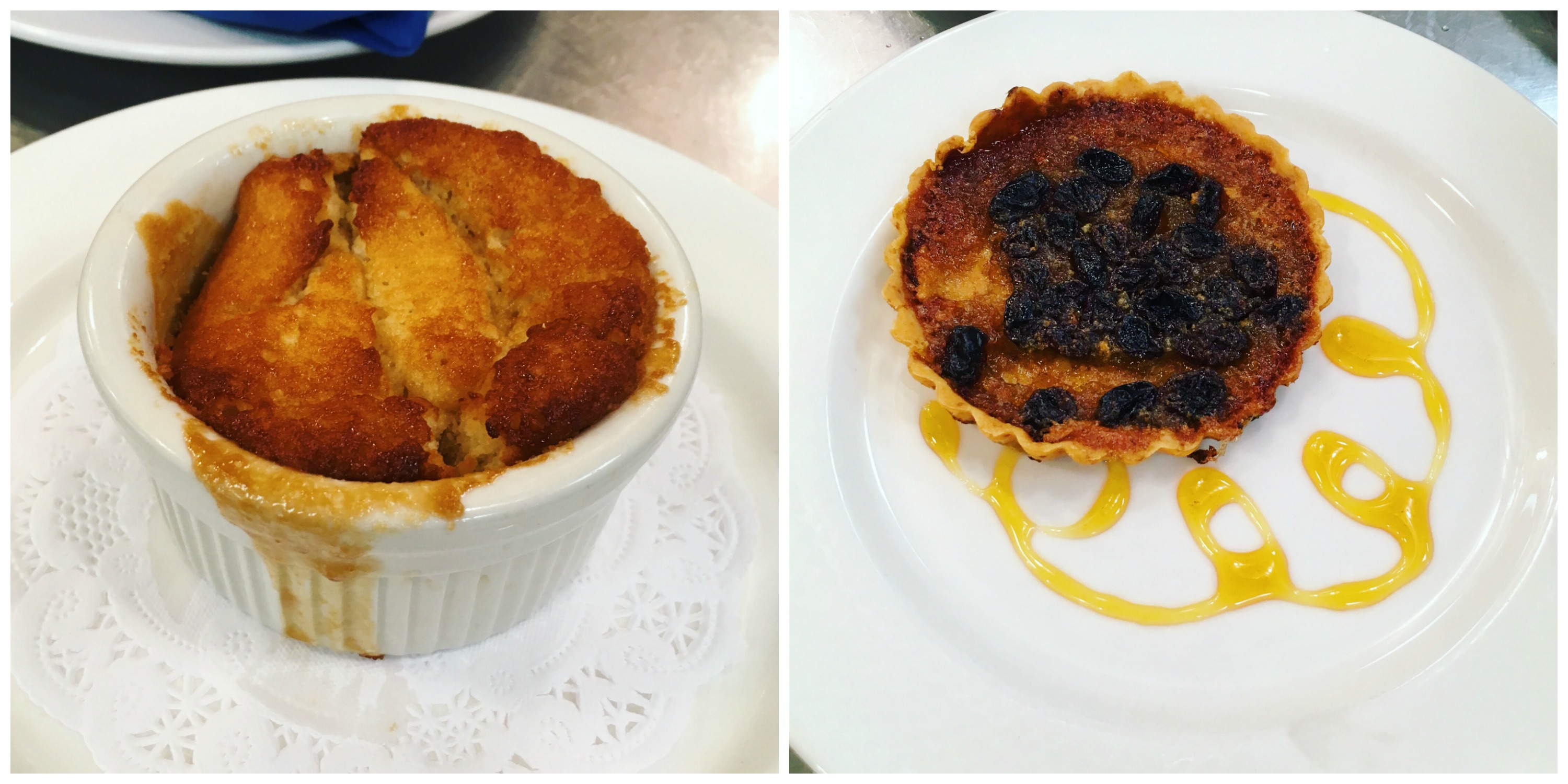 {the options for course three:  on the left, poor man's pudding – basically white cake baked in maple sauce with "moose milk" ice cream [not pictured], which has toffee, espresso, and whiskey in it.  this was everyone's favorite – it was fantastic!  on the right, a butter tart!}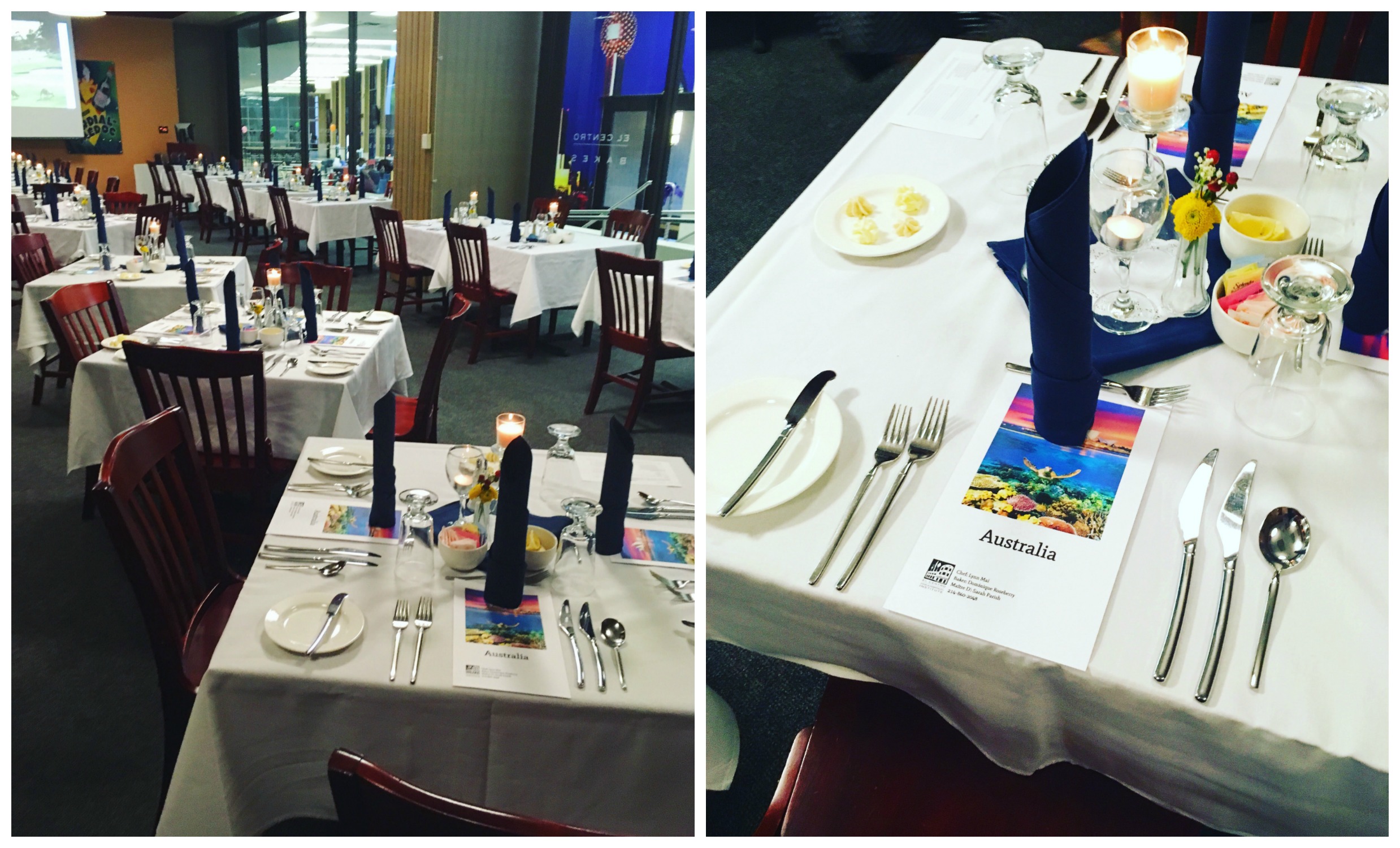 {the table setting for australia!}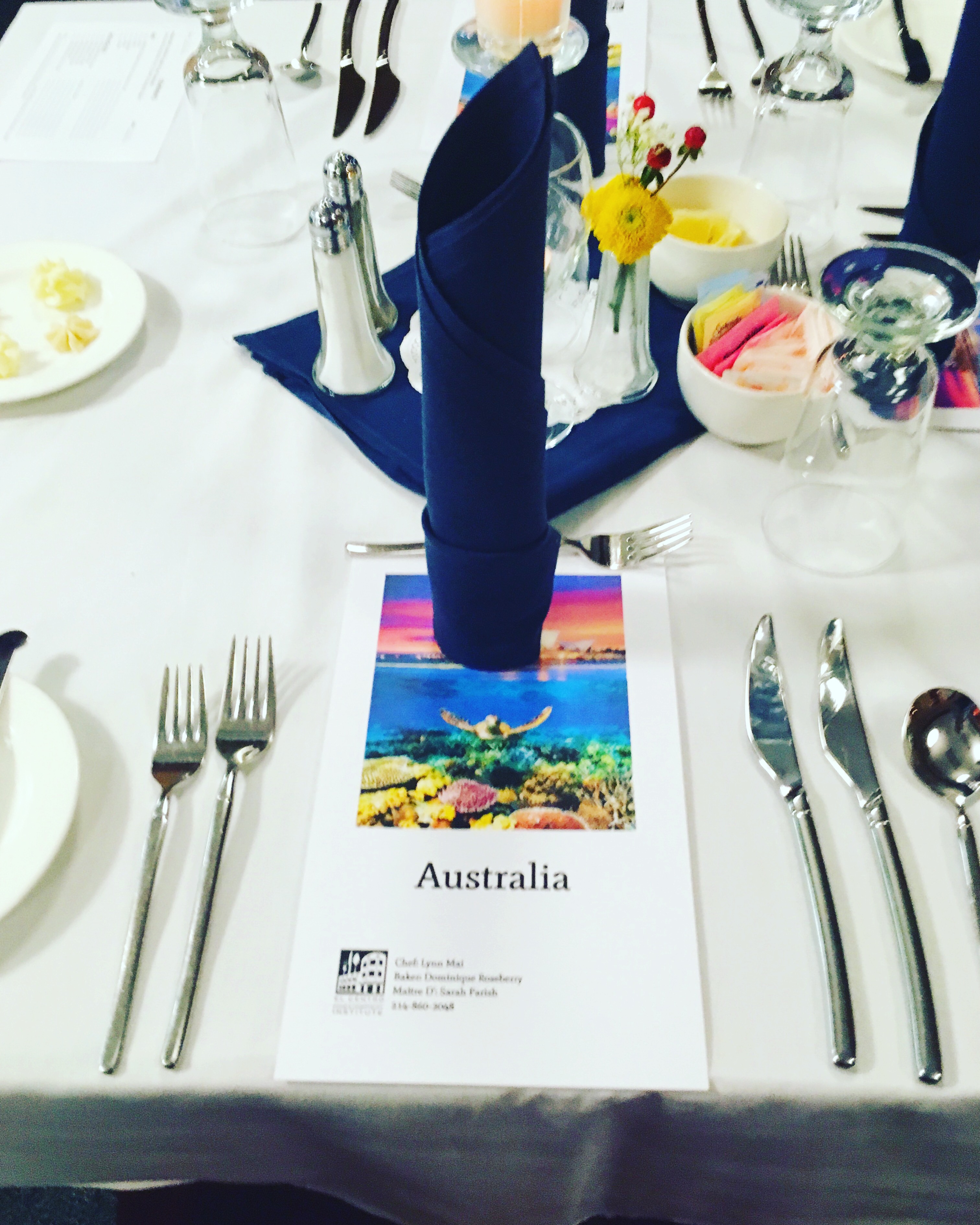 {i love the colorful place setting!}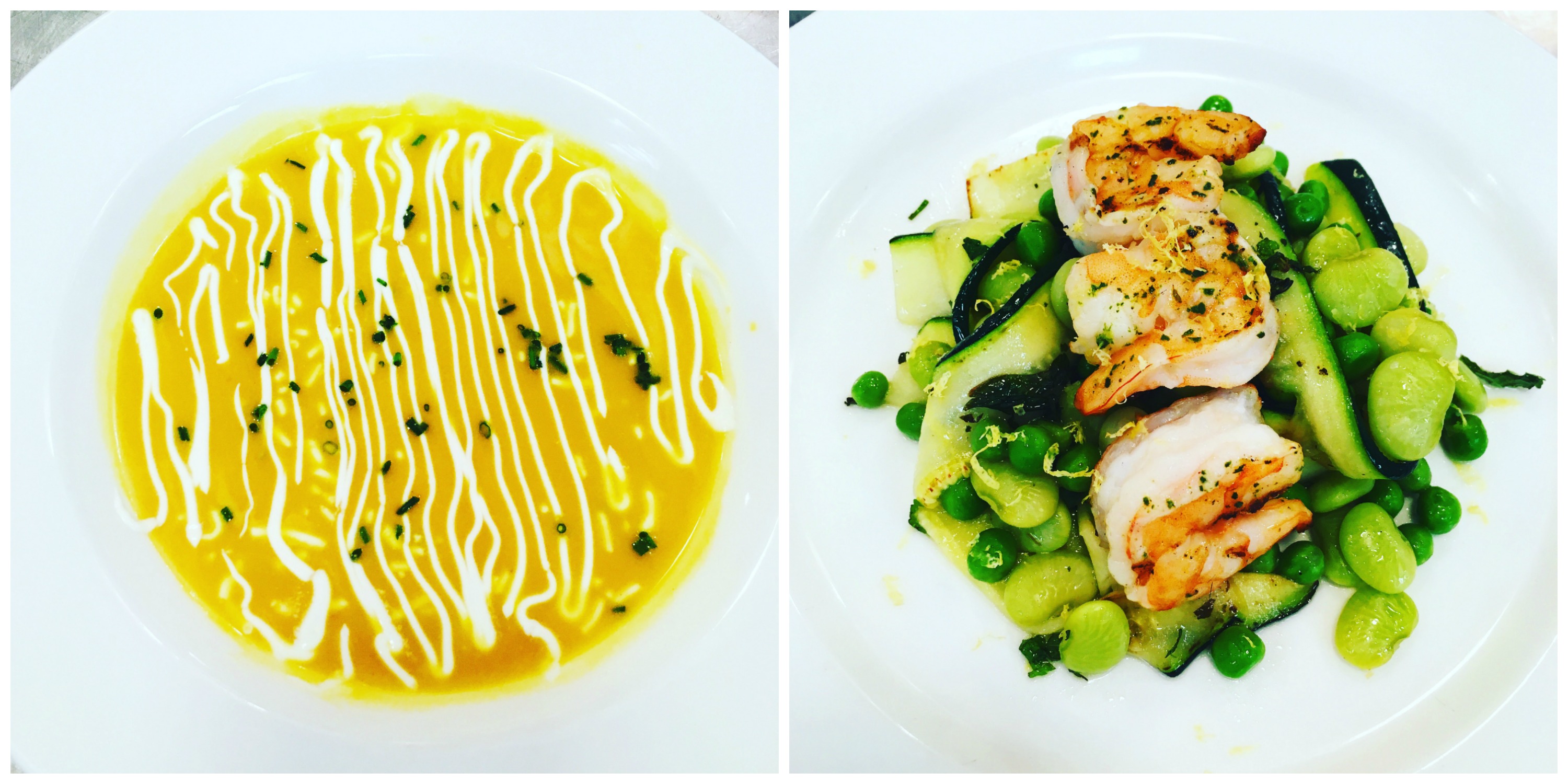 {the options for the first course:  on the left, pumpkin soup!  creamy, with notes of maple and nutmeg.  this was really good.  on the right, bay salt prawns with a summer vegetable medley of zucchini, lima beans, and spring peas in a light lemon-mint vinaigrette.}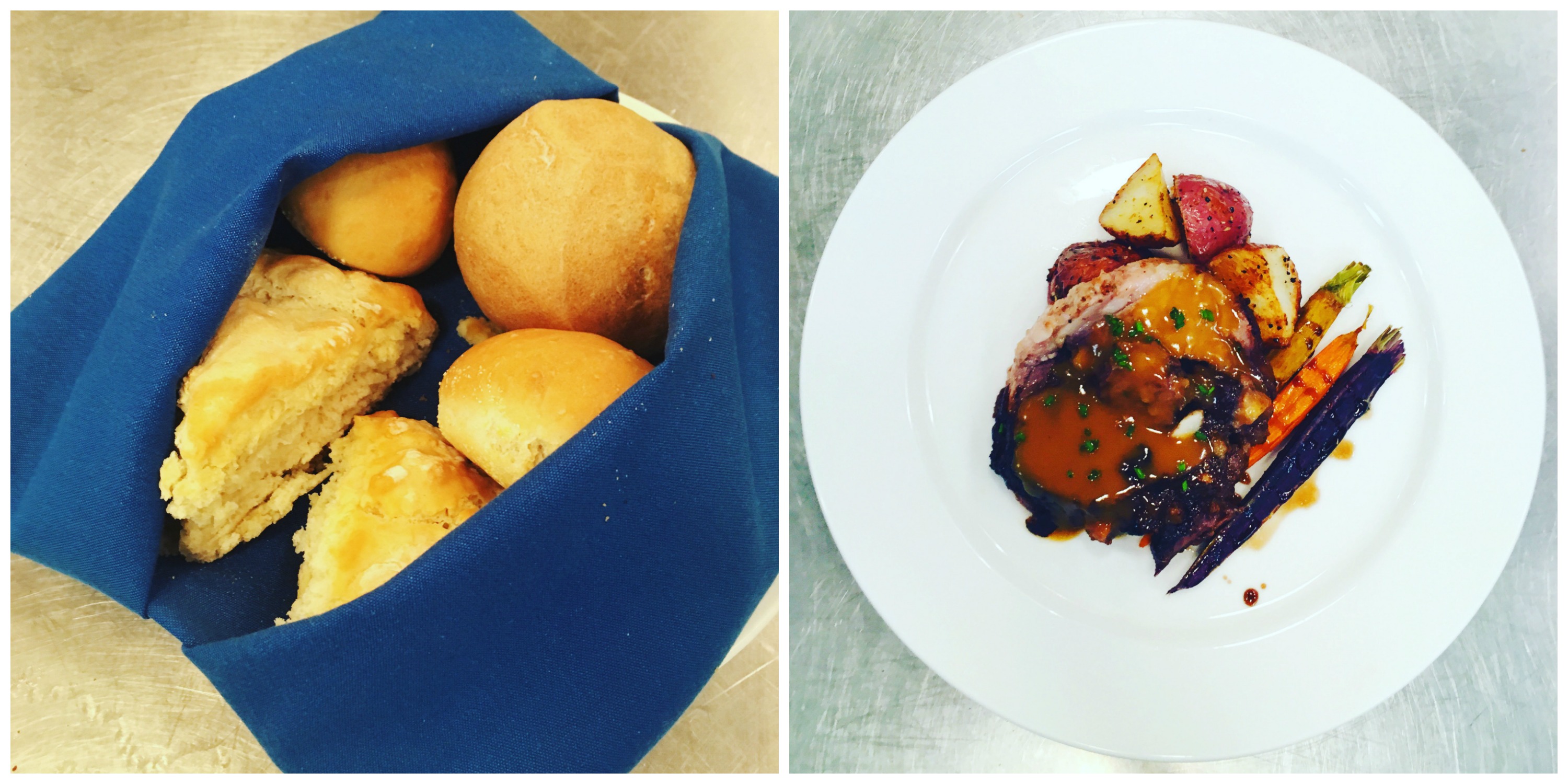 {course two:  the breads were beer rolls, old-fashioned white bread rolls, and damper bread, served with honey butter.  the entree was an aussie roast leg of lamb stuffed with macadamia nuts and plums, served with garlic roasted red potatoes and roasted rainbow carrots drizzled with balsamic glaze.}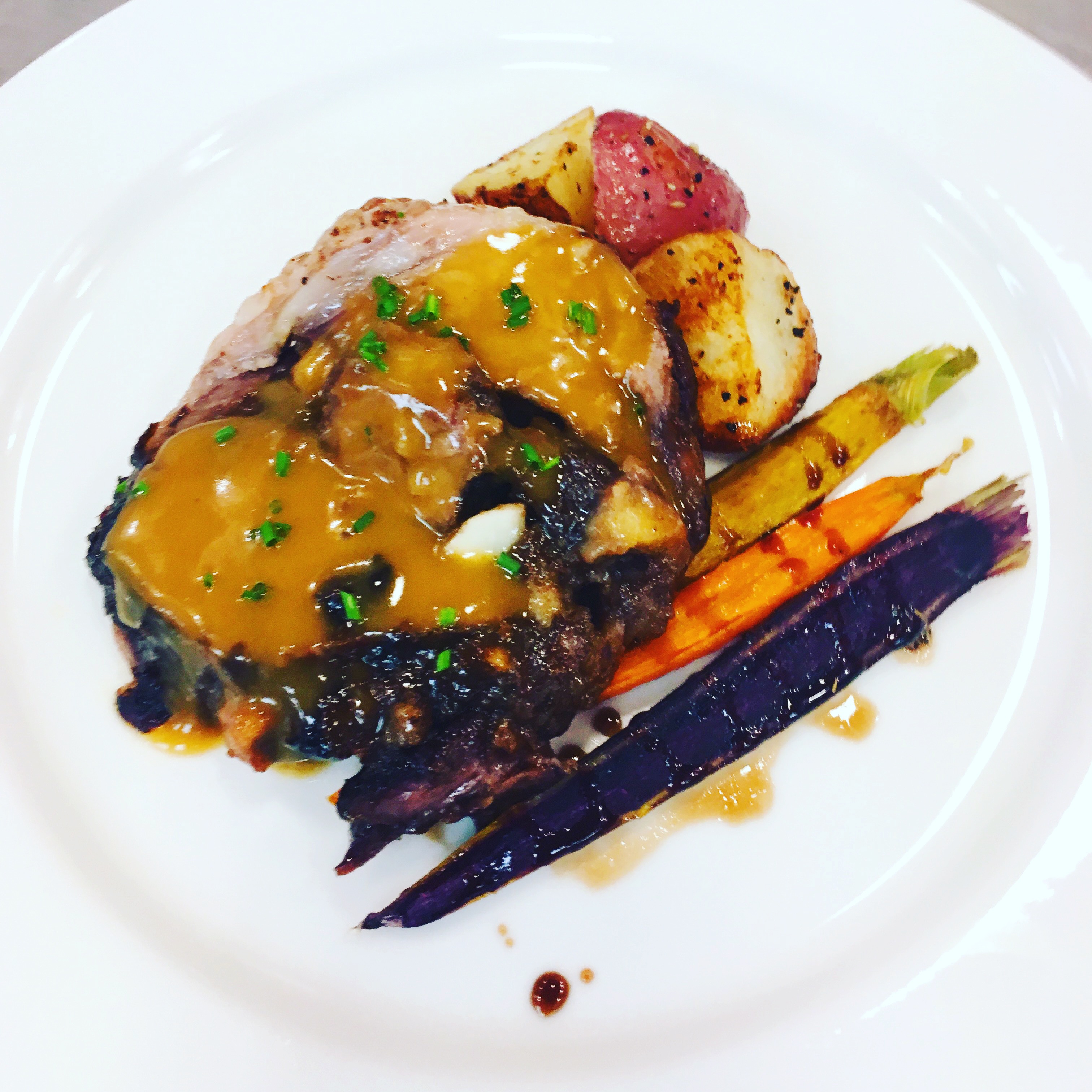 {a close-up because look at those beautiful carrots!}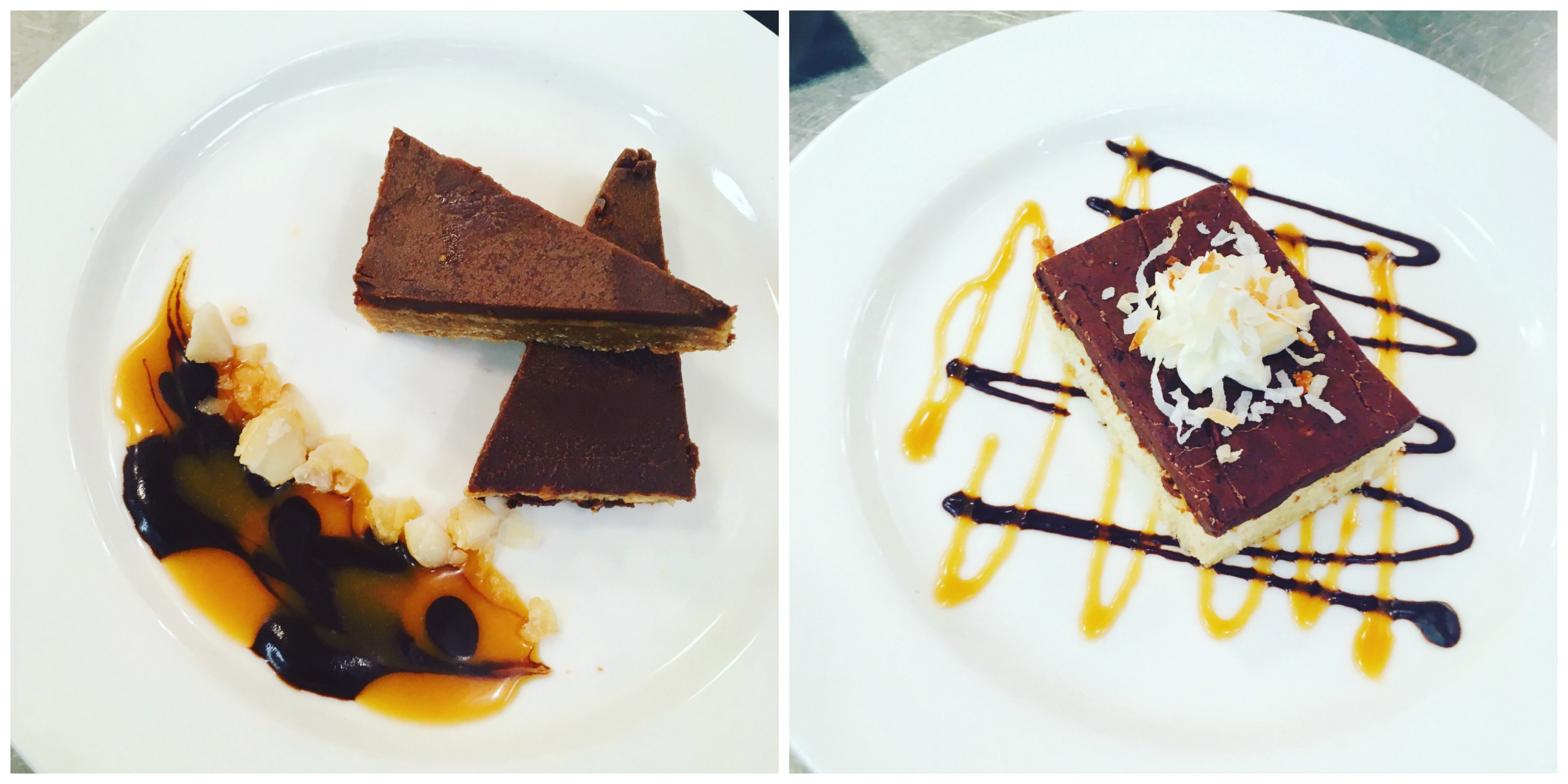 {the two options for course three:  on the left, chocolate caramel slices – shortbread topped with a layer of chewy caramel and chocolate ganache.  on the right, lamington cake – sponge cake covered in chocolate, coconut, and almonds.}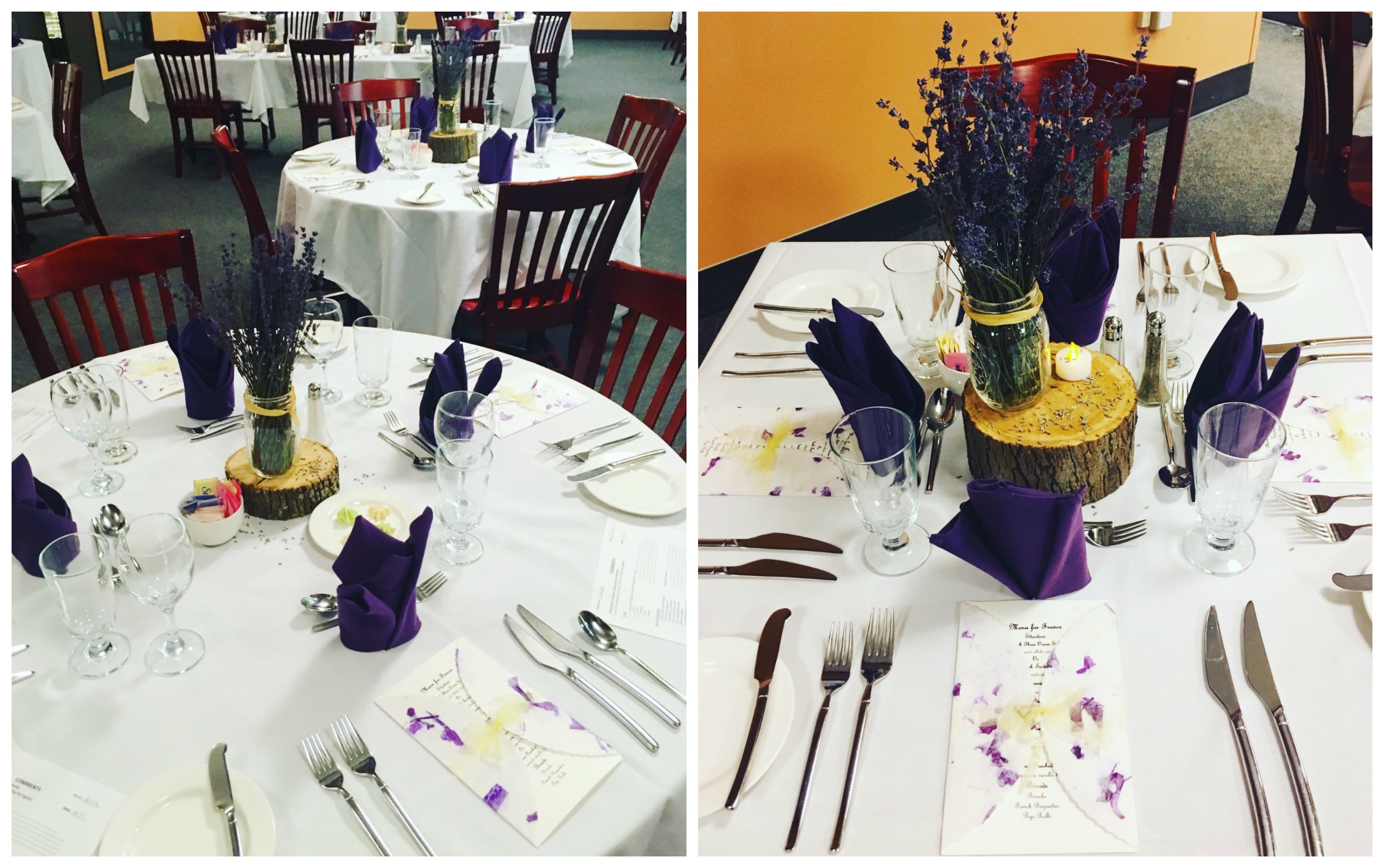 {then it was france, which was just lovely.}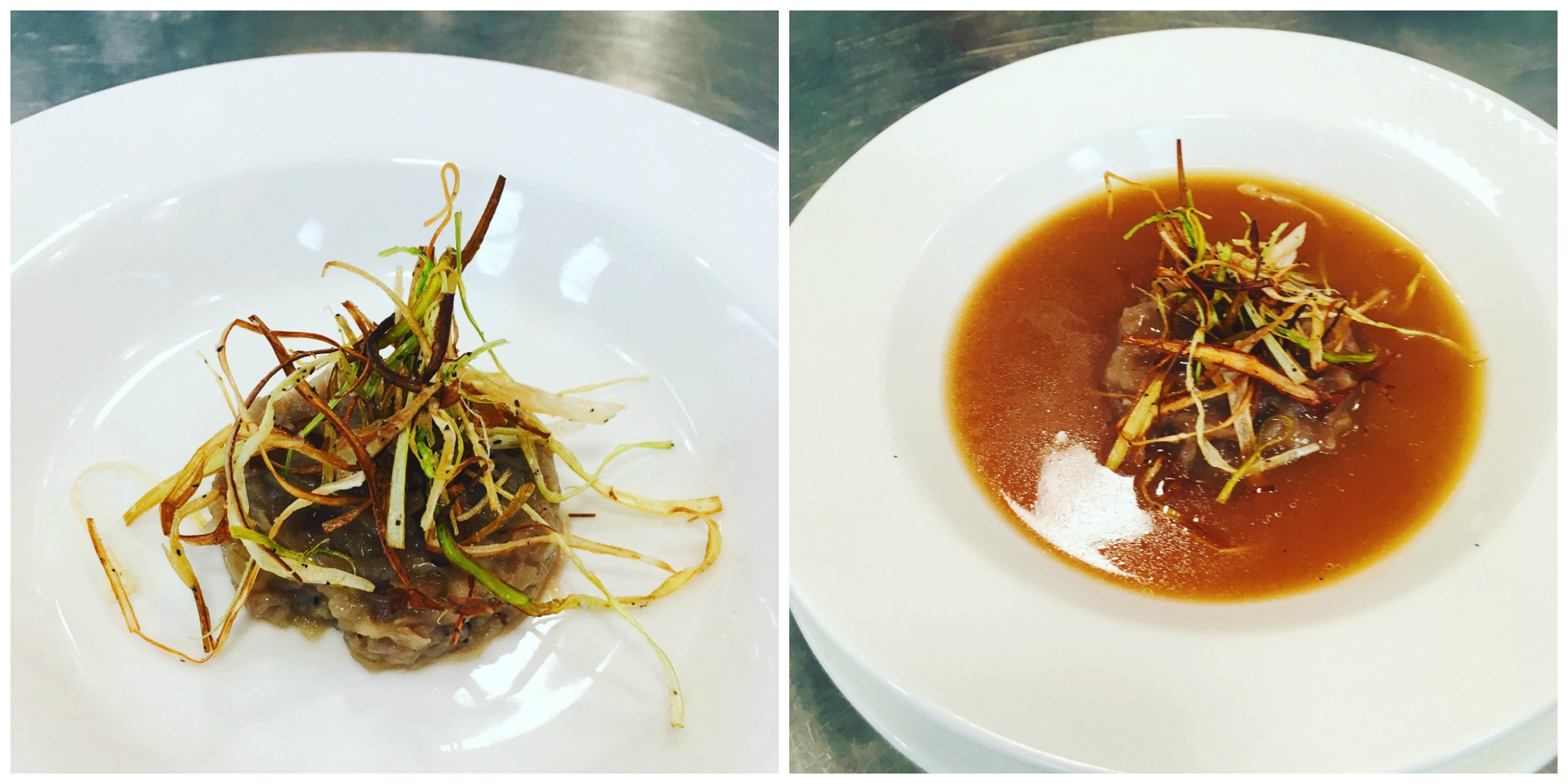 {the first option for the first course was a tableside three-onion soup.  on the left is the base [topped with fried leeks] and we poured the broth at the table so that it looked like the photo on the right.}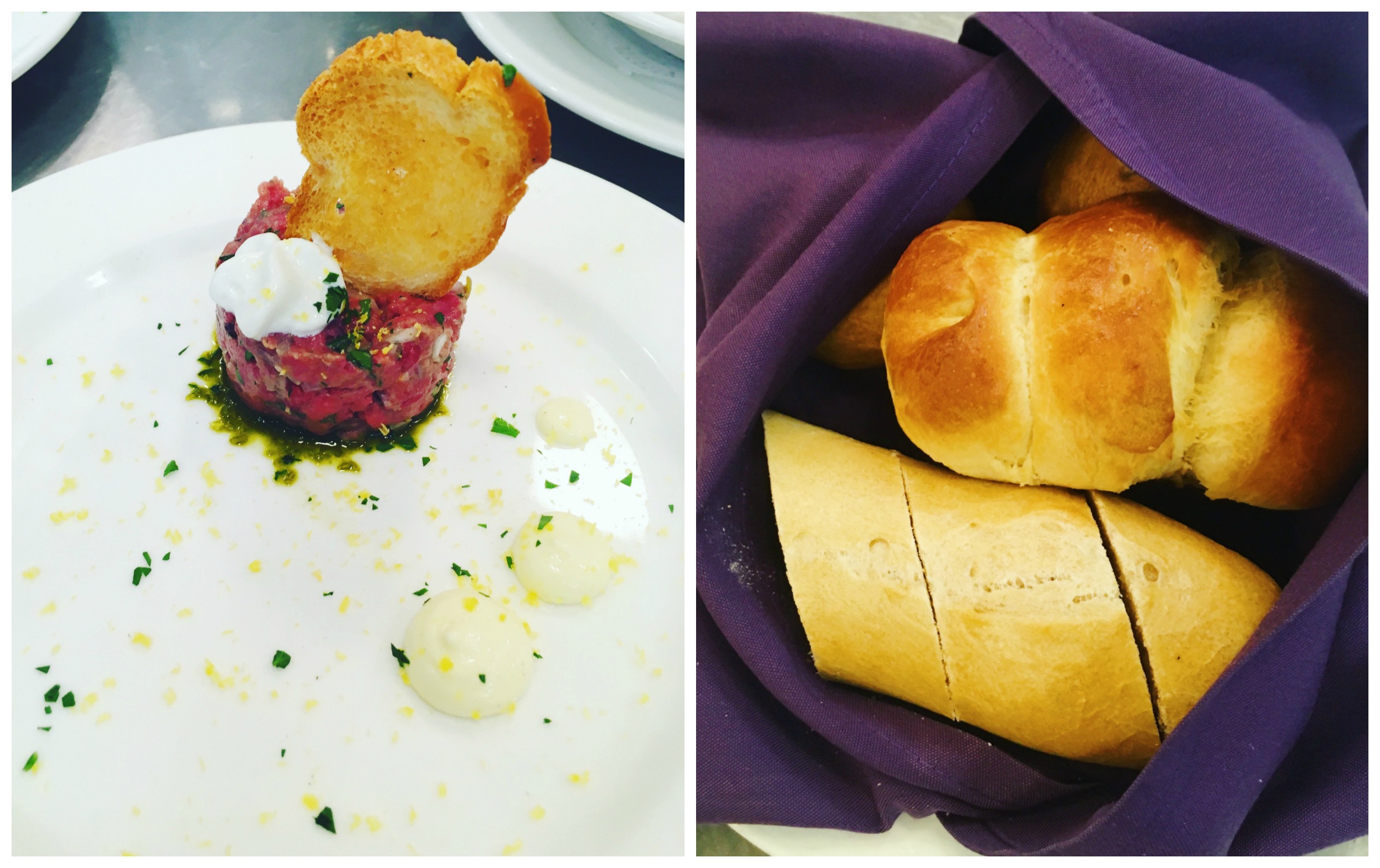 {on the left, the other option for course 1 was a steak tartare with garlic aioli, bleu cheese foam, watercress puree, shaved dry-cured egg yolk, and crostini.  on the right, the breads were baguettes, rye rolls, and brioche.  served with honey cinnamon butter and garlic parsley butter!}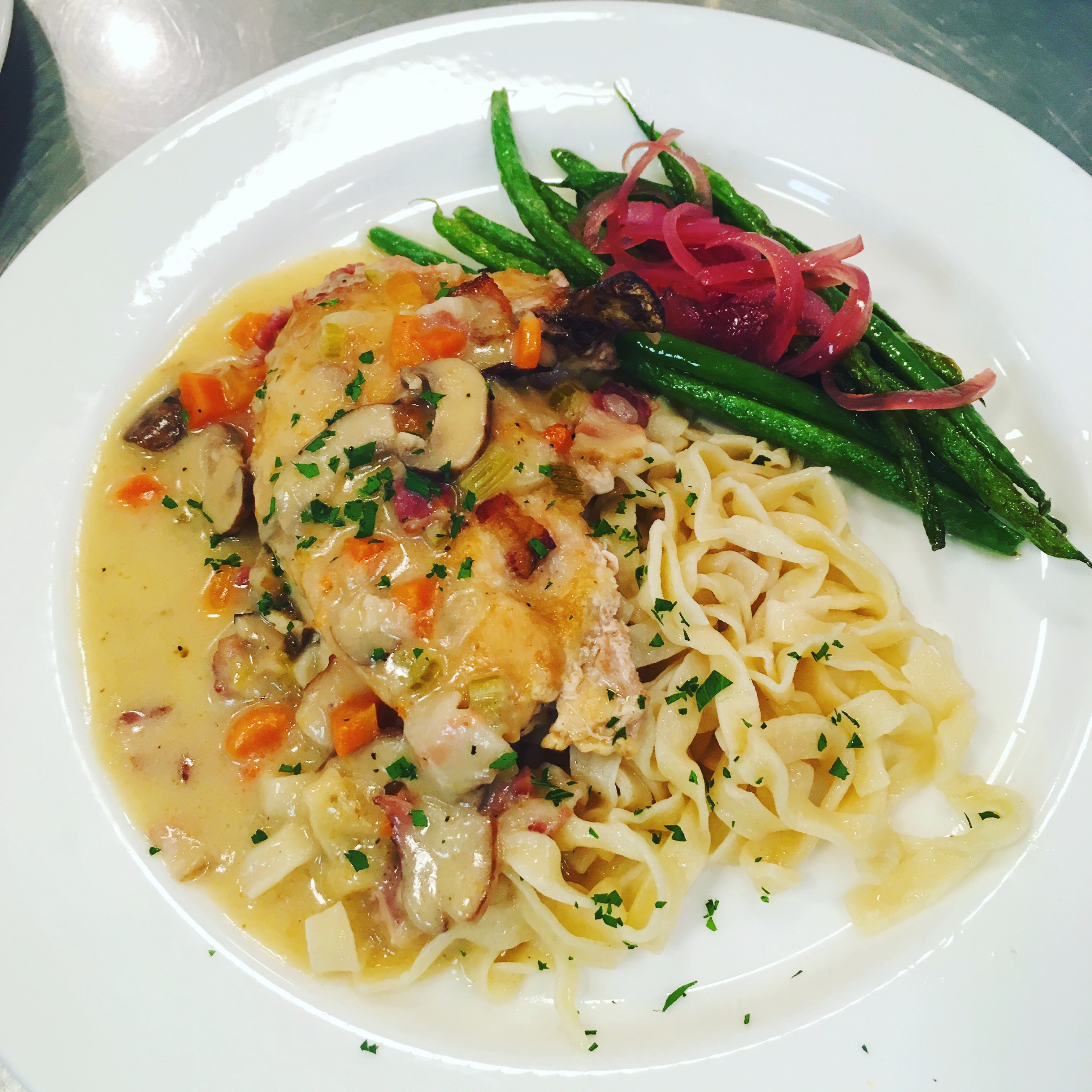 {the entree:  chicken fricassee with homemade egg noodles, haricots vests, and pickled red onions.  not pictured:  the chef decided to do an intermezzo – it was a honey lavender granita!}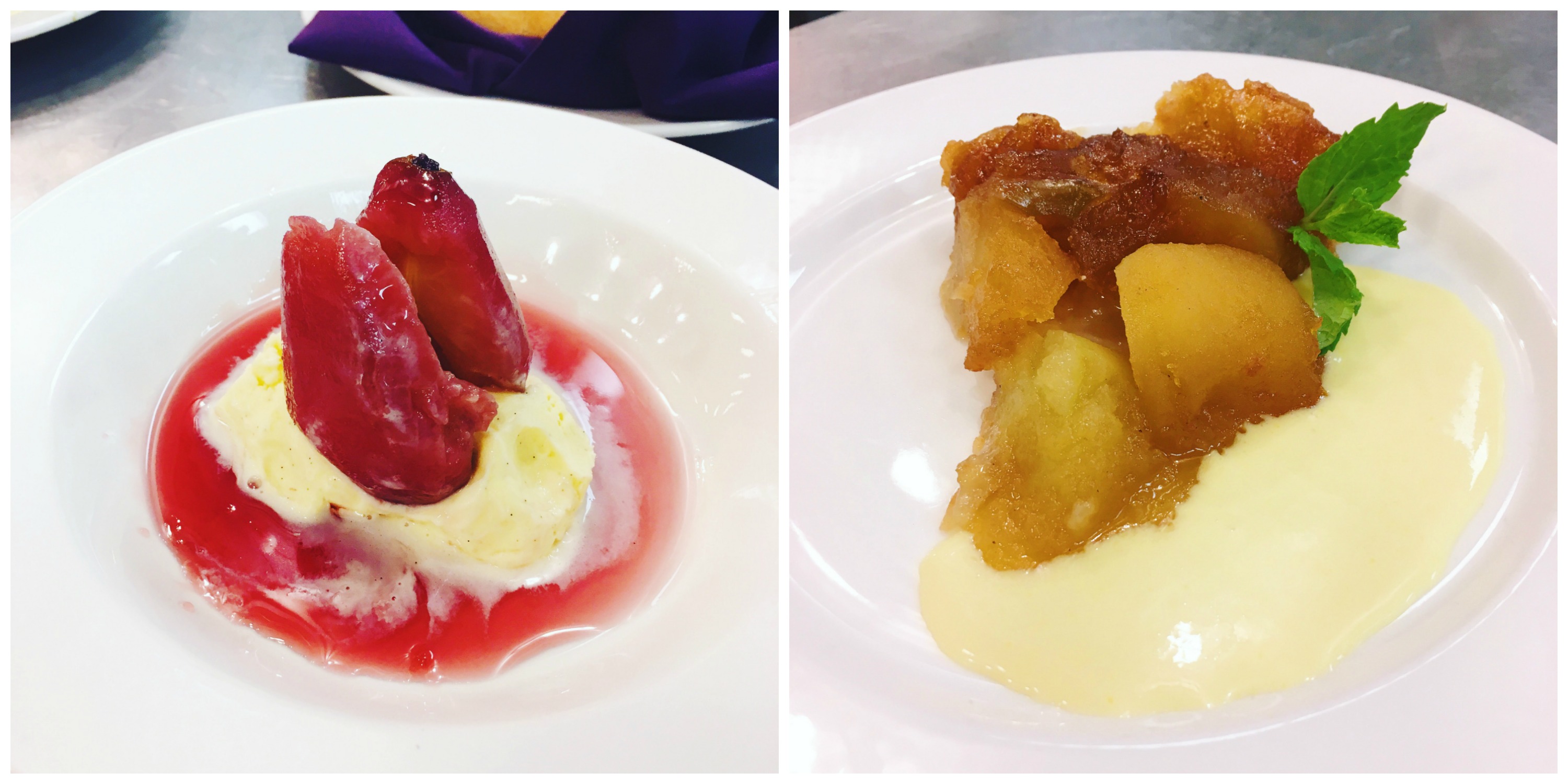 {the two options for the third course:  on the left, a poached pear in red wine sauce with vanilla bean ice cream.  on the right, an apple tarte tatin anglaise.}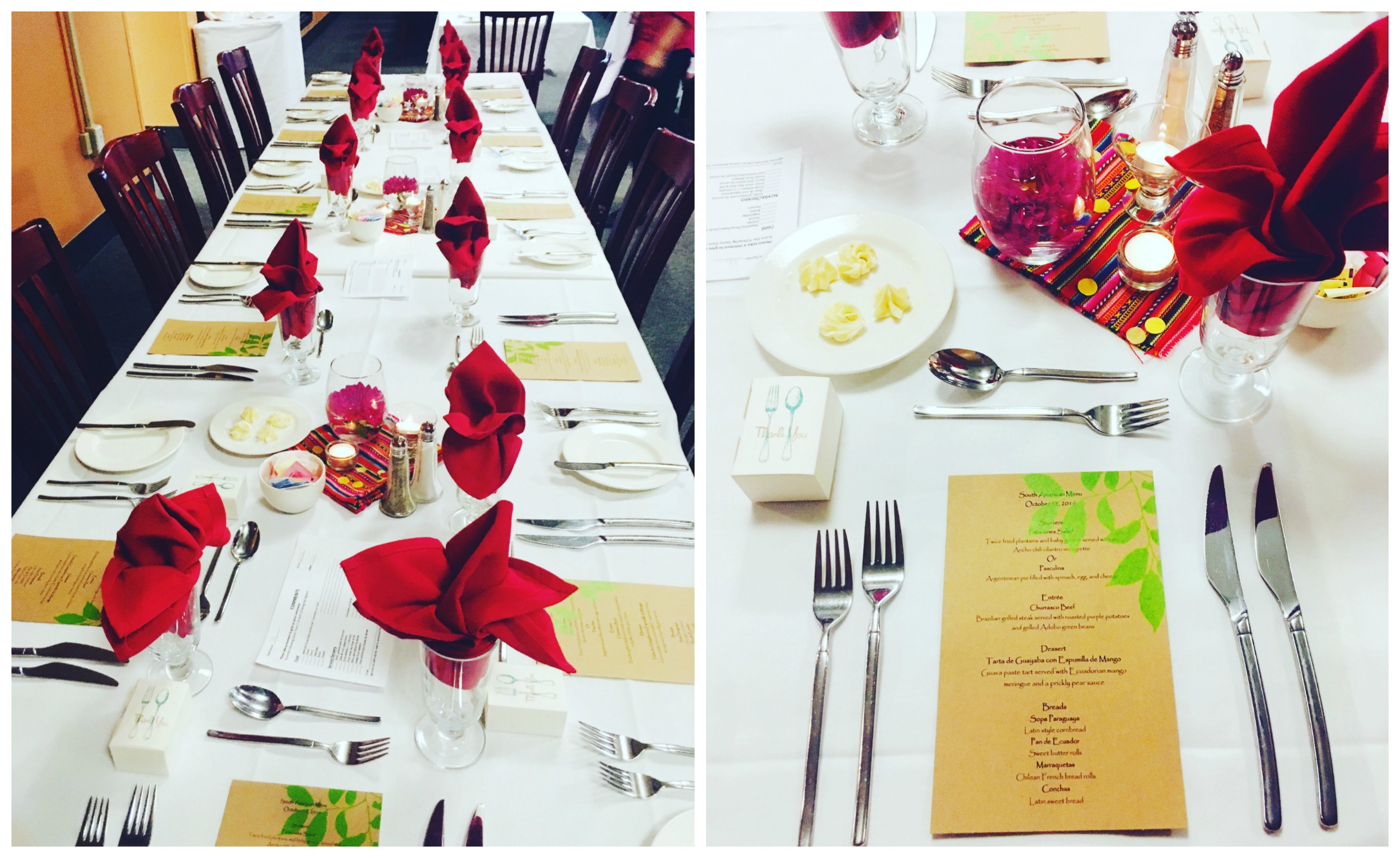 {and then it was argentina!}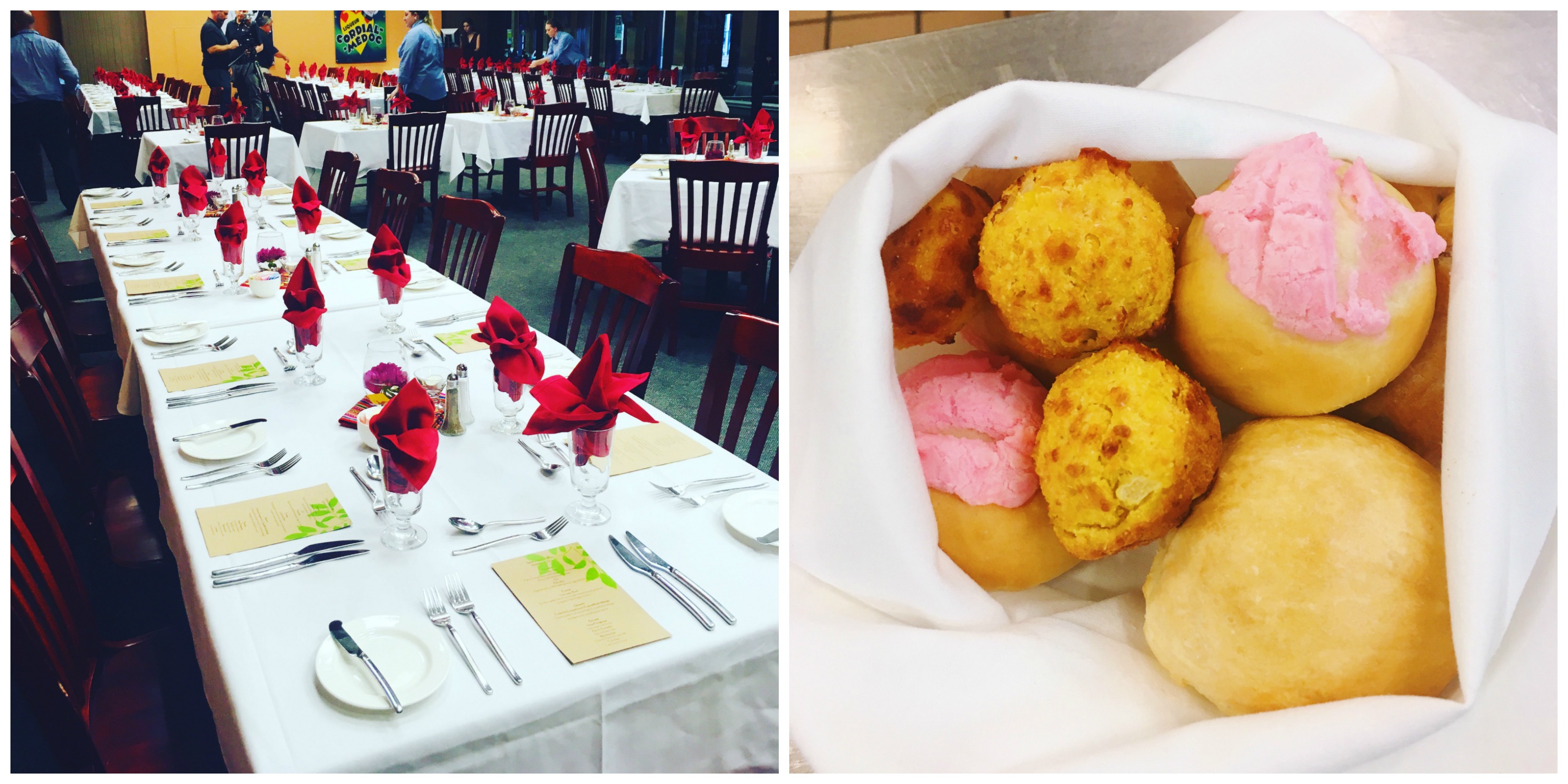 {on the right, the breads:  sopa paraguaya [latin-style cornbread], pan de ecuador [sweet butter rolls], marraquetas [chilean french bread rolls], and conchas [latin sweet bread].}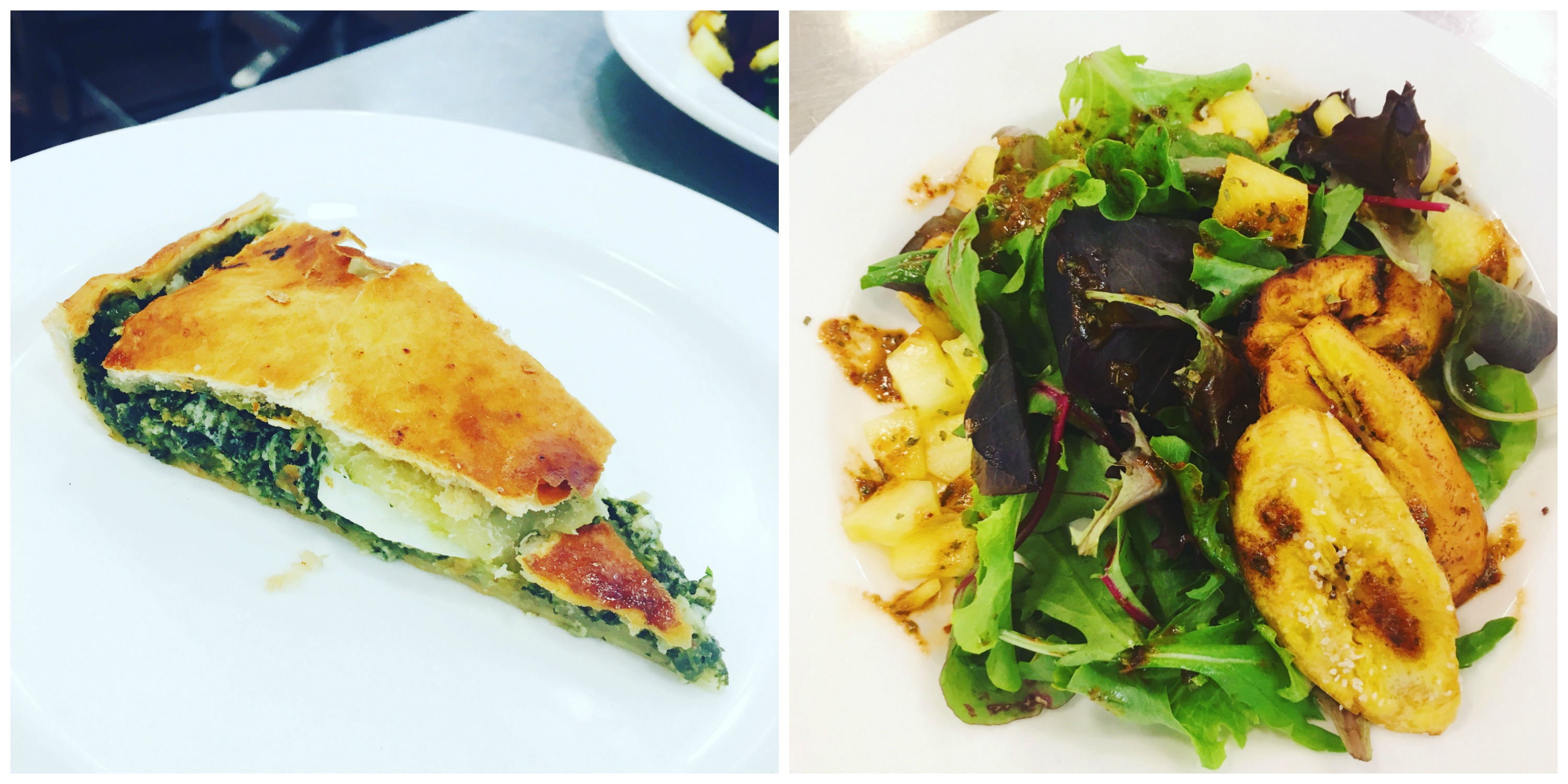 {the two options for the first course:  on the left, pasculina – argentinian pie filled with spinach, egg, and cheese.  on the right, patacones salad – twice-fried plantains and baby greens served with an ancho chile cilantro vinaigrette.}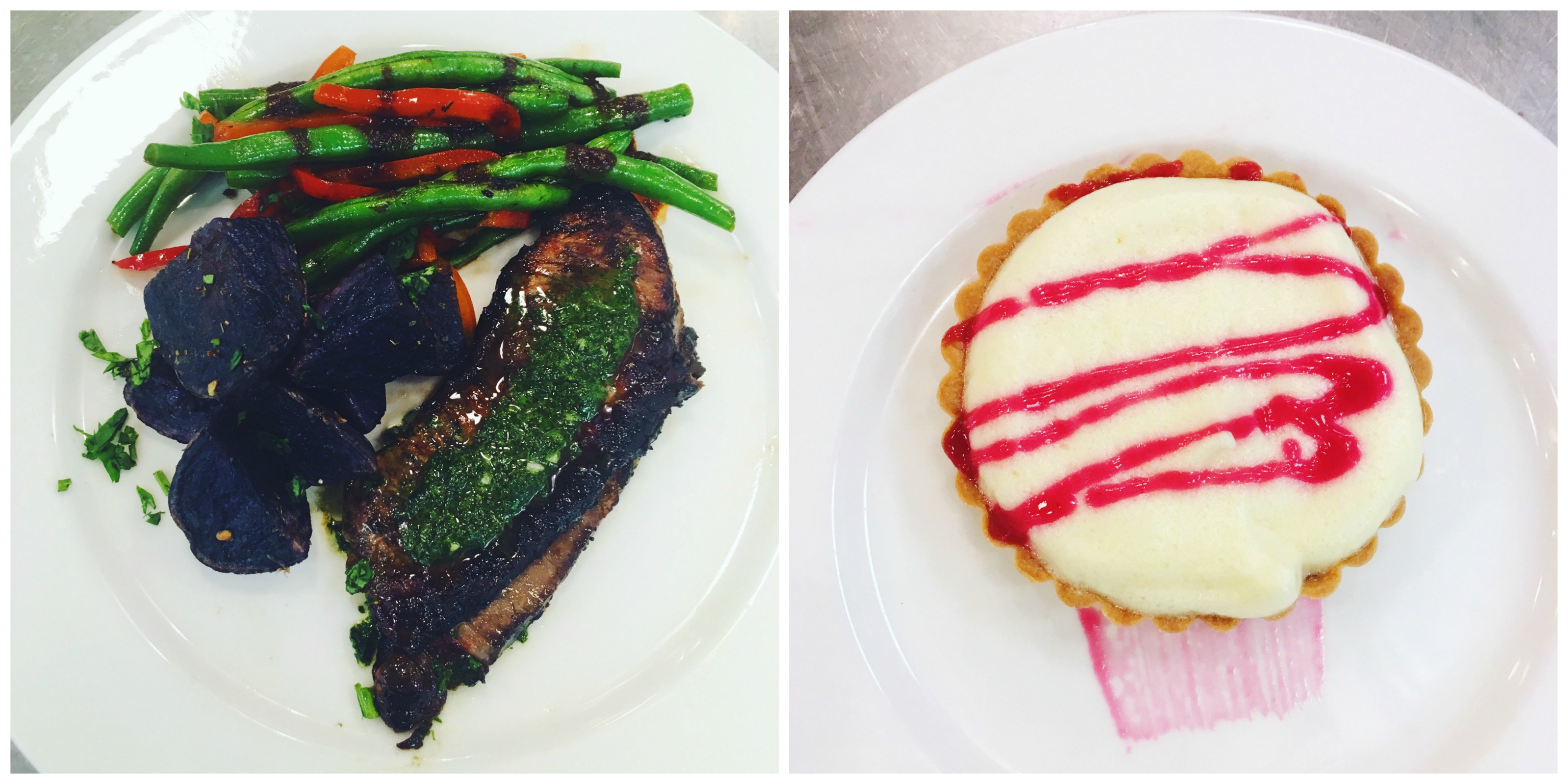 {on the left, the second course:  churrasco beef – brazilian grilled steak served with roasted purple potatoes and grilled adobo green beans.  on the right, the third course:  tarta de guayaba con espumilla de mango – guava paste tart served with ecuadorian mango meringue and prickly pear sauce.}
{and a little take-home treat – little cookies!}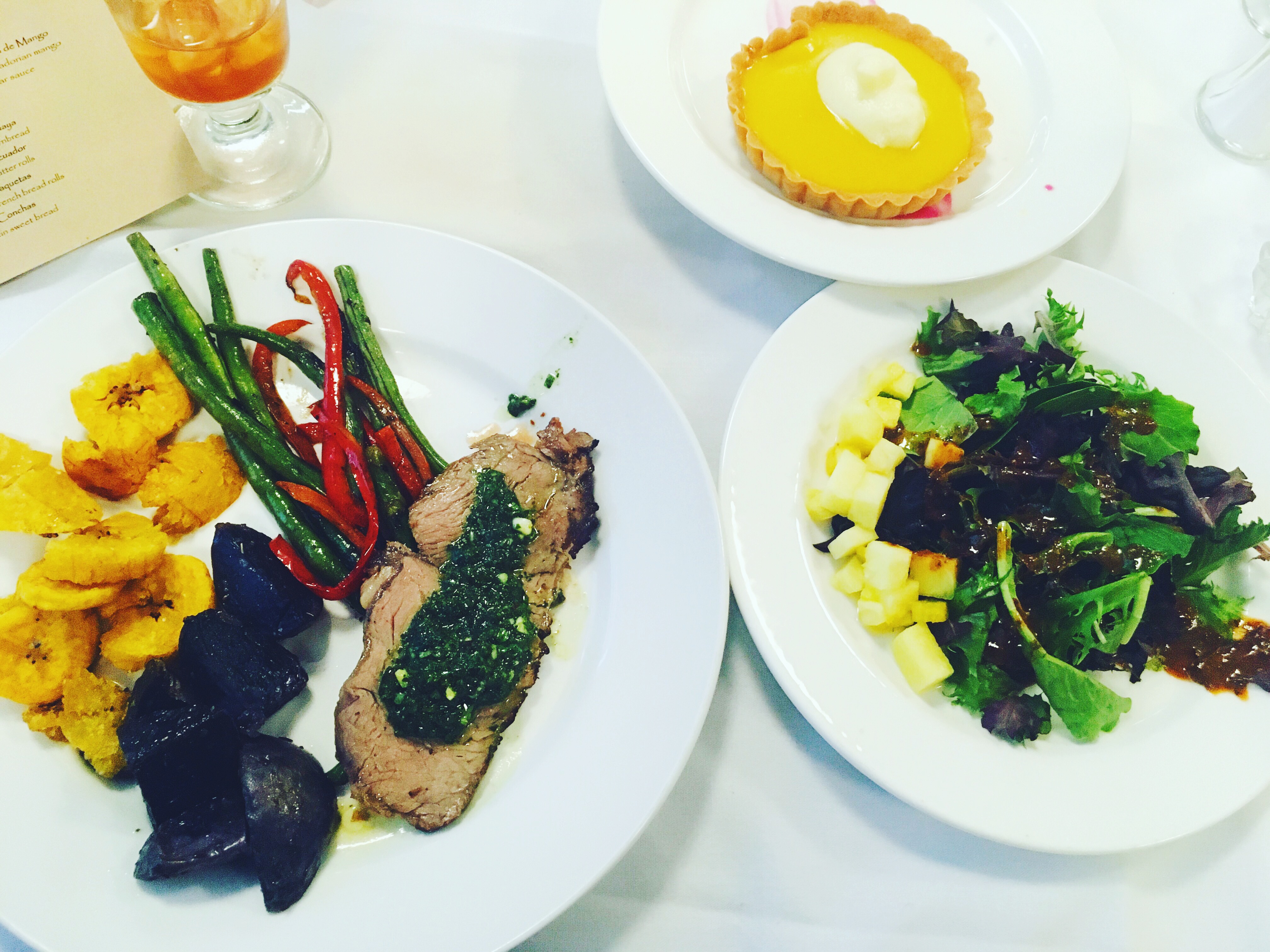 {we get to taste a bite of the menu items at the pre-service meeting, but there's not always enough leftovers to try some of everything after service.  but here's a photo of my dinner after service on argentina week… as you can see, we hit the jackpot this week!}
and we'll stop there and save the rest of the semester for another post sometime soon!  xoxo